Provisional List of 2017 MXGP Teams Announced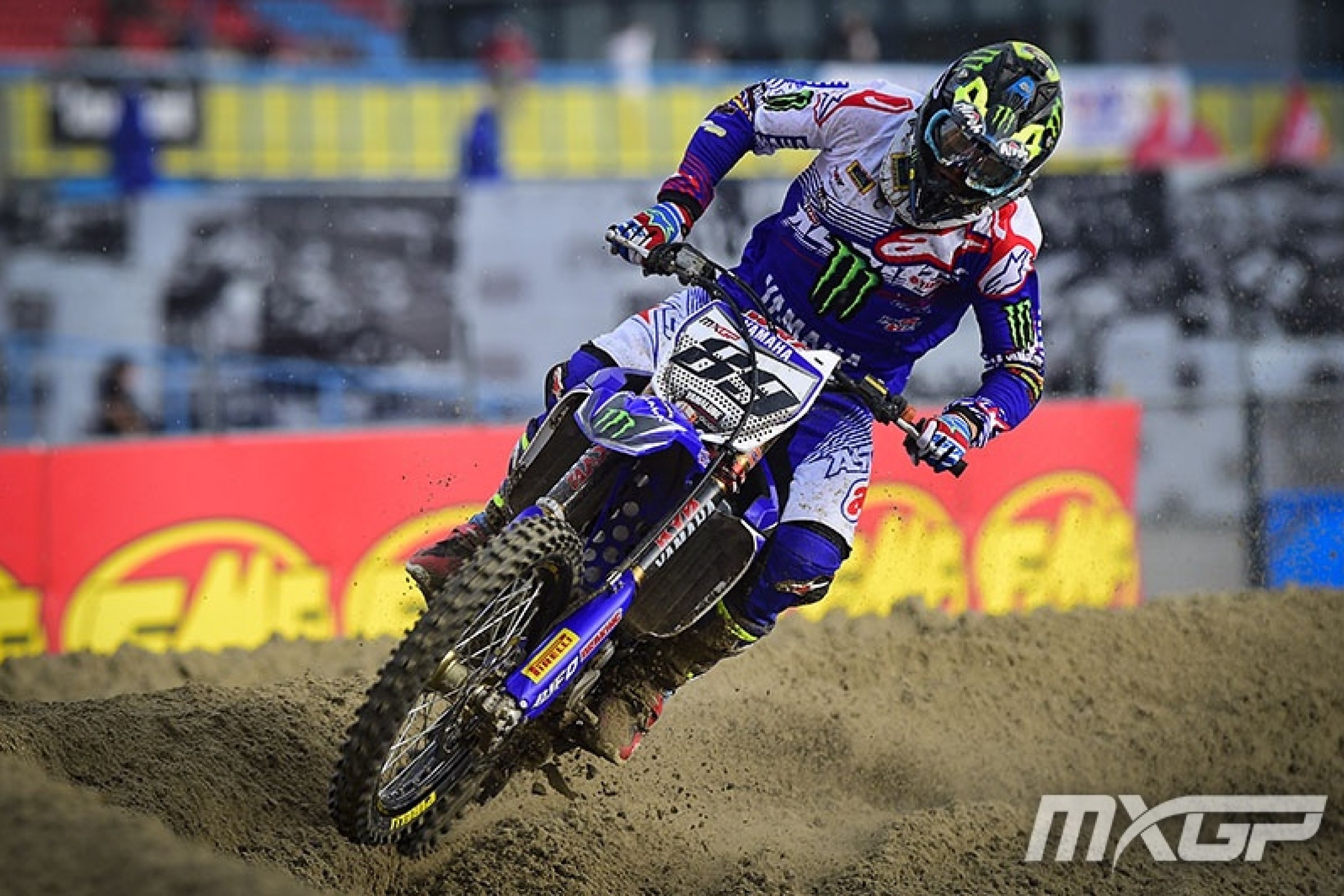 Silly season in Europe has just about wrapped up and today Youthstream, promoters of the FIM World Motocross Championship, released their provisional list of Officially Approved Teams (OAT) for the 2017 season.
A final list will be announced at the end of January.
The provisional list released today features 35 teams that will compete in the championship. Below is the official list from Youthstream.
| | | | | | |
| --- | --- | --- | --- | --- | --- |
| TEAM | BIKE | RIDER | RIDER | Rider | Rider |
| 24MX Lucas Oil Honda | Honda | Damon Graulus (MXGP) | Milko Potisek (MXGP)​ | | |
| 62 MotoSport | Husqvarna | Klemen Gercar (MXGP)​ | | | |
| Carglass Honda Racing | Honda | Ander Valentin (MXGP)​ | | | |
| CDP Cortenuova | Yamaha | Matevz Irt (MXGP)​ | | | |
| CEC Husqvarna Sweden | Husqvarna | Anton Gole (MX2) | | | |
| CEC Scandinavian Racing Sports | KTM | Jonathan Bengtsson (MXGP)​ | | | |
| F&H Racing Team | Kawasaki | David Herbreteau (MX2)​ | | | |
| Gebben V Venrooy Kawasaki | Kawasaki | Maxime Desprey (MXGP)​ | | | |
| Hitachi KTM UK | KTM | Jake Nicholls (MXGP)​ | Ben Watson (MX2)​ | | |
| Honda HRC | Honda | Chihiro Notsuka (MX2)​ | Michele Cervellin (MX2)​ | | |
| HSF Logistics Motorsport Team | KTM | Calvin Vlaanderen (MXGP)​ | Davy Pootjes (MX2)​ | Brian Bogers (MX2)​ | |
| Husqvarna 8Biano Racing | Husqvarna | Tanel Leok (MXGP)​ | Rui Goncalves (MXGP)​ | Iker Larranaga Olano (MX2)​ | Caleb Ward (MX2)​ |
| Husqvarna Maurer-gép Racing Team | Husqvarna | Jernej Irt (MXGP)​ | Brian Hsu (MX2)​ | | |
| iFly JK Racing | Yamaha | James Dunn (MX2)​ | Ryan Houghton (MXGP)​ | | |
| JTECH SUZUKI VALENTI | Suzuki | Ken de Dycker (MXGP)​ | Giuseppe Tropepe (MX2)​ | | |
| Kemea Yamaha Yamalube | Yamaha | Benoit Paturel (MX2)​ | Alvin Ostlund (MX2)​ | Brent Van doninck (MX2)​ | |
| LRT KTM | KTM | Julien Lieber (MX2)​ | | | |
| Marchetti Racing Team KTM | KTM | José Butron (MXGP)​ | Ivo Monticelli (MX2)​ | | |
| Monster Energy DRT Kawasaki | Kawasaki | Tommy Searle (MXGP)​ | Vsevolod Brylyakov (MX2)​ | Darian Sanayei (MX2)​ | |
| Monster Energy Kawasaki Racing Team | Kawasaki | Clement Desalle (MXGP)​​ | Jordi Tixier (MXGP)​​ | | |
| Monster Energy Kawasaki Racing Team | Kawasaki | Stephen Rubini (MX2)​ | Petar Petrov (MX2)​ | Adam Sterry (MX2)​ | |
| Monster Energy Yamaha Factory MXGP Team | Yamaha | Romain Febvre (MXGP)​ | Jeremy Van Horebeek (MXGP)​ | | |
| Red Bull KTM Factory Racing | KTM | Antonio Cairoli (MXGP)​ | Glen Coldenhoff (MXGP)​ | | |
| Red Bull KTM Factory Racing | KTM | Jeffrey Herlings (MXGP)​ | Pauls Jonass (MX2)​ | Jorge Prado Garcia (MX2)​ | |
| Rockstar Energy Husqvarna Factory Racing MXGP | Husqvarna | Max Nagl (MXGP)​ | Gautier Paulin (MXGP)​ | Max Anstie (MXGP)​ | |
| Rockstar Energy Husqvarna Factory Racing MX2 | Husqvarna | Thomas Kjer Olsen (MX2)​ | Thomas Covington (MX2)​ | Conrad Mewse (MX2)​ | |
| STC RACING | Husqvarna | Jaap Corneth (MXGP)​ | Henry Jacobi (MX2)​ | | |
| Team Ausio Yamaha Yamalube Maxxis | Yamaha | Jorge Zaragoza (MX2)​ | | | |
| Team HRC | Honda | Tim Gajser (MXGP)​ | Evgeny Bobryshev (MXGP)​ | | |
| Team Honda Red Moto | Honda | Alessandro Lupino (MXGP)​ | Valentin Guillod (MXGP)​ | | |
| Team Suzuki World MXGP | Suzuki | Kevin Strijbos (MXGP)​ | Arminas Jasikonis (MXGP)​ | | |
| Team Suzuki World MX2 | Suzuki | Jeremy Seewer (MX2)​ | Hunter Lawrence (MX2)​ | Bas Vaessen (MX2)​ | |
| TM Racing Factory Team | TM | Samuele Bernardini (MX2)​ | | | |
| Vamo Racing Team | Honda | Ivanov Maykal Grisha (MX2)​ | Lars van Berkel (MX2)​ | | |
| Wilvo Yamaha MXGP | Yamaha | Arnaud Tonus (MXGP)​ | Shaun Simpson (MXGP)​ | | |