Welcome to Racerhead. It's been a busy week, and an especially busy Thursday. We had three news items hit that were all related to the 2017 Monster Energy AMA Supercross Championship. First came the news that NASCAR, after a two-year search to replace Sprint as their title sponsor, inked a deal with Monster Energy to become their primary sponsor. Then RCH/Yoshimura Suzuki announced that they are going racing after all in 2017, both indoors and outdoors, with Broc Tickle and Justin Bogle as their riders. Rounding out the news was the announcement that recently crowned Australian Supercross Champion Justin Brayton was joining the MotoConcepts Racing Honda team, giving them three 450SX riders: Mike Alessi, Vince Friese, and Brayton. (And they will also have a fourth rider in 250SX East Region, prospect Cameron McAdoo, winner of the Amateur All-Stars SX at the Monster Energy Cup back in October.) The only thing missing was any sort of news about the Stewart brothers, still unsigned and still uncertain, though Malcolm will be racing in Geneva, Switzerland, this weekend, along with Red Bull KTM's Marvin Musquin, JGR Suzuki's Justin Barcia, Brayton and more. There was also news from Yamalube/Star Racing Yamaha that Dan Reardon is coming back to the States from Australia to race, and Traders Racing switching to Yamahas and signing Luke Renzland, Nick Gaines, and amateur prospect Jayce Pennington.
Of all the news, the Monster Energy-to-NASCAR thing was the biggest, and certainly the most complicated. NASCAR is in a ratings free-fall right now, as a generational shift away from TV viewing to handheld and online streaming—not to mention a general lack of interest in motorsports by young millennials—has lessened the value of stock car racing considerably. According to ESPN, Monster Energy paid about 40 percent (or $20 million per year) of what the previous sponsor was paying. Sprint told NASCAR back in 2014 that they would not be renewing when the contract was up this year, and so NASCAR went on a two-year search at the worst possible time—when the ratings were falling and kids are obviously more interested in Grand Theft Auto than the Charlotte 600. Monster Energy is a good fit in that they already speak to millennials through SX/MX, through action sports, through Ken Block's Gymkhana videos, and more. Monster Energy has their low price points for consumers, their army of miniskirted spokesmodels, and a globally recognized brand.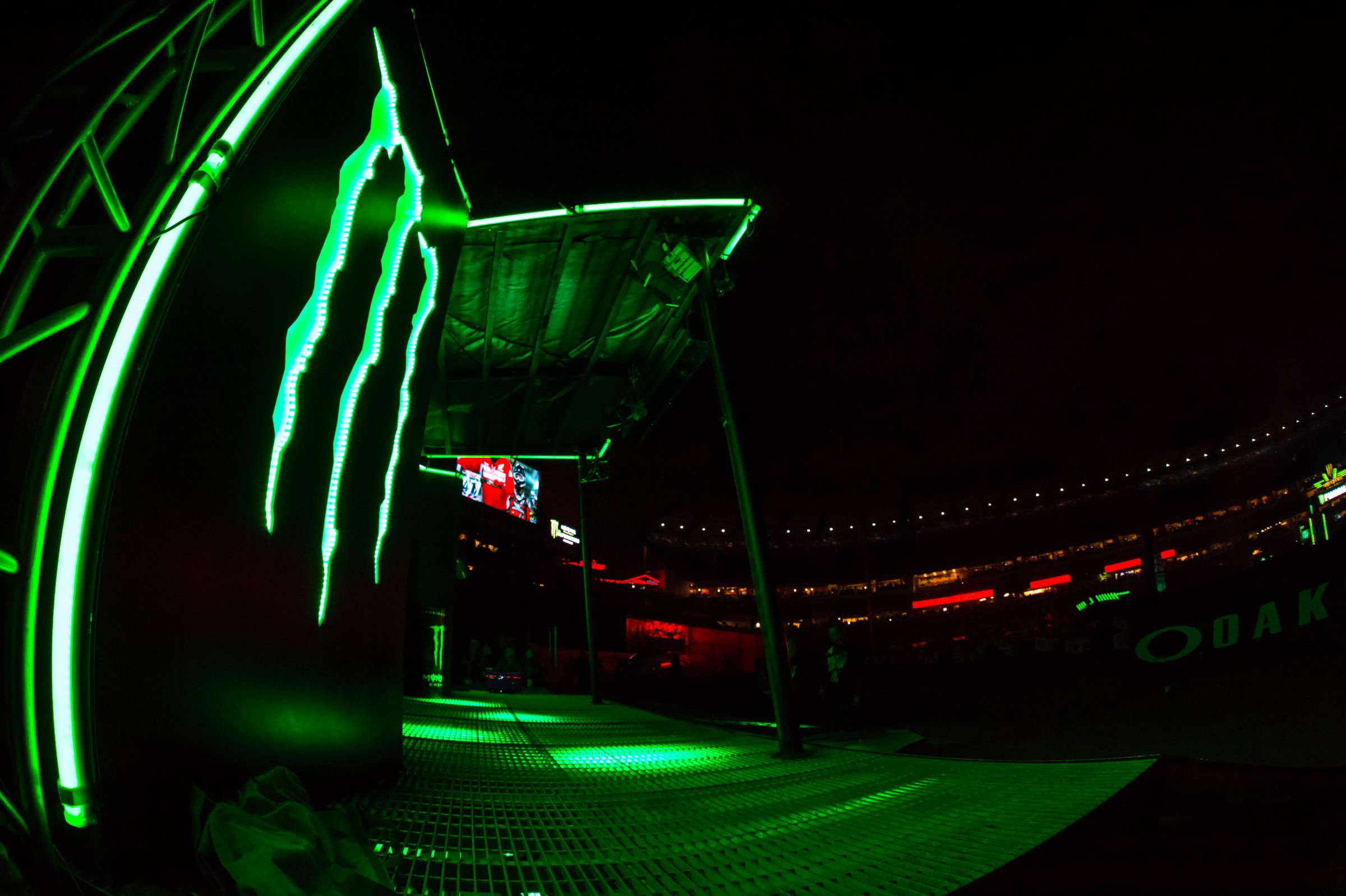 But the NASCAR news was couched with another announcement that was even more of a push into the mainstream (and maybe even more of a bargain) when golfer Tiger Woods showed up at the press conference for his first match in more than a year with a giant can of Monster Energy sitting right in front of him on the table, just like you would see Chad Reed or Eli Tomac do in our sport. Woods is still one of the most recognized athletes in the world, but he's also some seriously damaged goods. After his career fell apart in the wake of injuries and all those infidelities, he was dropped by some sponsors in the aftermath, and Monster jumped in more recently.
So add Monster's push into NASCAR and golf, even at the bargain level, and you have a lot of marketing money going somewhere other than our sport. Feld Motor Sports has a long-term contract with the Corona, California-based brand, so they will be fine, but as Chad Reed posted on his social media:
A few Moto teams should be worried about NASCARS new sponsor
Glad I'm no longer a team owner
Will be interesting..

— Chad Reed (@CRtwotwo) December 1, 2016
The announcement of the return of RCH Racing was very welcome and somewhat unexpected. People were openly discussing the team's demise, and friends were warning the team's riders and staff that they needed to find another gig, as owners Carey Hart and Ricky Carmichael weren't going to be pumping any more money into it. And with Soaring Eagle trimming back its sponsorship and Jimmy John's going away completely—not to mention the loss of newly crowned AMA Motocross Champion Ken Roczen—it just wasn't going to be the same. I even spoke last week to both Kenny Watson and WMG's Steve Astephen about the true chances of the doors being shuttered, and while both were optimistic, it was guardedly so. Now they're going racing again, and Broc Tickle and Justin Bogle have a home after all, as do all of the mechanics and team staff, and that's very good news. How does this tie in to the previous news of NASCAR and Monster? While Carmichael had a personal deal with Monster Energy as a brand ambassador, the RCH team does not, as previous star Ken Roczen has a long-term personal deal with Red Bull.
Justin Brayton joining MCR is another bit of good news. Brayton it one of the most likable, polished, and respected veterans in the sport. He's still got great speed, but he was not part of the rebuild that was going on with his old team, the Butler Brothers' BTOSports.com KTM (now Rocky Mountain ATV/MC-KTM-WPS), which signed Blake Baggett to join Davi Millsaps and the AMA Motocross Rookie of the Year Benny Bloss (and Andrew Short retired from professional racing). Brayton can help the team in many ways, including how to carry one's self at all times like a pro, not to mention sharpening the SX skills of Alessi and Friese and young McAdoo. And how does this relate to the NASCAR deal? Brayton's good friend and training partner Jimmie Johnson recently won his seventh Sprint Cup, tying him with Richard Petty and Dale Earnhardt on the all-time wins list. But he's not sponsored by Monster; he's sponsored by Gatorade.
Let's get into the rest of the week here.
ON MATTHES' 250 WORDS (DC)
Earlier this week, my esteemed colleague Steve Matthes took umbrage with the 250SX Class as being a drag on Monster Energy Supercross and affecting the amount of 450 rides out there. He cited the fact that there are only 16 decent 450 rides out there and 21 in the 250 Class, which makes sense—there are two regions in 250SX, which means twice as many jobs, not only for riders but mechanics too. He also said the original idea—that it's a stepping-stone into the premier class of supercross—had been lost in recent years, and guys were making it a career to stay in the class (Martin Davalos, Zach Osborne) or it was costing them a good 450 ride (Malcolm Stewart, Justin Bogle) if they won a title and had to leave.
I could not disagree more. First of all, the original idea of the 125 Class in the fall of 1984 came from my dad and SX promoter Bill West. They saw SX growing and becoming more specialized, and they also saw how confusing it was for fans to watch the same guys in four heat races, two semis, an LCQ, and finally a main event (and two main events in 1985). When supercross as we know it started in 1972 with 16-year-old Marty Tripes winning the Superbowl of Motocross at the Los Angeles Coliseum, there was a 500cc Support class won by Bryar Holcolmb. The class stayed there through 1976, but as 500cc racing waned, it was decided to narrow it down to one class. By 1984, it was obvious a changed needed to be made, and the 125 class was added—with a hitch: it would be halved into East and West Regions to give more kids more of a chance to learn the ropes, make some main events, and maybe get themselves noticed.
It worked, and it worked well. The 125 (now 250) class became the breeding ground for top SX talent, and the last champions to have reached the top without racing 125 SX were Jean-Michel Bayle (1991) and Jeff Stanton (1989, '90, '92).
So now it's 2016, and we have everything live on TV, teams that are primarily focused on the 250 class (Pro Circuit, Star Racing, TLD, GEICO Honda), and nearly every top guy in the 450 Class was once on one of those teams coming up through the ranks (except for Chad Reed, who rode for the now-disbanded Yamaha of Troy in 2002). The riders in the 250SX Class make less money and have less prestige, but they have a real chance of getting a shot at the premier class and the big bucks one day. Sure, some guys hang back too long, but which team wants Davalos or Osborne on a 450? And haven't Bogle and Dean Wilson and Malcolm Stewart all had careers with giant down-times for injury or otherwise? Would you have signed any of those guys to a team instead of Cooper Webb?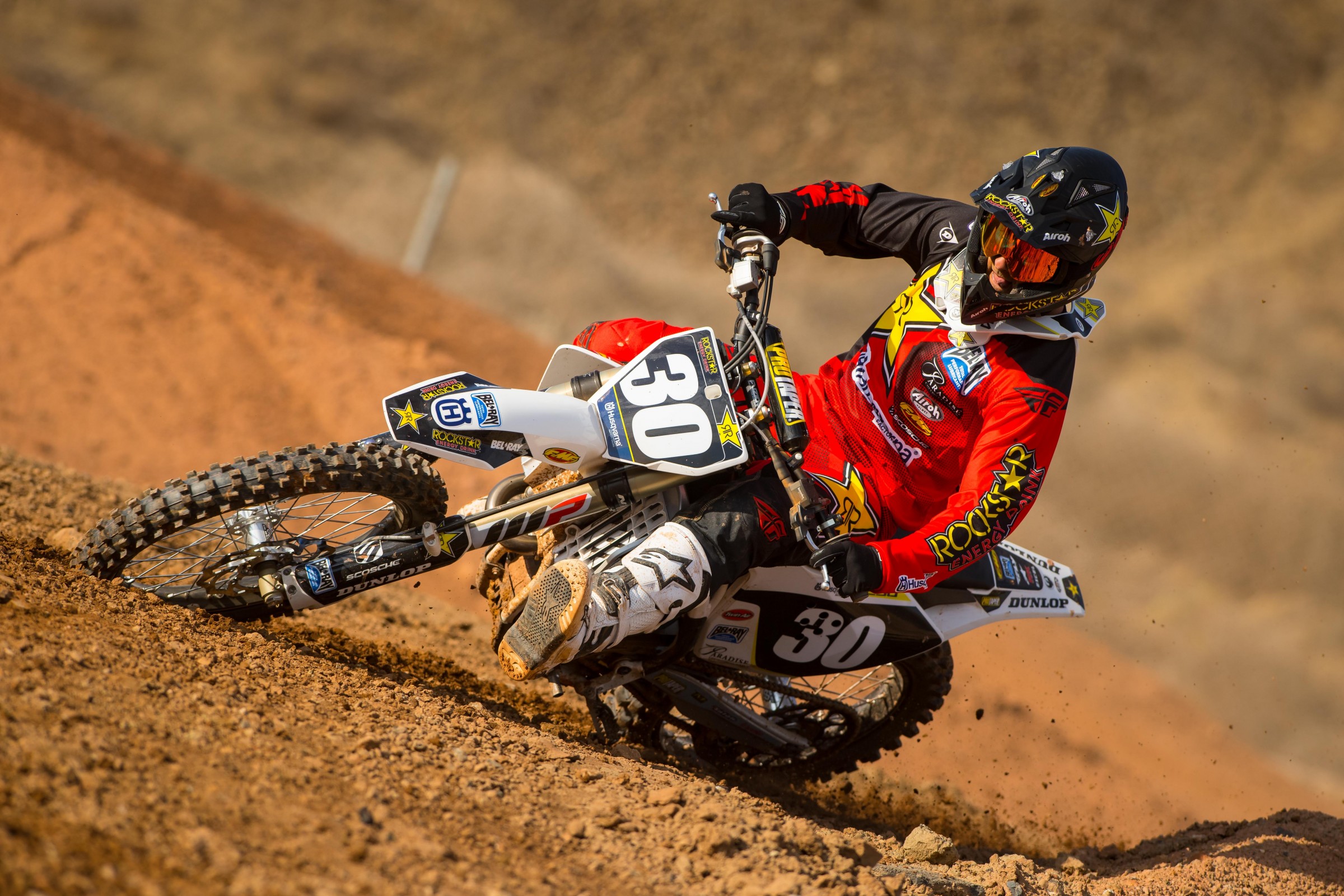 But here's the real question: Would those teams—Pro Circuit, Star Racing, TLD, GEICO—even be racing if they were forced up into the 450SX Class, where they might be eighth-place teams at best? GEICO tried the 450 thing and ended up losing Tomac to Monster Energy Kawasaki because they couldn't match the dollars. If GEICO Honda was in eighth place, do you think GEICO would see their return on investment as worthwhile and stay in the sport?
In any case, there's only one winner and two others on the podium, and people want to see the frontrunners on TV, not a cataloging of every rider and team out there, NASCAR-style, because that's tough to do in an 18-minute main, and it's hard to keep guys out there any longer. And a big part of NASCAR's current attention dilemma is the length of their afternoon-long races, which gives them a chance to show every car in the race but turns off kids who are used to short, funny clips on their phones. Lessening the presence of the 250SX Class on TV is a classic cut-your-nose-to-spite-your-face scenario, because recent grads like Eli Tomac, Ken Roczen, and Cooper Webb would not be nearly as popular or important to our sport as they are now, because they had a platform to introduce themselves and their talents to the world.
If all of those teams moved up to race 450SX, half of the jobs on those teams would immediately disappear, followed by half the teams, because the sponsors would not see what they're seeing now, which are their logos on TV, in the lead, or on the podium, and it would not improve the 450SX Class one bit. Think about it: which current 250SX rider would be in the mix with Dungey, Roczen, Tomac, Barcia, Reed, Seely, Canard...?
Back in 1985, the very best 125cc outdoor riders—Ron Lechien, Erik Kehoe, George Holland, Keith Bowen—all rode in the 250 Class in AMA Supercross. None of them ever won an AMA Supercross title, and only Lechien ever won races (he was winning them as early as 1983). In 1987 the very best 125cc outdoor riders—Micky Dymond, Guy Cooper, Jeff Leisk, Eddie Warren, Larry Brooks—all rode in the 250 Class in AMA Supercross, and none of them ever won a race.
Now look at 1989 and the very best 125cc outdoor riders: Damon Bradshaw, Mike Kiedrowski, Mike LaRocco, Larry Ward—they all raced the 125cc Class in supercross that year, and they all went on to graduate to bigger and better things on 250s, including multiple SX wins.
My point is, moving all the teams up to focus on one premier division means cutting down the chances for extremely important experience and exposure for rising stars, and it would not do a thing to help the 450SX Class. But it would see teams lose sponsors and riders lose jobs, not gain them, because Pro Circuit would lose the best prospects to Kawasaki factory proper (like Ricky Carmichael and James Stewart), GEICO would lose their best hope (like they did with Tomac), and no one on TLD KTM right now is going to take a seat (or a finishing position) from Dungey, Musquin, and Canard—all of whom, by the way, were 250SX Champions first. In other words, they used the 250SX Class as a stepping-stone to the top.
Matthes, let's not try to fix what's not broken.
TWO FITTY TALK (MATTHES)
Well my little column on the state of the 250 Class really got people talking, huh! Big thread on Vital MX, Weege penned a retort and now DC up above talked about it as well. I'm honored! Maybe even a little embarrassed at all the attention. I got Chad Reed agreeing that it needs to change on Twitter, I got Ping (who's fourth all-time in 125SX starts by the way) saying I was full of bunk and a 250 team owner called me who didn't agree with the premise but did think the 250 Class rules need to change. Denny Stephenson, former 125SX winner, thought it was great. Hey man, if I get people talking and discussing it, then I think we've all won.
One thing I didn't put in the column was if you didn't think my idea of lessening the importance of the 250's in order to get more teams into the premier class was that good (DC makes some good points on this) then that's fine also. What we should do is make the 250SX series one series like the 450's. Seventeen races, make the purse the same as 450's and call it equal. Oh, and no pointing out. You can stay there forever, just like the 250MX class. Oh Justin Barcia, you've had a couple of rough 450SX seasons? No worries, get a ride back with your buddies at GEICO and race 250SX! This way also, some smaller guys like Ping back then or Alex Martin now shouldn't be forced up to a bike that weighs even more than what they're on now.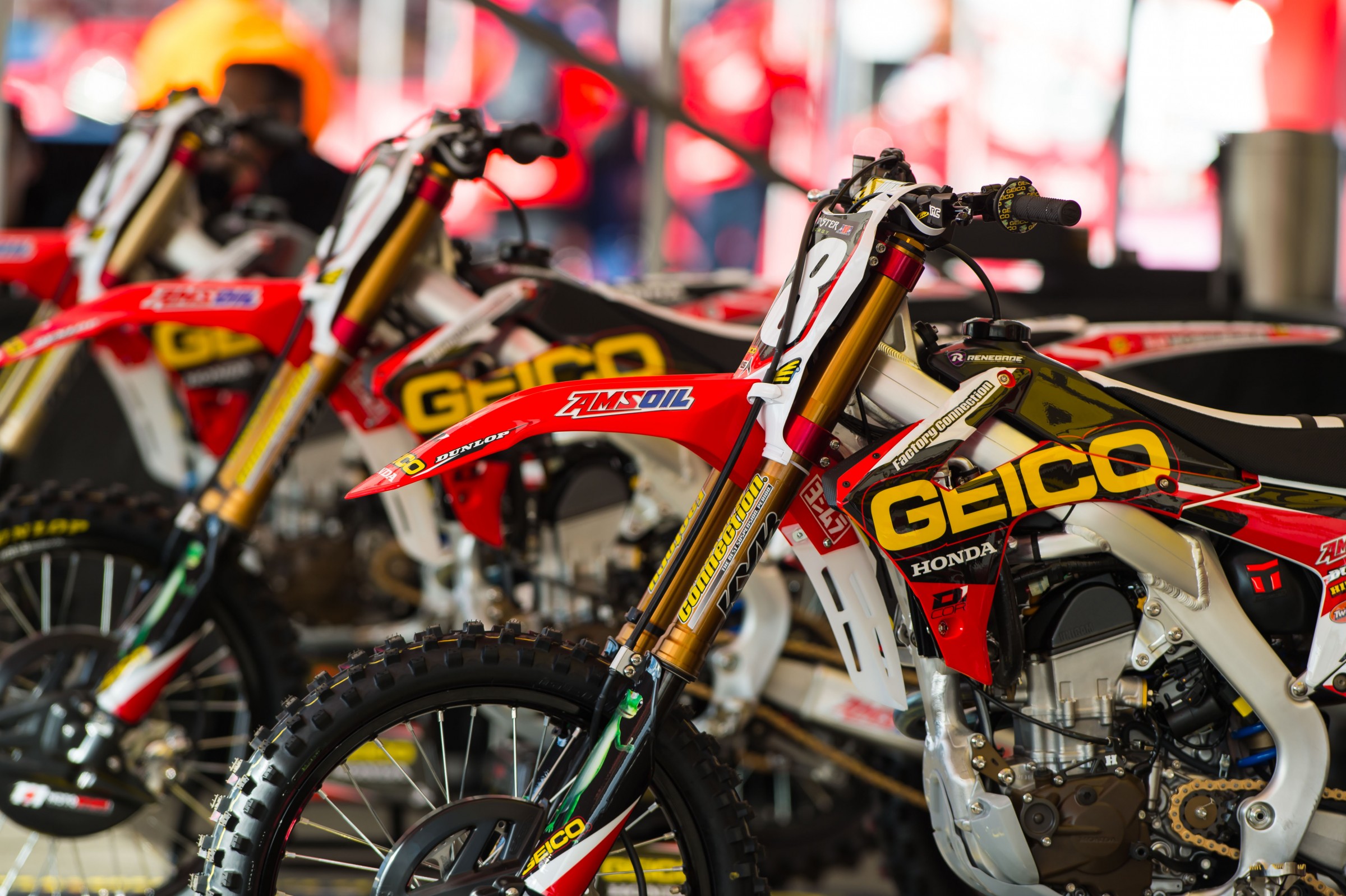 I respectfully disagree with DC when he says it's not broken. When the last two champions in the East Region succeed in the class by winning it and have no ride the following year then it's broken. When there are guys who have made millions, yes MILLIONS, by not winning and ride the class for six, seven or more years, then it's broken. When winning the title is the worst thing to do for many riders in 250's, it's broken. We should want every rider to try their hardest and want to win and get out of the class.
The original idea of the class was great, unfortunately none of the above was ever thought as possible by the founding fathers of the class. I get that one whole series will make it more expensive for teams and privateers but there's no privateers who follow the whole series anymore. The days of me in a box van driving to every race are gone. We have teams now. If a rider on limited funds who can't do the whole series puts in some awesome rides, I'm confident that the team managers will find him and sign him.
Maybe my idea sucks and like DC says, teams will fold up (we don't need any more of that) but we've got to do something to get riders and teams into the premier class. Or forget all that and just make it one whole series like the 450's.
BROWN STILL RACING? (Andrew Hegyi)
If somebody spends a very long time in a career, it can be very difficult to leave it behind. Take Mike Brown, the 2001 AMA 125 Motocross Champion, for instance. He announced his retirement on November 19, but this week the rider from Tennessee has signed up for a new challenge: he has decided to try yet another series. Having raced in AMA Supercross and Motocross, WORCS, GNCC, at the X Games, at ISDE with Team USA, in the FIM World Motocross Championships, and AMA EnduroCross, Brown is now going to take part in FIM SuperEnduro World Championship. This world indoor series is the equivalent one of AMA EnduroCross but is organized by the FIM. The ageless Brown has signed with the Italian Jolly Enduro team and will race in the saddle of a four-stroke Husqvarna 350. He will debut on December 10 and will race the entire season.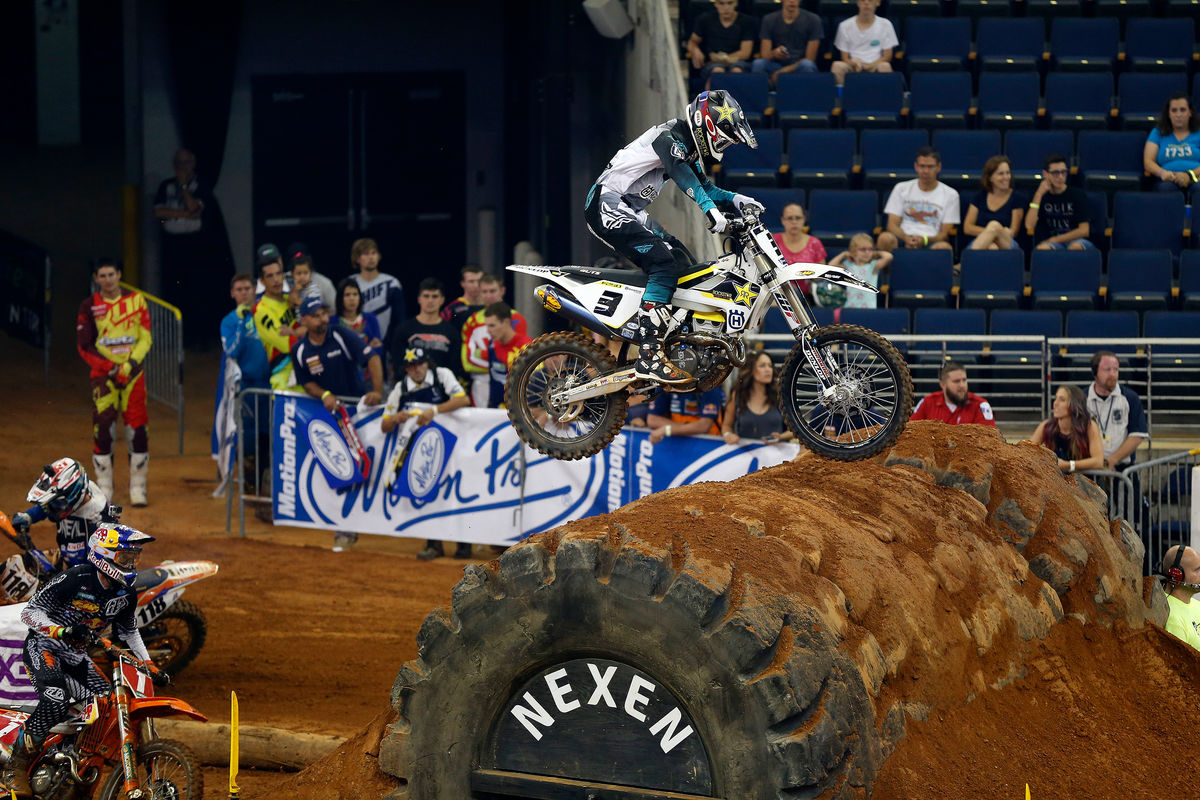 This will be the 10th FIM SuperEnduro season, which comprises four rounds. The GP of Poland will be the season opener on December 10, then comes Germany (January 7), Spain (March 4), and France (March 18). Among the field will be another American in Colton Haaker, the worldwide leader in indoor enduro. First he won the FIM SuperEnduro world title, being the first American to get it, then he got the AMA Endurocross title this year as well.
Oh, But Taddy (Jason Weigandt)
Yes, Mike Brown has found a way to keep on going (but we still like the Mike Brown memories piece we put together last week, check it out here) but another EnduroCross rider has decided to end it entirely, with Taddy Blazusiak calling it quits. Taddy is the GOAT of EnduroCross, no doubt, and if this wasn't such a massive news week and massive Racerhead I could get further into his story, which is pretty amazing. He was just a decent trials rider who borrowed a dirt bike, won that famous Erzberg race, then tried an EnduroCross and won it, and quickly became the face of that entire sport. However, time stands still for no one, and 10 years after he burst onto the scene, the Colton Haaker and Cody Webb types have caught him, and meanwhile Taddy has been getting hurt a lot. Taddy was always a fun-loving guy, which made him exciting to watch on the track and off. That was a nice boost for EnduroCross when it was first getting off the ground. Good luck to him in whatever is next, and how much you want to bet he's back on a motorcycle doing something cool sooner rather than later?
Red Bull has a Taddy interview with more right here.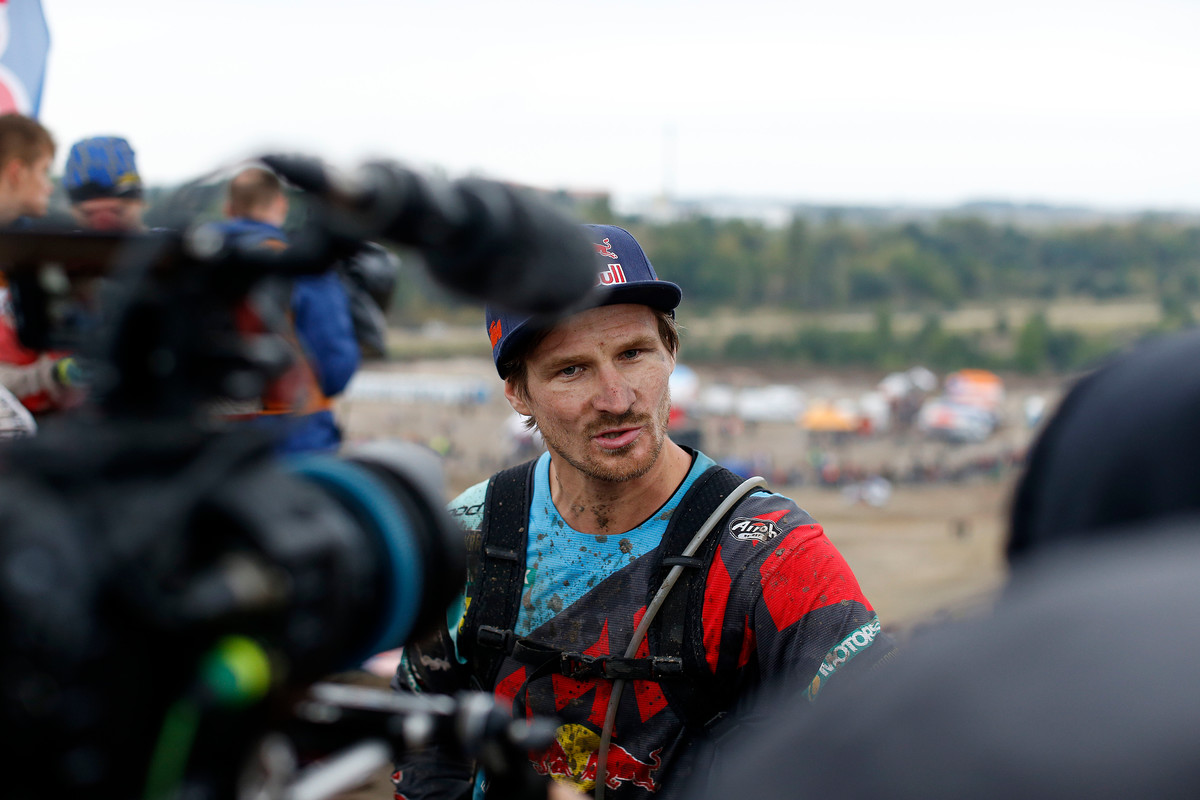 MONSTER MOVES (Weigandt)
So, yeah, Monster is now the title sponsor of NASCAR. I followed the auto-racing news wire pretty closely over the last 24 hours to see the reaction, and for the moment it's a nice little boost. Each Monster reference for NASCAR includes a reference to its deep roots in motocross and title sponsorship in Monster Energy Supercross. Plus, an actual series name for NASCAR has yet to be announced. Why? Because NASCAR traditionally sticks the title sponsor name before Cup, as in Sprint Cup or Winston Cup. But Monster Energy Cup? That name is already taken! I wouldn't be surprised for the stock car championship to be named NASCAR Monster Energy Series or Championship, and the Cup term to go away. All thanks to that supercross race in Las Vegas.
So in the very short term—a 24 hour news cycle—supercross is getting some extra mentions in the sports world. But what about long term? The $20 million figure that is getting thrown around has led to some hand wringing. It's much, much less than the previous NASCAR sponsor. On the NASCAR side that sounds troubling but it's not really money that's a problem for NASCAR right now, it's finding a younger audience. That will pay off much more in the long run than some extra money today. These energy drinks very much create a love-it-or-hate it image, but, like them or not, Monster has been very successful in creating and cultivating a new audience. NASCAR could use that type of innovation badly. I've been saying for years that a NASCAR team needs to stick a freaking driver in a car and do a Gymkhana-style video. It shouldn't be that hard to figure out. Maybe it happens now.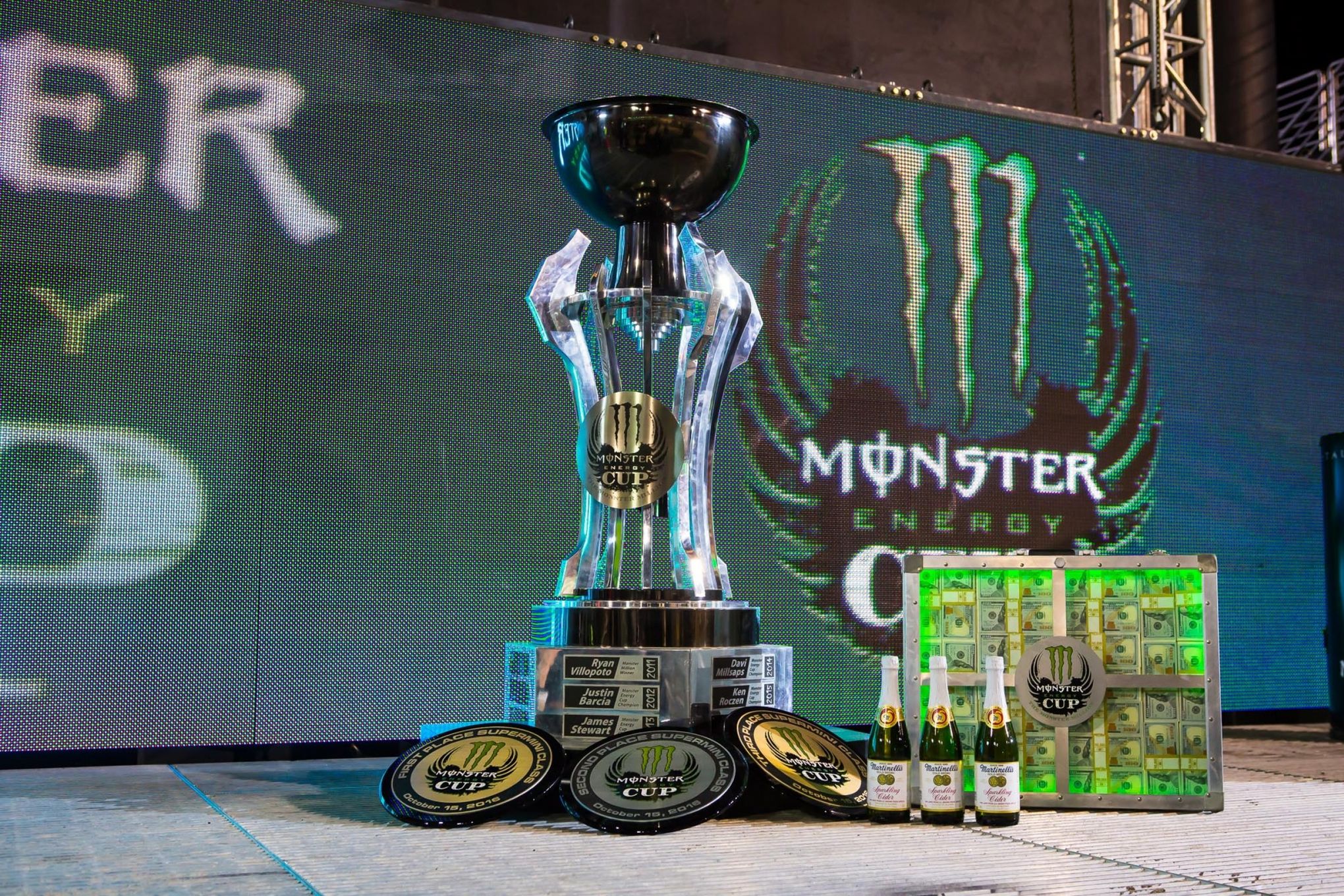 On our end, the fear is that the money will be drained from dirt bikes to pay for cars. I talked to someone at Monster Energy today about that. First, the $20 million figure doesn't even tell the whole story, because NASCAR builds in many other requirements, from paying the race tracks to massive promotion. I bet Monster ends up spending well north of $30 million, easy, per year on this.
Scary? Well, maybe not. Reports have pegged Monster Energy as making around $500 million in profit last year. In fact, they were making so much money, that the company had decided it was time to go even bigger and spend a lot on something huge. It could have gone to a big stick-and-ball sport, but decided NASCAR was a more logical jump, since Monster has always been involved with racing and already had many NASCAR connections (sponsoring drivers and teams). Monster was going to spend a lot on something, and in this case at least it's another motorsport which has a better connection to moto than basketball. Hey, I'm as cheap as it gets, but if I had $500 million packed away in the bank every year, I'd probably go and buy myself something real nice.
Almost hard to remember where this all started, but Monster Energy began right here, in the dirt bike game. Someone today told me that since motocross was the first, it would be the last—the funding for dirt bikes would be the last thing that ever goes away for Monster, and all the current teams and riders have been assured this NASCAR deal won't impact them. I would think Monster might have a little less to throw around in the future, but maybe not. We're talking $500 million in profit. In one year. This should be fine.
MXGP HISTORY (DC)
Looking for a cool motocross site to help pass the off-season? Check out mxgphistory.com. It's a site that has results, standings, and images of the FIM World Motocross Championship going back to the beginning of the eighties. You can see who won all of the motos and Grand Prix events, as well as find some little gems here and there that are almost lost to time. For instance, look at the 1981 season for the 125cc Grand Prix racers.
This was back when Suzuki was the dominant brand in this class, in the middle of what would be a nine-year run on top of the standings, led by the likes of the late Gaston Rahier, Akira Watanabe, Harry Everts, Eric Geboers, and Michele Rinaldi. Suzuki also had Mark "Bomber" Barnett in the middle of his three-year title run in the AMA 125cc Nationals, and the two series and all those great riders came together once: the Valvoline 125cc U.S. Grand Prix at Mid-Ohio. Look closely at the standings and you will Barnett ranked 13th in the final season standings, with a 15-15 as his only score. But back then, a moto win got you 15 points, then 12 for second, 10 for third, and down from there. In one dominant race, Barnett won both motos against not only the top GP men, but also American rivals who were there like Honda's Johnny O'Mara, Jim Gibson, and Rich Coon, plus a 16-year-old kid on a Yamaha named Ricky Johnson.
Or look at 1989's 250cc World Championship chase and you will see eventual winner Jean-Michel Bayle was a no-show in the first round, DNF'd the first moto of the second round, then got on the winning track (and scored his first points) in the fourth moto of the championship. Bayle, who had wintered in the U.S. to set up his move to America that fall, had broken his arm and could not compete in the opener, but then came on like the "Star Buster" he had stitched on the back of his JT Racing pants. The real loss here is the very last moto of the series, where you can scroll down and see a big red "20" in the last column, then follow it back eighth-ranked rider in the series, Broc Glover. Broc had left Yamaha the previous season after winning the last AMA Supercross he ever entered at the Los Angeles Coliseum, and then signed a one-year deal with KTM to race the 250 GPs in Europe, where he then won the last moto he ever entered in his AMA Hall of Fame career. Good stuff!
KTM/Husky PhotoShoot (Simon Cudby)
Racer X was on hand at the KTM and Husqvarna team photoshoots on Wednesday and Thursday this week in Corona, California. The two tracks are literally next to each other in the hills along the busy 15 freeway.The KTM day started early at 6.30 a.m. with action shots of Marvin Musquin who had to leave by 10:30 a.m. to catch a flight to race in Europe this weekend. Trey Canard and Ryan Dungey arrived at 9.30 to get team group shots and their headshots. After lunch it was game on, and Trey and Ryan hit the finish line jump, whoops, and turns a thousand times.
Team Husqvarna for '17 is Jason Anderson, Christophe Pourcel, Zach Osborne, and Martin Davalos. First order of the day on Thursday was to shoot the bikes and riders in various set-ups for team sponsors, head shots, and static bike shots. Riding started at about 11:00 a.m. with big finish line whips, whoop shots, and blowing up berms.The images captured on the two days are used for rider posters, press kits, and sponsor requests for the 2017 season. Here are some behind the scenes shots and some Husqvarna action shots from a mid-day moto.
Americans Awarded at the FIM Gala (Andras Hegyi)
American motorcycling heritage was enhanced by many successes on the international motorcycle scene in 2016. These successes were celebrated at the annual FIM Gala that was held in Berlin, Germany, last weekend. This was the seventh FIM Gala where four FIM Awards were handed out, seven legends were awarded, and 23 individuals and 11 team world champions were rewarded in all. Three American riders and one U.S. team were recognized, as well as one civic program of the AMA.
Ryan Dungey was there to collect his third FIM World Supercross Championship, having previously won in 2010 and 2015. Colton Haaker collected his SuperEnduro Championship, and the ageless Greg Hancock keeps rewriting statistics and his own age-records in speedway. This season he has gained his fourth FIM World Speedway Championship at 46 years old.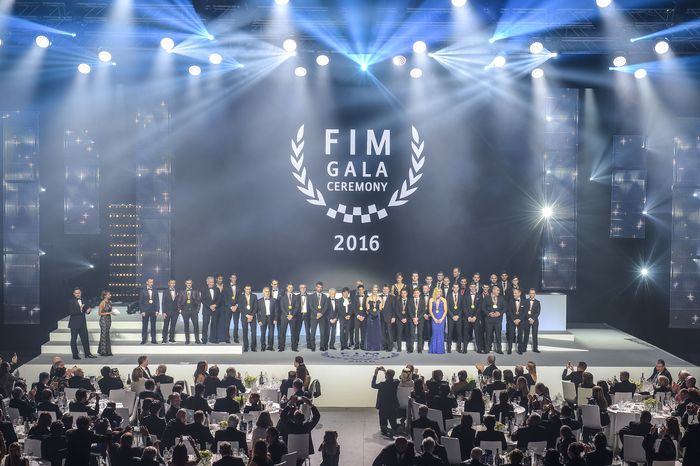 Also in the Enduro Team World Championship, at the International Six Days Enduro (ISDE), the oldest world championship series of all, Team USA won the World Trophy for the first time, in the 91st edition of the ISDE. The four riders responsible were individual overall winner Taylor Robert from Arizona, Kailub Russell from Ohio, and Thad DuVall and Layne Michael, both of whom are from West Virginia.
Finally, in the FIM's Women in Motorcycling Award, the AMA's Get Women Riding Campaign was recognized for inspiring non-riding women to ride and to build the confidence of existing women riders to enjoy motorcycling more.
Hey, Watch It!
Congrats to Austria's Uwe Froehlich for winning our 2016 Racer X Amateur Film Festival presented by MotoSport, WASPcam, and BAK Industries! To see the full listing of finishing positions and prizes, check out the film fest wrap-up article we recently posted.
Chad Reed looks like he's going to have his hands full with two-year-old Pace as he throws a tantrum because he has to wait for dad (the money maker) to finish riding before he can. This needs to be saved to be included in Pace's 2032 supercross introduction video. #iwannaride
Head-Scratching Headlines
"Four charged after Facebook Live video of BB guns prompted massive NYPD response at Gramercy Park Hotel" – New York Daily News
"Rogue Beaver Apprehended After Trashing Store That Sells Fake Christmas Trees" – The Huffington Post
Random Notes
Here's an article about concussions and some new concepts and ideas that researchers are working on to help spot athletes who may be at risk to them, as well as the damage even a mild one may cause without proper downtime. (Thanks to JH Leale for the link.)
---
MXLarge.com's "MX Geoff" Meyer has an interesting interview up this week with KTM's global racing boss, Pit Beirer, a wide-ranging discussion on the racing world in general, the Stewart brothers and Jeffrey Herlings and Tony Cairoli in particular, and a preview of 2017.
---
For an update on Canadian racing, check out DMX Frid'Eh Update #49.
---
Sideburn Magazine, a 'zine-style flat track publication out of the UK, featured Peanuts' Joe Motocross on an alternate cover of their latest issue and seems to be gaining quite a bit of interest, unsurprisingly so. Our October '08 issue of Racer X Illustrated featured Snoopy's alter ego, Joe Motocross, and Charlie Brown on the cover and remains one of the most popular among our readers. It even had a special feature penned by Charles Schulz's son, Craig, titled "Meet Joe Motocross" that talks about the origins of our favorite Peanuts character. We don't have enough print copies to sell anymore, but perhaps we could re-release that feature as an online piece someday. Props to the Schulz family for bringing motocross to the masses!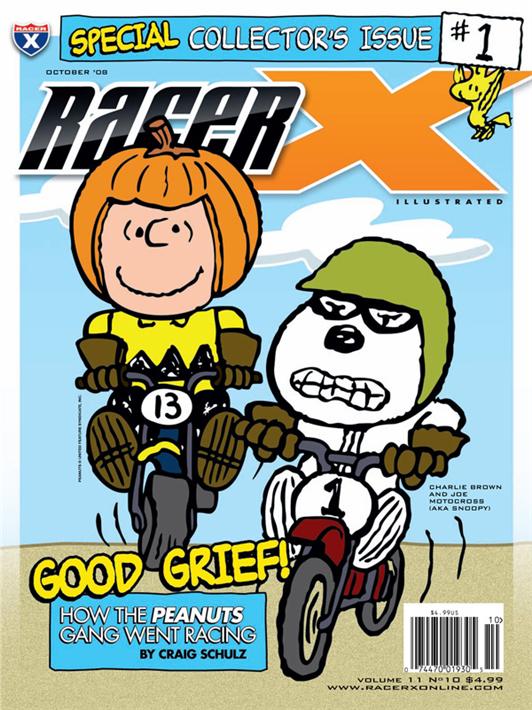 Looking to give someone a gift that keeps giving every month for a full year? Subscribe now for as low as $9.98 to send someone 13 issues of Racer X Illustrated and a 13-month Racer X calendar that features our favorite covers and riders from the past 20 years. We'll even send you a free Racer X calendar as a bonus!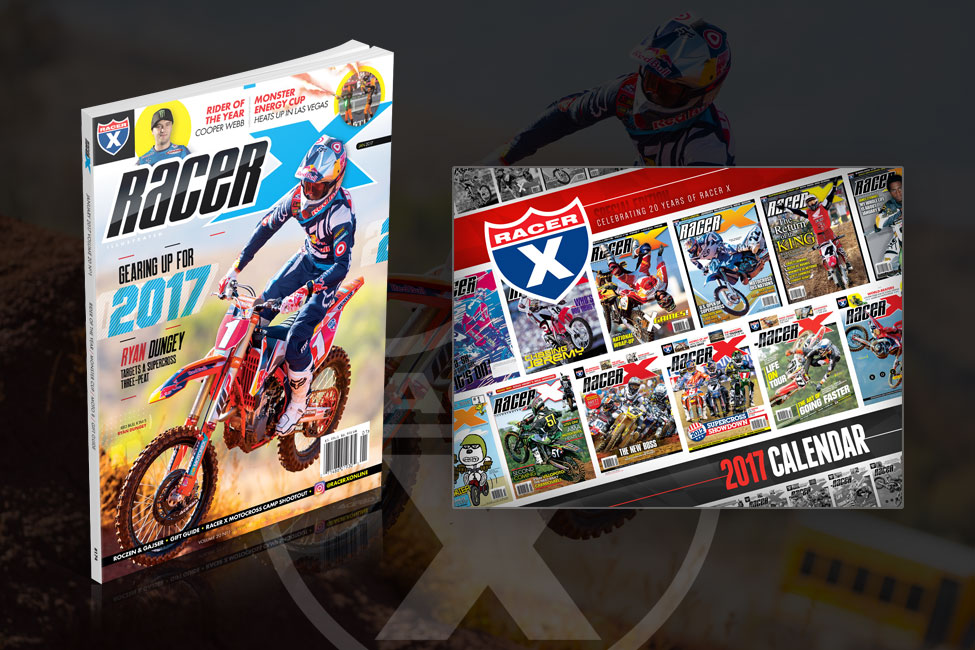 And finally, motocross lost a legend this week when Dennie Moore passed. He was the man behind Eastern Maico and an influential person in the early days of American motocross. Moore was from California and served in the U.S. Navy before getting into the motorcycle business in Reedsville, Pennsylvania. Dennie touched many lives over the years and introduced a lot of people to motocross. He also helped pave the way for the likes of Ake Jonsson, Willi Bauer and Hans Maisch to come to America in 1972 for the Trans-AMA Series, during which they pitted out of his Bel-Ray van. He also sponsored the series, in which the Swedish legend Jonsson won the last nine races in a row. The European giants not only dominated, they helped young American riders like Gary Chaplin, Bryar Holcomb, John Franklin, Bob Harris, and more learn the European way of motocross.
Godspeed, Dennie Moore.
That's it for this week. Thanks for reading Racerhead. See you at the races.