Last weekend at the final round of the 2016 EnduroCross Championship, Mike Brown announced he was stepping away from competing in the series. Brown, who has won everything from AMA Motocross titles, to ISDE and WORCS, GPs and X Games gold medals, has had one of the most distinguished careers in the sport. The Racer X staff, as well as Zach Osborne and Randy Richardson of Michelin Tires, shared their favorite Mike Brown memories below. Congrats on a hell of a career, Mike!
Davey Coombs / Racer X Editor-in-Chief
Maybe 20 years ago at the Paris-Bercy Supercross, back when many of the top names showed up to race, the promoters organized a go-kart race on a slick indoor track. They loaded up a mini bus with everyone—Jeremy McGrath, Jeff Emig, Ryan Hughes, Mitch Payton, even Ricky Carmichael, who was just there to watch. People were putting in money to bet on who was going to win. I was there for Cycle News and Racer X Newspaper, and when it was my turn to pick a winner, I turned around and pointed at Mike Brown, who was sitting in the back row of the van. I think Mitch said something like, "Okay then ... but you don't count, you're not racing, you're just taking pictures," which was true. But when it got to be Brownie's turn, he grinned in the back of the bus and said, "I'm gonna bet on me too."
What no one else probably knew was that Brown, practically unknown at the time compared to all those superstars, had once quit racing dirt bikes to take a stab at stock car racing on those hard-scrabble dirt tracks around Tennessee and North Carolina, where you had to be pretty damn good to even make it into a main event. I think he was also working part-time behind the parts counter at Jim's Motorcycle Sales, his longtime sponsor. Car racing turned out to be too expensive, so he decided to give motorcycle racing another go. This time it stuck, and he ended up enjoying one of the most prolific, diverse, and successful careers any of us could have imagined 20 years ago in that bus driving to the karting track in France.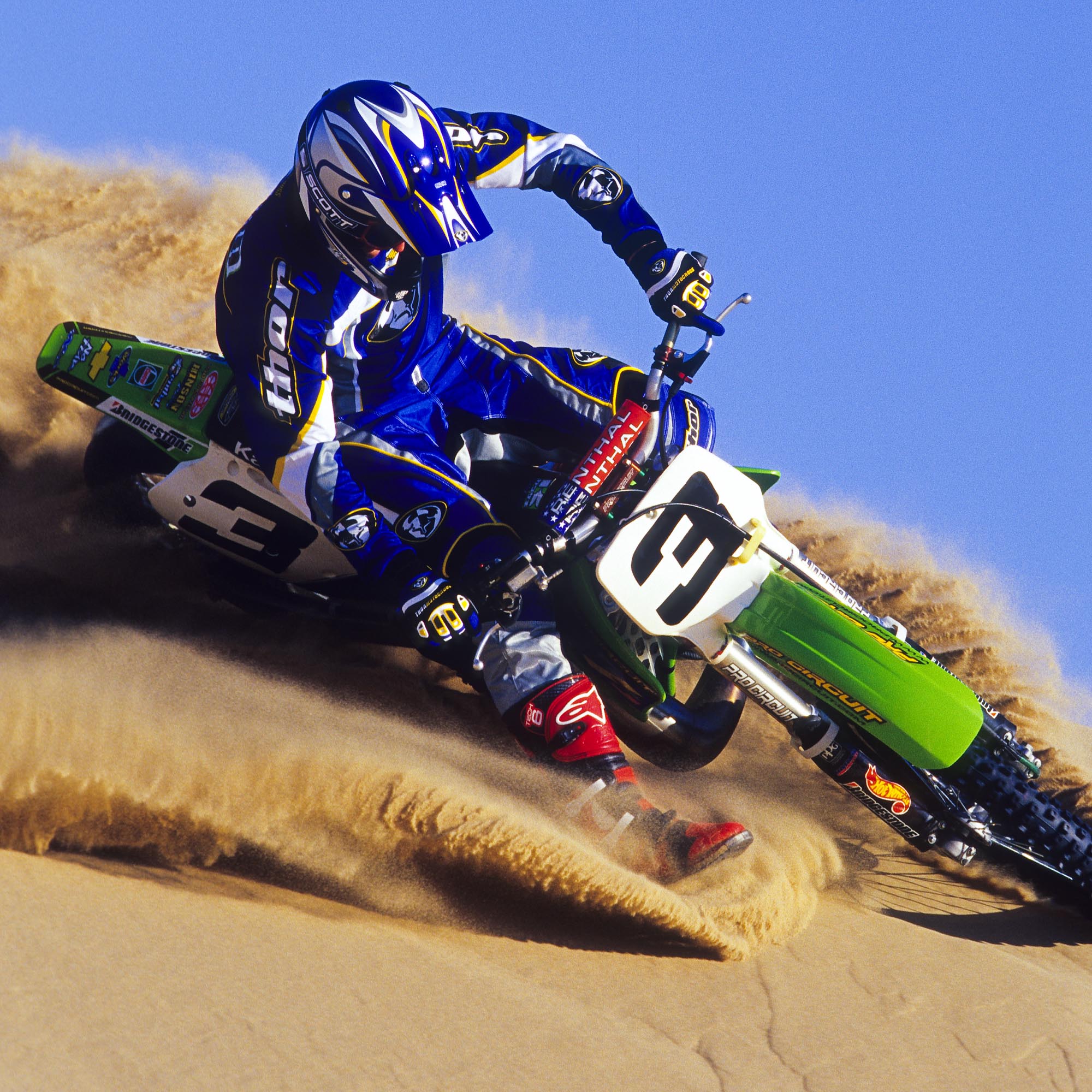 Anyway, we get to the track—which was very like one of those Pole Position tracks that are so popular now—and each of the guys get a couple practice runs. Guys are sliding around everywhere, and Brown was maybe mid-pack when his time was posted. I was thinking, I'm about to lose my 20 bucks, but then just before it was time to start the official session for the fastest laps, Mike looked over at me, grinned, and took off. This time he wasn't sliding at all. He was rounding all the corners at the perfect apex, keeping his wheels from sliding, carrying speed like he had been racing this kart all his life or something. His best lap was maybe two seconds faster than everyone when the session was over. He never tipped his hand until it was time to go, and then he was all in. I can't remember how much he won, but I'll never forget him betting on himself, and then racing off with everyone's money in his pocket and that same grin on his face.
Jason Weigandt / Racer X Online Editor
As race reporters, we love to say, "Oh he might seem calm in normal life, but strap that helmet on and he becomes an animal." But really, we're just saying that to cover up the fact that a lot of professional racers aren't exactly dripping with personality. I'm not sure if most of these guys really do transform when they put the helmet on. Just because they're riding fast doesn't mean they're riding with anger. But I do know one person who fits this racing cliché precisely, and that's Mike Brown.
Look, Brown is as soft-spoken as it gets. Talk to him in the pits hours before a race, and he's the nicest guy ever. He never brags, he never talks crap, you honestly wouldn't think he even races at all. But if he's on the track, or if you talk to him within about five minutes of the race, he's absolutely a different person.
In 2002 I was first breaking into this industry and looking for jobs to do at the Nationals. I was on the infield once and they handed me a cardboard sign with a bunch of sponsor logos on it. My job was told hold this board behind the riders while they did their TV interviews. Each week, I'd hold the board up behind the 125 winner. If Brown won, all was well. But if he finished second, he'd have to park behind this sign while the winner did the interview. And Brown would be SO PISSED OFF. He won the second moto at the opener at Glen Helen, but James Stewart edged him for the overall. He was all huffing and puffing back there while Stew did his winning interview—I thought he was going to start punching people. A few weeks later at High Point, Chad Reed barely out-dueled Brown for a moto win. Chad's doing his interview, and Brownie is behind the sign, and finally yells out to no one in particular, "Is he still going?! What's he doing, writing an effing novel?!"
In his interviews, Brown wouldn't take the easy way out. I remember lurking around the podium again in 2001, and DC (pit reporter for TV at the time) asked Brown about racing Grant Langston. "Langston? Nah, anytime I'd race him in Europe, the only reason he'd beat me is because my bike broke."
It never changed. A few years ago, as Brett Smith mentions below, Brown was racing EnduroCross, and he and Taddy Blazusiak were battling hard for the championship. They were both on KTMs. In a TV interview, I asked Brown what it was like to battle a teammate and he said, "Nah, we ain't teammates. I don't care who it is, I'm here to win."
What's crazy is I expected all this stuff to spill over beyond the races. I needle Langston, one of Brown's all-time rivals, about this all the time. But somehow he and Mike are super cool with each other! It's like all of this heat for whoever he is racing evaporates the next day.
If you found Brown on a random Tuesday afternoon, it seems likely he'd be helping old ladies cross the street. But on Saturday and Sunday, once he was in the racing zone, he'd smash into anyone if that's what it took to win. That's a racer's racer, and in this business, there's nothing that can command more respect than that.
Zach Osborne / Rider, Rockstar Energy Husqvarna
Maybe not my favorite Brownie story, but the one I feel most fitting comes from the Argentina ISDE. We roomed together for that trip and as always it was a good time. We had already been there for two weeks and it was in the middle of the desert, far from the middle of nowhere. We were all ready to go home. Especially me because my bike broke on the first day. A normal ISDE day starts around 5:30 a.m. and I had my alarm set only to be woken up by a pillow to the face at 4:45 and a big old scream "Let's go baby it's race day!" This was the fourth race day in a row mind you. But that's just how he rolls. He's always loved what he does and always been enthusiastic about it. I believe that's why he's had such a long and awesome career!
Chase Stallo / Racer X Online Managing Editor
Over the course of the past two years, aside from my work at Racer X, I've had the opportunity to work within the research department at ESPN for X Games. In short, my job is to put profiles (injury history, personal information, etc.) together on Moto X athletes (flat track, EnduroCross, freestyle) for producers, commentators, or anyone on site that may need the information. In 2015, my first year, I had EnduroCross. I'd previously talked with Mike Brown for a story in Racer X Illustrated on Sam Gammon, owner of Muddy Creek, and knew he was a pretty tough guy to track down. Well, it turns out it was much harder than I anticipated. After a few weeks (or maybe it was months) of leaving voicemails and text messages, I formulated a plan to have Jason Weigandt, who would be attending the Vegas EnduroCross for TV work, to speak with Brown. Weege had previously done the same job at ESPN, so I gave him a couple questions I knew I needed answered and that was that.
Brown, who was 43 years old at the time, went on to win gold that year, becoming the fourth oldest athlete ever to medal in a Moto X event at X Games—and the oldest athlete not named Jeff Ward to win gold. After winning, every gold medalist is ushered into the media room to conduct post-race interviews for TV, etc. After Brown finished his TV work, I introduced myself and someone said, "Yeah, that's the guy that's been trying to track you down for the last month." To me, it wasn't a huge deal. I understand athletes are busy and sometimes they just don't have time. But Brown couldn't have been more genuine after our brief introduction. He apologized for not getting back with me, and then answered my questions for a good 10 minutes. To me, it said a lot about the type of person Mike Brown is. A good-natured, down to earth guy that just so happens to haul ass on a dirt bike.
Steve Matthes / Racer X Editor-at-Large
It took me forever, but Mike and I finally connected on a real down home podcast about his humble beginnings, quitting the sport, his battles with Ryno and Langston, and living with RC.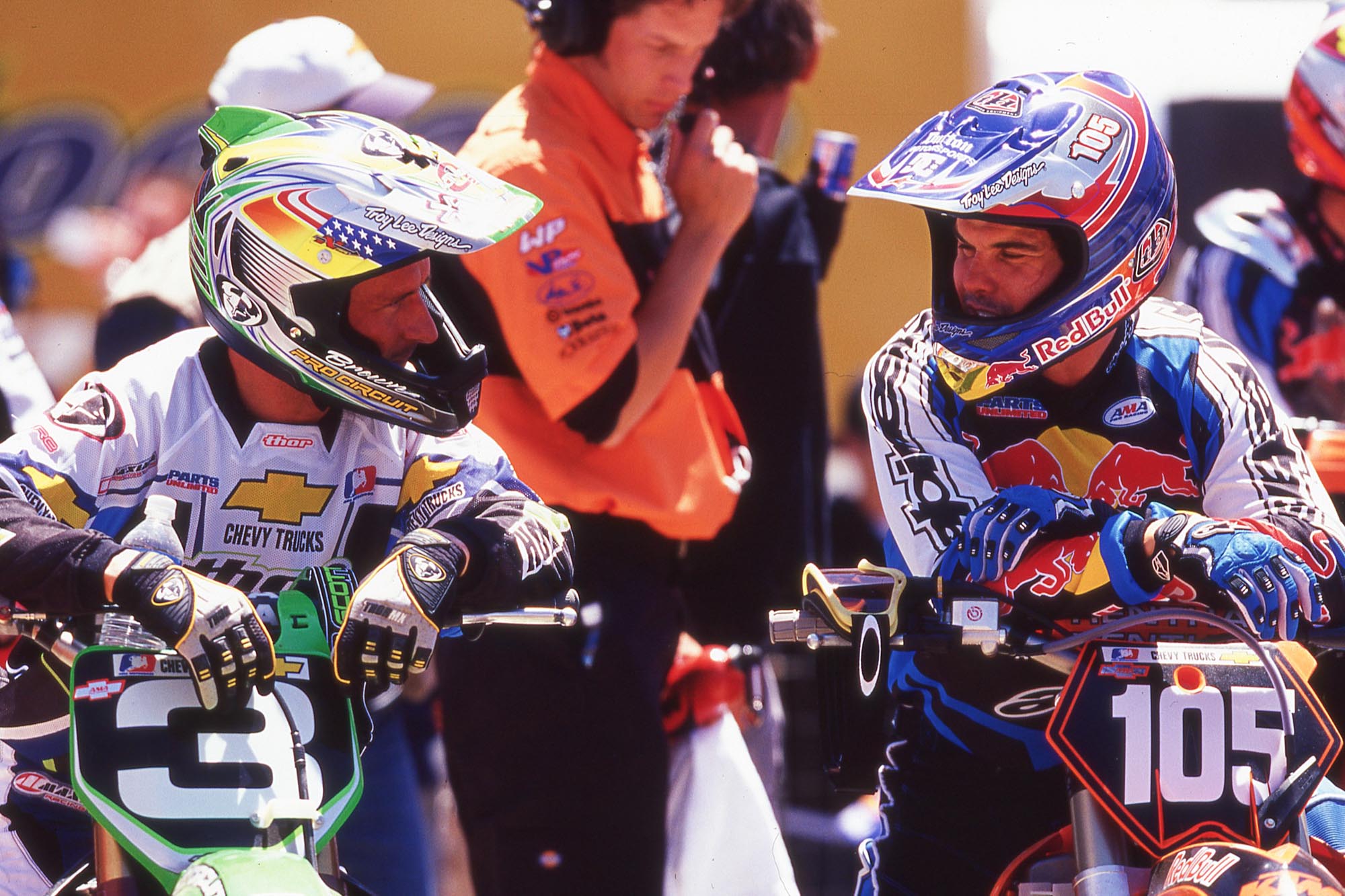 One of my favorite Mike Brown stories is he got selected for a prestigious PEAK Pro Circuit Honda ride and promptly blew it. He rode like crap and was let go before the outdoors. He actually quit the sport for a while and got a job at Jim's Motorcycle Sales in Tennessee before he realized, like many other pros, that having a real job sucks. So grabbing a CR125 and wearing #483, Brown went out that next year and won the Pontiac 125SX main event! Out of his van!
And with that, Mike Brown's second act got started....
Brett Smith / Journalist, Racer X Contributor
My most vivid memories of Mike Brown include two moments in his career where loss and victory sort of collided; the year he won his 125cc MX title (2001) and 2013, when he narrowly lost the EnduroCross championship.
In 2001 I was fresh out of college and traveled the entire Lucas Oil Pro Motocross Championship as part of the ESPN television crew. I think part of my job was to get the audio webcast up and running (remember those?). Brown won the title in the last moto when Grant Langston's rear wheel collapsed and I was standing in the infield next to Jim "Bones" Bacon when Brown pulled up and found out he won.
His wife, Melissa, joined him when he took his helmet off, which is something she never did before. They were both crying and Mike told ESPN, "I just wish my mom and dad could have been here to see me." There was so much emotion in that moment and I remembered it so well that I asked Melissa about it 13 years later when I wrote a feature article on Mike for Dirt Rider.
She said she'd suffered a miscarriage two weeks before the final race in 2001 and she also underwent a minor surgery (they have two healthy boys today). It was difficult for Mike to focus on racing at the final two rounds and when it was over with, he simply broke down. It was a special moment to witness.
In November 2013 I was a producer for the live YouTube coverage of the EnduroCross series. Brown was in contention for the title, this time against Taddy Blazusiak. He came into the race just like in 2001, having experienced a great lost. Kurt Caselli had just been killed in Baja. Brown wasn't the only one grieving but the loss could be seen on his face, even on the starting line. Racing in Baja really shook Mike up. He had told me as much as a year earlier for a different article I was reporting on.
Mike lost the EnduroCross title and I ran into him the next morning on his way to the airport. He was upset, but happy to be heading home to his family, safe. Melissa and Mike are so close to each other that she knew he wasn't winning that title before he did. She watched the final round in 2013 via the YouTube webcast. Here's an excerpt from the May 2014 Dirt Rider article I wrote:
Melissa Brown had not seen her husband in over four weeks but she could feel his energy just by analyzing the facial expression she saw on the computer screen. As he sat on the starting line for the final round of the 2013 GEICO EnduroCross Championship in Las Vegas, she didn't see a crease between his eyebrows. That's how she knows when he is focused. He also didn't stretch his wrists or arms on the handlebars; he just sat relaxed with his arms folded across his chest and his head turned to the right. She looked at their two young boys, both up way past their bedtimes to watch dad on the live Webcast, and tried to lower their expectations. "I don't think your dad's heart is into it," she told them.
Mike and Melissa are some of the best people I've ever met in this industry and Mike has completed something truly special—a nearly 30 year professional motorcycle racing career. Well done, Brownie!
Randy Richardson / Michelin Tires
My first memory of Mike Brown at Muddy Creek is from when he was competing in the Jump Contest on his #483 Jim's Motorcycle Sales Honda CR250 at the 1991 Victory Sports Top Gun Showdown. As a B Class and +25 Class racer who's never been into stick and ball sports, I remember standing there and wondering why he was making an odd waving motion with his left arm as he was whipped flat-out over the big table top.
I later found out that Mike was doing the "Tomahawk Chop" in honor of the Atlanta Braves, who'd just won the 1991 National League Championship Series.
It's now 25 years later and I'm thankful to consider Brownie as a close friend whom I've created so many great moto memories with. And though I still don't care about any stick and ball sports, I sure am thankful they exist, or else we wouldn't have such great venues for supercross.