Boyesen Releases Supercooler for 2016-2017 Kawasaki KX450F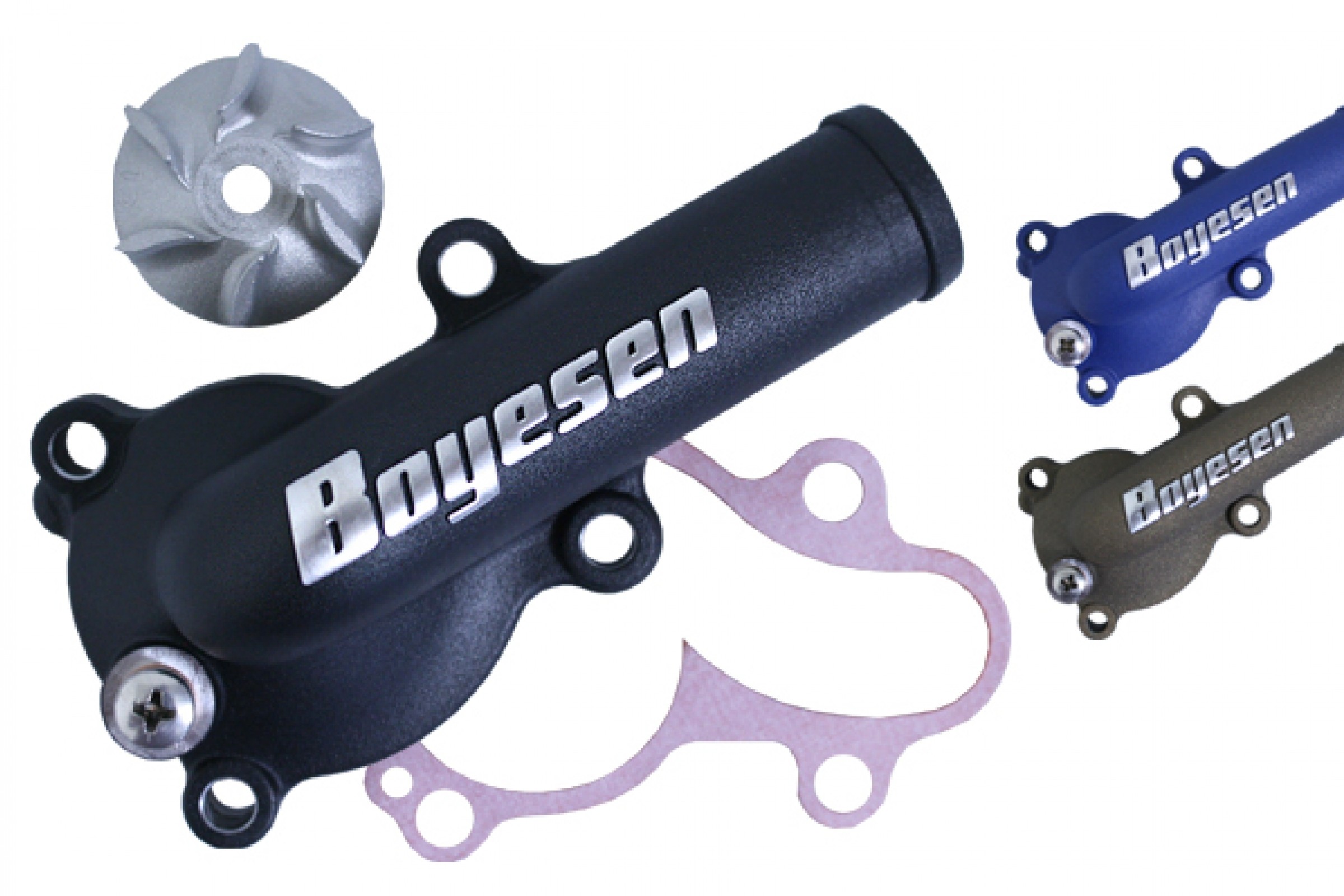 PRODUCT DESCRIPTION
Boyesen SuperCooler Water Pump Cover and Impeller Kits are specifically designed to enhance the performance of your Kawasaki KX450F engine's cooling system. These high-flow, hydrodynamic water pump kits have been tested and designed to flow more coolant. By increasing the flow, the engine will run cooler at a more constant temperature.
Internal engine heat, although needed for horsepower, is also extremely destructive to your engine if it is not managed properly. Internal-combustion engines burn fuel hotter than the melting temperature of engine materials. When an engine is operating out-of-balance with its cooling system's capacity, the internal temperatures often rise to levels that cause damage to the cylinder, piston, and valve-train components. If these parts become heated over the optimal operating upper limit range, component damage will begin to occur. Reduced to its common reasons for being essential in an internal combustion engine, cooling system efficiency can have a dramatic influence on the longevity of the internal working components of your bike's engine. These include the reduction of thermal stresses and strains caused by pre-ignition and detonation (particularly the latter), distorted cylinder bores, potential damage to pistons and rings, and damaged valve-train components.
HYDRODYNAMIC EFFICIENCY
The Boyesen Supercooler will reduce engine temperatures by as much as ten degrees, as confirmed by Boyesen's coolant-flow Dyno testing. How does the Supercooler achieve this? Hydrodynamics. Boyesen's investment-cast aluminum water pump cover has bigger water inlets, a sculpted design, no casting seams, less restrictive corners, a more efficient impeller and less coolant cavitation.
AVAILABLE COLORS
The Boyesen Supercooler is currently available in Black and Magnesium, as well as the ever-popular Spectra Series Race Blue color.
Black — WPK-18AB
Magnesium — WPK-18AM
Race Blue — WPK-18AL
RETAIL PRICE
Boyesen's suggested retail price of the Black and Magnesium Supercooler is $189.95 (USD).
Boyesen's suggested retail price of the Race Blue Supercooler is $195.95 (USD).
KTM APPLICATIONS
2016 - 2017 Kawasaki KX 450F
AVAILABILITY
The Boyesen Supercooler's for KTM and Husqvarna's are available for order at your local dealer or popular web retailers. If your regional dealership has chosen not to stock this product, Boyesen also makes it available for purchase at our webstore.
Visit Boyesen.com for more information, and to make your purchase.