GNCC Recognizes Top Racers and Sponsors at 2016 Awards Banquet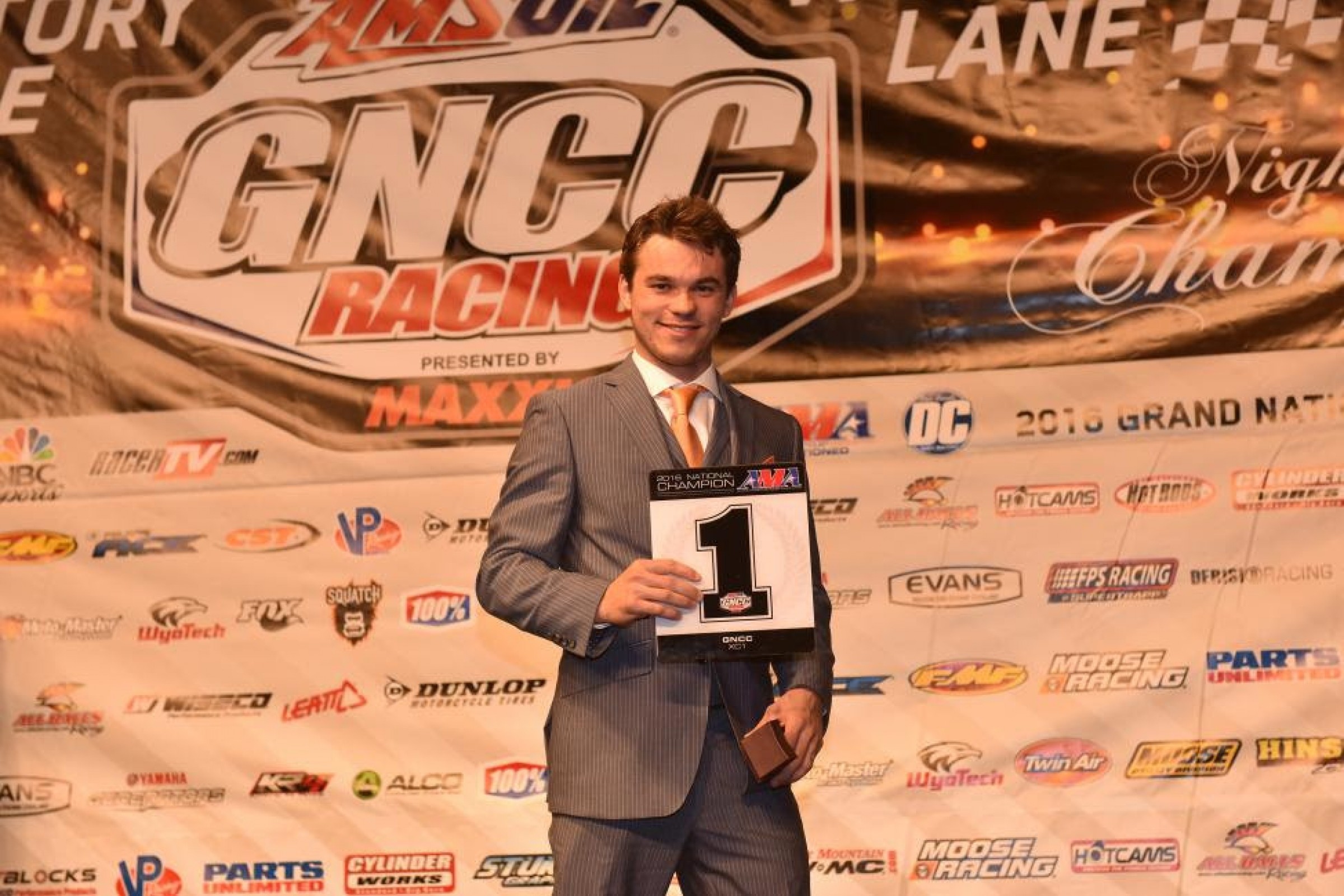 MORGANTOWN, W.Va. – With all 13 race rounds complete on the 2016 circuit, the GNCC Banquet took place this past weekend, November 25 and 26, with the ultimate celebration to cap off the season. More than 1350 racers, family members, and fans from all over the country came together in Morgantown, West Virginia, to celebrate the prestigious accomplishments of the top-10 racers in each championship class.
Each evening kicked off at 5:30 p.m. EST with dinner and opening ceremonies. Each championship class was honored on stage, in addition to a handful of specialty awards and recognition of series sponsors and supporters. The best ATV racers were honored in front of over 700 people on Friday evening, while nearly 650 more attended Saturday evening's ceremony to honor the top motorcycle racers in the series. For a full list of 2016 GNCC champions please click HERE.
2016 Specialty Award Winners
| | |
| --- | --- |
| ATV Winners | Bike Winners |
| Rider of the Year - Walker Fowler | Rider of the Year - Kailub Russell |
| 4x4 Rider of the Year - Kevin Cunningham | Amateur Rider of the Year - Zach Nolan |
| Amateur Rider of the Year - Devon Feehan | Most Improved Rider - Josh Toth |
| Youth Rider of the Year - Mikey Nickels | Youth Rider of the Year - Hunter Riemer |
| Most Improved Rider - Greg Covert | Bad Ass Award - Becca Sheets |
| Bad Ass Award - Angel Knox | Rough & Ready Pit Crew - Tely Energy |
| Rough & Ready Pit Crew - Team Nappo | Award of Media Excellence - Matt Watson |
| Sport Ambassador - Vickie Fowler | Bike Manufacturers Cup - KTM North America |
| Award of Media Excellence - Johnny Gallagher | State Championship - Ohio |
| Manufacturers Cup - Yamaha Motor Corp. | Sponsor of the Year - FMF Racing |
| State Championship - Pennsylvania | Lifetime Achievement - Charlie Mullins |
| Sponsor of the Year - Rocky Mountain ATV/MC | In Memoriam - Darrell Raines, Katherine Whibley, Earl Bennett Sr., Ty Kesten, Amy Yukevich, Cliff Ousley, Joy Shaver |
| In Memoriam - Tom Wright, Dusty Miller | |
The 2016 ATV sponsor of the year, Rocky Mountain ATV/MC, returned with their Ticket to Ride program. Four lucky winners received a paid trip-for-two to Moab, Utah for a riding excursion with the Rocky Mountain ATV/MC staff to take place this upcoming spring. Congratulations to Friday night's winner's Junior B (22+) rider Ryan Beauvais from Chepachet, Rhode Island, and Vet A (28+) champion Dustin Hendershot from Washington, West Virginia, who will be provided with Side-by-Side machines on the trip. Motorcycles will be provided for Saturday night's winners, WXC competitor Brooke Cosner from McHenry, Maryland, and 250 A rider Andrew Boggs from Masontown, West Virginia.
Several thousand dollars worth of contingency awards were distributed to the top-five finishers in each class and additional door prizes were raffled off to racers throughout the evening. GNCC series sponsors stepped up to distribute the biggest contingency prizes in history, thanks to AMSOIL, Maxxis, Rocky Mountain ATV/MC, Parts Unlimited, FMF Racing, Polaris Ace, CST Tires, VP Racing Fuels, Dunlop, Leatt, Wiseco, All Balls Racing, Stuk MX, Mid-State Chevy, Hot Cams, Hot Rods, Cylinder Works, Tire Blocks, Factory Connection, Cometic, Hinson Clutches, Twin Air, Moto Master Brake System, Fox, Moto Tees, 100% Goggles, Evans Coolant, WyoTech, Alco Cleaners and FPS Racing.
Immediately following the awards portion of the ceremony, musical entertainment was provided by DJ ELO, as GNCC Racers and their families continued the celebration on the dance floor. GNCC also provided a free photo booth from 5:30 p.m. to midnight to capture the evening's festivities and video game stations were on site all evening to provide additional entertainment for the kids.
For those racers unable to attend the GNCC Banquet, awards can be obtained by filling out the GNCC shipping form HERE. Racers will be responsible for the cost of shipping and handling prior to shipping the award, and request can be made until December 31.
For the first time ever the 2017 AMSOIL Grand National Cross Country Series will kick off with the Big Buck GNCC in Union, South Carolina, the weekend of March 4 and 5. For more information on the GNCC series, visit the official website at www.gnccracing.com or call (304) 284-0084. Also follow the official GNCC social media accounts on Facebook, Twitter and Instagram for exclusive content and to catch the latest news.