There's the Justin Brayton we know in America—a good, solid racer—and the Justin Brayton who races overseas during the offseason. We're not sure if Brayton goes to another level on foreign trips, or if the regular suspects maybe lose a small step, and he simply stays the same, but whatever it is, Brayton has been very, very successful through the years on these trips, with King of Bercy and King of Geneva crowns on his mantle, and now, the Australian Supercross Championship.
Over the weekend at the AUS-X Open, he provided Chad Reed's stiffest competition for the win and believes he had what it takes to beat the #22 until Reed knocked him down in the first turn on Sunday. He charged back to third, giving him second overall for the weekend.
Jeremy Hammer of MotoOnline.com.au talked to the new Australian SX Champ after the race.
Racer X: Justin Brayton, you're the 2016 Australian Supercross Champion—congratulations and you must be pleased to end up with that result.
Justin Brayton: Yeah, it's what I came here to do and it really is awesome. It's been a great experience, I'm just so happy to get this for the Honda Genuine Racing team, my mechanic Brent and my wife and family. It was a stressful couple of weeks before the season trying to put it all together and make it happen. Thank you so much to those guys and everyone at American Honda—I couldn't have done it without them. I'm happy to get this number one plate on the bike for next year and hopefully [I can] be back for some more.
You came together with [Chad] Reed at the start of the main tonight, what were your thoughts on that?
I don't really know, other than that I didn't do anything—I had the holeshot and Reed just came into me and shoved me off the track—it's pretty simple I think. It's alright, it is what it is. I felt like I was riding really well tonight so no one can really take that away from me. To come from last to third was cool, it made the race pretty exciting for me—it was a challenging track to pass on. It was fun, other than the first turn incident. Yeah, there's not much I can say about it.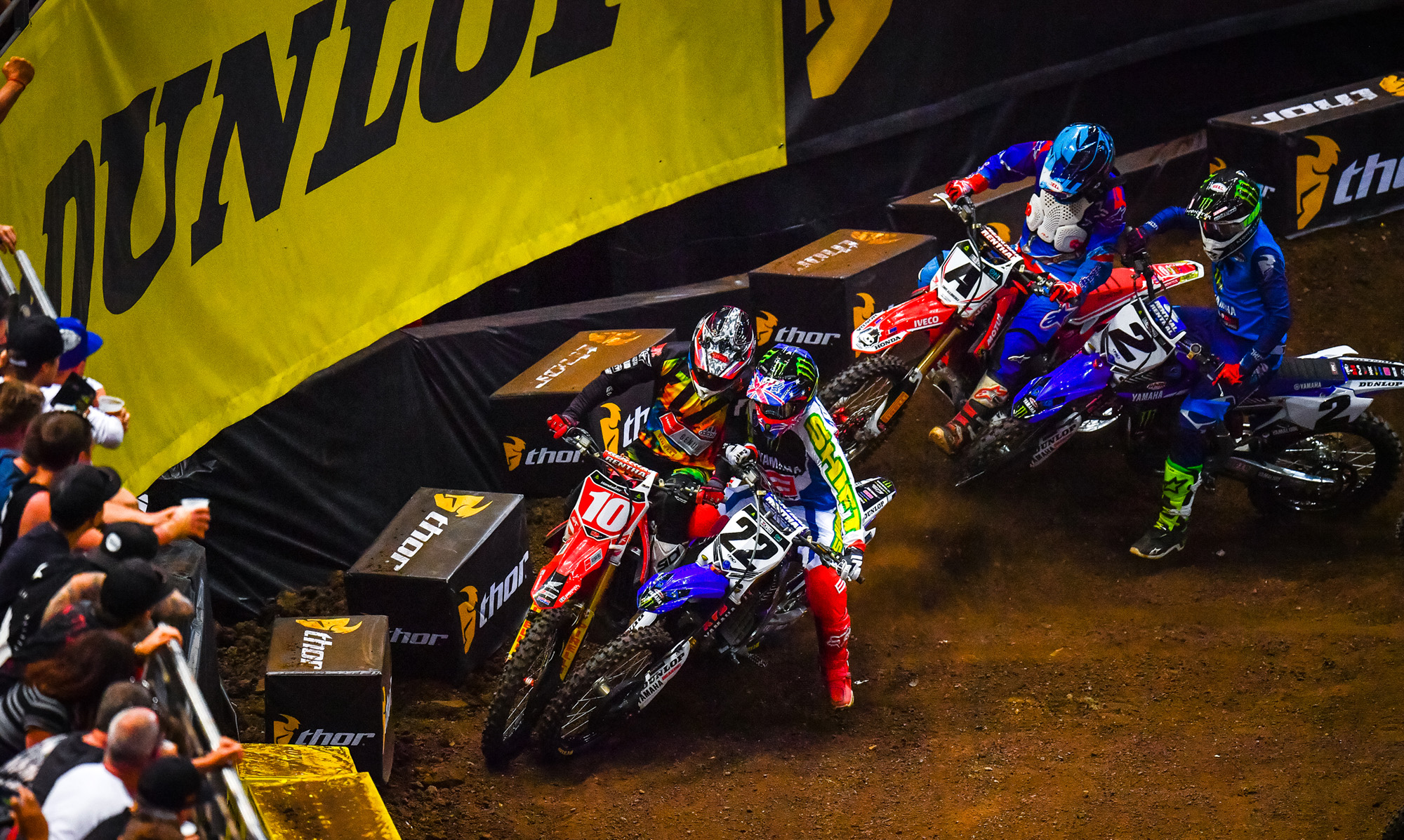 Like you said, the track was pretty hard to pass on, but you seemed to have no difficulty in moving through the pack. What do you think was the key to that?
I just think I had a little more speed, I felt like I was pretty good all day with being fastest in practice, getting Superpole, and then I just felt like a holeshot in the main would've got me the win. You never know for sure, but that's what I had my mind set on. Once I went down, obviously I had to charge back, not give up and yeah, coming back to third was pretty cool.
Obviously you've been in Australia for the six rounds [of Australian Supercross], what has been a highlight for you so far?
It's just been awesome, there have been so many highlights from spending time with my family on the sunny coast and then down in Melbourne, eating some great food and meeting some awesome people. At the races, it's just been great with winning the first three, wrapping up the championship, and meeting so many friendly fans and people inside the industry. Just overall, it's been a great trip. I was here in 2010, and I actually met my wife two-weeks after I came home from Australia, so it was fresh in my mind and we always talk about it—I always told her how awesome it was. Now it's cool to show her and experience some of the same restaurants and beaches that I got to experience back then. Especially having my daughter here too, it's been a really cool experience.
Do you think the series has been good to keep you in shape and carry some momentum into 2017? I'm not too sure what your plans are, but yeah, do you feel that it has helped?
Yeah, I absolutely think so. For me, just doing tons of laps at the test track—I've never really liked that because I feel that I was always better at practicing. I would go the test track and feel great, then I would go race and I just wouldn't ride that good. If you look at my career from the start, I've challenged myself to race all the time. I feel like I still need to hone that race craft—I feel that anytime you can line-up and simulate what we're going to be doing in the states, it's awesome. The competitiveness in me is more than ever, I feel like I'm riding better than ever, so why not go experience something that could be a once in a lifetime opportunity—to go to Australia and take the family, do some racing and have a great time. Obviously I'm not 20 years old anymore, so I don't have 10 years left in me, I've got a few good ones and I want to make the most of it.