The promoters of the AUS-X Open have lured some big names to Australia in the short two-year history of the race, even convincing the retired Ryan Villopoto to make the trip this year.
The four-time Monster Energy Supercross Champion hasn't competed since April 19, 2015, when an injury at the Grand Prix of Trentino ended his brief MXGP tenure. Prior to the event, RV got back into training, even riding at the Kawasaki test track in California to prepare. He showed flashes of his race winning speed, going 6-4 over the two-night event, but admitted that he didn't have the fitness after so much time off. "Shit man, I think around lap 10 I was already finished, so I was like, just counting down the last 10—it was rough [laughs]."
Alex Gobert of MotoOnline.com.au had the chance to speak with RV about his return and more.
Racer X: Ryan Villopoto, AUS-X Open, a really cool event in Sydney and you did good too! How did you like it?
Ryan Villopoto: Yeah, the event was awesome. I was glad to get invited down and check it out—I enjoyed it. A pretty short trip for me in and out, but so far they run a great event, add some different elements into it from the racing side like the Superpole, the team race, and things like that, so it was a lot of fun. For me, I was a little unsure how it was going to go for myself, being that I hadn't been behind a gate for two years and then I did about a month of riding supercross three-to-four days a week, so not many days. You know, I was pretty far off of Chad [Reed], Coop [Cooper Webb], and [Justin] Brayton, but other than that … I guess surprised isn't the word, but I did better than I expected, a little bit, so I'm happy with that.
You got that heat race win on Saturday, a good Superpole today and led some laps in the main event as well, finishing fourth. That must have definitely been a bit of a buzz I suppose, but a different type of a buzz.
It was cool, you know. I won a heat race last night and then today was able to get a holeshot and lead a few laps, ride with those guys and race with them for a few laps, as long as I could. Shit man, I think around lap 10 I was already finished, so I was like, just counting down the last 10—it was rough [laughs]. But I was able to squeeze it out and I almost had third, but Brayton was able to sneak by me, which was cool. You know, the bottom line was that the fans got to see me ride and got to see me ride halfway decent, so that's cool for them.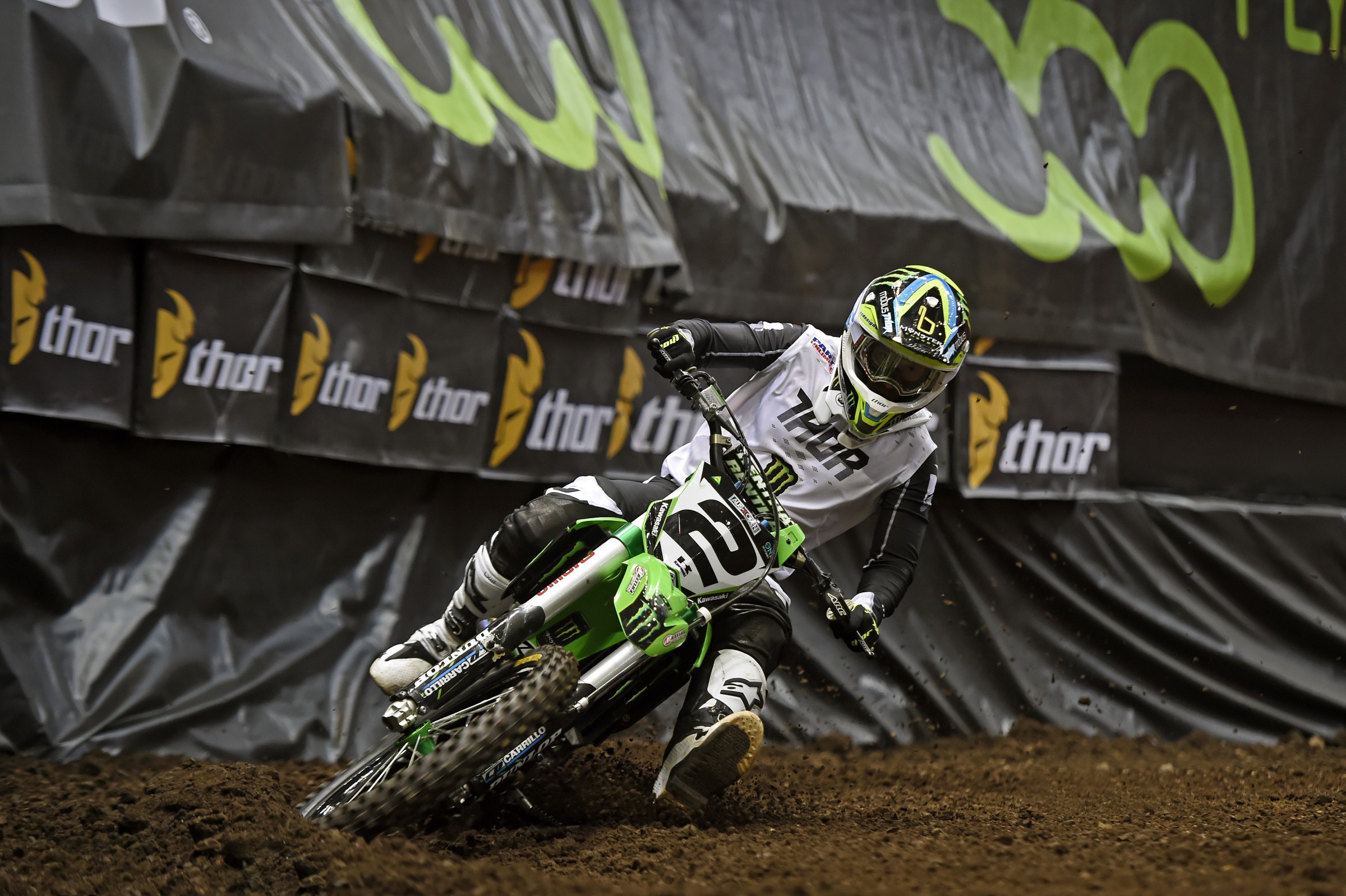 One thing I spoke to Chad about was that you did the quad in Superpole, that one in the rhythm before the tunnel, and he said that was once of the things that sort of annoyed him, that he didn't actually do it. That was pretty cool, not a win, not this or that, but it was a technical thing that Brayton and yourself did….
I mean, you know, it's not that I don't have it anymore, I could go race with those guys and I would win races against them—all of them—if I was training and fit and ready. It's not a question of can I still, I mean sure, I still can … or still could, I should say. So yeah, that was cool, Brayton came out and jumped the quad, then I was like well, the take-off was pretty mellow, the landing was pretty mellow, so I ended up getting the triple pretty dialed in, landed it well and went for it. I know Coop and Chad both would've done it if they got the first triple right, but you know. The first triple was short, so you had to time it kind of right and I always said the whole weekend that you can quad in—not me, but somebody else. If it was Anaheim 1, people would be quading that in.
Just finally, Chad Reed in Australia is obviously a real big star here, so that atmosphere around is pretty special. We're kind of bringing a small version of supercross to Australia, so was that cool for you to see from a different perspective?
Totally. I mean, Chad is a huge name for Australians to come down and he's racing in front of all of his fans. And then for the AUS-X Open guys to bring Coop down, myself and basically make their own event, with the other things they're doing with the Superpole and team race, they kind of do the things they want, which is cool. It makes the race fun and a little less pressure, so for me, I pealed out of the team race early, you know. I needed to minimize the amount of laps that I did for myself….
Save some energy…
Yeah, totally [laughs], so I wanted to make sure that in the main event I gave the fans as much as I could, while being safe and I was able to do that. But to come down, race in front of Chad's fans and mostly the ones that haven't gone to California, which is not very many of them, they got to see me ride for the first time, get a holeshot, race Chad for a few laps, race Cooper for a few laps, and then sit in third for pretty much the whole race—almost end up on the box—it was good for them.
It was awesome, so thank you, the fans loved it and yeah, really impressive so have a good trip home.
Yeah, thanks man.