Welcome to Racerhead, coming to you on a post-Halloween sugar high. The off-season rolls on, and the preseason testing and training are heating up. The Anaheim opener for the 2017 Monster Energy AMA Supercross Championship is 64 days away, which sounds like a lot if you're a fan of the sport and can't wait to see some racing, but probably not a whole lot of time if you're a rider or engineer trying to get your bike and body dialed for the opener. And if you're someone like Dean Wilson, waiting for the phone to ring with an offer of a good ride, those 64 days are going by quicker and quicker.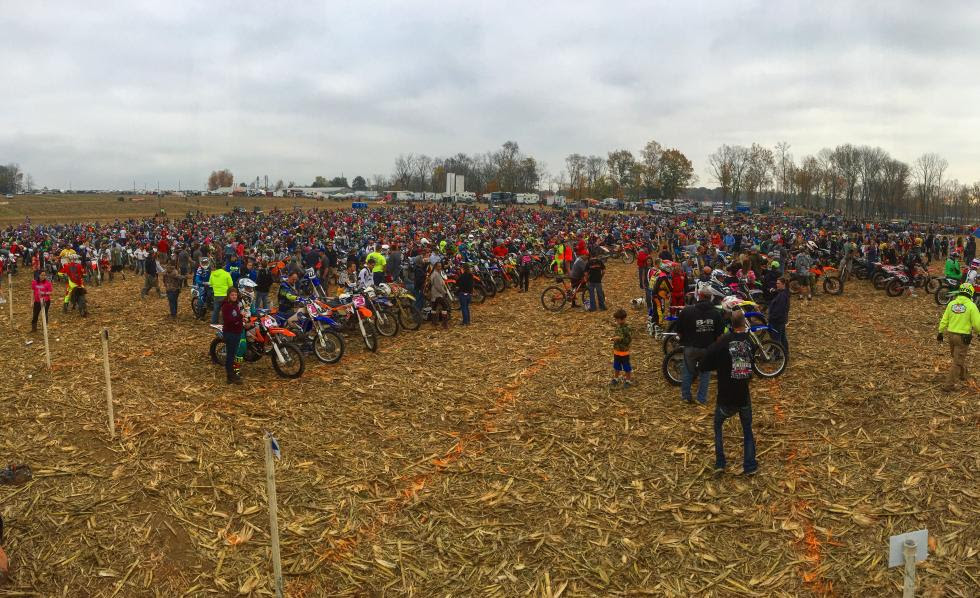 There was some racing last weekend of note. The off-road season came to a close with the Ironman GNCC in Indiana, where FMF KTM factory rider Kailub Russell closed out his fourth straight championship title with his 40th career GNCC overall win. The bigger story, however, was the amount of riders who showed up—a record-smashing 2,440 individual competitors. Perfect weather, the Halloween weekend, and some of the best dirt and trails in the country all helped bring the riders out in droves. It was a great way to end a long season, and good news for a motorcycle industry that has been struggling.
Another season that ended on a high note was Major League Baseball. The Chicago Cubs finally broke a 108-year losing streak when it comes to the World Series, beating the Cleveland Indians, another long-suffering team—just not for nearly as long as the Cubs! That has nothing to do with motocross unless you live in or around Chicago or you're like our publisher, Scott Wallenberg, whose mom, Ruth, was a lifelong Cubs fan who followed every game, every hit, every pitch, and, unfortunately, every loss. Ruth's not with us anymore, but I'm sure she and millions of other Cubs' souls were watching and cheering in heaven above.
And here's a way to relate this to dirt bikes: The Cubs' breakthrough came just a few weeks after Team USA had its breakthrough in the International Six Days Enduro, winning the World Trophy contest for the first time in the event's 91-year history (though Team USA did not start participating until after World War 2). What are some other long losing streaks like those of the Cubs and Team USA that could come to a close?
Let's begin with Team Honda. The Red Riders have not won the AMA Supercross title since 2003, nor have they won the AMA 450 Pro Motocross title since 2004. That was the year Ricky Carmichael won the outdoor title on a CRF450R after sitting out the defense of his '03 SX title due to a knee injury. While he was sidelined, he signed with Suzuki, then promptly added four more championships to his career haul. He's been affiliated with Suzuki ever since, and Honda has failed to get the championship back, despite the effort of contenders like Davi Millsaps, Trey Canard, Justin Barcia, Ivan Tedesco, Andrew Short, and more. Now they will ride into 2017 season with Ken Roczen and Cole Seely leading their efforts, and their chances are looking as good as they have since RC left.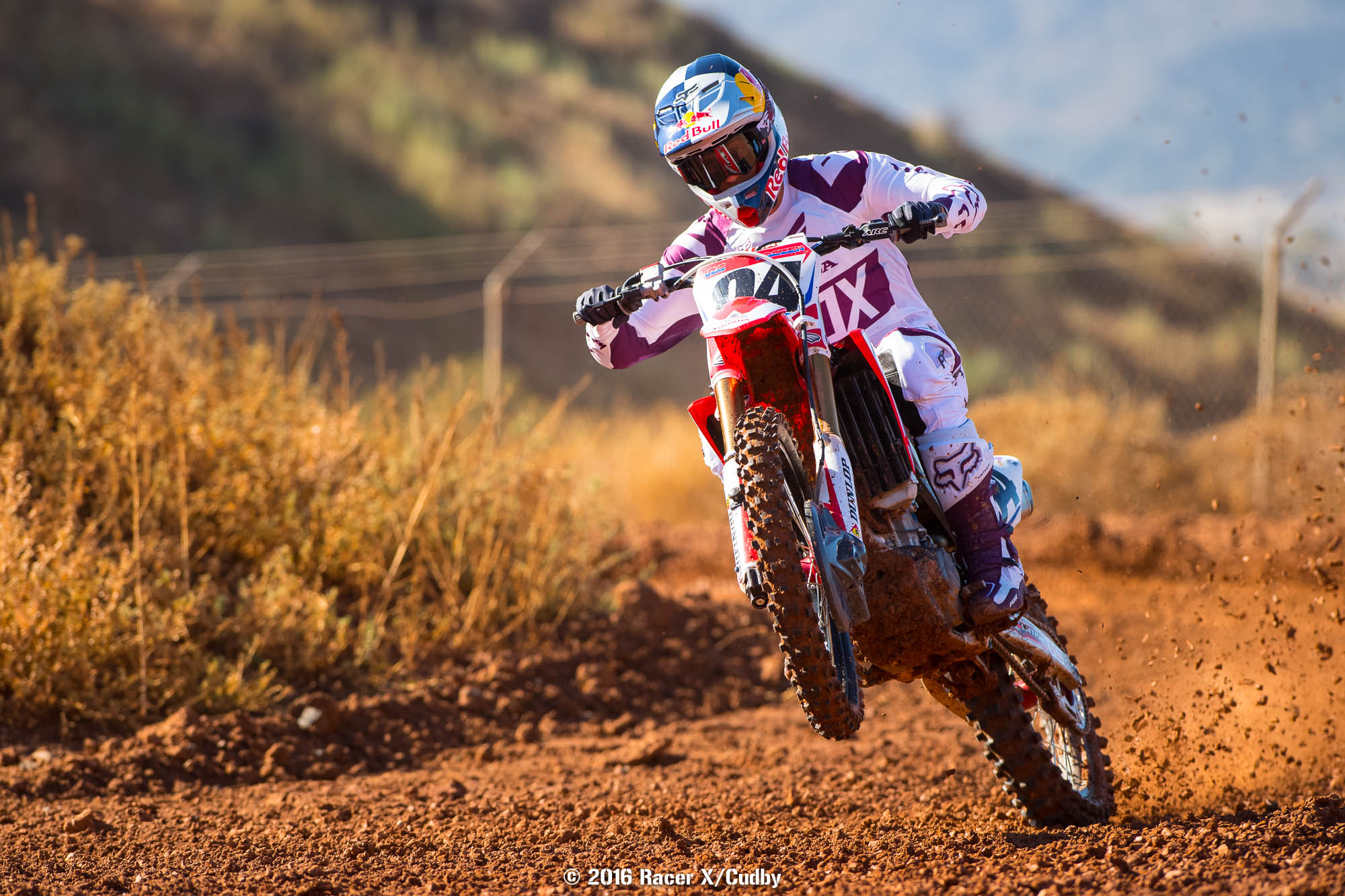 Team USA has a four-race losing streak at the Motocross of Nations, which is disappointing for us—but imagine being the Netherlands. They've never won, not even once, going back to the first Motocross des Nations in 1947. Cruelly ironic is the fact that the '47 race was held in the Netherlands! The Dutch came close in 2016, finishing second with their Jeffrey Herlings-led trio. With Glenn Coldenhoff on Herlings's wing, the Dutch could use one good rider on a 250 to make it happen in 2017, because they were just a point behind the winners from France this year. (In related news, French team member Gautier Paulin has switched to Husqvarna for his 2017 run at the MXGP title.)
Mike Alessi has somehow managed to never win an AMA Supercross in either class, but the veteran is in good company—a rider as good as Steve Lamson never won a supercross either. Alessi still has time in 2017 aboard his MotoConcepts/SmarTop Honda 450 "MCR," but his window is closing quickly. Justin Brayton is in the same boat, though he is likely going to be the Australian Supercross Champion after next weekend's final round of the AUS-X Open in Sydney, which will feature a cameo appearance by Australia's best-ever SX rider, Chad Reed, as well as a cameo appearance by the out-of-retirement Ryan Villopoto. We will have more details on AUS-X Open as it gets closer next week.
No two-stroke 250cc motorcycle has won an AMA Supercross since the 2005 Las Vegas SX finale, when the aforementioned Reed won for the last time on a Yamaha YZ250—the same brand Marty Tripes rode to win the very first Superbowl of Motocross back in 1972. And no 250cc two-stroke has so much as led a race since the out-of-retirement Jeremy McGrath pulled off the main event holeshot at the 2006 Phoenix SX on a Honda CR250. That streak is likely to continue for the foreseeable future!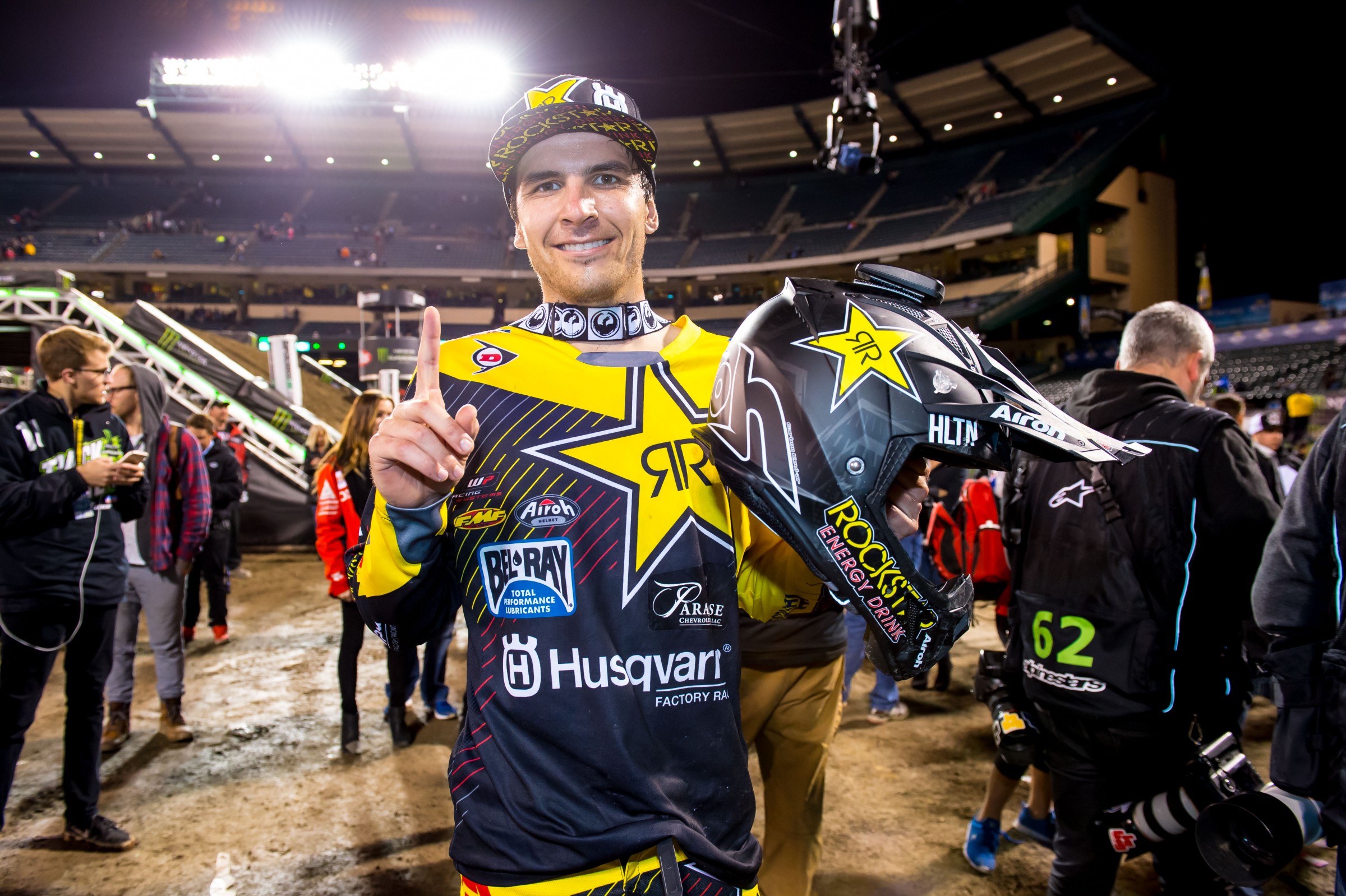 Finally, no Husqvarna rider has ever won the AMA Supercross Championship in either class—though last year, Martin Davalos wore the red plate briefly in the 250 East Region, and Jason Anderson won Anaheim 1 last year for the brand's first premier-class main-event win. Add in the veteran Zach Osborne on the 250 and Christophe Pourcel on the 450, and Husqvarna's chances are better than they've ever been—though there's some pretty stiff competition across the board.
Any other long winless streaks come to mind? Let us know in the comments below.
Pro Perspective (David Pingree)
It's officially boot camp season. I'm not talking about frumpy soccer moms doing group workouts in the park trying to shed a few pounds before Christmas. I'm talking about the best supercross racers in the world kicking off a training regimen that will take them through the 2017 season.
These programs are laid out with the entire year in mind, and they are designed to have the rider peak at certain times and maintain during others. This time of year is also when many riders are doing baseline testing with bloodwork, VO2 Max, and anaerobic threshold. After a couple months of hard training, they will retest and see what gains they've made. If you've never done a VO2 max test, imagine breathing into a snorkeling tube with your nose pinched shut and running on a treadmill that gradually increases pitch (or cycling with increased resistance) until you literally fail. You go until you're sure you're going to die—and then keep going. Every time I did it, I was close to passing out and had to be helped off the bike. You end up soaked with sweat, drooling, and gasping for air. It's super fun. Bloodwork will show any abnormalities or anything you're lacking in terms of nutrition.
The work itself varies. The popular training tool in the sport at the moment is the road bike, and there are a few reasons for that. First, most of the trainers who have made an impact in the sport are former cyclists. (Aldon Baker is a good example.) They utilize a tool they understand in a format they understand. It is also low-impact, which is great since the body takes such a beating on the track. These programs are typically heavy in volume (read: miles) but low in intensity. Riders will also begin working up to the proper number of laps at speed. Supercross tracks keep your heart rate very high for 15 to 20 minutes, and the goal is to work up to doing a couple 20-lap motos or simulating a race-day program by the time you hit mid-December. This time of year is when some riders will add in a strength-training component as well. While not popular with some cyclists, who generally believe that skinnier is better, building strength is important leading up to the season. Manipulating the bike, staying together when you hit the ground, and rubbing elbows in turn one are all good reasons to move weight around as part of your training program.
Typically, guys are doing so much during the day that, by the time the sun goes down, all they want to do is eat and go to bed. These are long, difficult days, but they also make the difference when the season gets here. Mitch Payton always loved to quote Norman Schwarzkopf: "The more you sweat in peace, the less you bleed in war."
Time to sweat, boys.
Pro Perspective (Jason Thomas)
November 1 is typically when things go from fun to, well, not fun. The past two months have been fairly low-key for most of the riders. Sure, many have been riding and getting their supercross legs underneath them, but there is no real agenda when they show up to the track. If they have somewhere to be and need to leave early, or they sleep late and miss a few laps, no biggie. September and October are meant for recovery and living some semblance of life outside the parameters of this sport. Well, I hope they enjoyed it.
Starting this week, every day will be regimented. Their waking seconds are scheduled before their eyes open. The days are full of work, work, and, you guessed it, more work. A typical day starts with a gym session at 7 a.m., working on core exercises and motocross-specific muscles. Breakfast follows, and it's straight to the track with riding beginning at 10 a.m. or so. Laps, laps, and more laps will fill the middle of the days. The riders will do several 20-lap motos, building a base for the long season. Everyone will typically leave for home around 2-3 p.m. And just because they're going home doesn't mean the work is done. Shortly after arriving back home, motorcycles are traded for bicycles and a 1.5-3 hour bicycle ride (depending on the month and intensity) will wrap up the day. Sounds easy, right? Just do that day after day after day for the next two months and you'll be ready for Anaheim!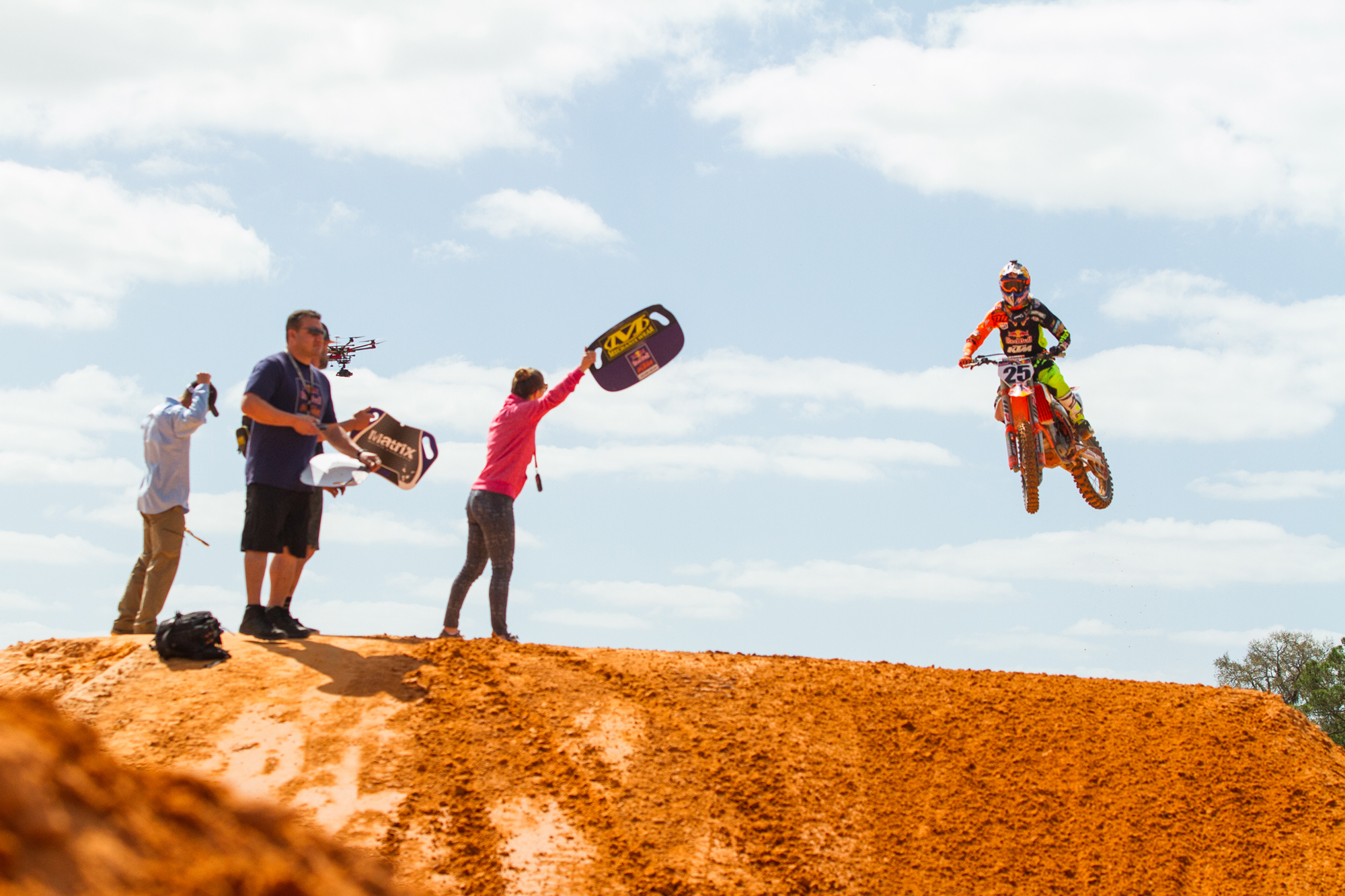 In all seriousness, it's a hellish time in a rider's season. The only redeeming aspect is knowing that all of this hard work will pay big dividends in the months to come. I have come into seasons very prepared and have also come in wishing I had done more. No matter how much suffering riders go through in the next 60 days, riding up to the starting line in Anaheim with confidence is always worth it. Confidence is built in these weeks and months. It can't be feigned nor found via shortcut. It can only be earned.
Most of the industry won't race again until January. As we go through the holidays, the moto scene will be pretty quiet for those looking for weekend results. It will be quiet for those fans who are patiently waiting for the 2017 season to arrive. If you listen ever so carefully, though, you might catch a whisper of your favorite rider gasping for air. The sound of their hearts beating out of their chests is anything but quiet.
Money for Nothing, Chicks for Free? (MATTHES)
It's that time again—the time where select riders pack up and head over to Europe for the off-season races to make some loot and shake down new bikes, settings, or what have you. With the advent of rising salaries in the USA, the worldwide economy, and other things, the European winter circuit is not what it used to be. Jeff Stanton told me he would stay over in Europe for a month, hit a bunch of races, and make more in that month than his whole base salary from Honda!
Riders like Ryan Dungey and Ken Roczen and Eli Tomac make so much money that the insurance is too much for them to head over for some racing, but for the riders right below the megastar level, they love the chance to get over there. Next week I head to France for the Lille SX, which used to be at Bercy but is now about an hour north of Paris. This year we'll see Justin Barcia there on his new Suzuki, and Marvin Musquin will try to take the win in front of his home crowd. Malcolm Stewart loves Euro races, and he'll be there, as will Christian Craig, who will be bringing his new coach, David Vuillemin (who just so happens to be the rider with the most wins at this hallowed race). Wonder if Le Cobra will be brought out to be honored or something like that. I'm sure he'd be thrilled! Add in Romain Febvre, Tommy Searle, and some other top European racers and you have a pretty deep field.
The longtime Genoa, Italy, race has been canceled this year, which is just another sign that things kind of suck right now. But Geneva, one of the longest-running races, is back in early December. Besides Barcia, Musquin, and Stewart, that race will attract Justin Brayton and Kyle Chisholm.
Visa Issues Could Sideline Tonkov (Chase Stallo)
A strange story is developing in Europe regarding the status of Russia's Aleksandr Tonkov for the 2017 FIM World Motocross Championship. With another year remaining on his contract with Yamaha Motor Europe, Tonkov, who turned 23 this year, was expected to move to MXGP in 2017 with Wilvo Yamaha. Due to visa issues, that may not happen.
According to an interview with MX Large this week, the problems started for Tonkov after visiting Prague with friends. Tonkov, who was recovering from injury at the time, then flew back to Russia to visit family but, upon returning to Belgium, was sent back to Russia due to what Tonkov says was a "wrong stamp in my passport."
"They thought it was a fake document, but it is an original Russian passport, and somebody put the wrong stamp in my passport," he told MX Large. "That is why they sent me back to Russia."
According to Tonkov, the problem started back in June, and it could be up to two years before he's allowed back in Europe.
"It isn't the Russian rule, it's the European rules," he said. "I don't have any problems with Russia, but Europe thinks I did something, but it was just a human mistake. They changed the date or the year on the stamp, and now they told me the stamp is not legal."
Tonkov says he is trying to work on a solution and should know more about his status in a couple weeks. While his situation in Europe is pending, Tonkov would be allowed to travel to the United States and mentioned in the interview he does have a contact with a non-specified U.S. team. But, according to Tonkov, he wishes to remain in Europe due to lack of supercross experience and the distance from his native Russia.
"I do have interest, but I really want to race in Europe with Wilvo, because we are together for like three years and they are like my little family in Europe, and if I go to US, then I have nobody."
Racer X contributor Adam Wheeler, reporting for Dirt Bike Rider, spoke with Wilvo Yamaha team principal Louis Vosters, who said they are hoping Toknov can return at some point.
"For us here in Europe it is almost hard to believe…and it is also unfair because he has done nothing wrong but there is just a problem with his papers. I am hoping he can be back with us to race but Yamaha have to make a decision about it. We will see."
We'll continue to monitor this story. You can read the entire interview on MX Large here.
And if you think this is only something that could happen in Russia, don't forget about the time Dean Wilson couldn't get back into he U.S. after racing the Toronto SX, and Martin Davalos could even risk going to Canada, both of them not having their paperwork complete and up-to-date—Wilson is a Scotsman and Davalos is from Ecuador.
The Dirty Little Secret? (Jason Weigandt)
Huge congrats to Team USA for winning the International Six Days Enduro, and it's cool that the team got to celebrate over the weekend when the World Team Trophy made an appearance at the Ironman GNCC. The off-road world doesn't get the scrutiny that the motocross side does, but I was wondering about one little factor in the victory. Team France, which has been the best team, on balance, at the ISDE over the last few years, didn't compete at this year's event. Team Australia, which won last year, fell out of contention almost immediately when Josh Strang broke his ankle. Team USA won, and no one can say they were lucky because Ryan Sipes, last year's overall winner of the event, broke his arm the day before the team was set to fly to Spain. But still, is anyone questioning this win behind the scenes?
"I haven't heard anyone say, 'Well they won it but France wasn't there,'" said Taylor Robert to me this week. "And none of the World Enduro Champions were there. But we used all that as fire. I told the guys, "Look, there is no reason we can't win this. This is our year." Plus, it was their choice not to come, they decided not to race. So let's take advantage. But, next year, the event is in France, so we definitely have to back it up. It will be in France, the French will be riding it, and they always have a strong team. So we're motivated to do it again next year!
"We've had so much bad luck in the past, and that can happen to anyone," Robert explained. "Everybody has to deal with something, and we lost one of our best guys with Ryan, but we were able to hold it together the best and finally win it."
Expect the team to face a huge challenge next year in trying to win it again on French soil, but they'll also be under far less pressure now that they've gotten it done once (as DC referenced the Chicago Cubs above, life will be much easier for them next year if they're in the playoffs). One cool thing is, after this victory, you can expect more support and fan interest in Team USA at next year's event. Sounds like a really fun and interesting battle is brewing for 2017.
The Ageless Greg Hancock (Andras Hegyi)
Speedway is not motocross, nor is it anything like supercross. And it is not in the least freestyle motocross. It simply racing a motorcycle on a flat oval—no brakes, all skill and commitment. And the most successful speedway rider ever in America is the ageless California wonder Greg Hancock, who earned his fourth world title in the last round of the 2016 Speedway World Championships in Melbourne, Australia. What's amazing in that Hancock clinched his fourth title at 46 years of age!
Hancock is a legend on the oval dirt tracks. He debuted in the world championship in 1993. Between 1993 and 2010 he got one world title in 1997 and three other overall podiums. Then, when he turned 41, rather than slowing down, Hancock accelerated! In 2011, he became the oldest speedway world champion ever. Since then he has continuously broken his own age records. He got his third world title in 2014, and this season he moved that record up to 46 years of age in his 24th season. And he's still not finished! He will continue racing next season.
Hancock, who is also an eight-time U.S. National Speedway Champion, became the sixth rider to get at least four FIM Speedway world titles. Besides Hancock there is also the Danish rider Hans Nielsen, Sweden's Tony Rickardsson and Ove Fundin, and the New Zealanders Ivan Mauger and Barry Briggs, who were all able to collect at least four world titles.
Sipes to Drive Monster Truck (Chase Stallo)
Longtime privateer Justin "Pooh" Sipes will have a new gig in 2017: driving a monster truck. Sipes, younger brother of former factory rider and 2015 ISDE overall winner Ryan Sipes, announced on his Instagram page this week that he'd be joining Feld's Monster Jam circuit driving the "Shark" truck.
"Here it is! Really excited to announce that I'll be driving the "Shark" truck on the Monster Jam Triple Threat Series Central tour in 2017," he wrote. "I can't wait to get out there and rip it up! Huge thanks goes to all the people who made this possible. I won't let you down!"
Sipes, who turned pro in 2007, last result in Monster Energy Supercross was a 19th in 450SX in Atlanta in 2014.
"Crazy how things change...seems like yesterday me and this guy were riding mini bikes together dreaming about racing Supercross," Ryan wrote on his Instagram page. "Now he's driving a shark monster truck! Can't wait to go watch him tear it up this winter. No doubt in my mind he will be awesome at it. Go get em bro."
Hey, Watch It!
The 17th Annual FMF Texas Winter Series begins New Year's Eve weekend at Freestone Raceway each year. Check out their second promo video.
Rockstar Energy Drink global motocross manager James Hanson doesn't get much time off. When he does, he likes to spend it at the track. James recently released "dirtbikesforpresident," which was filmed by Fred Weiss. Oh, and that's actually James singing as well.
Brett Cue talks about the 2017 Honda CRF450R
Gladiator trailer, full release on November 10.
Finally, here's a look at the great Jeffrey Herlings killing it on a sand track in Europe while preparing for the Red Bull Knockout race, coming up in Holland on the sight of the old Veronica Beach Race:
Head-Scratching Headline/s of the Week.
"LAPD chief fractures pelvis in off-road dirt bike accident." - USA Today
"L.A. POLICE CHIEF CHARLIE BECK FRACTURES HIS PELVIS
He didn't fall on his gun" - MXA
"Fart blamed for causing a fire during surgery at a Tokyo hospital." - Gizmodo
"Millions Of Drunk Cubs Fans Rioting In Heaven Following World Series Win" - The Onion
"Man downs 4 or 5 energy drinks a day, turns yellow" - USA Today
Random Notes
Mike Shierling sent this news article over that sounds very promising for those who have suffered spinal injuries:
---
Check out our man Tanner Coombs in his sweet Charlie Brown costume for Halloween.
Round 1 of the Racer X Amateur Film Festival presented by MotoSport, WASPcam, and BAK Industries semifinals is officially in the books. With a solid lineup of high profile riders and detailed edit, Mason Churchill's video looked to be the favorite going in, but the Pennsylvania support poured in for videographer Tommy White, rider Ronnie Demorest, and the number of tracks they filmed at. Tommy will move into the finals having taken 61 percent of the votes upon the conclusion of the first round.
The second round of the semifinals is now underway, featuring entries from Florida's Casey Cole and Ontario's Mitch Goheen. Remember, you can vote once per day through next Thursday at 2:00 p.m. EST. Watch and vote now!
If you're reading this website and think you know everything about the sport, you're missing out unless you're reading Racer X Illustrated, our magazine. We don't share any content between the site and the mag! Subscribe now for as low as $9.98 and get a free Ride365.com gift card!
Check out our Fall '16 Collection over at www.racerxbrand.com if you haven't had a chance to yet. We recently stocked up on some new hoodies, 3/4 sleeves, t-shirts, hats, and more.
Finally, a get well soon to our man on the West Coast, Kyle Scott, who went down hard riding at Glen Helen yesterday. Kyle was riding with the uber-cool Arik Swan, who is prepping for the Vet World Championships this weekend. Kyle washed out in a corner and busted up his shoulder pretty badly. He's heading into surgery tonight. Kyle's racing career actually ended when he got knocked out a Glen Helen a few years ago, so, as he stated on his @sanoshots Instagram, Glen Helen got him again! Now we have to figure out how he can shoot photos and videos with one arm! Our favorite part of the story is Kyle getting approached by a group of Brazilian riders who tried to pop his shoulder back into place. It didn't work.
That's all for this week. Thanks for reading Racerhead. See you at the races.