Seven p.m. on a Friday night in late October and most people would be home watching television, drinking beer, or doing whatever it is normal people do. But Mitch Payton and the team of mechanics and technicians at Monster Energy/Pro Circuit Kawasaki are not normal people. Demonically determined to do everything they can dream and scheme up to get the absolute most out of any motocross bike they work on, the midnight oil burns bright in Corona, California. And this winter will be no different. As has been well documented in recent years, the team has been in the longest, most frustrating slump in the outfit's 25-year history.
While they have 29 championships in their history, Payton and company have not earned an AMA Pro Racing number one plate in over four years. That's an eternity for a program that in many ways redefined 125cc and 250cc racing in the United States. So the Pro Circuit team is plugged in and at full volume this off-season as they are in possession of an all-new Kawasaki KX250F and a big hitter lineup consisting of, Joey Savatgy, Justin Hill, Adam Cianciarulo, and Austin Forkner for the looming 2017 race season. Over the recent weekend, Racer X checked in with Payton and his talented cast of spanner-twirling characters.
Racer X: Mitch, the new production Kawasaki KX250F was brought into your shop not too long ago and all the mechanics have told me they are both excited and optimistic about the new bike. Agreed?
Mitch Payton: Well, it's great for us. Kawasaki designed a new bike and the chassis is kind of following what they did with the 450 last year. Everybody really liked the difference between the older version of the 450 and the newer 450 because of the way it turns. It's also lighter, more compliant, and the chassis has been a real hit. They redesigned the engine and it's better than it was last year and that's going to help us. If the base of it is really good, we can make it better. We have a little bit of work to do to get some of the parts because they changed it so much that some of our old stuff won't fit inside, so we have to remanufacture a lot of the parts. The slow part is just waiting to get all the pieces in, but we're getting them in now and we're running some of the stuff and testing it and the early tests are showing it to be really good, so I think we're going to be in a really good spot come Anaheim.
So when the new 2017 KX250F first shows up here in the race shop, where do you begin? Do you find a simple baseline and then start going through the whole motorcycle? It seems like it would be such a clean sheet of paper.
Well, we'll run it the way it is standard and then we'll actually pull it down and spec it out and then the same with the chassis. They'll spec out the linkage ratios and the geometry of it and everything. We get all the numbers, then we'll slowly start testing stuff as we get it. We've been getting new parts every week and testing new stuff every week and it seems like we're always making a little bit of progress, a little bit of progress and it already seems like this bike is better than last year's bike.
When you say parts, Mitch, are they parts from Japan or from vendors and what types of parts are they?
I would say suspension components, meaning things from Showa. Like we have some new fork and shock parts that we're testing and that's proved to be really good. The engine and stuff like that, we don't get very much stuff from Japan, so we develop that stuff ourselves. We spec things out, figure out what we want, and then we'll send stuff out to vendors to get things made and all that is coming in now. Next week we'll get one or two parts and the following week we'll get three more. Stuff keeps trickling in and we'll run it and see if we like it. Then we'll run up to a deadline where we have to order it for the season and make sure we like it.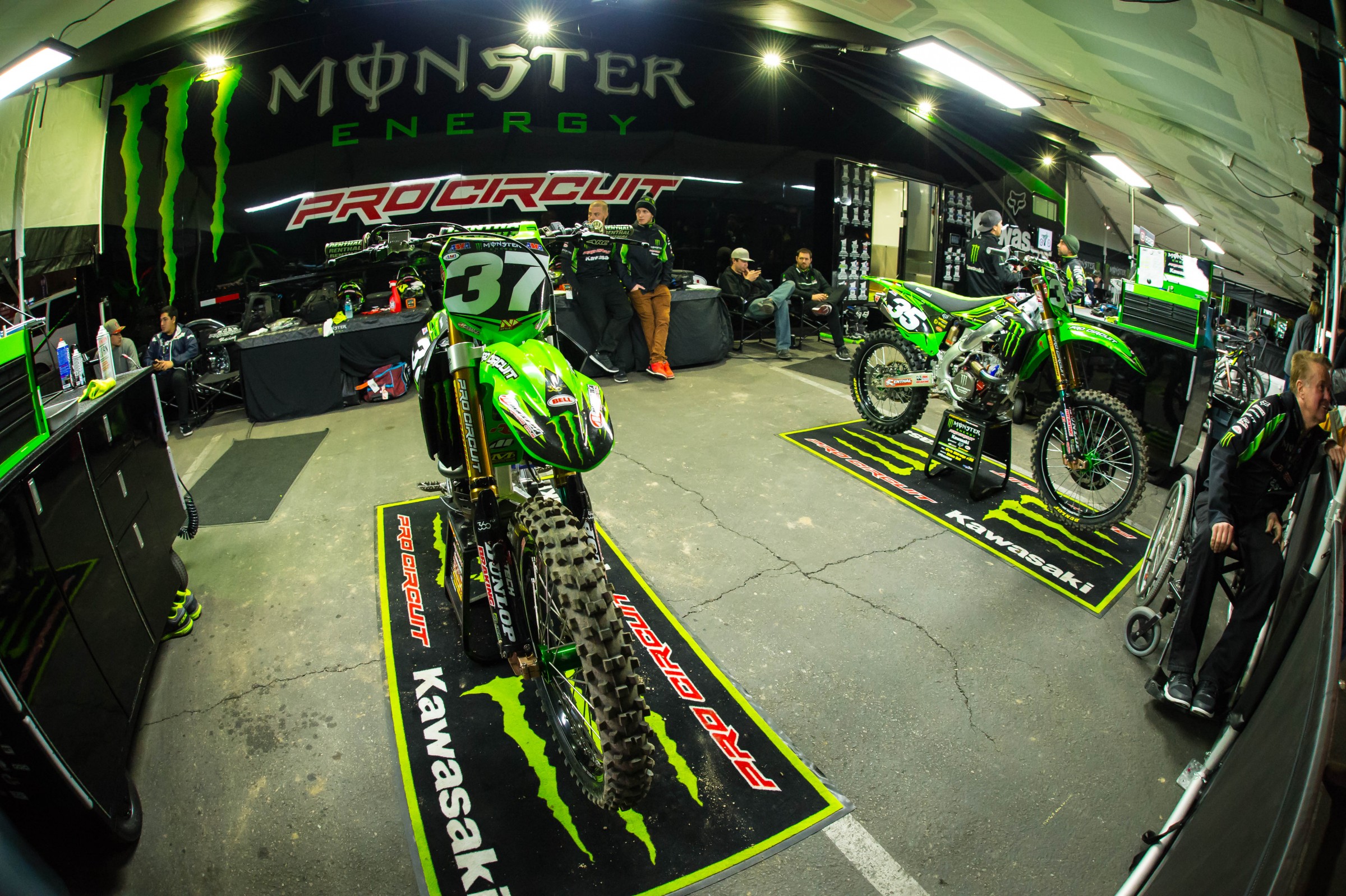 When you mention vendors, that means companies that manufacture things like pistons, connecting rods, and things along those lines? If I have it right, you work with car racing companies on some of that stuff.
It can be from anybody. Pretty much anybody that is doing the four-stroke bike is using vendors that do car stuff. It's hard to get a small number of test parts when you're in a big queue with those guys because the car guys order big volumes of stuff. Luckily, we have good relationships with the vendors that we use. We've actually stayed with the same people pretty much the whole time since we started on the four-strokes in 2004. We know the right people to talk to, we tell them it's important, they'll kind of put a rush on it and try to get it to us and that way we can keep moving forward.
Do the car racing guys like doing the motocross stuff? Is it something new and a little bit different for them?
They like it and I think they learn stuff from it. In the U.S. we don't have very much Formula One or that type of development. A lot of it is NASCAR. And we do have vendors in Europe that do build parts for Formula One, World Superbike, MotoGP, so we use those guys, too. We have a group of people that we deal with.
I don't really know what I'm talking about here, but as far as all the different parts coming in, hitting deadlines and trying to tie it all up, man, it seems really complex. Is it just a constantly moving playing surface sort of thing?
It's harder than it was when it was two-strokes. With two-strokes we were kind of self-sufficient. Most of the development on a two-stoke was exhaust related, porting and heads, carburetor, ignition mapping, and all that. We could do all that in-house. But this stuff takes so much machinery that we can't afford to own all the equipment you need to make all the stuff, so you have to trust other people to build it for you. And that's the same with the car guys. Even the big teams, they don't build their own parts, they use vendors.
"I think it's tough on me. I think it's tough on the whole staff. Yeah, it bugs you, but we've never lost because they've just all sucked."
With the mapping and electronic stuff being so important now, does that make things more complicated?
Yeah, it's a lot of work. I don't do that. Zach [White] and Iain [Southwell] do that part. It's kind of a pain. We're working on that right now because we do production bike parts to sell and we do race stuff and we have to have parts that run on pump gas. There are two or three different fuels that people like to run and you barely have enough time to do all the mapping for all the different fuels. We're trying to limit the fuels we recommend. Luckily VP has a lot of different fuels so we can do that.
When you and your riders go out to test all the stuff, can that be another set of challenges? I'd assume different parts and different changes mean something different to every individual rider.
Engine-wise it's a little easier because for us a lot of them like the same thing. As long as we have something really good, if one guy agrees hopefully the other guys will agree, too. Then you can customize it for each guy a little bit. With the suspension and chassis stuff, each guy kind of has their own feel for what they like, so that's where it's hard for our guys because they have to come up for settings for each person.
So as we enter the month of November, what are your four riders doing now?
Justin [Hill] had hurt his shoulder, so he's healing up. Adam [Cianciarulo] is in Santa Barbara doing a boot camp. Joey [Savatgy] is in Florida doing a boot camp. Austin [Forkner] had been out here a week or so ago and did some testing and then he went home and he's going to do some training there with Robbie [Reynard]. He'll be back out in a few weeks. Once they get done with their training sessions, they'll all be out here doing a bunch of laps of testing and once they like what they like, they'll be in Florida, Oklahoma, or California or wherever they want to be and they'll just get into their routine and stay with it.
Heading into 2017, do you feel good about everything?
I feel really good. I think it's nice that every guy on our team has won races. It's not like you're going through the process of getting them to experience the first win or the first podium. We had guys like that in the past. Like when Hill rode here the first time, he hadn't gotten a podium and he hadn't gotten a win and now he has both. He'll be back strong and I think that's going to be a big deal. Adam has wins in supercross and he loves supercross and that's going to be great. Joey has wins outdoors and supercross and that's going to be great. And Austin only rode outdoors this year and got a win and was up there a lot and he obviously enjoys supercross. I think he's going to be really good at it. I think all four riders are going to win races and I think all four of them stand a chance at a championship.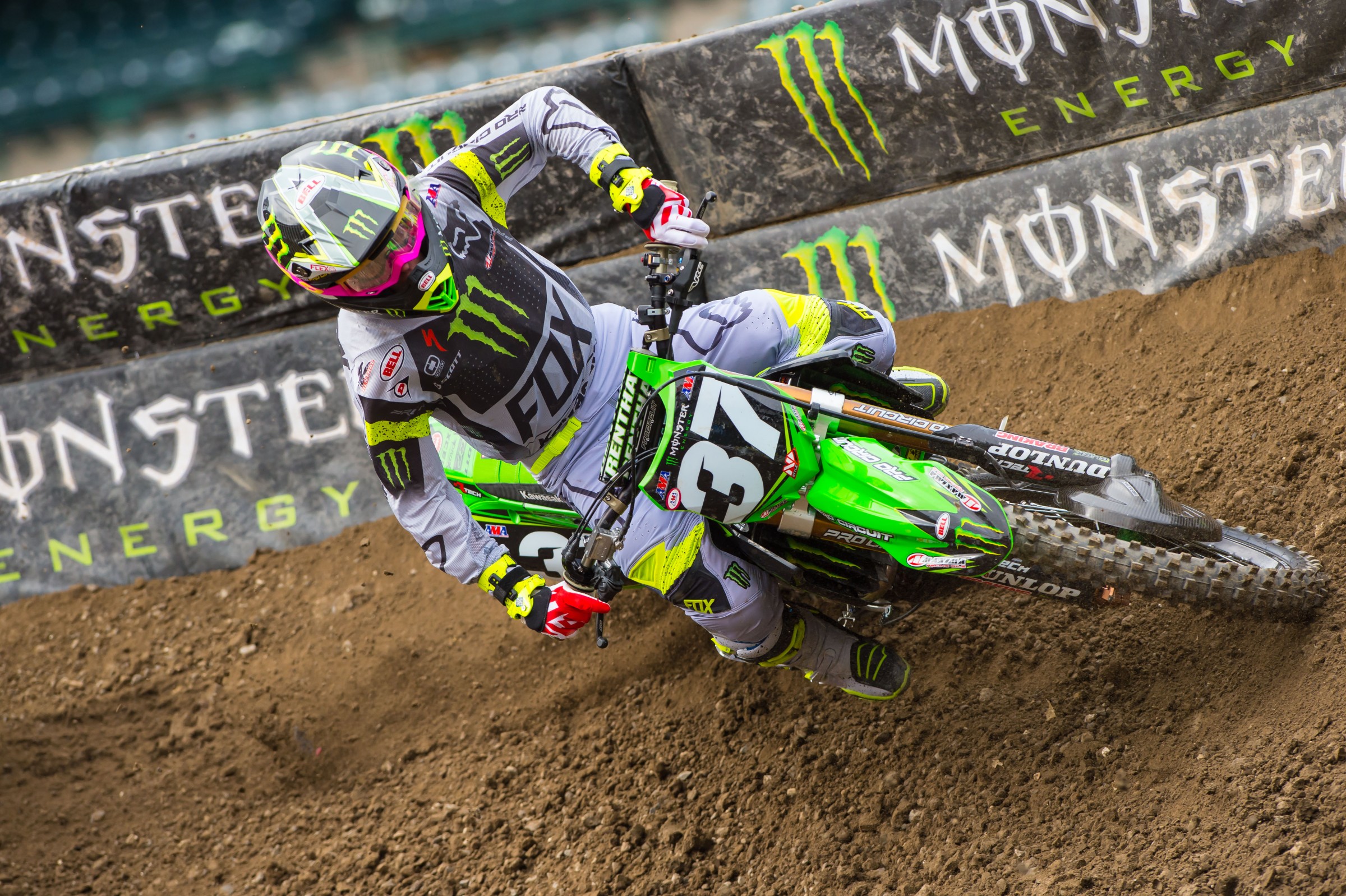 Any hints as to which of your guys will ride West or East?
Nope. Just wait and see where they're at in their progression and whatever we think is the best for everybody. We'll work out the best scenario for us and then we'll look at where they are at and if they are ready, like if they are dealing with a little injury or something like that, and then we'll place them where we need to.
You and the team haven't won a championship in a while now. How tough is that for you?
I think it's tough on me. I think it's tough on the whole staff. Yeah, it bugs you, but we've never lost because they've just all sucked. The majority of the time, if they've lost, it's been due to an injury or something like that and that ain't going to change. When the 450 series starts, you're going to pick two or three guys that can win and by the end of the series, a few of those guys won't be there. And they all probably stood a chance of winning.
And to win another title in '17?
It would be great. We deserve it. The guys that we have deserve it and I know they are going to work hard to get it and we're going to help them try to do it. I think all four of them—all four of those kids want to win and we want to win and we're going to bust our ass and I'm counting on them to do the same.
With all of the experience and wisdom you've gathered up in your travels through the motocross and supercross wars, what's your take on where the sport is at right now? What's the Mitch Payton state of the motocross nation?
I think it's healthy. I think supercross has a great package for us to all go to and compete. I think outdoors is important and I don't want to see that go away, but we need to find a balance. Both groups, supercross and motocross, somehow need to talk. I think, and this is a personal opinion, that we have too many races. If they try to add more and more and more, it's only going to make it worse on the guys. I don't think we need to do 32 or 33 races a year.
You won your first championship as a team owner all the way back in 1991. Is it still a rush to you? Is it a rush to win?
It's a rush. You want to win, but then it's also cool to see the guys who ride for you succeed. We've got four guys and if they could win both coasts, how cool would that be for those guys? That's what's really cool about doing this. It's for them and I think that would be awesome. And it's cool to see all of your work pay off. If you do all the work and all that and then all of a sudden you lead the series and your guy gets hurt and then another guy wins, you're like, "That should have been ours!" But it ain't yours! It's racing and you never know how it's going to turn out—all we can do is make sure we're doing the work, they're doing the work, and you have to know someday that's all going to pay off.