Fairplex
Pomona

,

CA
Red Bull Straight Rhythm
Red Bull Straight Rhythm
An hour before Red Bull Straight Rhythm began, the folks from Traxxas performed an RC car demo. They were launching those crazy little machines over the RBSR sand section. The goal was to quad the whole section—which no one on a bike was able to do—and the crowd, now starting to fill the grandstands at The Fairplex in Pomona, hung on every jump. After some cases, crashes, and tons of fun, no one left unimpressed with the speed, capability, or durability of the little machines.
It's that experience that the Alta Motors' Redshift MX bike would most like to compare itself to. We all know the electric vehicle stereotypes: they're Greenpeace, eco-freak machines, Smug Utility Vehicles (SUVs), and certainly not fun. We've all driven a golf cart and yearned for more. We all know a Toyota Prius is designed to reduce the carbon footprint, but not react when a foot is put to the floor. A Tesla might be badass, but we can only guess because they're too expensive for any mere mortals to have ever tried one. A Nissan Leaf? C'mon.
The folks at Alta want none of the eco stuff. When I interviewed the co-founder of the company, Marc Fenigstein, back in January, he put the emissions/fossil fuel/noise advantages as far on the back burner as he could. The company is adamant that electric propulsion was selected 100 percent strictly for performance reasons. Motocross, it seems, could be the one venue where an electric motor can actually beat a gasoline powered machine. Why? RC cars have proven that electric motors can be brutally fast. An electric motor can produce ridiculous torque and traction, which is awesome for motocross. The problem has always been range. Note that all electric cars must instantly tout how long they can run before the batteries die. A car that can't handle a road trip is a car with massively diminished usefulness.
But motocross? The races only last 30 minutes, and that's only for pros. Most of us can't ride that hard for that long, so we're either taking breaks every 15 minutes, or riding at a more relaxed pace. Plus, the slower speeds of motocross and off-road riding significantly reduce the aerodynamic drag that plagues electric vehicles for road use. For motocross, electric can be enough for a day at the track, and now it becomes viable.
The Alta Redshift aims to prove it. The electric vehicle stereotypes are already there. This bike can't succeed just because it's quiet and can be raced in your backyard. It's not a pit bike competitor. It's supposed to be a real, bona fide motocross bike. And while Red Bull Straight Rhythm plays to this bike's exact strengths—max acceleration over a very short distance—the bike still proved its worth. It wasn't cool due to some meek display of eco friendly, save-the-whales kumbuya. No sir, this bike did its damage in the gnarliest section of all, the area that separates factory bikes from privateer machines, men from boys, and the weak from the strong:
The Alta killed the whoops.
Oh, snap.
Look, we might love, hate, or be indifferent to electric bikes, and maybe we all see riding closer to home (no noise) as a cool side bonus. That alone isn't going to change the motocross world, though. This sport works from the top down. We want to emulate the heroes. So it's that charge through the whoops for Josh Hill, when he landed the wall jump and used the electric bike's grunt to accelerate, get on the whoops and stay on top, with the rear wheel never stepping out and always hooking up, that will get this industry's attention. In the gnarliest section in racing—supercross whoops—the electric bike was superior to a gas bike in its first-ever try.
The Straight Rhythm whoops were far from the toughest whoops ever, and it was just one win in a round against Kyle Cunningham, on a Suzuki RM-Z250. It's not like Hill just blew past Ryan Dungey and a works 450SX-F in those whoops. But it was definitely something. In that instant, this bike went from being a possible toy to a potential weapon.
So now begins a whole new set of questions. We know this bike can compete. But can it handle, turn, and stop? Did Alta, ahem, alter, the bike knowing it only had to run for a minute at a time? Was Hill out there on a machine all pumped full of voltage-enhancing drugs, ready to blow at any time? Further, how would anyone know?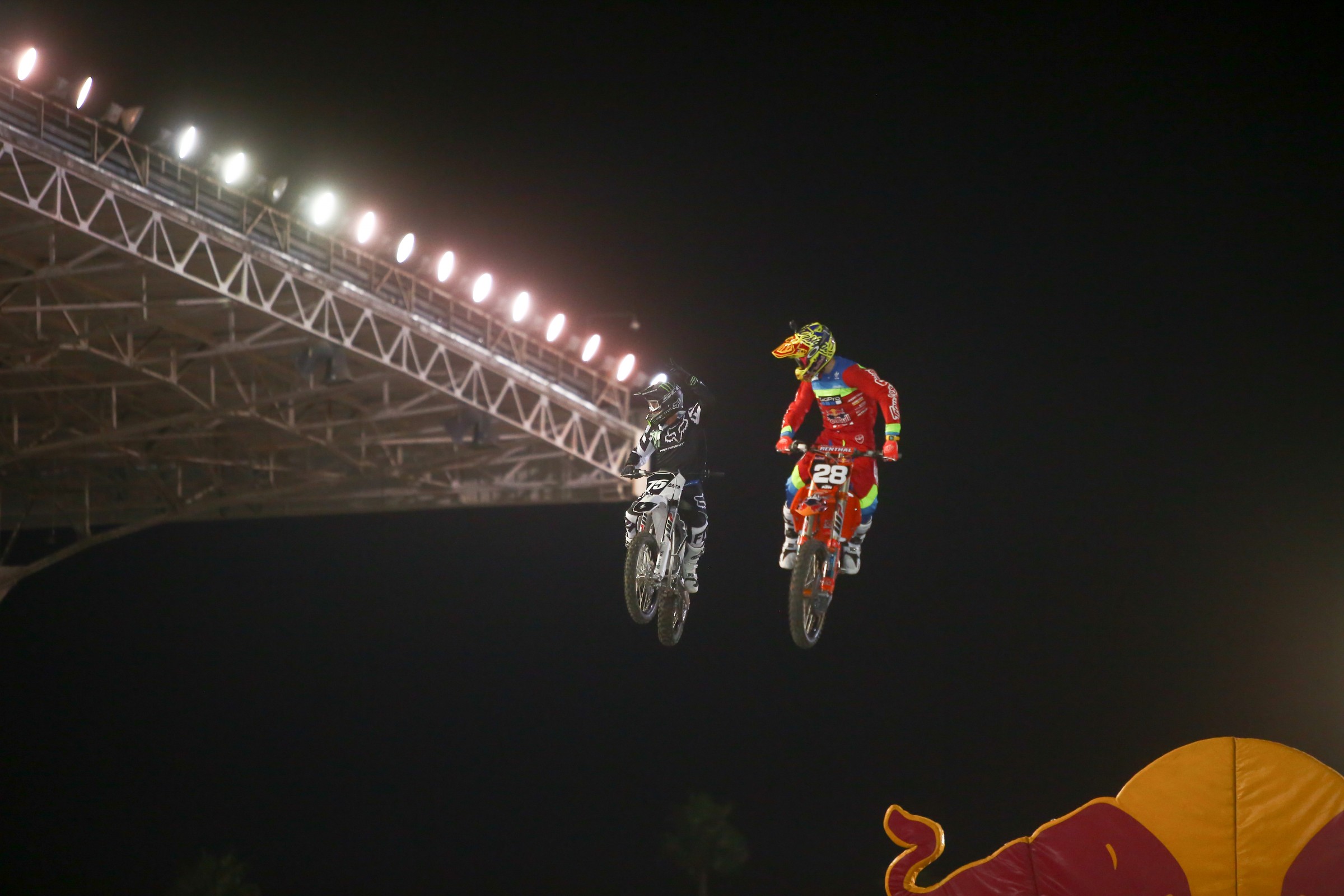 Straight Rhythm is a fun off-season event, so it was easy to let this bike line up. Real, points-paying, sanctioned racing will be much harder to figure out. Alta says this bike is designed to compete in the 250 class. Who makes that determination? The four-stroke to two-stroke displacement rules were not picked correctly, but at least you can measure the displacement of a four-stroke. We're all pretty clueless when it comes to determining what's fair for an electric machine, and how they really work.
One question answered. Many new ones to come.