Ryan Sipes' ISDE Update: USA Leads After Day 1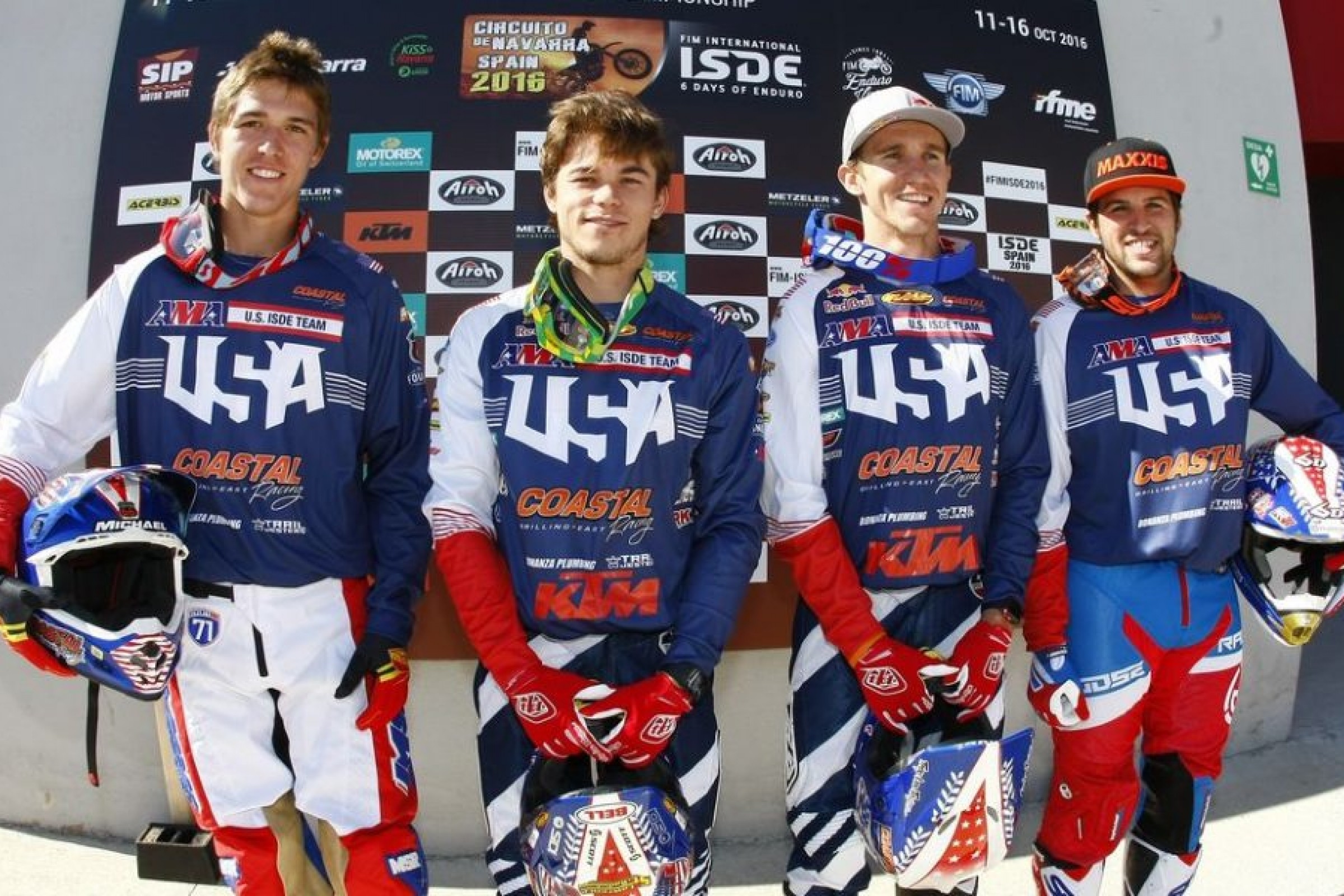 Last year's International Six-Days Enduro overall winner, Ryan Sipes, is out of the event this year with a broken arm. But he's checking in with us each day with reports from the race, which started on Tuesday in Spain.
By Ryan Sipes
Sorry it's late, I had surgery on my arm this morning and have been a tad groggy all day.
The guys did really well today, especially Kailub Russell and Taylor Robert, who sit second and third overall after the day, only six and nine seconds off the leader, respectively. Thad Duvall sits 15th (57 seconds back) and the new guy, Layne Michael, is in 41st overall at 1:51 off the lead.
As I wrote in the preview, based on the team's finish last year, the guys had to start pretty far back today. From talking to them, that definitely played a huge part in the results. Taylor Robert had this to say about it: "It sucked having to start in the back! Every test was super dusty and silty. The biggest thing was having to pass slower riders in the tests. I think everyone was making mistakes because they couldn't see. The tests are super tore up with deep silt ruts so tomorrow is going to be gnarly. Starting up front (tomorrow) should be a lot better."
Luckily, the riders will line up based on the Day 1 standings for Day 2 so the team will be starting up front now.
I know exactly what it's like to start in the back. When I raced the 2013 ISDE in Italy, I was in the Club division, which means I started behind almost everyone! It was nothing for me to have to pass six guys (or girls) in one test, and that is a massive disadvantage compared to being up front with a clear track and no dust. Having to let off the gas for a few feet because you can't see is huge when literally every second counts.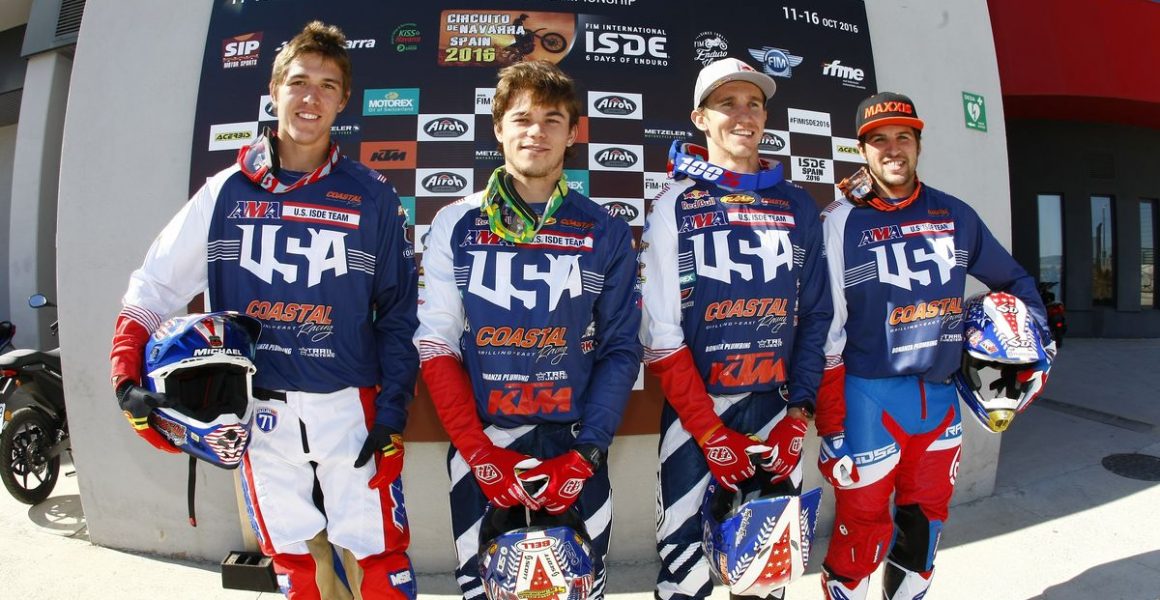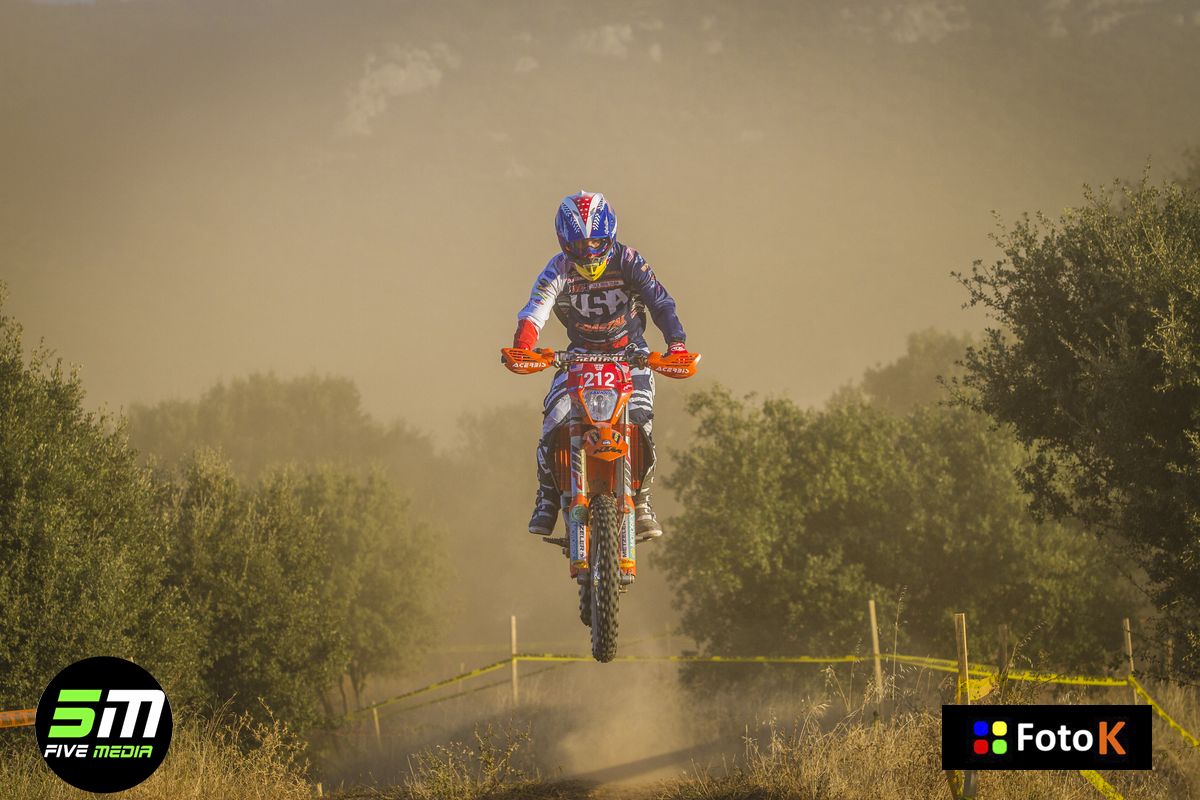 I mentioned the guys noticed that the tests this year seemed fast when they walked them last week. They were right! Taylor said, "Its definitely fast! There were a couple spots I was looking for a sixth gear that wasn't there!" A 350 will top out at about 70mph...I'd say the tests are fast if he needs more than that!
Layne Michael had a tough first day. "There is a hill that is pretty bad and all dug out. I hit the center and I got stuck for like 20 seconds! Then I crashed after that because I caught a couple guys and couldn't see. I messed up in the same test both times and lost over 35 seconds, but other than that I felt like I rode well. The other guys are carrying us right now. I need to get myself together on that second and fifth test and I will be good."
I know the feeling. Stuff like that happens at ISDE, and you have to pick yourself up and treat the next test like a clean slate. Everybody will make mistakes, you just can't let it affect the rest of your week. Layne is a teammate of mine on the Coastal Racing GNCC team, and I know he is a great kid. I'm glad to see him get this opportunity, and it sounds like he has exactly the right attitude to succeed.
Stew Baylor rode exceptionally well for the Junior team today. Some of his test times were in the top 10-15, right in there with all the Trophy guys! Unfortunately, his teammates Grant Baylor and Trevor Bollinger didn't have the best of days, struggling with some crashes.
Stew had this to say: "There's one test with a bunch of stumps that Grant and Trevor crashed in, and it's tough! I caught six guys in front of me in that one. I crashed hard in it once and still wasn't far off the overall, so hopefully tomorrow I can excel in it. It's the only one where you can really make up time." Like I said before, crashes happen to the best of us. I think Grant and Trevor will pick it up and be fighting for the top spot soon.
It sounds like this ISDE is going to be a tough one! The guys all sound upbeat and excited though, and are really riding well. One day at a time boys, one day at a time...
USA! USA! USA!