Standing behind the starting gate and alongside 2015 MXGP World Champion Romain Febvre before the final moto of the 2016 season at Glen Helen Raceway, I couldn't help but think about how much the 24-year-old's fortunes had changed in a year's time. He won the 2015 Glen Helen USGP, capping a fantastic, breakout season for the native of Epinal, France, where he racked up eight Grand Prix victories and 15 moto wins in a resolute march to his first FIM championship, and all as a rookie.
The 2016 season started off in much the same fashion, Febvre placing second to MXGP newcomer Tim Gajser at Qatar, and then winning at rounds two and three at Thailand and Valkenswaard, Holland, respectively. Then two big things happened: Gajser caught fire, and Febvre suffered a big qualifying crash at the MXGP of Great Britain and was forced out of action for two GPs. When he returned to action at Loket and the MXGP of the Czech Republic, he fared well with a podium score, but for the reminder of the season, he never really returned to his old championship form. As we all now know, it all came right for Febvre and Team France at the recent Motocross of Nations in Maggiora, Italy. The star of the show that Sunday, it was Febvre's smooth and methodical riding which allowed the French to keep the Peter Chamberlain Trophy.
Now a new event looms, the inaugural Monster Energy SMX Riders' and Manufacturers' Cup race in Germany. We recently fired off some questions at the Monster Energy Yamaha rider to see how his season went, and what to expect on Saturday night.
Racer X: Romain, have you been getting ready for this weekend's SMX Riders' and Manufacturers' Cup race in Germany and what do you think about racing in a stadium?
Romain Febvre: Yes, I will be ready. I'm now testing and riding in Italy to set up the bike for supercross because it will be in a stadium so will be like a supercross. It's difficult to judge the race because nobody can say how it is going to be. But racing in the stadium, I like it especially for the public.
As defending MXGP World Champion, you started off the 2016 season with a lot of momentum. You were runner-up to Tim Gajser at the opening Grand Prix at Qatar and then won the next two races. Then came the qualifying crash at round 11 at the MXGP of Great Britain. From that point forward, you missed two GPs and it took you a while to get back up to full speed. Taking a step back, what did you think about this season?
The 2016 season was good and bad. I was ready at the beginning of the season to battle for the title and I had the red plate. After a few races I lost it, but was still close to Tim. Then the crash in England happened. After that crash and missing two rounds, it was difficult to come back. Once I did get going again, I came back good. The last four rounds we tried something special on the bike and with the engine for next year to see if it would work. It didn't end up working like we wanted it to, so the results were not so good.
On a brighter note, your season ended with a fantastic performance at the Motocross of Nations at Maggiora.
Yes, the Nations. Again a good weekend. So from what I said before, after the trip to USA for the last two rounds of the series, we changed the bike and we went back to what I had before. That's why the feeling came back and it's why in the Motocross of Nations I was good like that. Nothing more than that. It was good to end the season like that. Mentally it is also good.
Beginning with his big win at the season-opener, Gajser was an immediate threat to win the World Championship. Did you expect him to be so good so quickly?
Yes, Tim Gajser came on very strong in 2016. I knew he would be strong because I had already watched him ride before the season even started and he was good. No, it was not a total surprise to see him up at the front, but his consistency surprised me a little bit.
What's your take on Jeffrey Herlings moving up to the premiere MXGP classification for 2017?
It's good that Jeffrey Herlings is going to move to MXGP. He should have moved up before. He's a good rider, for sure, so I am excited to see what I can do against him.
For the 2017 MXGP season we will see Herlings, Gajser, you, and veteran racers such as Clement Desalle, Max Nagl, and Tony Cairoli also in the mix. This could all add up to one hell of a season, couldn't it?
Next year will be a good fight—like it is every year. And if everyone stays healthy, it's going to be a good one. For 2017 I will train like I did this year and try to be even more ready. For sure I've got the best bike, so we see what I can do.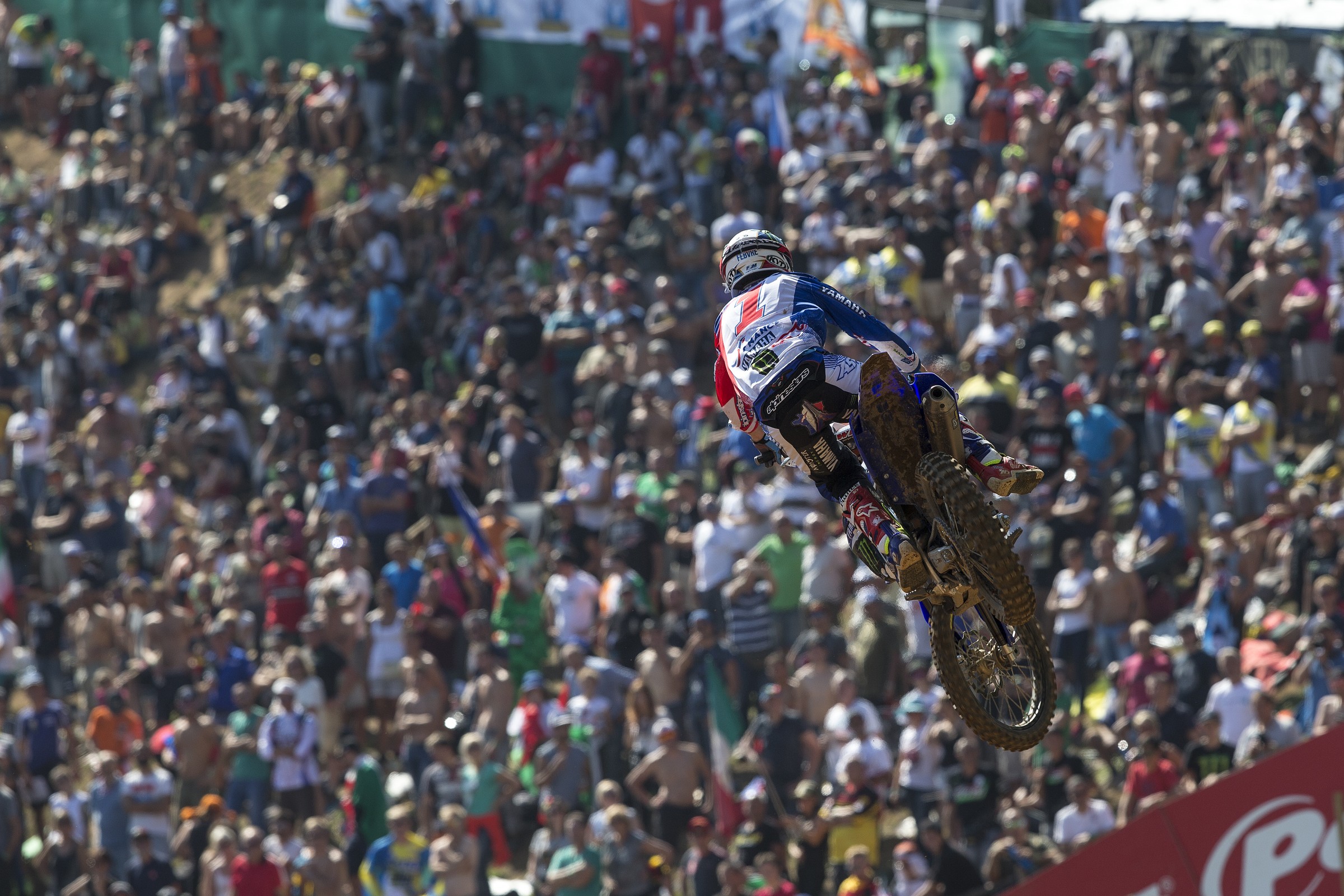 For both the good and the bad, just how is it being a professional MXGP racer and traveling the world? It looks glamorous and fun, but it can't be all fun all of the time, can it?
I love being a professional rider. It was my dream. I like to travel around the world. The only bad thing, let's say, is the food. For example, when we go to Thailand, the worst thing about it is the food because you need to take care of everything yourself because you can become sick so easily. After the races, I also like to stay home and have a good time with my girlfriend. Sometimes it can be difficult to always travel, but it's my job.
I was around the team while you guys were here racing in the United States. I was really impressed with its professionalism and overall presentation. How is it being a part of the team and its inner workings?
With Yamaha we have very good communication between all the guys. I love working with them. It's easy for me. My team, Team Rinaldi, I like every single person and they are like my family. It makes me excited to start the next season. I love racing and I'm going to have some rest before the winter training and from there I'll keep going.
As far as your racing career goes, what's your plan beyond 2017?
My plan is that I already signed with Yamaha for three more years—for 2017, 2018 and 2019—so I will stay here with them to race in Europe. Maybe one day I'll be coming to race in the U.S. It's always been in my mind, but it is not easy to make such a big decision.