Maggiora, Italy
Motocross of Nations
Motocross of Nations
Take your pick of narratives from the 2016 Monster Energy Motocross of Nations: a contest so unpredictable, riveting, and changeable and all wrapped up in another swirling atmosphere of emotion, noise, expectation, and excitement. Just when an event like this seemingly cannot get any bigger or revelatory, more moments of drama keep cropping up.
Maggiora was a special stage for the 11th "MXoN" of the new era, and from when the spectacle really started to boom into something unmissable and perhaps unlike any other fixture on any international motorcycle racing calendar. The U.S. Dream Team of David Bailey, Rick Johnson, and Johnny O'Mara were duly honoured 30 years on from their iconic dominance at the same site, and Maggiora's comeback from a desolate bush setting was complete. Hills, hard-pack, bumps, and ruts—a surface that Alex Martin would describe as "brutal"—somehow contained an immense draw of public that turned the weekend into one long party and were still to be heard drinking, shouting, and dancing in the paddock as race reports were written long into the night.
The 2016 story is a corker. Any set of circumstances that can almost leave Pulpmx podcast king and Racer X's own, Steve Matthes, a little lost for words cannot be understated. That France ran to their third triumph on the trot and by a single point from an expectedly strong Holland was a finale to end finales. Team USA went from a worrying sight on Saturday, to sure-fire winners in a matter of seconds after two motos, to against-the-odds survivalists, and finally the kind of defeat and disconsolate third place that left Cooper Webb on the brink of tears throughout the post-race press conference.
There were many potential headline moments. Jeffrey Herlings won the MX Open category with a 2-1 in his very first outing on the Red Bull KTM 450SX-F and rang a loud alarm bell for the MXGP collective for 2017. The Dutchman shrank a six-second deficit to Rockstar Energy Husqvarna's Jason Anderson in the second MX Open/MX2 moto before a crash allowed the American to escape to a landmark victory, swiftly nullified by the collision with Chihiro Notsuka. Team USA barely had time to toast its checkered flag and a growing points lead– Anderson producing something exceptional and relying on painkillers due to a broken metatarsal. Roger DeCoster openly queried why the lapped Notsuka would launch the finish line jump behind a slowing Anderson who had just passed the checkered flag. It was a thoughtless move, perhaps a by-product of inexperience but there were also people willing to say that Anderson should not have coasted across the line and the top of the jump as he did.
Frantic scenes and the kind of medical attention that pointed towards something much more serious then ensued. Anderson, who had been clipped by the Japanese' right foot and part of the Honda's footpeg, had a lucky escape but signs of a concussion meant he was in no fit state for the final moto and Team USA had to use their joker (throwaway); meaning all hopes rested with Cooper Webb.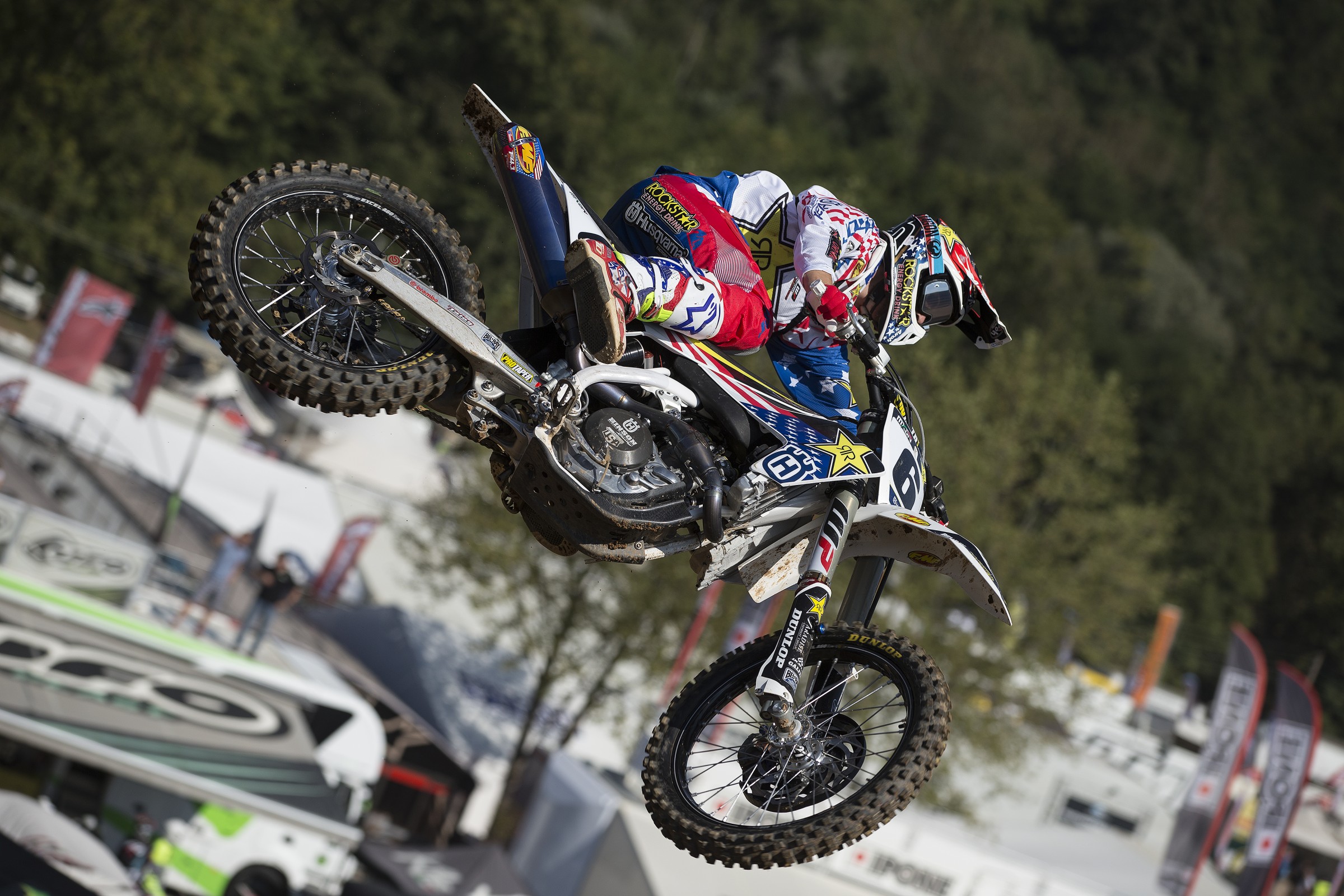 Webb did magnificently to hold a top five slot and with the majority of riders from third to sixth in striking range. Herlings and Cairoli had already departed. Cairoli would win his class at the Nations for the third time in his career with a 2-2 but he had no answer for his Red Bull KTM teammate in that decisive closer—the Italian fan favorite also reeling after a big crash earlier in the weekend. Webb's miscue on the steepest camber of the circuit with two laps remaining broke American hearts with the Dutch and French swapping points with the progress of Romain Febvre (a flighty first moto winner), Glen Coldenhoff and Gautier Paulin. Webb admitted his error will "take a long time to get over" and there was a lot of sympathy that such a strong season for Yamaha's new star would end with such disappointment.
The circuit commentators played a valuable role of heightening the tension even further and keeping the crowd informed of the points standings swinging around but the truth is that not even the riders had any idea what was going on. Febvre's last lap relegation of Great Britain's Tommy Searle to fifth made the difference and ended Holland's brief moment of elation past the checkered flag. As Herlings explained it was hard for the trio (along Coldenhoff, Brian Bogers contributed a 14th place in MX2) to be pleased with their first podium result since 2004 when they had their clogs so close to hoisting the Chamberlain Cup.
Cairoli appeased the Italian crowd. Jeremy Van Horebeek showed guile, passion, and aggression on the works YZ250FM to win MX2 and looked far more formidable on the 250 than his normal 450 mount. Belgium was also boosted by Suzuki's Kevin Strijbos. The veteran won a moto at the 2014 Nations in Latvia and, in what has been an injury and confidence sapping season, left his best performance until last with a 3-3; there were not many riders moving through the field at the same rate as the 31-year-old. Belgium, serial podiumees, were bumped to fourth with rookie MX2 rider Brent Van doninck was given the impossible task of stepping into the injured Clement Desalle's shoes at the last minute and asked to assume 450 duties.
The FIM's Ricky Carmichael Award of best newcomer went to Spain's Jorge Prado. Switzerland's chances of a first podium were hit along with Valentin Guillod's neck on Saturday. Monster Energy/Pro Circuit Kawasaki's Arnaud Tonus rode commendably on what is likely to be his last race in green with a 4-8. Great Britain suffered another mechanical DNF (and for Shaun Simpson again) for the second time in three years when the Scot's chain derailed in the second moto. A hard day for Rockstar Husqvarna's Max Anstie compounded an indifferent set of results for the Brits.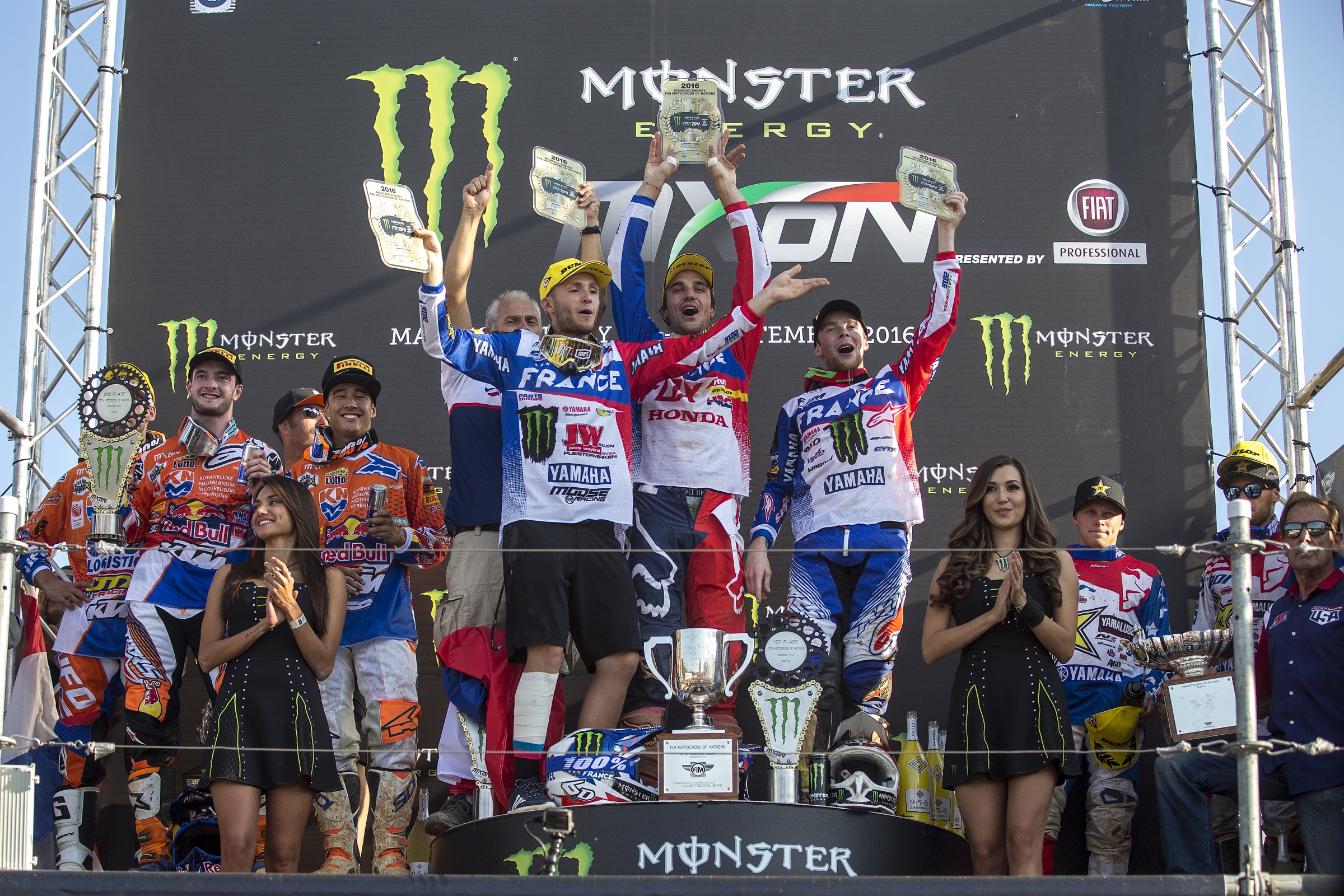 Elsewhere, Canada's Kaven Benoit showed considerable starting prowess and his eighth place in the first moto must rank as a small career highlight so far and satisfied some expectations in the Canadian camp. Estonia's Tanel Leok marshalled his team to ninth in the table on what was his record-setting 16th straight appearance at the MXoN.
Whatever the idiosyncrasies and singular demands of Maggiora Park, its distinctly European flavouring there is little doubt that the planned location of the 2017 edition of the 'Nations will swing the pendulum in the other direction. Glen Helen upgrades from Grand Prix status at the end of next summer to take on 'Nations duty, and there are bound to be no selection polemics for Team USA. Not only will that race reduce the travel demands of the American riders, the team is now smarting and fired-up after the experience of Italy and the fifth year without the taste of spoils.