When you have a rookie class that includes Monster Energy/Pro Circuit Kawasaki's Austin Forkner and BTOSports.com-WPS-KTM's Benny Bloss, it's easy to feel overshadowed.
After signing with Motorcycle Superstore Suzuki deep in the off-season, Josh Osby was put to work to help build the team in 60 days. A daunting task the team documented in a YouTube video. The team made it to Anaheim 1 and it was the first time Osby got to see what it was to be like on a team in the pits of a professional race. It was a moment he said he'd never forget.
Soon after that night, Osby's rookie season suffered a major setback. During a routine testing session in January, Osby sustained internal injuries after a crash.
"I was laying on the track with a lot of blood coming out of my mouth because I had a punctured lung and some broken ribs," Osby remembers. "I had a whole bunch of stuff going on inside of my body. They just put me on a stretcher and I didn't get to choose where I went."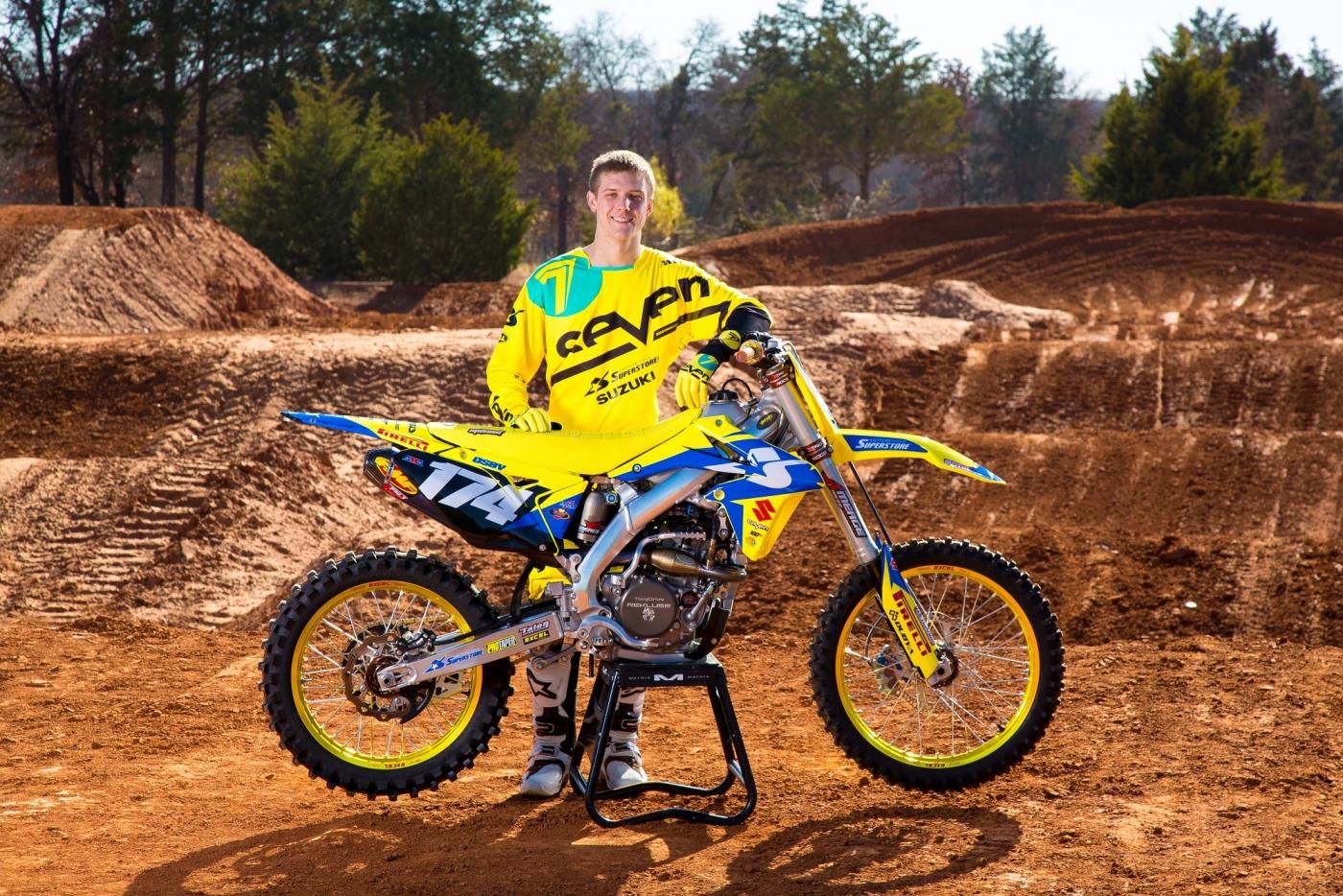 Not being able to choose which hospital he went to actually turned out to be a very crucial error in his recovery process. Osby says that the first hospital he was taken to didn't know what was going on with him, so he had to be transferred to a different hospital. At the second hospital the staff kept puncturing his lung, Osby says, and he had to have three chest tubes through the duration of his stay.
"I should have only been at the hospital for a few days," he says, "but I ended up being there for two weeks."
Osby was soon cleared to begin riding again, but was told that his lung could bother him for up to a year. He began preparing for the Lucas Oil Pro Motocross Championship, but soon realized something wasn't right with his shoulder. As it turns out, Osby's shoulder needed surgery and he had to get it fixed before the outdoor season started.
Entering the season-opener at Hangtown, Osby says that he wasn't close to being 100 percent. He had less than a month to prepare and it was clear that he would be racing into shape for the duration of the summer.
"I think anyone who has seen my results knows that it wasn't a good year," he admitted. "There is no sugar coating it. It was a rollercoaster."
Despite all of the negative energy to start the season, Osby had a lot of positives to help him turn his season around. He was impressed by his speed in practice sessions at a few of the rounds. Even after reinjuring his shoulder at Muddy Creek and skipping three rounds, Osby still managed to qualify 12th at Unadilla.
"I think a lot of people have written me off and they think I'm lucky to have a ride. I know what I'm capable of."
Other than results and lap times, Osby attributed a huge part of salvaging the year to his entire team. He learned a lot of valuable information from his veteran teammates Jimmy Albertson and Kyle Cunningham.
"They are two awesome guys and they always are there to talk me through things," Osby said. "I love my team and everyone who is a part of my program, but I need to put all of the pieces together for next year and come out swinging with some good results."
Osby said that the team didn't put any pressure on him to perform this year. Team manager Albertson saw how much that Osby had been through early in the year and wanted his rookie to use the summer as a learning experience.
The good news for Osby is that he signed a two-year year deal with the team before the season started and will once again be under the Motorcycle Superstore Suzuki awning for 2017.
"I think a lot of people have written me off and they think I'm lucky to have a ride. I know what I'm capable of," he said. "I've beaten some of those guys who have finished on the podium this season."
This statement doesn't mean that Osby expects that he's going to come out next year and be a podium guy right away. He went on to say that he knows that with a solid base, hard work, and a good off-season, he thinks he can surprise people. He's heard some talk in the pits about him being lucky to have a ride.
Some riders even went as far to call the team to ask for a ride because they were beating Osby. That type of talk can put a damper in a rider's confidence, but the rookie kept his head up and scored some points before the end of the season. It wasn't the year Osby expected, but he never gave up and finished strong.
Over the weekend Osby, Albertson, and Cunningham raced the Soaring Eagle Casino Edge of Summer event in Michigan. Osby finished the main event in 10th place. Osby said that he considers himself lucky to have a second chance to prove himself next season and prove everyone else wrong.
"I think its rad that we get to do what we love and do it for a living," he said. "It sure beats the heck out of working a 9 to 5 that's for sure!"