For a second consecutive weekend, Monster Energy Kawasaki's Eli Tomac went 1-1 to sweep a round of the FIM World Motocross Championship. This past weekend the track was a familiar one, as the final round of the championship visited Glen Helen Raceway in Southern California. The venue also hosted Round 2 of Lucas Oil Pro Motocross earlier this year.
With his victory on Sunday, Tomac became the first American to win multiple rounds of the GP championship since Mike Brown in 2000. After the race, Tomac spoke with the media at the post-race press conference.

Racer X: Eli, what a day you gave us, for us and also for the fans out here. The first race we saw you battling with Antonio Cairoli and then in that second moto, not such a great start but we were all impressed by your speed. You managed to climb up and you were much faster than anyone else.
Eli Tomac: I just ate too much dirt today. Starts weren't the greatest. The first moto wasn't so bad. I had to make a few passes and eventually worked my way to the front. We made a few changes from yesterday, a couple things on the shock. I was struggling a little bit yesterday in the qualification race and I was like, man, I need to be a little bit better for tomorrow. Made changes and we went the right direction. Not exactly better on the start straightaway but good on the track. Glen Helen, it's a tough racetrack. Those were long, 30-minute motos.
Tell us about that first moto with that battle with Antonio. First you overtook his teammate, Glen Coldenhoff, and right afterwards you were there with Tony. He was a tough one to pass but in the end you managed to pass.
This track was good for having more than one line. There were some good options, like before the finish line inside, outside or outside, inside. Even the next straightaway with the rollers that was a good spot for me. I made good passes there and was able to get to the front.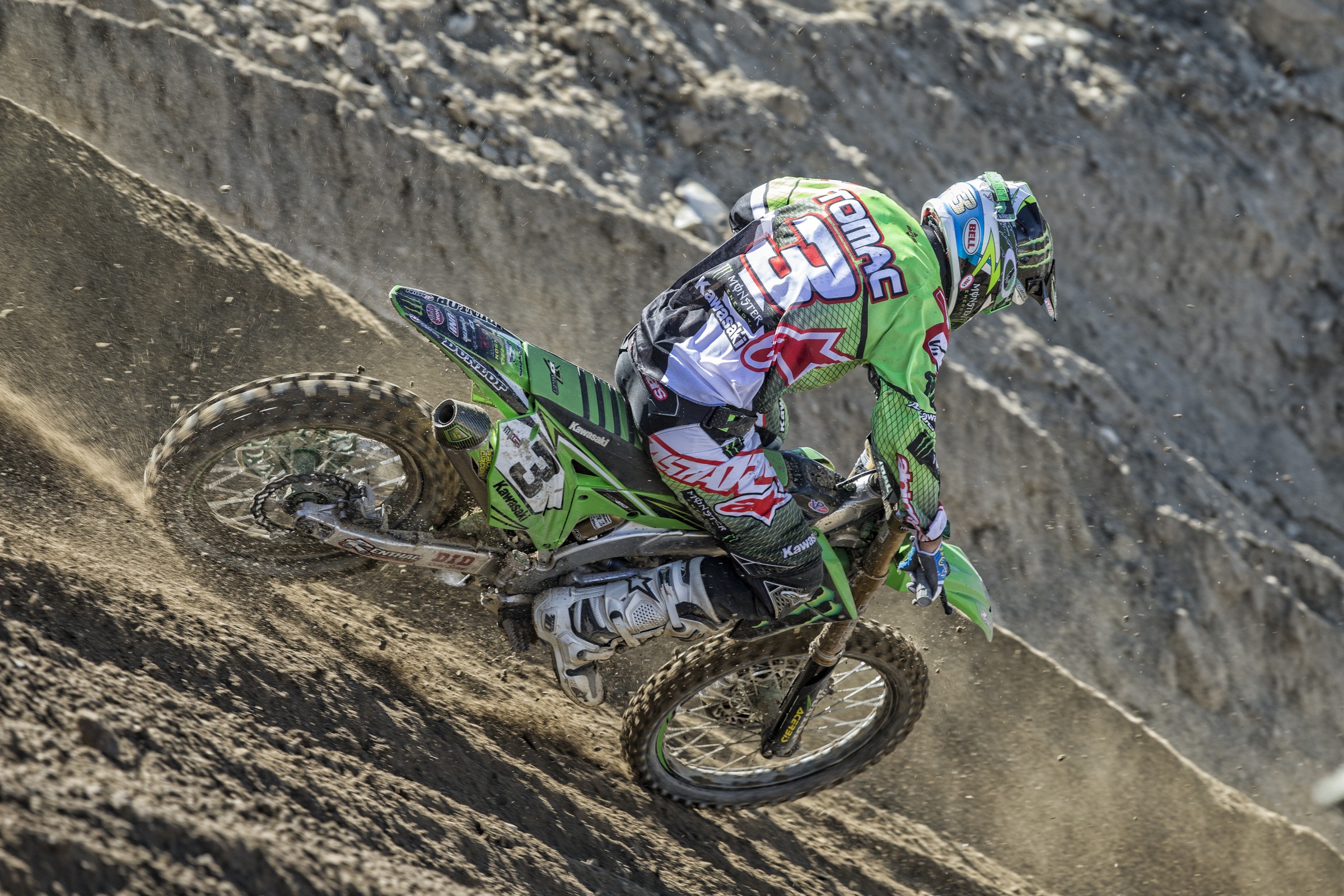 How much you enjoyed this experience? This is the second one in a row with the MXGP riders. I guess you're happy with your performance but also to be with these guys racing and showing your potential against them.
Yeah, I had a lot of fun. Obviously everyone's really fast, but everyone respects each other, it seems like. It's clean racing, so I enjoyed it. I would definitely come back for another one.
Eli, when you went down twice in the second moto, first you were top five, then you were eighth, then you were fourteenth or something. Was there any stage you thought you're not going to be able to get back to the front?
No, the biggest thing for me it was kind of a so-so start anyway but then up the first hill there was some chaos in there, guys getting sideways. It was pretty wet and muddy, and then I even got clipped by a person on the step-up. I never went down, but I just got shuffled back up the first hill.
Eli, after the last week, two Grand Prix, the timetables, the rivals, everything, can you visualize what it would be like to do a whole season of this?
We have a pretty rigorous schedule ourselves over here but you guys are flying literally across the world to events, so that would be the harder part of the schedule for sure I think is traveling to different countries and getting used to it. I don't know. It's a little bit easier here because you're always at home.
When you passed Antonio and Tim it was like they were more or less standing still. Could you sense that when you actually passed them?
I'm not going to say they were standing still. I don't know. I was in the groove at the time. I had a few good spots on the track, on the option section where I was getting the triple-triple pretty clean, and even the option before the finish line. I had a few good spots where I could really make the passes stick.
Eli, after two weekends, two confidence-building races, two victories, no regrets about missing out Des Nations in two weeks?
It's just tough for us because for me this is our thirty-second weekend of racing since January 1 so I had to draw a line somewhere for racing, because after that we have Monster Cup also. If you did that you'd be racing for over ten and a half months. You got to have a little bit of time to kind of regroup and get ready for January 1. It's an event I did not want to miss at all though.
How would you compare the way they prepped the track today versus for the national?
Honestly it's pretty close to the same prep. This place, it always gets kind of a hard base to it with edges and little ruts, but mostly a hard pack base that kind of beats you up. The hills don't make it easy, either. So, pretty close. We didn't have the crazy triple in the back so I was glad to see that that was tamed down.
What did you think about the two-day format versus the one-day?
Shoot, it makes the weekend a little bit longer. It's nice to get the feel of the track if you are having any problems. But for me yesterday I was kind of sitting around like, man, let's go race, let's go do something. It's just a little bit more of a relaxed schedule.
Eli, in the post-race interview on TV you kind of almost said you didn't know what was going on right now in terms of starts making it difficult for yourself, but you also alluded to the fact that you may have learned something this weekend. Was that more bike setup in terms of you may have turned the page and you can look forward to next year? You maybe found a step in the development?
Yeah, absolutely. We did make a change to the shock coming into today. Found a better balance and a better feel with it. I am going to have to get better on my starts. That is one place I have to work on if I want to be competitive and there every time. So every race weekend you got to have an open mind and you got to learn and make change and get better.
Racer X West Coast editor Kyle Scott also grabbed Tomac for a few one-on-one questions after the press conference.
Racer X: Four for four in GP stuff.
Eli Tomac: Yeah, these were a couple of good weeks to cap off the season, if you want to call it that. I honestly had quite a bit of fun racing, any time you win the guys can say up front, but I truly did have fun on my motorcycle here at Glen Helen. Didn't exactly make it easy on myself in any of the motos. Actually every start I was kind of buried. Had to earn every one of them. Did some good battling. It's a good thing I was on a track like Glen Helen here where you can pass guys and it makes a difference when it gets rough and gnarly. So all in all I was happy with the way my motorcycle was this weekend. Felt comfy the whole time and I was able to lay it down all 35 minutes. Just pumped the way the season ended.
You came from way behind in that second moto.
Yeah, the second one I was buried. I wasn't in a terrible spot going down the second straightaway but up the... if you want to call it the third straightaway at the hill there, the short hill, there was some pushing and some banging going around and I kind of got shuffled back. So I had to work from there. It wasn't easy by any means.