Clean Sweep
If Eli Tomac wins the final round of the FIM World Motocross Championship this weekend, which would mark his second-straight Grand Prix victory, he would become the first American since Mike Brown in 2000 to win multiple Grands Prix in the same year. In 2000, competing in a full season, Brown won three rounds en route to third overall in the then-125cc class (now MX2). Tomac was unstoppable on an unknown Charlotte track last Saturday ("It was [a hybrid]. It seems like you have motocross and then you have a Monster Cup style track and then you have supercross, and this is almost between Monster Cup and motocross," he said after last weekend) and now heads to the familiar hills of Glen Helen. This weekend will be the last race for Tomac before the Monster Energy Cup in October; can he go out on top?

Herlings Adjusts
It had been some time since Jeffrey Herlings competed against anyone other than the current crop of MX2 riders. He hadn't raced the Motocross of Nations since 2012 (due to injury) and missed the USGP at Glen Helen last year (also due to injury). He acknowledged the differences between racing in Europe and America after Charlotte last weekend. "Racing in America is just way different. Those guys are so much more focused on the sport. In Europe we all talk, have fun, laugh. Those guys don't talk to each other! [Laughs] It's like, wow, okay! It's really weird when we get here. Those guys, they'll shoot somebody to win probably! [Laughs]" Herlings will get another shot at an overall victory in America this weekend. He'll no longer have Webb to deal with, but Austin Forkner and Jeremy Martin will be ready for the challenge on Sunday.

The Rookie Impresses
Rookie Austin Forkner received the ultimate compliment from Herlings after Charlotte on Saturday, with the now three-time MX2 champion conceding he was surprised at the speed Forkner showed. "I was surprised how much speed he had in the beginning! Like Cooper just mentioned, in the beginning when the gate drops those guys are so gnarly and so fast." Despite leading 26 of 38 laps last Saturday, Forkner wasn't able to come away with a moto victory (he finished 3-2 for third overall). If you're looking for a silver lining for Forkner: he was able to hold off a charging Herlings late in the second moto. Can Forkner claim a moto win this weekend?
Big Debut
No, it's not October 1. No, it's not the Monster Energy Cup. Those dates typically signify the beginning of free agency and the first time we see riders in competition on their new machinery in the sport. Yet, here we are in early September at Glen Helen and Jeremy Martin will debut with his new team—GEICO Honda. This weekend will mark the first time in Martin's pro career he has ridden anything other than Yamaha. In fact, you have to go all the way back to 2011, when Martin was with Suzuki as an amateur, to find a race where he wasn't on a Yamaha. Martin's results this weekend will certainly be impacted by a lack of time with his new bike and team, and he hasn't even raced since hurting his ribs at Washougal on July 23. Even with all that said: would it surprise you to see the two-time 250MX champion run up front?
Stress Free
With the weight of his first MXGP championship off his shoulders, newly turned 20-year-old (he turned 20 on Thursday) Tim Gajser can turn his attention to Glen Helen. Many inside the GP paddock said that Gajser was letting the pressure of the world championship get to him the last few rounds and he was making more mistakes than normal. And if you watched Charlotte, Gajser was noticeably more comfortable in the second moto after clinching the championship in moto one. He even addressed it in the post-race press conference: "After the first one I went back to the truck and I said to myself, it's done so not any pressure. I think [I needed] a good start, and I did that. Also riding first couple laps was good. I was feeling good. But then make a small mistake and wash the front end in one corner because the track was sketchy." Can Gajser pick up a win with the world championship pressure off?

Cairoli's Health
Antonio Cairoli was a shadow of himself last weekend in Charlotte. The eight-time world champion finished a disappointing 14th overall as he battled an illness. "Charlotte was a tough one, felt very sick all the weekend and on the race day even more with fever and stomach problem," he wrote on Instagram. Cairoli has had success at Glen Helen previously (he won the 2010 USGP there), and won a moto in Assen the weekend prior to Charlotte. Will Cairoli be fit enough to challenge Tomac, Gasjer and the rest?
Wilson Rebound
Dean Wilson certainly didn't have the night he wanted last Saturday. He fell in the first moto and finished 16th and then crashed in the second moto and only finished eight laps en route to 31st. Wilson, who is currently still looking for a deal in 2017, could use a big bounce back this weekend at Glen Helen.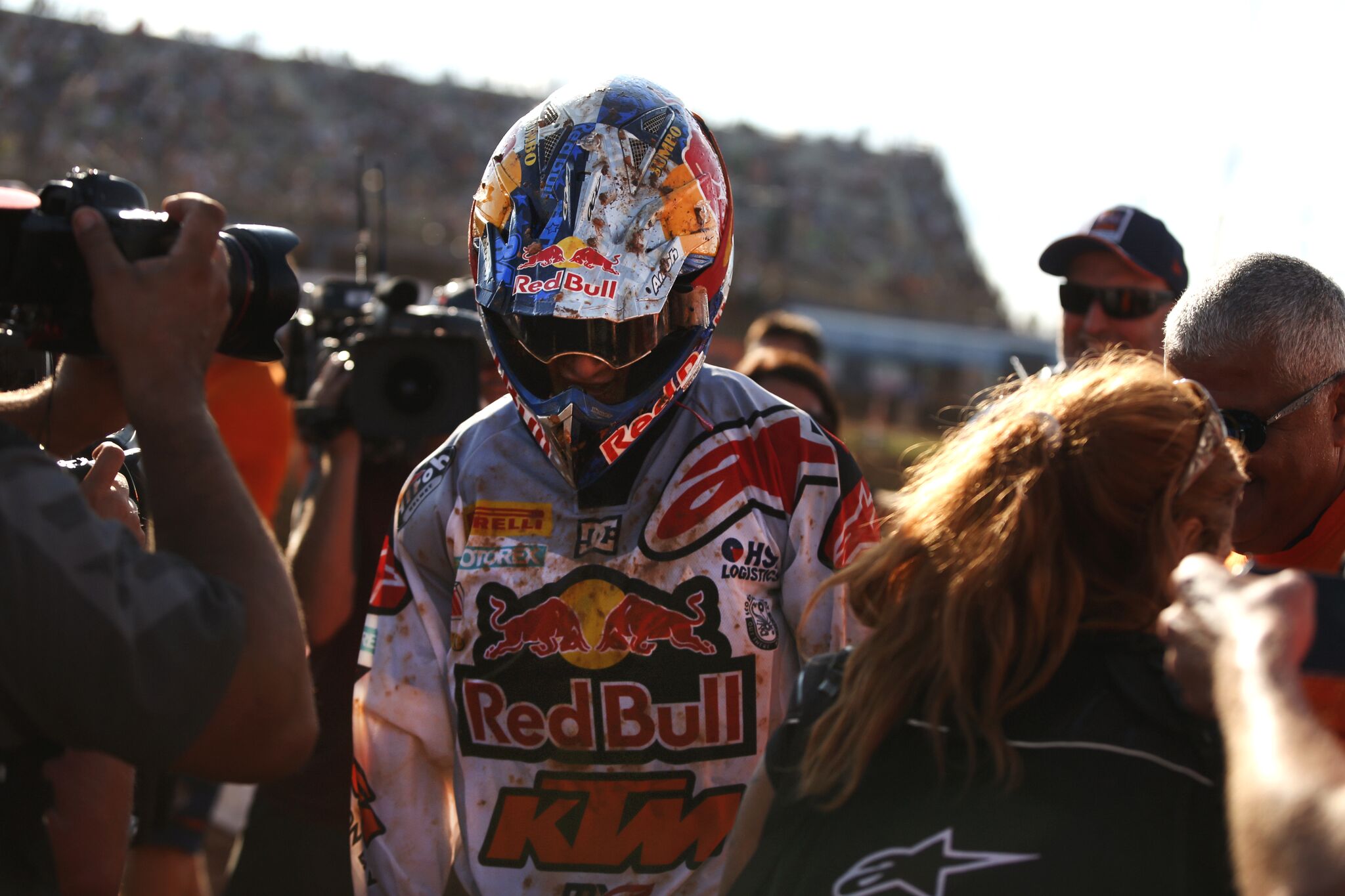 TLD Joins the Party
While the MX2 class will lack the star power of Cooper Webb, Glen Helen will feature two new riders—TLD/Red Bull KTM's Mitchell Oldenburg and Justin Hill. After returning from a back injury, Hill finished the season strong with three moto top fives in the last four rounds. Meanwhile, Oldenburg was consistent all season (12.3 average finish over 24 motos) en route to tenth overall in the 250 class. Oldenburg hasn't had much success at Glen Helen (18th in 2016; 12th in 2015) while Hill had one bright spot (2nd overall in 2015) and two sub-par results (20th in 2016; 19th in 2014). The TLD team finished first and second in MX2 at Glen Helen last year with Jessy Nelson and Shane McElrath. Can Hill and Oldenburg deliver podiums this time?
Back on Schedule
U.S.-based riders will have to adjust to FIM World Motocross Championship's two-day format this weekend. In Charlotte, weather washed away qualifying on Friday and the event was turned into a one-day format (similar to what we use in the U.S.). Don't expect the same in Southern California, as temps are expected to hit the 90s with no chance of rain. Saturday will feature a Free Practice Session and a Timed Practice Session prior to the Qualifying Races for each class. Sunday will feature the races (two motos) preceded by the Warm-Up (which is fifteen minutes). How will the Americans (and Wilson) adjust?
Super, Super Early MXoN Preview
Yeah, yeah, we haven't even held the 2016 Motocross of Nations and we're already talking about 2017? Sure, why not. Glen Helen will host the 2017 event and three riders (Eli Tomac, Jeremy Martin, Austin Forkner) have a legit shot to be chosen for that race. Meanwhile, unless injury hits, riders like Cairoli, Herlings, Febvre, Gajser, Desalle and more could end up on their nations' 2017 rosters. So….this weekend will provide a chance to learn the track and conditions, especially important for the European riders who won't be pounding out laps all year in California like the Americans. While it probably won't mean much in the long run, it's something riders and teams will probably have in the back of their minds.