Perhaps the best way to sum up the MXGP of the Americas in Charlotte, North Carolina, is what occurred on Friday, the day before the race. That was supposed to be a day of racing, too, with the Grand Prix series' traditional two-day format. But European weather had come to Charlotte, with massive rain washing everything out. I live in Charlotte, and can tell you the area hasn't seen rain like that since probably April. All of a sudden we had Assen, Holland, weather!
I took cover with my friends at JGRMX, but there were a few new faces under that tent, including Pirelli's moto racing director Giorgio Barbier. This man is usually found at MotoGP, World Superbike, or MXGP races in Europe—this race was unique enough for him to put it on his calendar. He, like many, wanted to know how it would play. What about a MXGP race in a region of the U.S. it has never visited before? And what of this track, certainly far from the traditional motocross circuit?
Then there's Pirelli itself, still trying to work its way toward the front in U.S. motocross and supercross, but a long-time leader in the GP field. Barbier worked and spoke elbow to elbow with Pirelli's U.S. man, Doug Shopinksy. Two sides becoming one for the weekend.
For me, there were even more sides to it. Since I live in the area, this became my de facto home race. I saw a lot of local friends at the race on Saturday, such as the large contingent of GNCC riders who choose North Carolina as their racing base. Oh, and I got to bring my family to the races, which is rare because traveling with kids sucks. But my about-to-turn-two-year-old son wanted to meet Chad Reed badly, so we visited Chad on Saturday morning, inside the same semi he had worked out of in supercross. Most of the people under there were new faces, with the Monster Energy Factory Yamaha team of Romain Febvre and Jeremy Van Horebeek working in the rig. And these rigs were full, because in GP parlance, everyone must have two bikes built and ready to go at all times. So, similar trucks—the factory team rigs from all six manufacturers were there—with unfamiliar bikes, riders and workers.
Then practice began. This was certain to be a mudder, yet somehow, it wasn't! On Friday only the jump faces were covered under tarps, so the track got drenched, and yet by 1:30 p.m. on a sunny Saturday, there was literally no sign that there had been rain before. It was an amazing turnaround.
Even without the mud, though, the track was different than most of the stuff we're used to. Eli Tomac summed it up best: "It seems like you have motocross and then you have a Monster Cup style track and then you have supercross, and this is almost between Monster Cup and motocross."
It looked cool, but I wasn't sure how it would work for racing. From the top of The Dirt Track grandstands you could see probably 90 percent of the track, and it looked like a supercross in general, but on a bigger scale. But this wasn't a supercross track, so it was devoid of the traditional supercross obstacles. Jumps? Yes. But no peaked rhythm lanes with tricky combos, and no whoops. And with the wet track somehow turning dry, the course didn't get deep enough to develop real bumps and rough stuff. Some ruts did form in the corners, the lowest spots being the only with any leftover moisture, but for the most part the track was fast and flat. Like, crazy fast, with 250F riders telling me they hit absolute fifth-gear top speed on their bikes in the first turn.
It looked cool, but where could the riders separate themselves? Where could they pass? In supercross, you can out-jump or out-scrub someone through a series of jumps. You can use 180 bowl berms to block pass, or rip the whoops. Those things weren't options here, nor were the changing lines or rough stuff that provides separation in traditional motocross. So I was afraid this whole thing would look good, but not offer up much for racing.
This is not exclusive to Charlotte, or The Dirt Track. You can upgrade the facilities and give the fans real grandstands, paved walkways and pits, and situate the whole thing right in town. That's great. Charlotte Motor Speedway is a huge complex, and five minutes away is one of the biggest malls I've ever seen, along with a thousand stores and restaurants. Downtown Charlotte is 15 minutes away. The facilities? The location? It's not even the same planet compared to New Berlin, New York, or Millville, Minnesota, and although I've never been there, I'd imagine Lommel doesn't look like this, either. But this track wasn't like Spring Creek, Unadilla, or Lommel, either. There's the classic motocross conundrum: If you want the best track, you've got to go out into the woods, and find real elevation change, rough terrain and the space to take advantage of it. These man-made tracks have been done before—Miller Motorsports Park in Utah for a few years—and even after great effort, they end up kind of blah.
That's where Cooper Webb came in. Eli Tomac might have won the premiere class, but Webb made this race. His second moto charge should not have been possible on this track. Yes, his bad start was aided by a small field of 23 riders in the MX2 class, which meant he had about half as many riders to pass as usual, but dammit it was still amazing, and his charge in the final ten minutes is almost enough to give me chills. It was fourth quarter touchdown drive, late game three-pointer, bottom of the ninth home run stuff, plus Cooper was playing a home game and the fans responded instantly.
There is no more universal fan agreement in sports than Us against Them. Literally 10 seconds into the first moto, when fans recognized Austin Forkner and Adam Cianciarulo were about to be 1-2 into the first turn, the grandstands exploded. The Americans were winning! Hearing the fan response, my friend David Bulmer, who covers the GPs for Vurb Moto, said: "I always say the best GP is the one where someone from the home country has a chance at winning."
I think, if this were just a regular race, the track would have been something to complain about—and this is in no way an indictment of track builder Marc Peters, or the GPs or The Dirt Track, they built the best track they could considering the flat terrain, the dirt they had to work with and the rain. Like I said, this is just the classic motocross situation when you build a man-made track. If this were a regular round of FIM World Motocross Championship or Lucas Oil Pro Motocross, you'd have heard, "this isn't real motocross!" In fact, back during the press launch for this event back in January, GP officials admitted it would be much different than most tracks, but they were willing to absorb some punishment from the online keyboard warriors who like to bash these things. The GPs are trying to attract younger fans, so they're willing to part with some tradition to do it.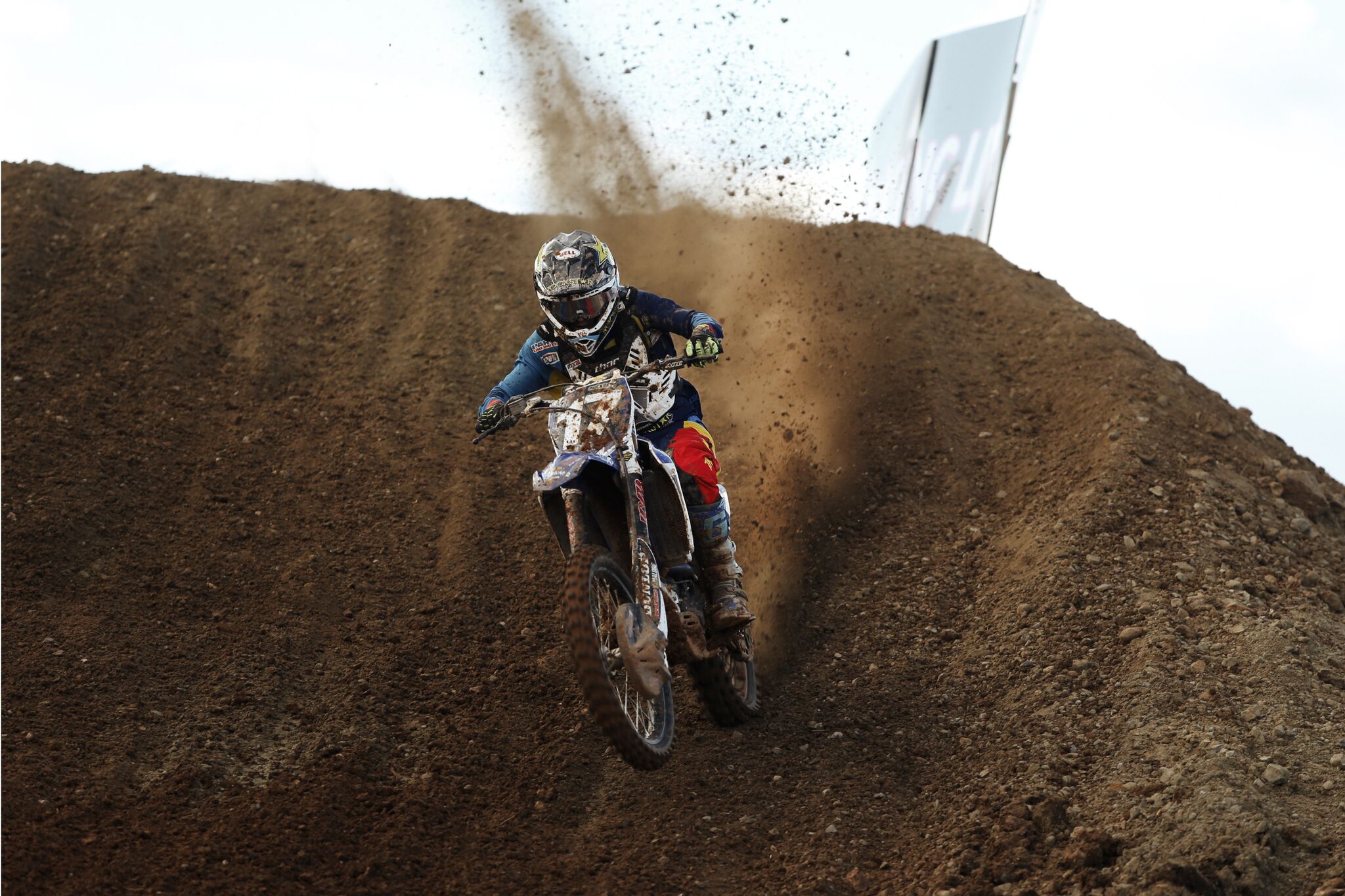 I didn't hear much bashing this time, though, because this wasn't a regular race. This one had Eli Tomac and Justin Barcia against the GP elite (Monster Energy made them race it, and ultimately this became a trade for a des Nations appearance for Tomac), this one had Webb and Forkner battling Jeffrey Herlings, and this one was in the Carolinas, where a lot of people are heavily invested in the dirt bike game but haven't had a local race since the Charlotte Supercross ended in 1999.
It was a great weekend for socializing, the kind of weekend where Grant Langston shows up on Friday morning and disappears, catching up with old friends and making new ones. There were people here that I had never met, or had not seen in ages. This will be the only day of my life, for example, where I will shake hands with both Damon Bradshaw and Jean-Michel Bayle. JMB is now a bossman for Honda's GP team, and looked happier now, in the wake of Tim Gajser's MXGP Championship, than he ever looked in pictures or TV when he was racing. I asked him very quickly what he thought of the event, and he said he loved it, and it was just amazing to have these kind of facilities at a motocross race. It was. However, I still find it a little strange that people were saying this while knowing there's also a thing called supercross, which has offered this concept for 40 years (and JMB would know).
Later I saw Bradshaw, who was on hand to do some magazine stuff with Dirt Rider. As Cooper Webb's legend starts to grow, Bradshaw comparisons are apt, as both come from North Carolina and aren't afraid of a scrap. I asked Bradshaw if he had ever met Webb, and he said he was supposed to on this day, but chose not to. "A lot of people are saying he's kind of like me, and if he is, I didn't want to deal with that stuff the day of the race," Bradshaw said. "I don't want to bother him when he's in race mode. I'll call him during the week or something."
Damon still remembers what it's like to come to the track with a chip on his shoulder. That's cool.
Lots of hands to shake. I got to meet GP TV announcer Paul Malin, which I've always wanted to do. I immediately gave him credit for kicking Jeff Emig's ass at the Roggenburg 1994 Motocross des Nations ("Yes, but only for one day!" he joked) and we talked TV a bit. I introduced my wife to him, explaining, "Paul does the TV announcing for those guys." I think that took Paul back a bit, as he responded with, "Oh, those guys." I had not meant it to offend—I literally meant it only as he does TV for this series as I do for another.
Look, I know there's an elephant in the room with every cross between FIM Grand Prix Motocross and Lucas Oil Pro Motocross in America. Everyone wants to talk about this rivalry between the sides, both from a business standpoint and also on the performances of the riders. Which is better? Which is bigger? Which is faster? In fact, many reading the first 1600 words of this column are probably parsing it for signs of bias or subtle messaging. It is 100 percent true that the sister company to Racer X operates Lucas Oil Pro Motocross, and I draw an additional paycheck from that series doing television commentary. Further, we have reached a point in this world where everything becomes a one side or the other argument, and in this sport, GPs versus American motocross is the liberal versus conservative argument. It's almost like you have to pick a side.
You know what, though? That might be happening at the highest levels somewhere beyond the race track, but down in the trenches, there are no hostilities. I met a wide group of GP folks who were fans of my work in the same way I was theirs. I saw the American teams hosting the GP teams and gelling from the start. The media room offered me a chance to bench race with the best of them as we exchanged stories and tales and behind the scenes gossip. That's what made this race truly different, beyond the location, the track, the facilities, and all of that. This was the melting pot, and it was hard for anyone there to take offense to it.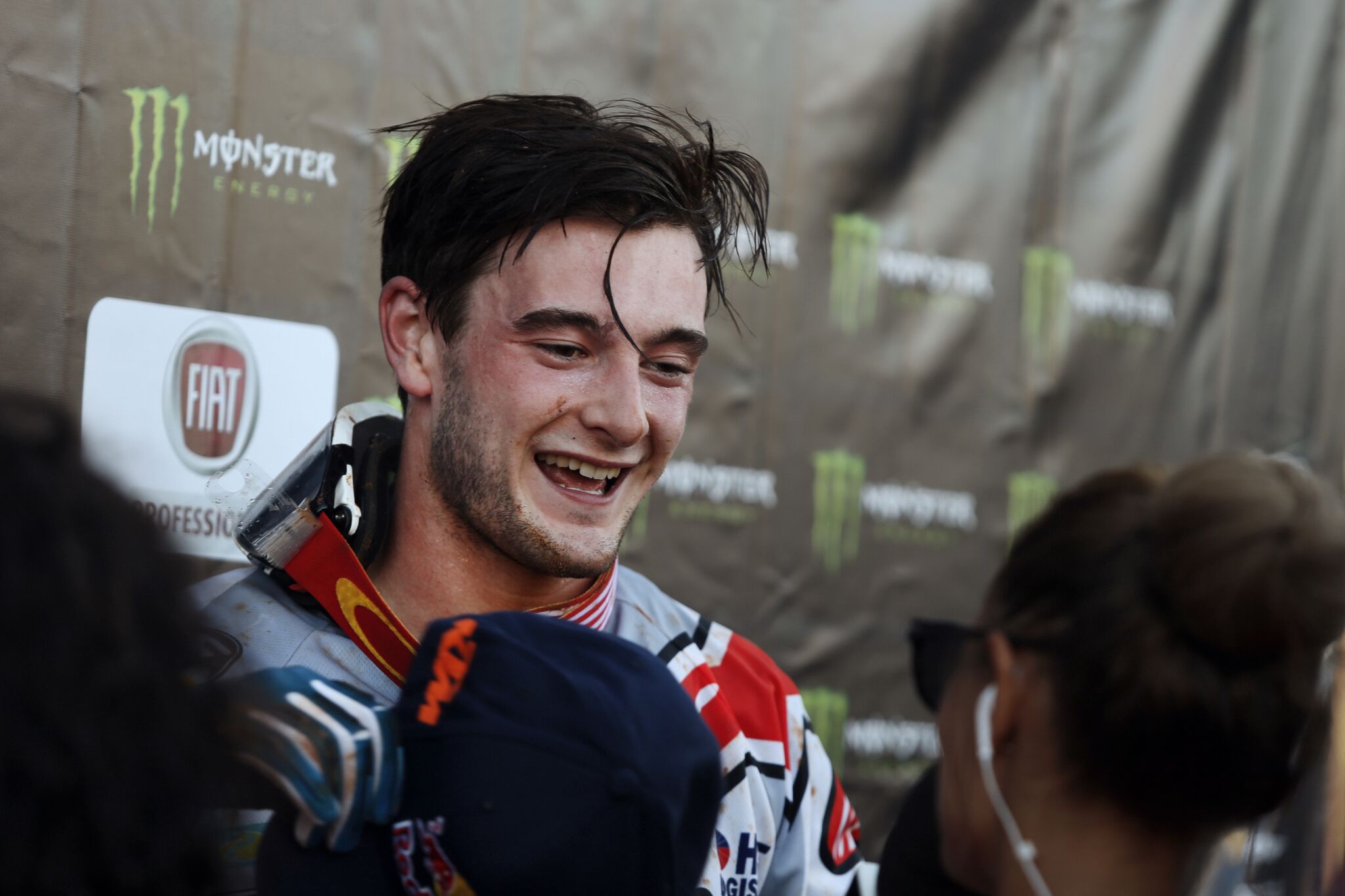 At the end of the night came the post-race press conference. It offered the best chance of any all weekend for the "Us versus Them" tension to combust. Webb had won, passing Herlings to do it. During that moto, a few GP scribes told me that this was the first time in years they had seen Herlings get passed in a race, or finish a moto in third without a crash. Yes, but I offered that in moto one, Herlings became the first guy in a long time to pass and pull away from Webb in the second half of a moto. They had both done something impressive. Boasts and brags could have come from either side, plus these two riders have combustible personalities.
I had never even met or heard from Herlings in person before, but he certainly has a rep of a dude that can go off. But you know what? He was amazing. He heaped praise on Webb and Forkner and offered no excuses, saying, "I think first moto I was the fastest and in the second moto, I'm just going to be honest, Cooper was faster." He also said you can't draw conclusions from one race. Webb was seated next to him, nodding his head adamantly and smiling, making sure everyone knew he agreed.
Herlings gave analysis I had never heard before, about how serious the Americans take their racing, training, bike setup and more. Webb dished praise back, saying he had studied the Europeans and even based some of his second-half charges on their style, which is to wait and hang it out late.
This race offered so much opportunity for trash talk or a partisan divide, but on the scene, there was none of that. It was two sides embracing the best of one another. Good to know we can still do that.