Loretta Lynn Ranch
Hurricane Mills

,

TN
Rocky Mountain ATV/MC AMA Amateur National Motocross Championship (Loretta Lynn's)
Amateur National Motocross Championship
By Chase Stallo and Jason Weigandt
It used to be pretty simple. Each year an "it" rider would emerge from the Rocky Mountain ATV/MC AMA Amateur National Motocross Championship at Loretta Lynn's, and starting in 1997 that rider took the AMA Horizon Award. These days things are a little more mixed up, as some riders have taken a different route by skipping their A class season to instead jump into Lucas Oil Pro Motocross at the Hangtown opener, getting the full transition on professional MX tracks before jumping into Monster Energy Supercross (yes, it's a requirement to race Amsoil Arenacross, but that's supposed to be done during the last year in the amateur ranks.)
What's this mean? The likes of Cooper Webb, Austin Forkner and Adam Cianciarulo never went for the Horizon Award because they didn't race the A class at the Loretta's. But that doesn't mean this award isn't coveted, and you'll see lots of top A riders taking swings at it next week at the Ranch.
Who has won the Horizon Award before? How did they do as pros? Read on.
1997 Nick Wey
First Race: Aug 24, 1997 | 17th Broome-Tioga
Career Wins: 1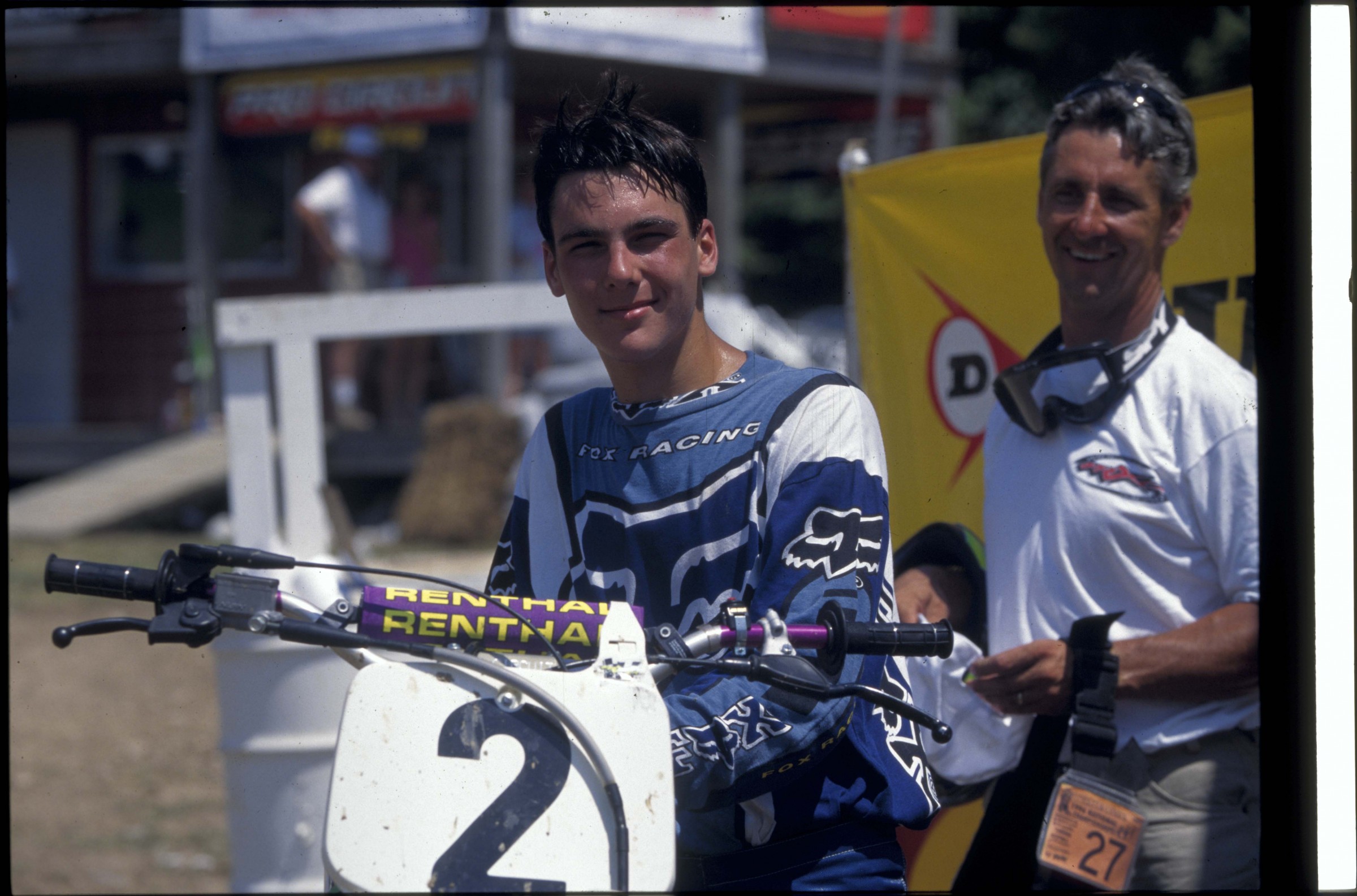 Wey followed in the wake of Ricky Carmichael, who graduated in 1996, as a fellow Kawasaki Team Green rider, and joined RC on the Pro Circuit Kawasaki team. Wey was solid for the squad and while he only generated one win, his persistence, determination, and character made him a fixture in the sport for a long time—including right now.
1998 Billy Payne
First Race: Jan. 9, 1999 | 6th Anaheim 1
Last Race: Feb. 20, 2010 | 18th Indianpolis
Career Wins: Zero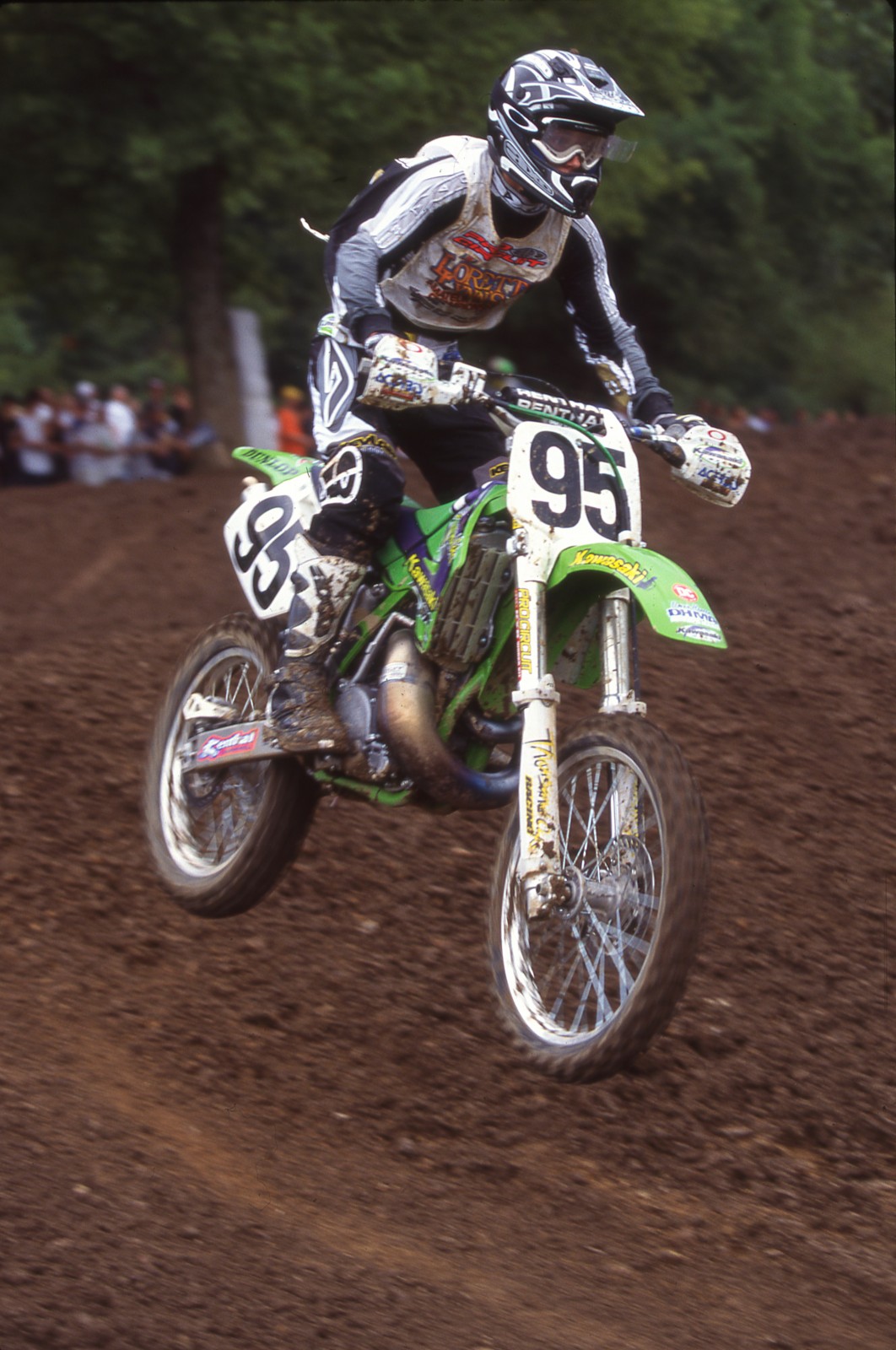 Another Kawasaki Team Green rider who, you guess it, ended up on Pro Circuit Kawasaki as a pro. Payne had talent and skills but never quite put it together. His best finish was a fourth at the Phoenix Supercross in the 125 class in 2000.
1999 Travis Pastrana
First Race: Feb. 12, 2000 | 4th Indianpolis
Last Race: June 11, 2006 | 35th Southwick
Career Wins: 15
Career Titles: 2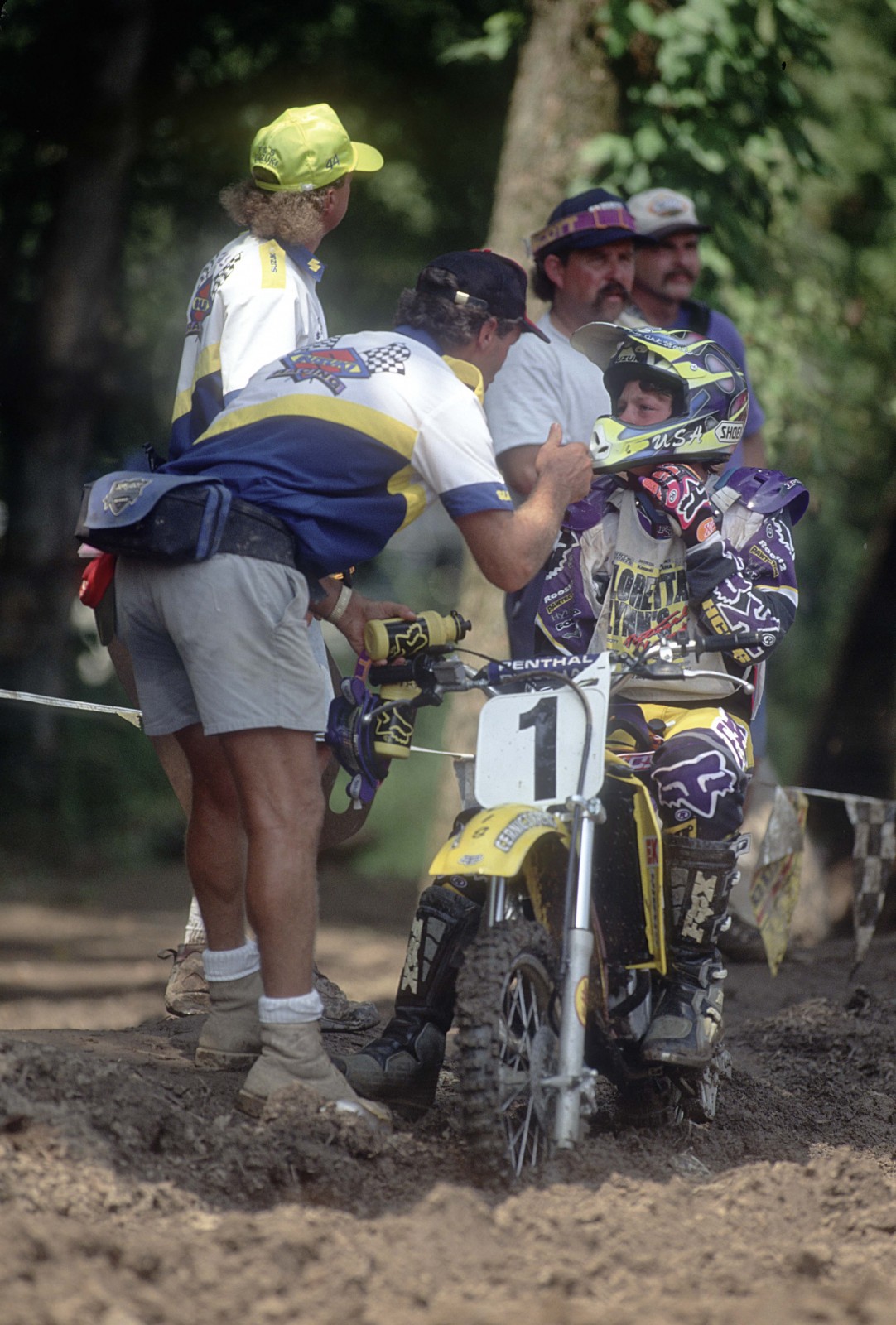 Although he has become one of the most recognizable names in the world for both action sports and motorsports, Pastrana is also a "what if?" story for hardcore motocross fans. He had talent and speed to burn as both an amateur and a pro, evidenced by his Horizon Award from Loretta's and a pair of 125 titles as a pro, but injuries started at an early age and never stopped, and Travis found other outlets for his abilities. He never won a race in the 250/450 class, though, which remains one of the most puzzling facts in the history of the sport.
2000 Ben Riddle
First Race: Aug. 27, 2000 | 22nd Broome-Tigoa
Last Race: July 21, 2002 | 35th Unadilla
Career Wins: Zero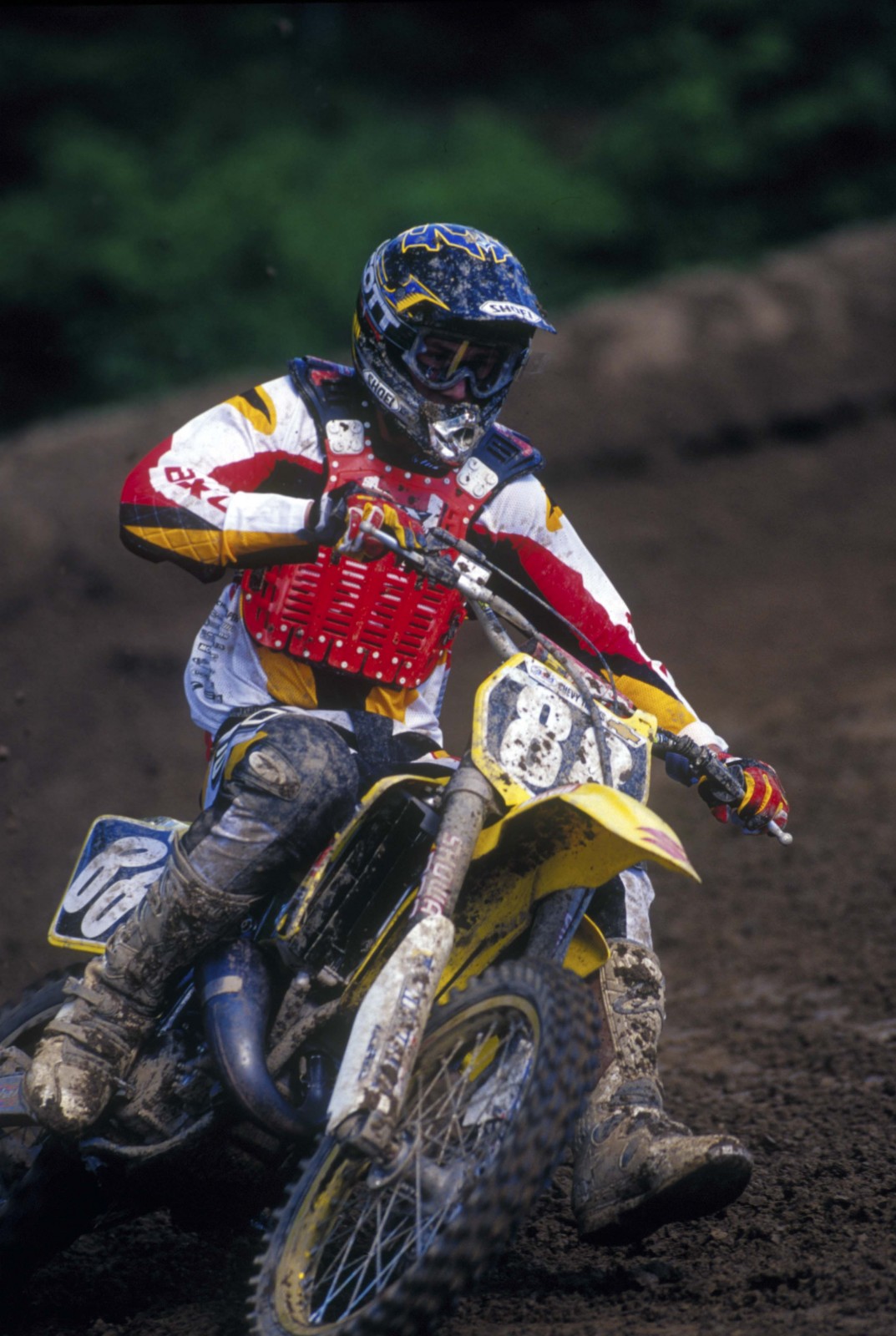 Like Wey in the wake of Carmichael, Riddle came the year after Pastrana, and riding for the same brand, Suzuki. But Big Ben never found much pro success, his best finish a seventh in his rookie season in the 125 class in New Orleans. He soon found himself facing off-track distractions and out of the sport within two seasons.
2001 James Stewart
First Race: Jan 5, 2002 | 2nd Anaheim 1
Career Wins: 116
Career Titles: 7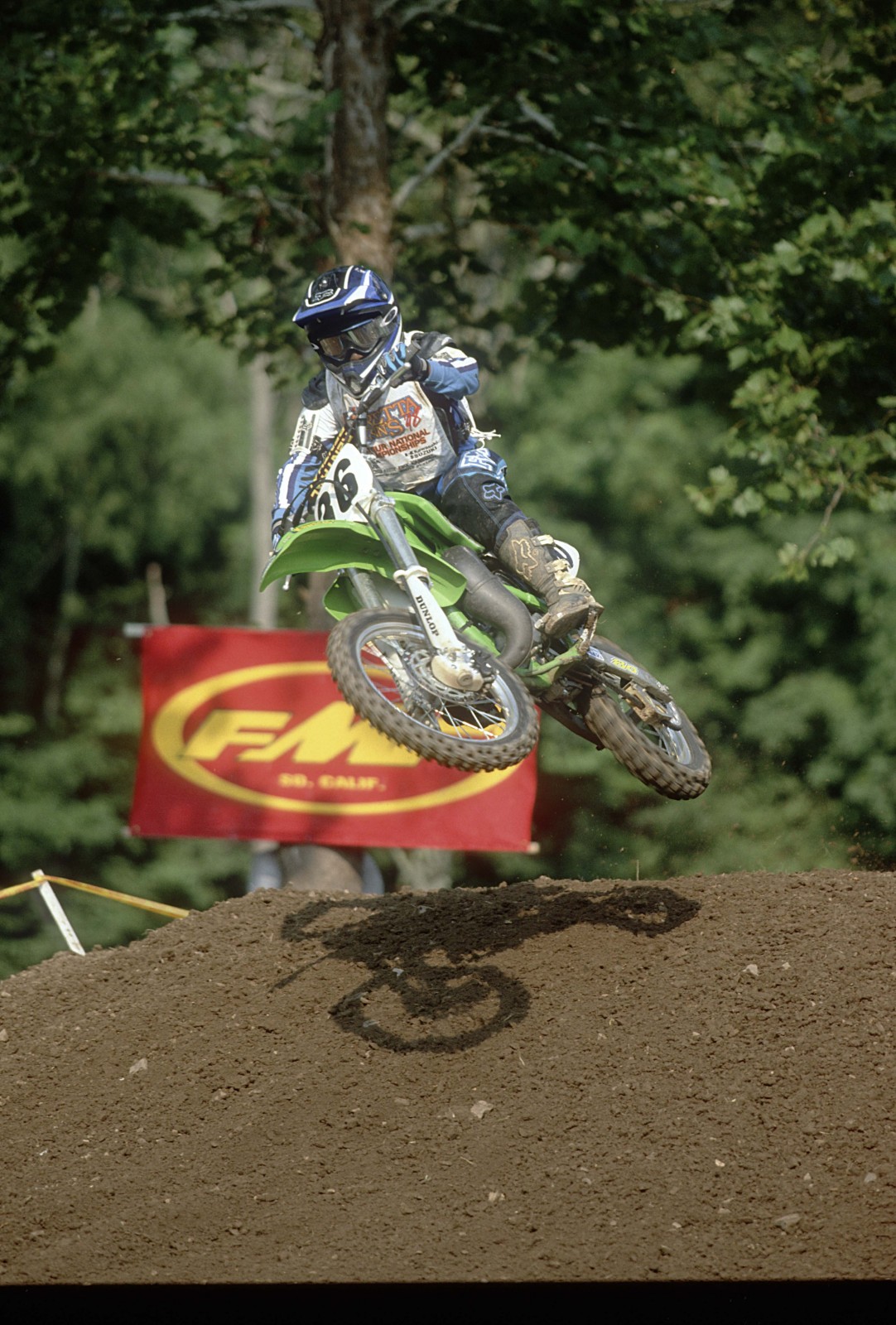 Arguably the most hyped rider to ever come from amateurs—but James lived up to that hype, winning his second pro race (the San Diego Supercross) within a month of turning 16 years old, and then the first AMA National Motocross he raced a few months later at Glen Helen. He's second all-time on the combined AMA SX/MX wins list. His credentials are set, but no one is quite sure what the future holds for Stewart.
2002 Evan Laughridge
First Race: Aug. 18, 2002 | 16th Millville
Last Race: Sept. 4, 2005 | 10th Steel City
Career Wins: Zero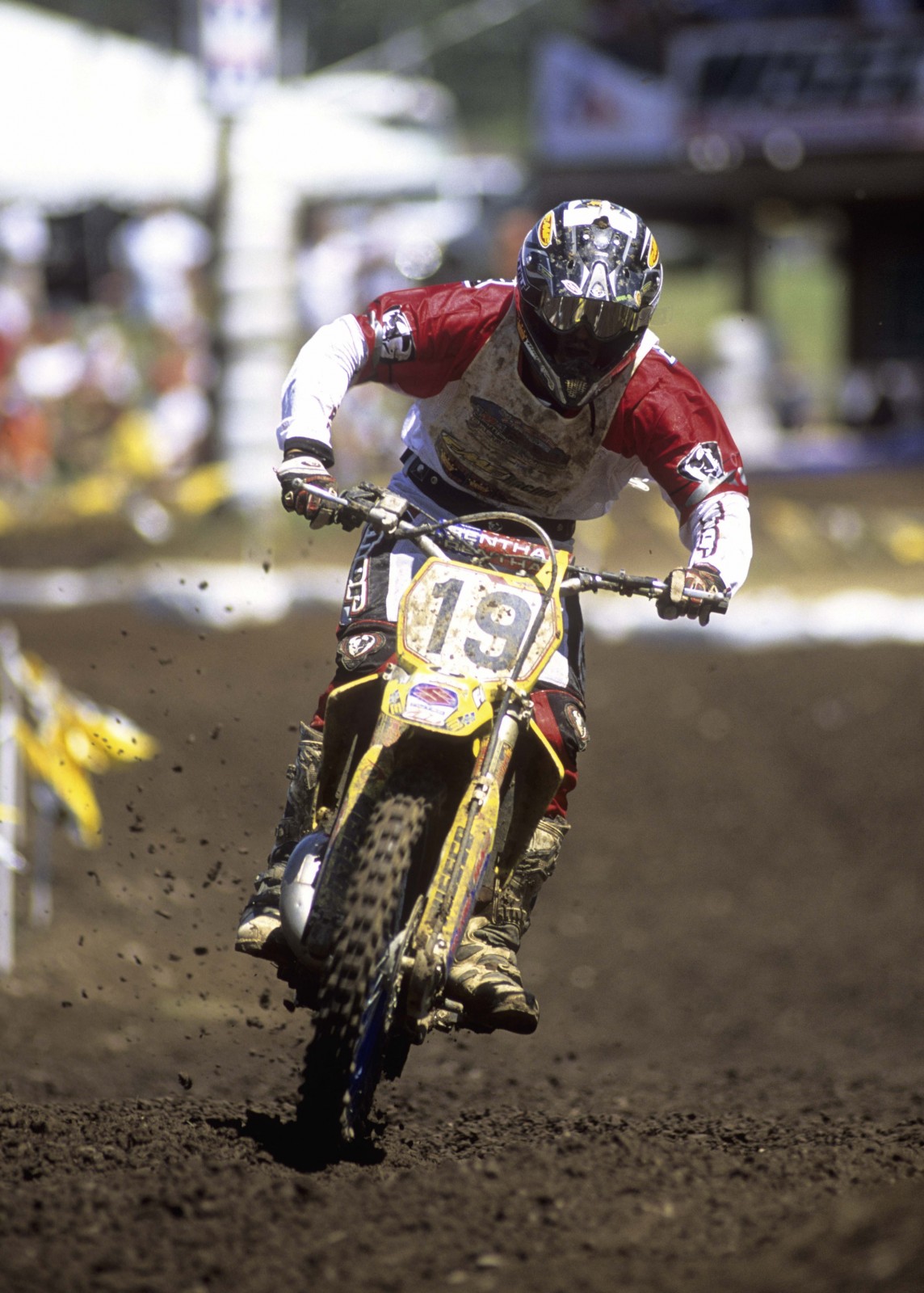 Laughridge was in the right place at the right time. In the wake of Stewart from the previous year, the Suzuki rider put in a superb week to win both the 250 A and 125 A/Pro Sport titles over names like Josh Hansen, Justin Brayton, Gavin Gracyk, Danny Smith and others. But those riders went on to more pro success than Laughridge, who Suzuki put on its Arenacross team when he turned pro for 2003. He tried a few more seasons but never found that magic he had that one week at Loretta's. His best finish was actually his last with that tenth at Steel City in 2005. Anyone know what happened to Laughridge after that? Email us letters@racerxonline.com.
2003 Davi Millsaps
First Race: Feb. 21, 2004 | 14th Minneapolis
Career Wins: 12
Career Titles: 1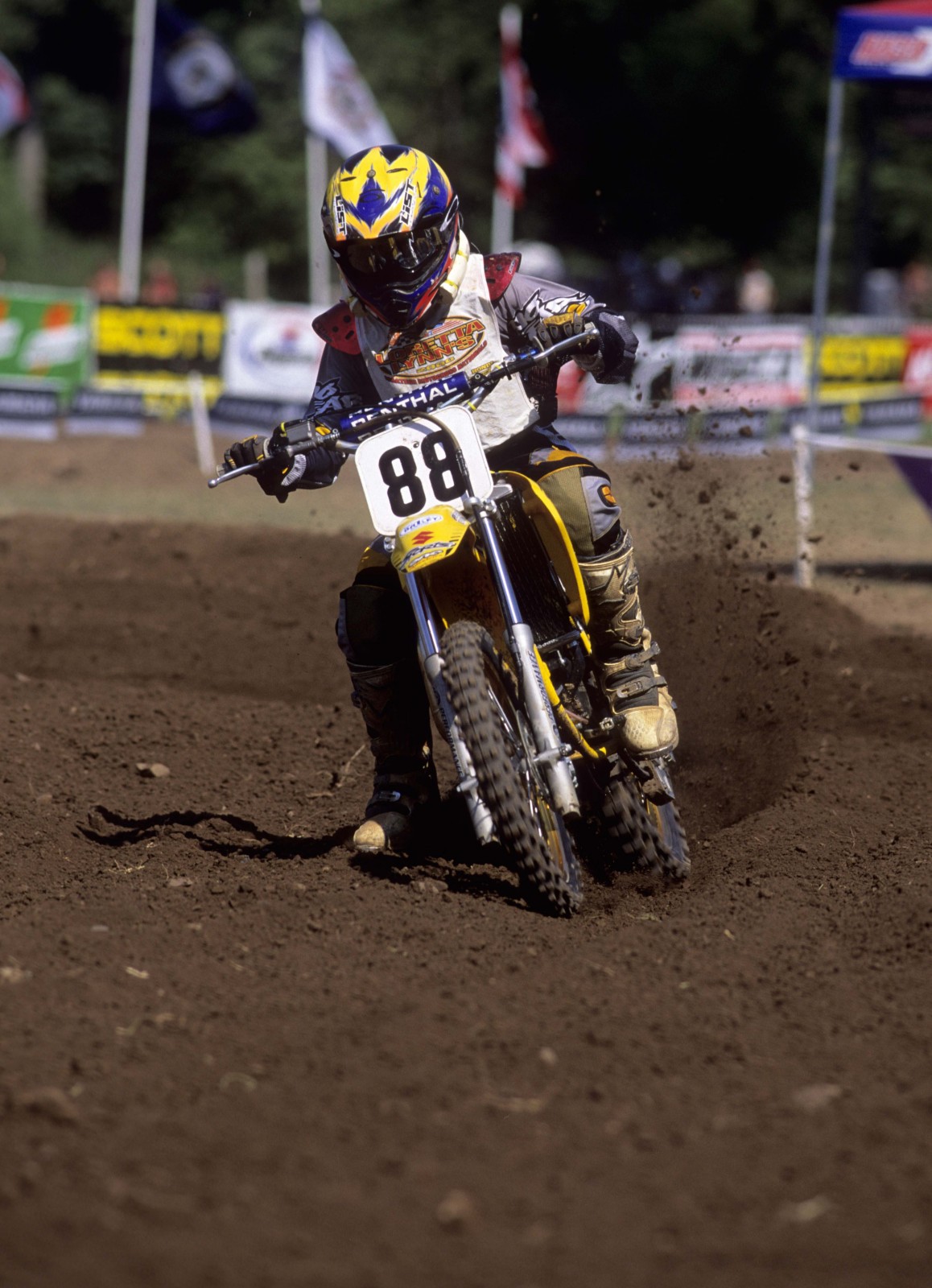 Millsaps had huge hype throughout his amateur career, starting with 50cc titles and running it all the way to 125 A and Schoolboy success in his final year, netting the Horizon Award. Millsaps was so good, so early, that he tried to race a supercross at age 15, as his 16th birthday came the day after the 125SX East Region opener in 2004. He had to wait until round two in Minneapolis to get his start. Millsaps has won some races and a Lites East SX title as a professional, but hasn't had the consistency to deliver in the manner expected when he graduated. However, at times he has shown the ability to run with anyone in the world. Millsaps is currently leading the MX1 championship in the Canadian Nationals.
2004 Mike Alessi
First Race: Aug. 15, 2004 | 30th Spring Creek (450 Class)
Career Wins: 5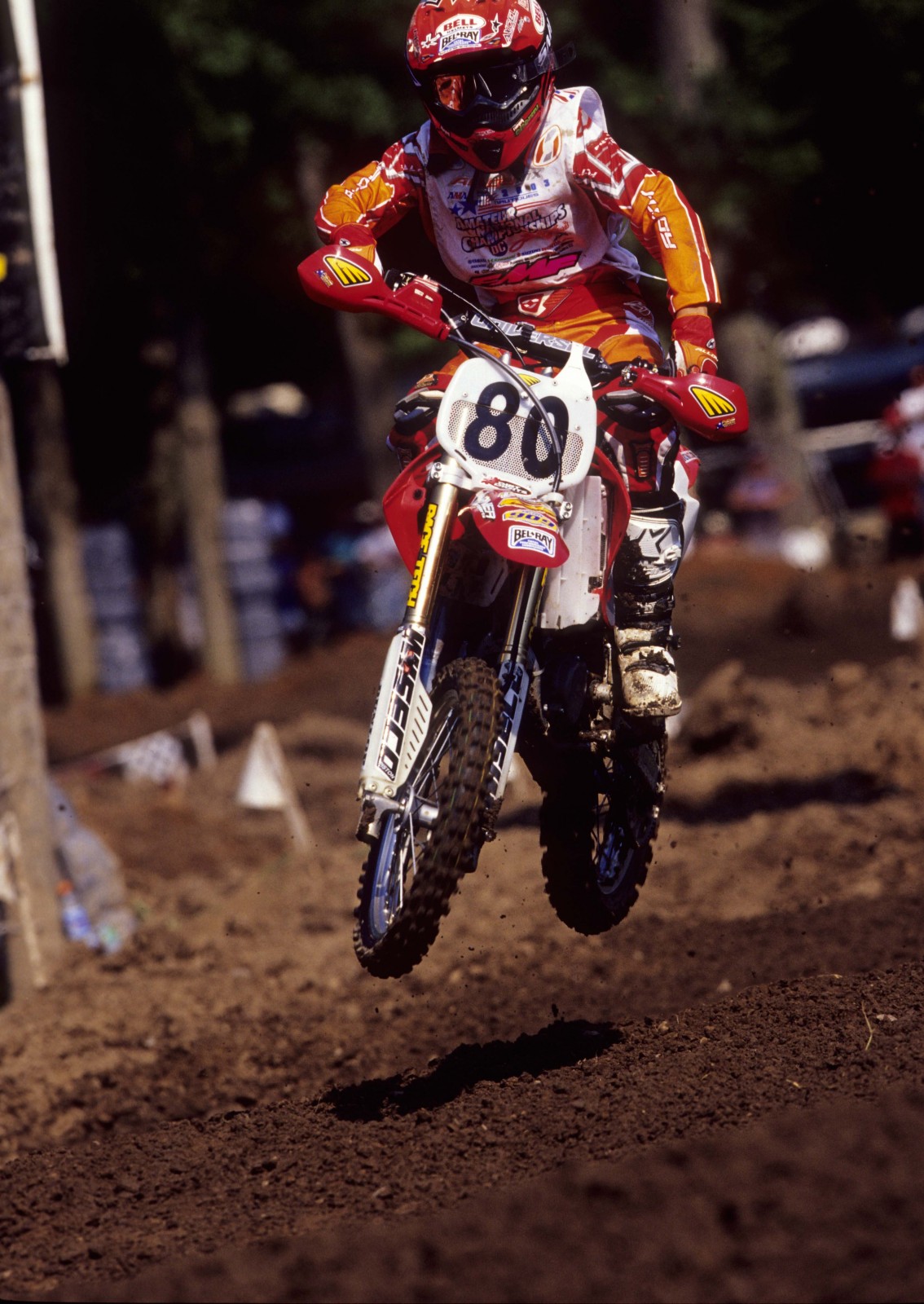 Oh, Mike Alessi. He's tied with James Stewart and Adam Cianciarulo for Loretta's titles at the top of the amateur ranks (but vet racer Kevin Walker has the all-time title mark). First, we have to say "Believe the Hype," which became his trademark phrase (and a t-shirt slogan) at his pro debut at Millville in 2004. That race was rough, but a few weeks later he came to Steel City and podiumed in the 450 class. Mike has a few pro race wins and some "coulda, shoulda" situations in championship battles, but overall, he never quite delivered in the way his amateur success would have indicated. At the moment, he is racing in Canada.
2005 Ryan Villopoto
First Race: Aug. 21, 2005 | 15th Broome-Tioga
Last Race: April 19, 2015 | 11th MXGP of Trentino
Career Wins: 83
Career Titles: 10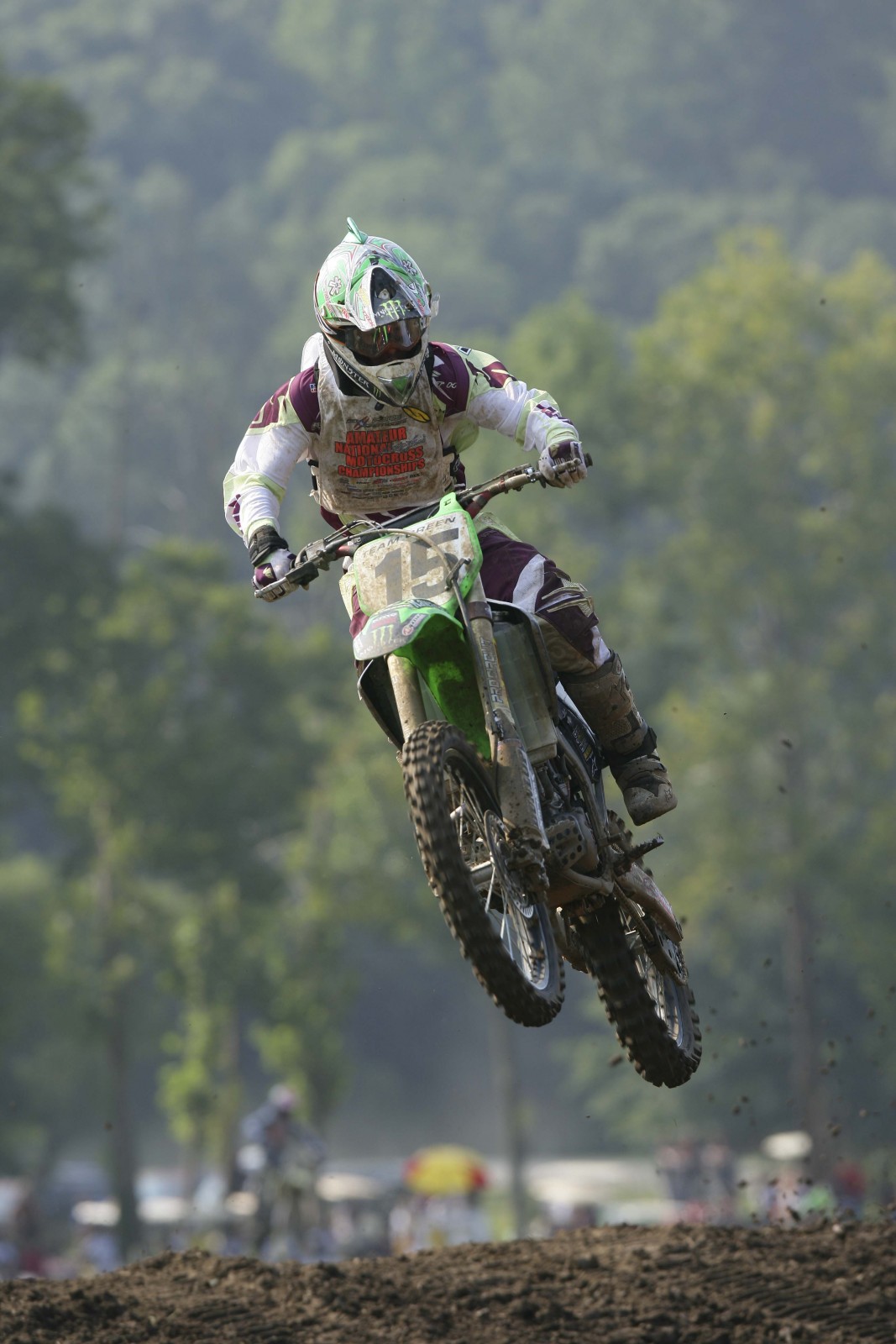 Well, you know what came of this guy. RV was never able to solve Alessi when he raced him on minicycles as an amateur, but he turned the tables on him and everyone else as a pro, logging an all-time career. He retired last year. Now? He's Racing Baja. Racing local races. Racing AUS-X Open. Owning his own company. A lot of stuff.
2006 Josh Hill
First Race: Aug. 13, 2006 | 22nd Spring Creek
Last Race: Feb. 28, 2015 | 13th Atlanta 2
Career Wins: 1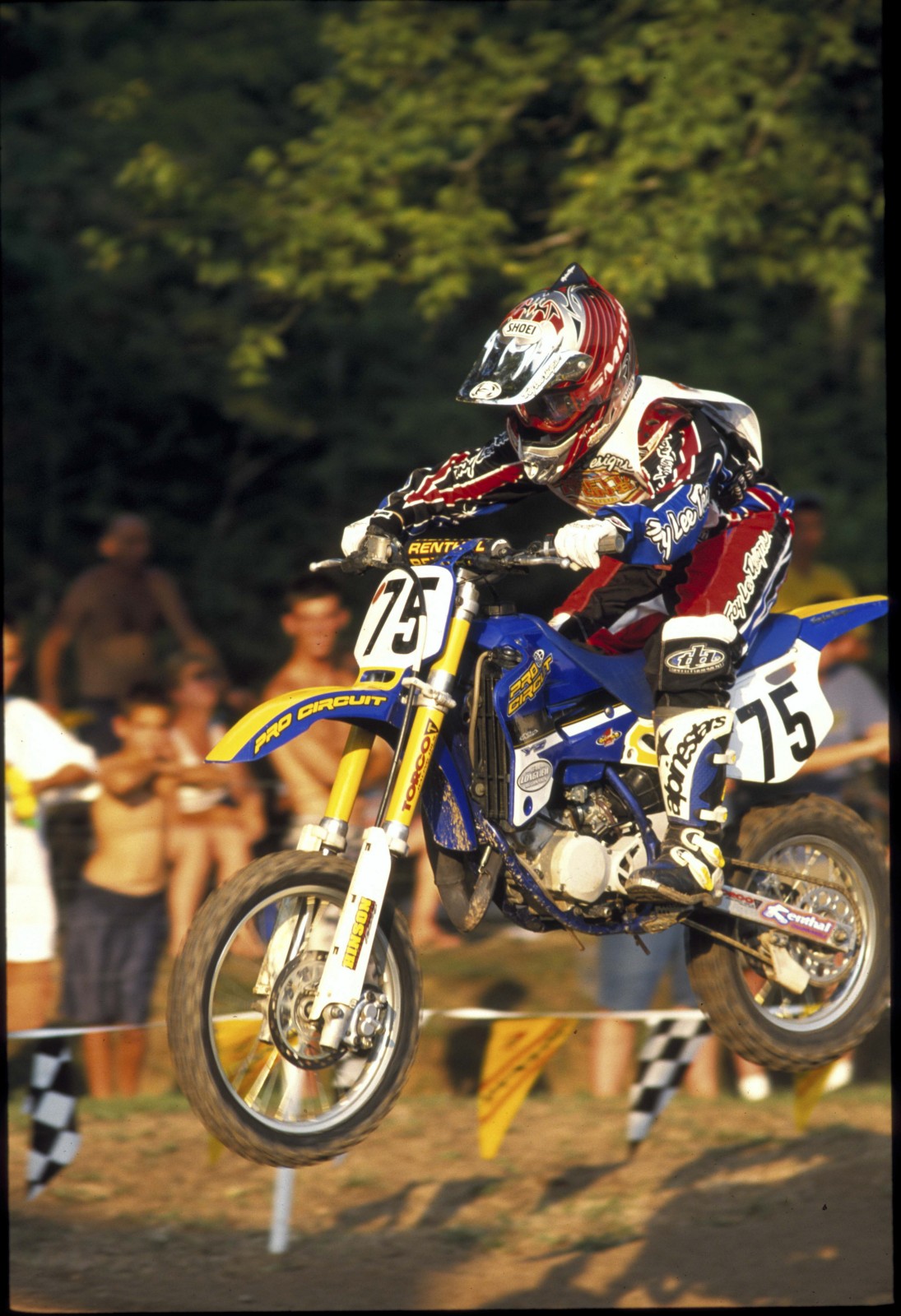 Hill was a killer at Loretta's, winning six-straight titles in his final three years at the Ranch, ending with 125 A and 125/Pro Sport in his final go around. He struggled on a 250F when he turned pro with Team Yamaha, though, but found moments of success on a 450. A huge injury while trying to learn to backflip set him back, and Hill retired last year and took a job with Monster Energy.
2007 Trey Canard
First Race: Aug. 12, 2007 | 11th Spring Creek
Career Wins: 18
Career Titles: 2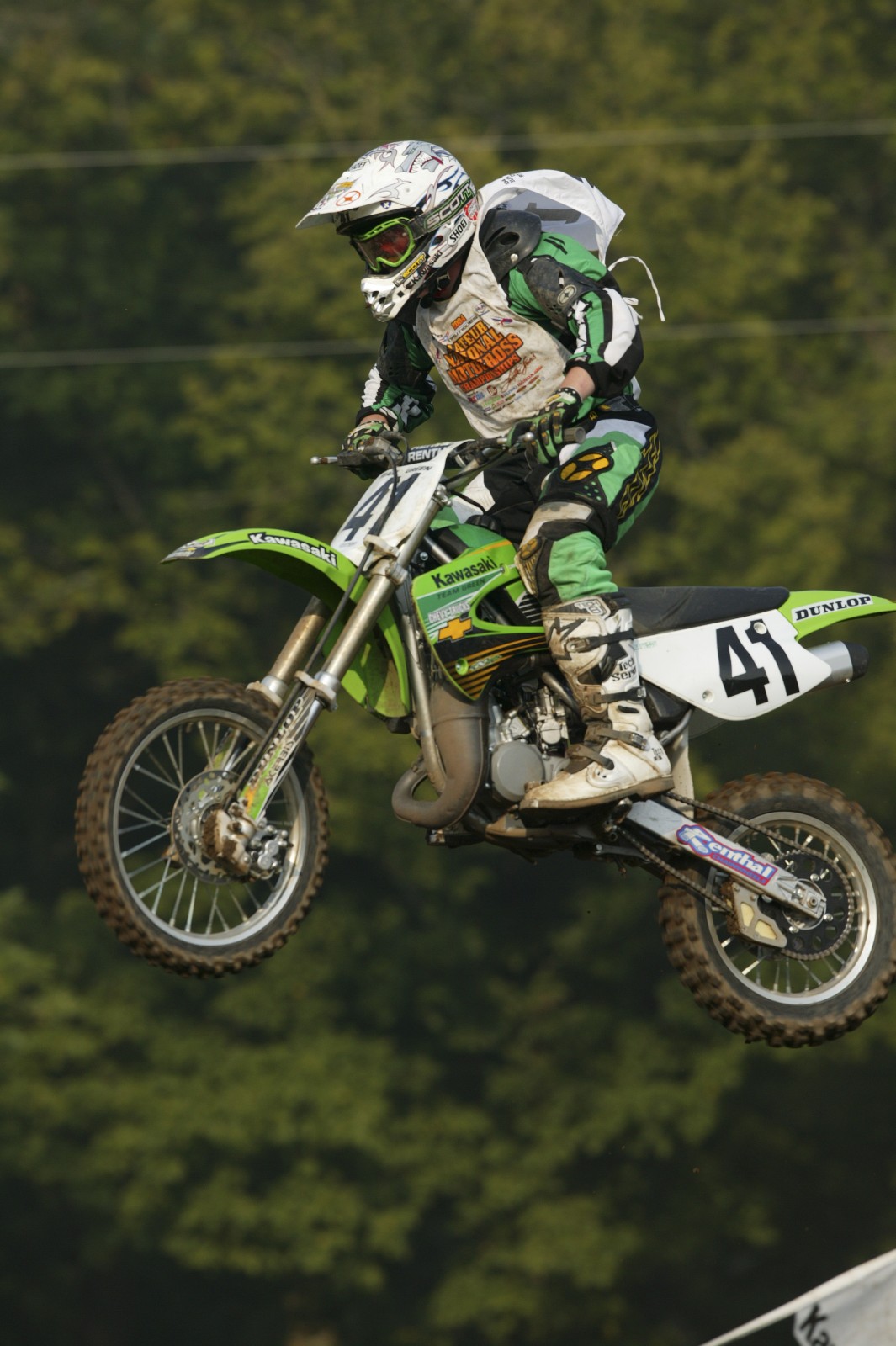 Canard was a bit of a late-bloomer in the amateur ranks, stuck in the shadows of heavyweights Nico Izzi and Austin Stroupe. When we revisited the ultra-competitive class of 2004—which featured more than twenty riders that had pro careers—in the November 2014 issue of Racer X Illustrated Canard told us, "I never would have imagined in a million years that I'd ride for a factory team. That absolutely blows my mind." Canard eventually found his rhythm in the amateur ranks, winning four titles between 2006 and 2007. He graduated to GEICO Honda and won his first career supercross race in Atlanta—and eventually the title in an epic showdown with Ryan Villopoto. Canard added a 250MX title and multiple 450 wins—outdoors and in. Injuries have definitely held Canard back, but his career continues to be a success.
2008/Tie Darryn Durham
First Race: Jan. 24, 2009 | 8th Houston
Career Wins: 1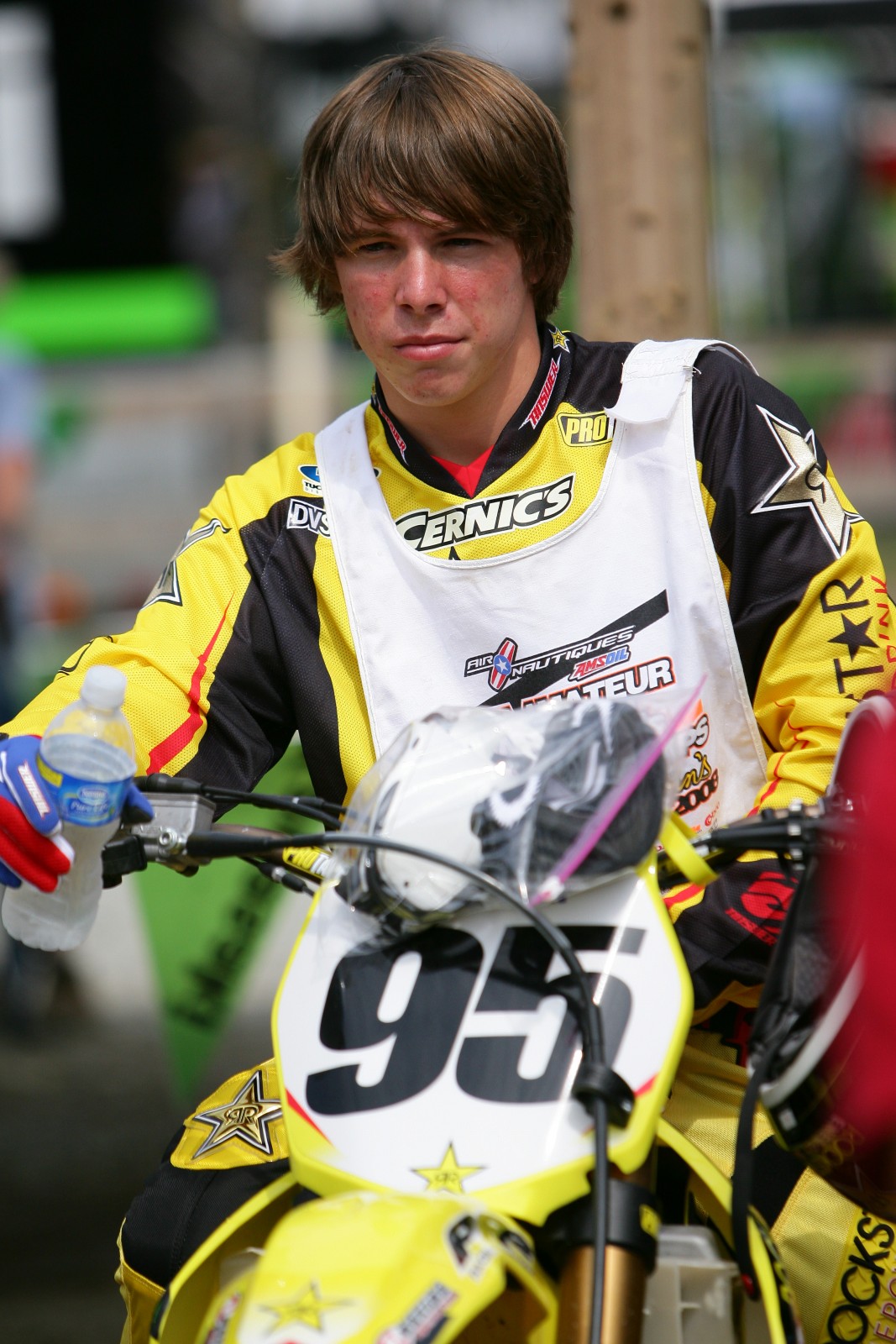 After the Izzi, Stroupe, and Canard class came the first ever split of the Horizon Award. Darryn Durham and PJ Larsen split A/Pro Sport wins in 2008—with Larsen taking second in the other class; Durham sixth. After a year with Star Racing, Durham enjoyed two good years with the small Eleven 10Mods team before moving to Pro Circuit Kawasaki. Durham took his first, and only, career win in 2012 in New Orleans—his first year with PC—but soon caught the injury bug and has spent most of the past four years on the sidelines. He returned to his own team this year—documenting the effort in the "East Coast is Toast" series—and just released his first film: "The Viewing's Burnt Toast: Unstaged & Unexampled."
2008/Tie PJ Larsen
First Race: Aug. 17, 2008 | 15th Spring Creek
Last Race: May 31, 2014 | 20th Hangtown
Career Wins: Zero
Career Titles: 2 in Australia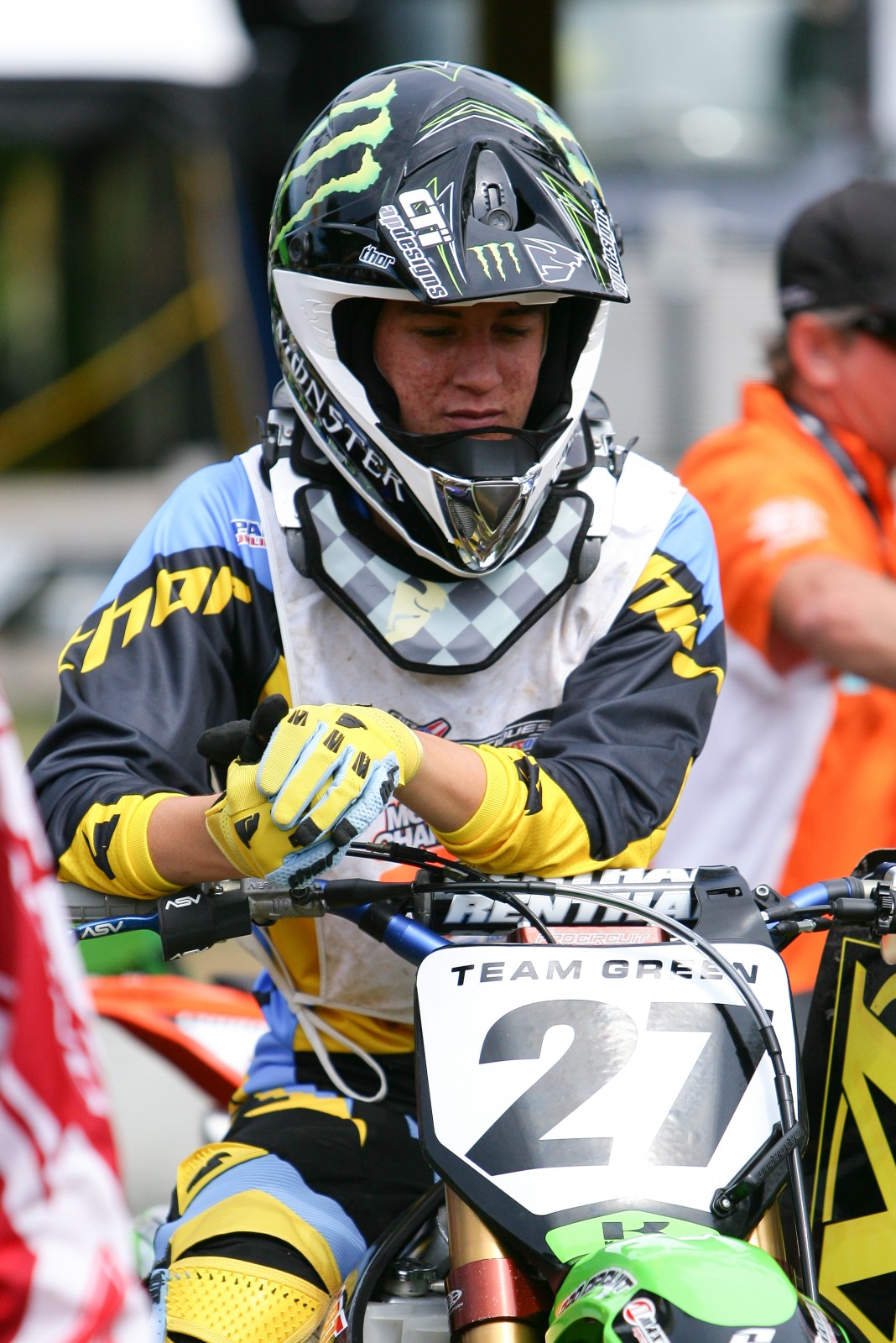 Larsen turned pro with the Bobby Hewitt owned Team Canidae/Motosport Kawasaki team (now Rockstar Energy Husqvarna) but struggled with injuries before eventually moving to the now-defunct JDR Motorsports KTM team. Much of Larsen's success came in Australia (where JDR was based) where he won both supercross and motocross titles in 2010 before returning to the U.S. The South Carolina native had some good results here and there but was held back by injuries. We talked with PJ prior to one of his last races in 2014.
2009 Dean Wilson
First Race: Feb. 20, 2010 | 6th Indianapolis
Career Wins: 13
Career Titles: 1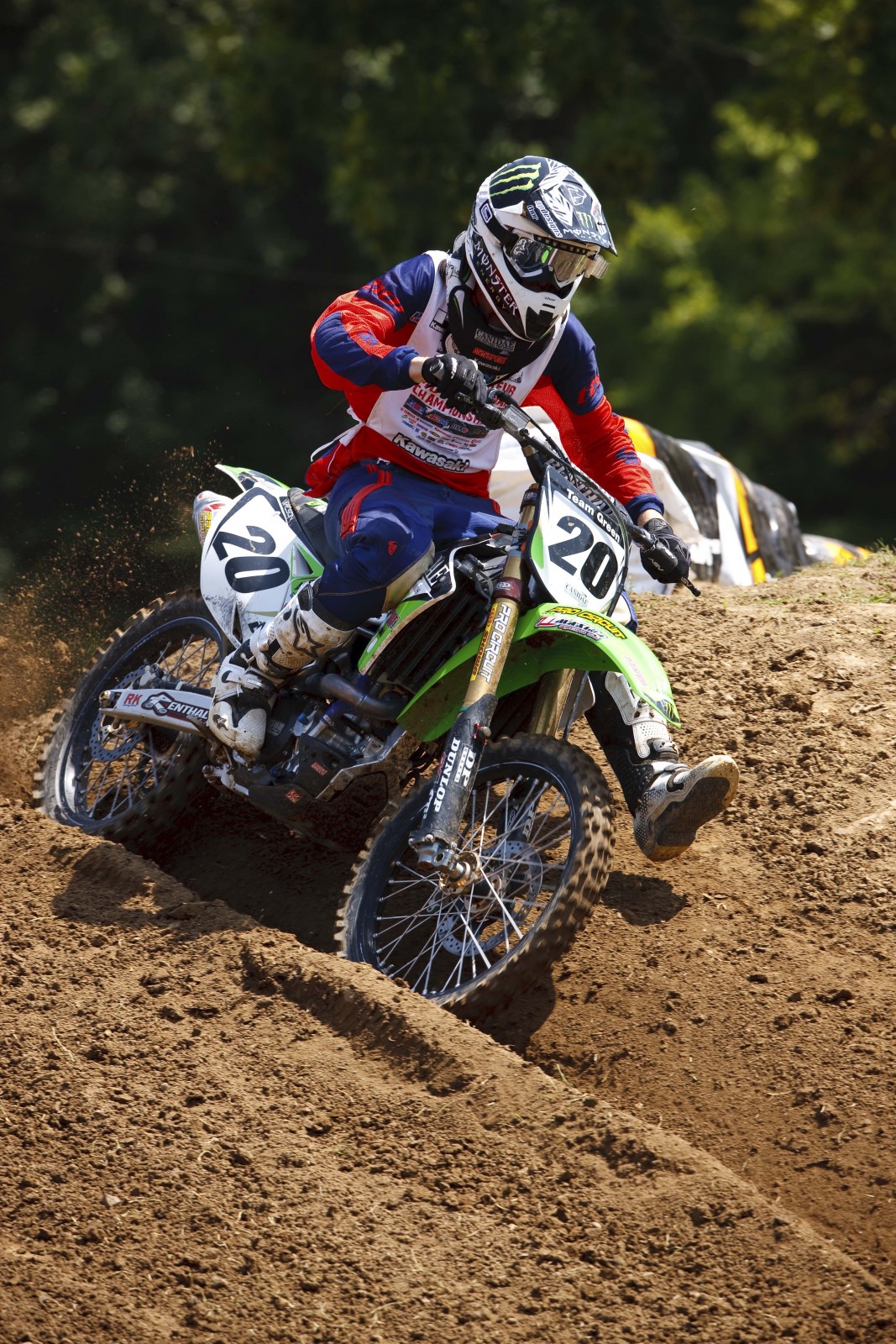 Wilson was always pretty successful as an amateur, but really broke out once moving to big bikes. He won a B title in 2008 before moving to A in 2009 and winning both 450 and 250 titles and the Horizon Award over Blake Baggett, Jason Anderson and others. (Baggett and Wilson were huge amateur rivals by the way.) Wilson transitioned to the Pro Circuit squad and had immediate success. After winning the 2011 250MX title, Wilson has struggled with injuries—he just recently returned from a torn ACL for a second straight season—and never could get over the hump and capture a 250SX championship. Wilson's contract is up with Red Bull KTM, but you have to figure he'll land on his feet somewhere.
2010 Jason Anderson
First Race: Feb. 12, 2011 | 7th Houston
Currently: Riding for Rockstar Energy Husqvarna
Career Wins: 7
Career Titles: 1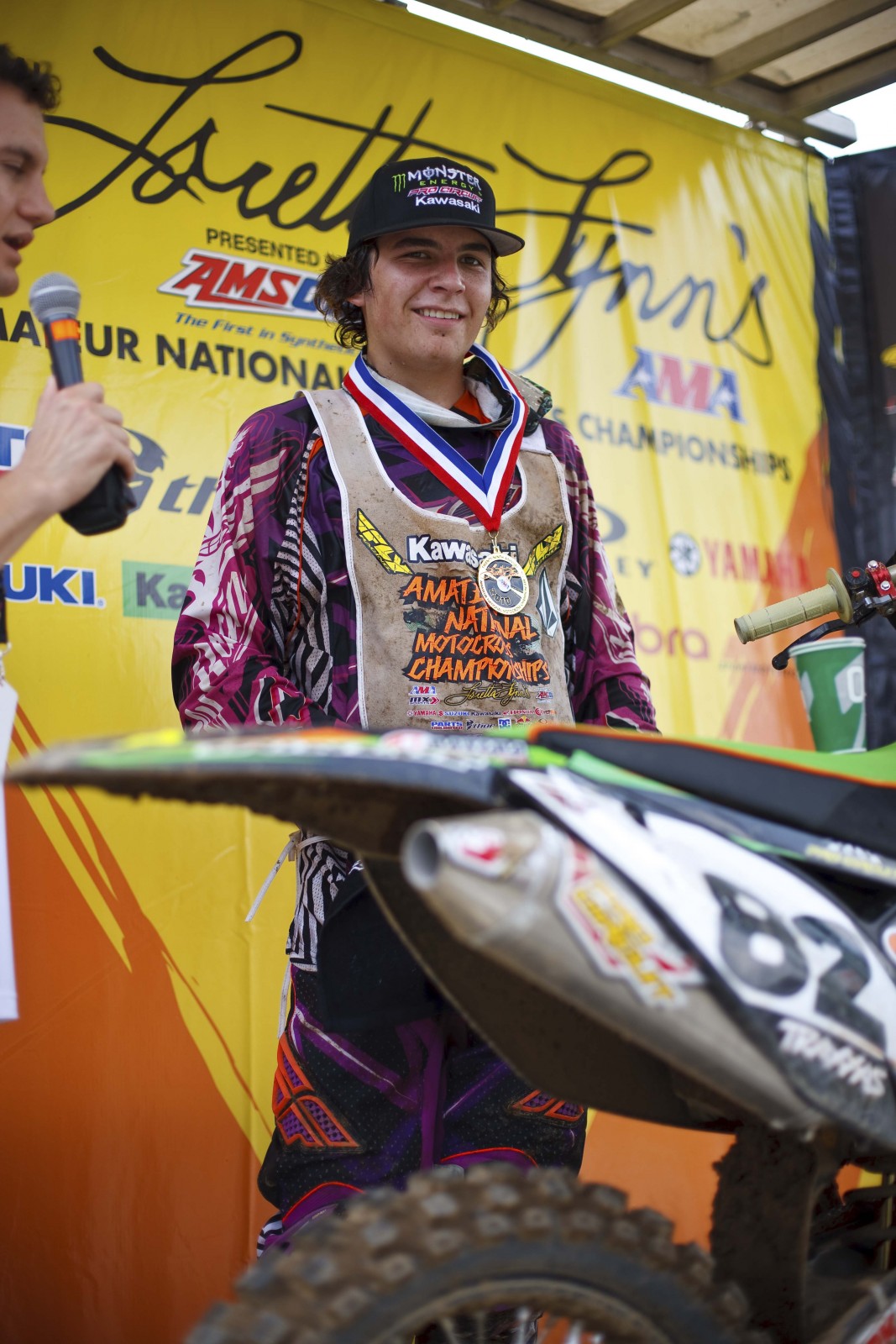 A year after Baggett and Wilson turned pro, Anderson took control of the class and won four of the six A class motos (he went DNF, fifth in the other two) and won the Horizon Award. Anderson turned pro with the Bobby Hewitt backed Suzuki team—the same team he currently rides for—but struggled in his first few years and was even sent home for a few races early in his career. He eventually turned the corner and won a tightly contested 2014 250SX West Region title over Cole Seely. Anderson has shined in the 450 class as well, taking two wins in supercross this year. The future is certainly bright for the New Mexico native.
2011 Justin Bogle
First Race: Aug. 13, 2011 | 5th Unadilla
Career Wins: 3
Career Titles: 1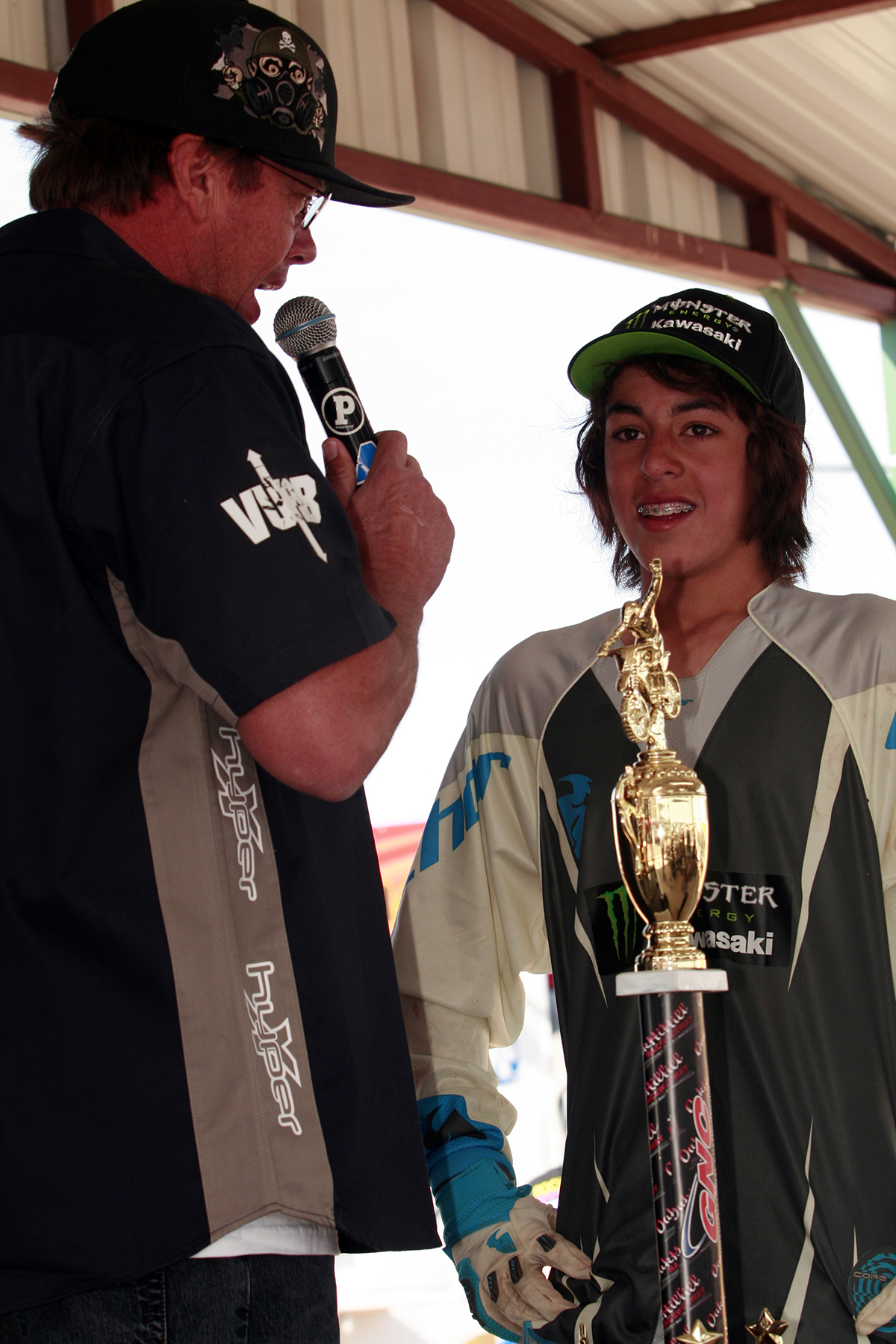 The former Team Green rider signed with GEICO Honda the last year of his amateur career (a team he's still currently with) and went 1-2 in the A classes in 2011. He lost out on 250 A to Kyle Peters (his main challenger that year) but Peters finished 39th in the other A class. The Oklahoman has battled injuries his entire career but has certainly enjoyed success—including the 2014 250SX East Region title. His deal with GEICO expires at the end of the season, but we'd assume a talent like Bogle will land somewhere.
2012 Zach Bell
First Race: Aug. 11, 2012 | 40th Southwick
Career Wins: Zero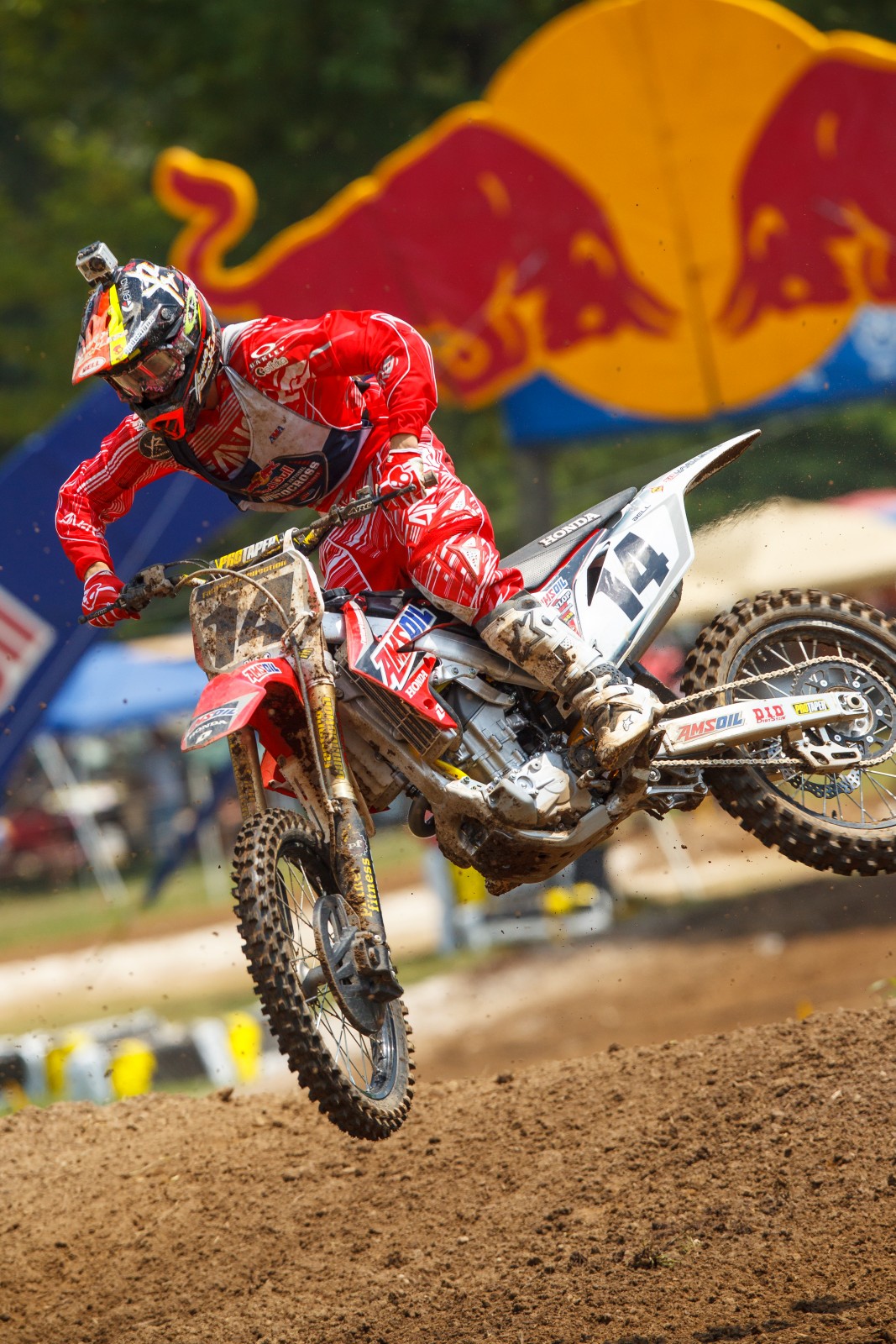 Another Team Green to GEICO rider, Bell won four of six A motos in 2012 to capture the award. He then turned pro at Southwick and led his first career moto. He eventually crashed—a foreshadow to his pro career—and finished fortieth. After two years with GEICO Honda Bell moved to Rockstar Husky for 2015 and then 51FIFTY Yamaha in 2016. Through it all Bell just hasn't been able to stay healthy enough to put anything together. He's been out for much of this year with a shoulder injury.
2013 Matt Bisceglia
First Race: Aug. 10, 2013 | 20th Unadilla
Career Wins: Zero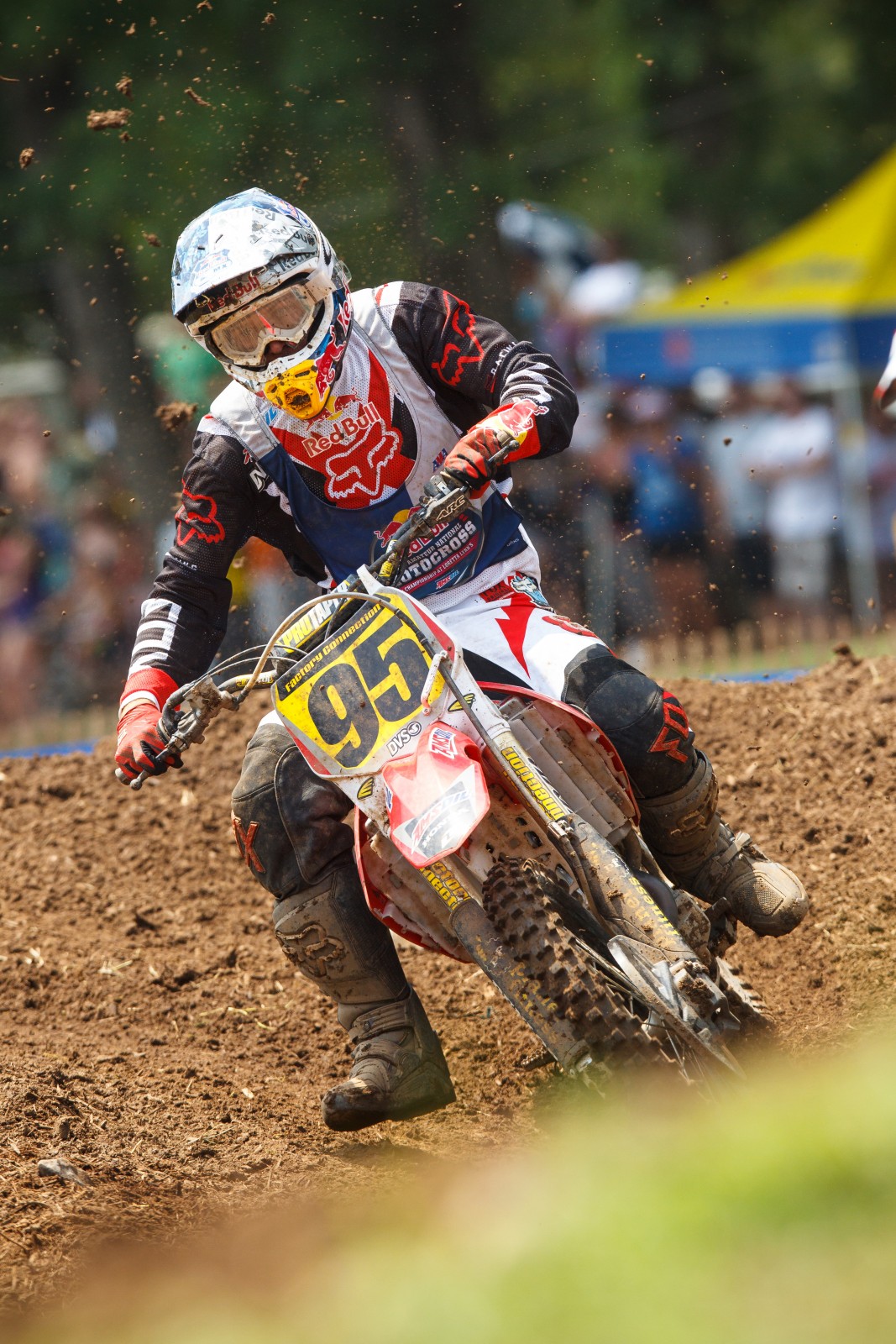 Another year, another GEICO Honda transfer winning the Horizon Award. (Bisceglia moved from Yamaha to GEICO in 2012.) Bisceglia was on fire in 2013, winning five of six motos. In his last three years as an amateur, Bisceglia never lost a title—winning five straight to end his career. After two up and down seasons with GEICO Honda, Bisceglia signed with MAD Racing/Dirt Candy Suzuki for 2016. He split with the team after just a half a season and has been solid in a fill-in role with Yoshimura Suzuki.
2014 RJ Hampshire
First Race: Aug. 9, 2014 | 13th Unadilla
Career Wins: Zero
More focused on a budding baseball career early in his racing days, Hampshire really turned the corner the last few years of his amateur career. Under the guidance of Tim Ferry, Hampshire swept all six motos in the A class in 2014. It also marked the fourth-straight Horizon Award for GEICO Honda. Hampshire was solid in his rookie as a pro, but then suffered a bad head injury at the Red Bull Straight Rhythm event last year. He has returned and has raced the entire 2016 season, but has yet to pick up a win. He recently signed an extension with GEICO.
2015 Benny Bloss
First Race: Aug. 22, 2015 | 15th Ironman (450 Class)
Career Wins: Zero
Prior to 2015, Bloss was better known as the kid in the B class who sliced his foot open in the creek and raced with a bloody boot. Bloss went 1-3 in the A classes last year to take the Horizon Award over the likes of Marshal Weltin, Mitchell Harrison, Mark Worth and Chase Marquier. Bloss split with BLUE Buffalo/Slater Skins Yamaha prior to supercross, and went the privateer route. He picked up a fill-in ride with CycleTrader.com/Rock River Yamaha, and later BTOSports.com-KTM-WPS. He's really shined with KTM this year in Lucas Oil Pro Motocross and looks to be a shoe-in for Rookie of the Year honors outdoors.