Created by Nitro Circus CEO and Creative Director Michael Porra and extreme sports icon Travis Pastrana, the inaugural Nitro World Games took place last Saturday at Rice-Eccles Stadium in Salt Lake City, Utah.
The event featured freestyle motocross, BMX, skate, inline and scooter disciplines, as well as several innovations. There was a Nitro-invented live scoring format, bigger ramps, and safer landing (with air bags) that led to some of the biggest tricks you'll ever see. To put it into context, Josh Sheehan landed a double backflip Superman and FINISHED THIRD!
To learn more about the event, we caught up with the podium performers from the FMX events—Best Trick and Freestyle.
Gregg Duffy | Winner, FMX Best Trick | Double Frontflip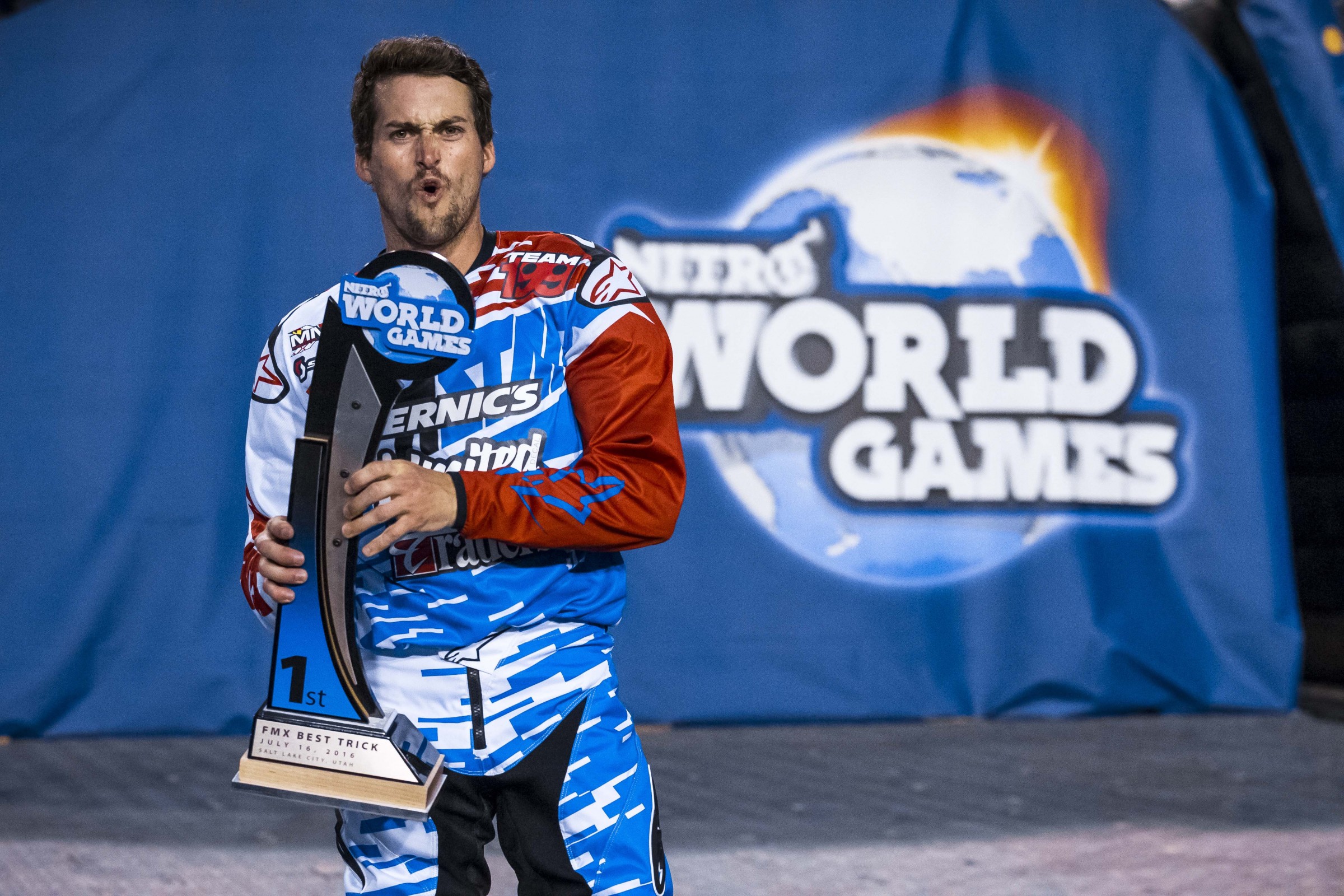 Racer X: Congrats on the win, how did it feel to win at the first-ever Nitro World Games?
Gregg Duffy: It was awesome. So unreal; like no other feeling in the world!
What is the backstory for you coming into this? Without much experience in the FMX world, how did you wind up here, on top of the podium?
It's taken a long while to get here. I raced for about twenty years now, but just recently got the call from Travis [Pastrana] and just started flipping and doing all sorts of crazy things at his house, and here I am!
How did doing the double frontflip even become an idea in your head?
Once again, it was all Travis. He needed a guy to do front flips for him down in Australia, and I signed up to be that guy. From there, things just evolved with it. I got comfortable doing them, and it all led to this.
Overall, how did the weekend go in general? Was everything smooth leading up to the win, or did you have any problems?
I had a few issues on the air bag; I went down a few times in practice, and tweaked the bike out a bit, but my dad helped me out a ton with things, and we got it all dialed back in for that double front flip!
Pat Bowden | Second Place, FMX Best Trick | Frontflip Superman Variation
Racer X: Tell us about your day at Nitro World Games, how does it feel to be on the podium?
Pat Bowden: It was crazy. I would have to say that it is definitely the highlight of my career so far. To be honest, I did my very first front flip ever just two weeks ago, so Travis emailed me and asked if I wanted to ride in the first-ever Nitro Games. I, of course said, "Hell yeah!" and began working on and thinking of various trick variations I could add in to the trick. I came up with the Ruler Front Flip, flew to Travis's, practiced them for about two weeks, and here I am—I just stuck the world's first Ruler Front Flip.
Did you ever see yourself riding at this level, with these guys?
To be honest, no, it's completely out of the blue. That just goes to show, I mean, if this is possible, what else is? I think the front flip ramp has just opened up a whole new avenue for freestyle motocross to continue into the future, and I'm super-excited to see where it is going to go.
Josh Sheehan | Third Place, FMX Best Trick; Second Place, FMX | Double Backflip Superman
Racer X: Congratulations on being the only rider to medal in both events, Josh. Take us through it.
Josh Sheehan: Oh man! What an awesome day. And honestly, to stuff up the first landing like I did for jump one; I came in just a little too fast, had a bit too much adrenaline flowing, and overcooked it. But to be able to soak up into that landing, and slide out of that first jump was an absolute blessing. I made a couple quick mechanical adjustments to the bike, which was a little twisted, before the next jump, but just so happy to be able to finish it and walk out of here safe.
What did you think of the course in general here at Nitro?
There are always small tweaks and changes you can make to a course, but overall, to have the safe setup like we did, the progression in tricks was absolutely amazing, and it seemed to work great.
Did it surprise even you to see so much new stuff go down?
It actually did. With the level of tricks that were going down, I hate to say it, but you almost expect things to do wrong and to see more people go down or get hurt. But to have everything go so well with that, it was just awesome.
Were there any challenges with jetting the bike for the high altitude?
The altitude affects the bikes a bunch, and we lose a lot of power. The heat slows them down even more, so I did a few engine modifications and changed some fuel, as I needed every ounce of power I could get for the double flip. But I think with the few days of practice, everyone just got used to it and it wasn't a major issue. If we hadn't had the bag jump to practice into during the days leading up, we just couldn't have tried what we were trying. And the resi landing is also a game-changer; if we didn't have that for a landing, it would have been impossible to try the things we were doing. I would not, no, I will not, try that trick to a dirt landing. The resi landing saves us and takes a lot of the impact away from the hard landings.
Levi Sherwood | First Place, FMX
Racer X: Levi, congrats on a perfect run! Overall, what did you think of your experience here at the first-ever Nitro World Games?
Levi Sherwood: Thanks, man! The experience was great. Actually, it was all quite casual, and I really tried to keep it that way. After the way the last few comps have gone for me, I just went there not worrying about what was going to happen. I just wanted to enjoy myself, and that's what I did! [Laughs]
What were some of your favorite aspects of Nitro versus other contests?
I liked the format of the judging, obviously. I would say that because I did well, but aside from that, I think it has got some real potential in our sport. I think it's a good change, and I am also pretty stoked on it because I think it eliminates things like favoritism, which you see a lot of in judging, even without people even realizing they are doing it. You'll see "flavors of the month" come through; or certain seasons, someone will just dominate over the others in scoring. Another thing I liked about it was that at the end of it, everyone was completely fine with the judging, there was no conflict or drama, which is very typical at other events. With that format, everyone knew what they were walking into, and they had a chance to talk it over with Drake [McElroy] and the other judges, so they understood where they were going to place based on what they were going to do, coming in. Once the score is up, there is no changing it, even when the judges have admitted they have done the wrong thing, and there was none of that here.
What did you think of the course?
The course was basic, for us. Obviously, the 110' ramp was the only thing we were really nervous about, and the altitude, but that all worked out fine in the end, anyway. They did a good job of making a safe course that is portable. I wasn't part of the Best Trick comp, but I think the landing was pretty cool, what they were able to achieve with that. I'm not a huge fan of the "cheater" ramps, but that is a whole different conversation…
Will this contest have a big impact on the sport of FMX?
I hope it does. I hope other events will adopt this judging system, and I think it's awesome to see Nitro go out there and put this on. I think they did really well, and I think everyone is keen to go back next year. And I think that with the way action sports are at the moment, the more events we get, the bigger the sport will grow.
What did you think of the format of ten tricks, no time limit?
Originally, I wasn't a fan of it. At first they wanted us to pause after each jump, both for the crowd, and to allow the judges to keep up with us, but they quickly realized that it would just take too long. Obviously, I enjoy getting a flow going when I ride, so it was hard for me with the start and stop, but I think they wound up managing it really well in the actual event. They only stopped us once or twice I think, which wasn't too bad. I'm pretty stoked with the amount of tricks; normally they cap it, with both time and amount of tricks. I don't think that shows the best freestyle rider, it becomes more of a best-trick kind of thing. My favorite thing about the event was that it was a true freestyle comp; it wasn't a best-trick comp with a time limit.
Taka Higashino | Third Place, FMX
Racer X: You put in a solid run for third in FMX, take us through your day, Taka.
Taka Higashino: It was crazy! The last four days have been long days of practicing and testing, but was all worth it! In Best Trick, I made a mistake and didn't do what I wanted, but freestyle was good. I landed everything just how I wanted to and was happy with my riding.
What would you say the single biggest difference is between riding at this event, versus the X Games or something similar?
I like them both, but I would say here we just have more freedom. We have a bigger course, with air bags for practicing, so people can just get way more crazy, but still do it safely. Kind of unlimited, I don't know how to say, but just lots of freedom. It's really hard to judge, though, because there are so many different, new tricks! I stay with my own style and my own business, and I was happy with the judging. FMX format was good; ten jumps was a little much for me, I'm an old man [laughs], but the ten jumps are good, and the crowd loves it.