Millville, MN
Spring Creek (Millville)
Lucas Oil AMA Pro Motocross Championship
This thing is starting to wind down and nothing like saving the best until the (near) end, right? Round 8 of the Lucas Oil Pro Motocross Championship was at Spring Creek in Millville, Minnesota, which is, in my opinion, the best track on the circuit. Yeah, it's a bit narrow in spots but there's elevation, there's good dirt, a fast start straight and some serious sand whoops. It's got everything you need in a track! Of course, I could be biased as I've ridden Millville a ton over the years (started there in 1989). I did NOT like the fact that the Chadapult, a jump that's been there for years, was changed into two smaller jumps, but I didn't penalize them too much for that move.
We all know that Alex and Jeremy Martin's parents own Millville, right? Anyhow, I asked Alex why the Chadapult went missing and he said, "Because my dad has horrible ideas…" Okay then!
Notice I said "best track" but not "best national" because to me, a track is only part (a good sized part, but just a part) of what makes a national great. Easy flights in and out, short drive to the tracks, being near civilization, Starbucks proximity, visibility to seeing the whole track and a bunch of other things that perhaps matter only to me all count.
But the best track? Yes. Although RedBud is close, the Minnesota folks get the prize.
Hold off on that "Eli Tomac catching fire while Roczen fades" talk. Yes, Tomac rode amazing in Southwick to go 1-1 and beat Ken Roczen, but the German came out in Minnesota like he was Rocky versus Clubber Lang in the re-match. It was like he woke up every morning with Eli's face on his mirror. This one was no contest. We needed Duke there to "throw the damn towel!" (Yes, I've been watching too many Rocky movies lately but it works here. Plus Kenny's dog is named Rocky!). We should have seen this coming early, because Kenny has told us many times that he doesn't care about qualifying fastest yet he was on pole by an astounding 1.9 seconds!
First moto he made up about five seconds on Tomac in two laps, the second moto he came from a bad start to the lead in one and a half laps. This thing was over before it began. An amazing ride for Roczen and one that had to crush his competition who maybe thought they saw some weakness in Southwick (not saying there was some but perhaps some people thought there could've been?). Roczen's fastest lap in the second moto was 2.6 seconds better than Marvin Musquin, who was second quickest. This is stuff that just doesn't happen very much because Tomac, Musquin and others out there are amazing riders. This is Dungey a couple years ago, RC, Stew kind of stuff outdoors. Perhaps Tim Ferry at Budds Creek in the first moto in 2003, even!
We had Roczen on the Pulpmx Show and he said that this wasn't anything personal about making a statement after last week's loss but I'm not sure I'm buying that. I think the qualifying time speaks for him. His average qualifying position is 3.5 and he's told me many times how he doesn't care about that as long as he's in the mix. Then he goes almost two seconds faster? C'mon, bro. Roczen also told us that he didn't think Millville was his best race, citing his second moto at RedBud as being better and that he doesn't think Millville is his favorite track. Wow.
Roczen also said his new fork settings helped and I cited his use of outside lines to which he agreed with because "I don't ever want to follow." Bravo, Kenny, bravo. You didn't follow anyone at Millville.
Well…James Stewart came back to racing for the first time since Glen Helen (when he rode practice and pulled out) and with team manager Mike Webb not there due to flight issues, he finished a respectable tenth in the first moto. Second moto the team said he had some blisters and pulled out early while in fourteenth. Look, there's no other way to put this but to say that Stewart's 2016 season has been on par with the Titanic's debut cruise. It's gone terrible but there's still some time to salvage this thing and get some points.
To get tenth is a start, to go 10-10 this weekend would be another step and so on and so on. He's got to get actual, you know, finishes. I've never seen an athlete in any sport (maybe Tiger Woods after he got caught cheating?) fall off the cliff like Stew has since his suspension. Why he didn't train like he knew he had to is confusing. Why he's not happy with his bike that he won on so much before is also confusing. But he's still James Stewart dammit. All these questions will go unanswered, but for now he's back and he's trying. That's a start, right?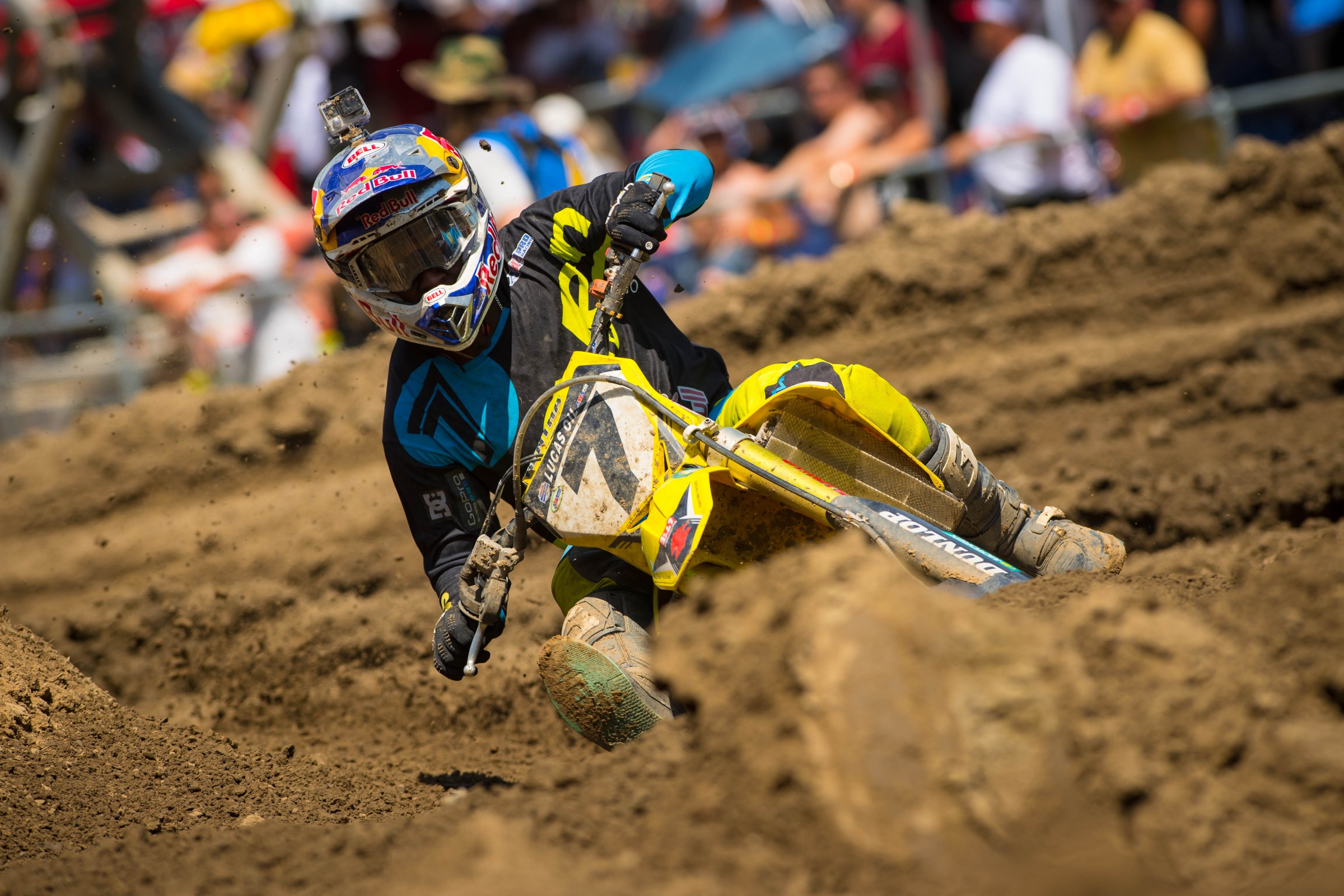 If you think the sport has moved on past Stewart and that no one cares, that he should hang it up, that he's done, etc., etc., I'm here to tell you that you're wrong. His return was still the talk of the pits, people watched his every move on the track and one guy from Team Honda told me that James was the fastest rider that he timed from the beginning of the sand whoops to the exit in the first 450 practice. Stew's gonna Stew, baby.
Everyone in the pits is asking what Yoshimura Suzuki is going to do next year as well as RCH. And by extension, this affects Stew. Might be four spots with good equipment there, or not, so I'm sure agents are all calling like crazy. From what I gather Yosh may go to an all-250 team and let RCH do the 450 team but the Suzuki deal for RCH isn't done yet to my knowledge. So right now it could be four 450 spots, it could be two 450's and two 250's or maybe both teams fold it up (unlikely), but here's some breaking news to those teams: there are some really great riders that you've missed out by not having your ducks in a row.
So where does this leave JS7 for next year? I don't know, bro. Maybe him and Mookie start their own deal but I would bet on Stew not riding for Yosh Suzuki next year; maybe he's on a yellow bike but not under that tent. Just my guess.
Jeremy Martin has had a confusing season. The odds on favorite to win his third-straight 250MX title (after we heard about Cooper Webb's wrist injury) Martin has only now captured his first overall win of the season, and on his home track and had a bit of luck at that. He couldn't catch brother Alex in the first moto and Webb also passed and dropped him. Second moto Alex tipped over and Webb got a poor start. J-Mart had a very good chance at 3-2 moto scores but went to 2-1 and an overall. I know, I know: If ifs and butts were candies and nuts….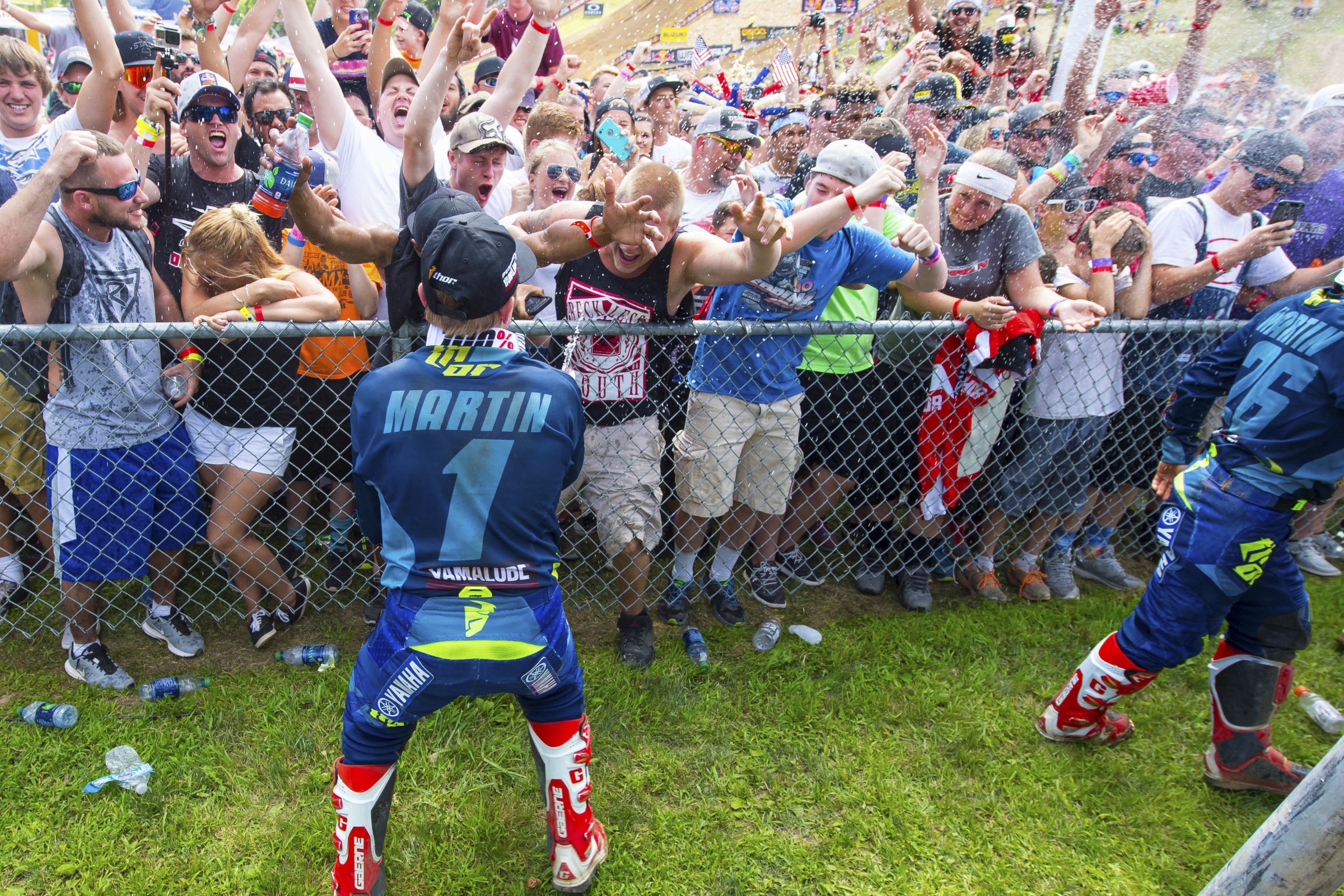 Martin just hasn't been the same guy this year. Almost since that Indianapolis SX crash that saw him DNF, it's been a struggle. Yeah he's got four moto wins but he hasn't been the same guy. I know behind the scenes he's struggled with being worn down (he broke up with his old trainer Johnny O'Mara earlier this year because of this reason) and it shows. Somehow he's second in the points and without that High Point DNF, he'd be just twenty points or so out of the lead. So that makes it seem okay on paper, but I can preface all that with a, "Yeah, but still…"
He just doesn't seem like the 2014-2015 Jeremy right now. I don't think he is in love with his team (going to GEICO Honda next year) and he's just looking to get through this year. Weird to say but I think he doesn't care all that much about winning this title. He's tired, he's over it and in his mind, he needs a fresh start. Then again I've been wrong before and this is just one man's opinion.
250MX Results
1 1 Jeremy Martin Millville, MN Yamaha YZ 250F 2 1- Jeremy told me that his second moto ride was much better after a fork adjustment (he's been switching between air and spring) and that he wished Webb had gotten a better start so he could race with him.
2 17 Cooper Webb Newport, NC Yamaha YZ 250F 1 2- Coop went into the Lions Den of his two toughest competitors and left without losing one single point. I'd say that was some good work, right? When Coop got into the points lead a couple of weeks ago I said that he wasn't going to lose the red plate. Stamp that. #sorrynotsorry
3 26 Alex Martin Millville, MN Yamaha YZ 250F 3 4- I know the three guys up front are all bad-asses but there was a noticeable difference in how much easier the Yamaha guys (including Plessinger, who's a giraffe) were able to clear the uphill triple. Seriously. But then again, they were also three of the top five dudes so they're, like, fast anyways. A-Mart said Adam Cianciarulo was impressive in doing that jump in front of him but I saw a lot of cases from AC so maybe I'm drunk. By the way, Alex should've, could've gone 1-1 on the day but he made some small mistakes that will probably keep him up at night.
4 37 Joseph Savatgy Thomasville, GA Kawasaki KX 250F 4 5- A good day for Joey but one that he still lost points. Huh? Hey, man, he's had three sub-par (for him) motos in a row and he needed to get his mojo back from earlier in the season. Sorry, but he wasn't going to beat either Martin or Webb on this track, in my opinion. So he did about the best he could do and that was with a stall in one moto. Joey admitted to me afterwards that he's got to start getting back to his old level starting this weekend.
5 23 Aaron Plessinger Hamilton, OH Yamaha YZ 250F 5 6- I think Plessinger starts picking it up from here on out. Like Boston said bro, it's more than a feeling…
6 44 Adam Cianciarulo Port Orange, FL Kawasaki KX 250F 7 8- In this day and age of riders posting constant vanity photos of themselves riding and training how could you not like a rider that posts this on Twitter:
Friday to-do list.

1. Eat Goldfish

2. Find & Domesticate a Prairie Dog

— Adam Cianciarulo (@AdamCianciarulo) July 15, 2016
As it was, AC led some laps in the second moto before dropping back a bit. He's got the speed but fitness seems to be an issue here lately. I can relate.
7 66 Arnaud Tonus Switzerland Kawasaki KX 250F 8 9- Tonus is eighth in the points, people! Not sure if you're aware of this fact or not. Pretty good job by him. I'm not sure it's enough to stay at PC next year or not but at least he's getting good solid finishes.
8 289 Mitchell Harrison Brighton, MI Yamaha YZ 250F 11 10- I'd say between his SX potential and this outdoor season there's enough here to think that he can get better next year. He's the second highest rookie in the points after Forkner.
9 31 RJ Hampshire Hudson, FL Honda CRF250R 10 11- The good news: RJ's been consistent lately. The bad news: I'd bet that with 12-11-12-10-11 moto scores in his last five motos, he's not been consistently as high as he would like to be.
10 46 Luke Renzland Hewitt, NJ Yamaha YZ 250F 9 12- Whew, Luke's good again and although he's not really going to fulfill my prediction a while back of being the surprise of the year, I'm relieved that he can indeed ride a dirt bike really fast again.
11 16 Zachary Osborne Abingdon, VA Husqvarna FC250 38 3- Super weird crash/DNF for Osborne in the first moto while running fifth. He washed out then couldn't start his bike (damn those batteries!) and then had a ton of sand/rocks in his sprocket that the team just could not get out, no matter how hard they tried. I don't know if I've ever seen it packed in there that bad. Second moto was a strong third with A-Mart all over him the last lap.
12 49 Martin Davalos Ecuador Husqvarna FC250 15 7
13 214 Austin Forkner Richards, MO Kawasaki KX 250F 6 17- Forkner was walking around at the end of the day with no shoe on because of a crash in the second moto. He crashed early on, made his way close to the top ten and then with two or three laps left he had a big one.
14 45 Kyle Cunningham Aledo, TX Suzuki RMZ 250 12 13- In both motos Cunningham was outside the top twenty off the start and rode into these scores. Oh, by the way, have you seen Kyle's results lately? Five out of the last six motos he's been much, much better than early on in the season.
15 42 Mitchell Oldenburg Alvord, TX KTM 250 SX-F FE 13 14- Don't let the Texas hometown fool you, this guy is born and raised in Minnesota and was expected to do well at Millville—especially because he's been good lately. He started third in the first moto and dropped back; second moto he dropped back again. Maybe there was a crash in there also, I'm not sure, but this has to be looked at as a bummer for Oldenburg and his team.
16 69 Colt Nichols Muskogee, OK Yamaha YZ 250F 14 16
17 48 Anthony Rodriguez Venezuela Kawasaki KX 250F 16 15- A-Rod beat Albertson in the first moto strictly on the intimidation factor of his six-pack. How do I know? Jimmy told me that.
18 84 Jimmy Albertson Shawnee, OK Suzuki RMZ 250 17 19- Top Jimmy was bummed because after Decotis got him in the second moto his mechanic Mike put "Who's Top Jimmy?" and Albertson couldn't get him back. #PoorSecondTopJimmy
19 58 James Decotis Peabody, MA Honda CRF250R 35 18- Decotis tangled with teammate Tristan Charboneau twice in the first moto that left him with a damaged bike.
20 297 Henry Miller Rochester, MN Yamaha YZ 250F 18 22- I didn't know that Miller was from Rochester. I knew he was from Minnesota but not that close to the track. Does he ride there with the Martin bros? Are they friends? Or does he live that close to the track yet can't ride there?
450MX Results
1 94 Ken Roczen Germany Suzuki RMZ 450 1 1- Roczen said on the Pulpmx Show he didn't know about the Motocross des Nations yet, but he's saying that more as a courtesy than anything else. He's switching to Honda at the end of the season so he won't be there, which is a bummer cause he's REALLY good at the MXdN's.
2 25 Marvin Musquin France KTM 450 SX-F FE 3 2- Great ride for Marv! We've been talking about who's going to grab this third place spot and Musquin did one better and grabbed second! He was very good all day and with Washougal coming up this weekend, he very much could keep this train rolling.
3 3 Eli Tomac Cortez, CO Kawasaki KX 450F 2 3- Tomac made no excuses in his press conference after the race saying, "I made a little mistake and he [Roczen] snuck inside of me and was gone pretty quickly. Put a few seconds on me there. I ended up hitting a rock in a rut and tipping over a few laps later. That was kind of it for the battle for the lead. Ended up staying in front of Marvin there which was pretty fortunate at that point. That was it for that moto. Moto two rolls around, not as good of a start. I even saw Roczen at one point on the first straightaway in the rollers go by me. No excuses there for that because he was able to get through the pack. He put it down right away."
Later on Eli talked about getting his bike working better and trying some things but first and foremost he said he got beat. Which he did. No set-up issues, no "we're" working hard and all that. He just admitted that it wasn't his day. Have to respect that.
4 377 Christophe Pourcel Dade City, FL Husqvarna FC450 5 4- A good day for CP377 and we're coming up to Unadilla, a place where he hauls ass. Do I smell that the Rock is cooking a podium up for CP?
5 51 Justin Barcia Madison, FL Yamaha YZ 450F 4 5
6 41 Trey Canard Edmond, OK Honda CRF450R 6 6- Hey, look who's back! Canard came back to racing and had a good day. He said he doesn't know how he didn't go down after a collision with Ken Roczen off the start in moto two. He was a tick off the front-runners but I don't think it'll be too long until he gets onto the podium.
7 29 Andrew Short Colorado Springs, CO KTM 450 SX-F 8 8- Great day for the old guy! Short's been much better recently in his last season doing the nationals. Funny how the BTO KTM guys all seem to find each other in every moto lately.
8 167 Benny Bloss Oak Grove, MO KTM 450 SX-F FE 7 10- Bloss has been getting better and better. He told us on the Pulpmx Show that he's looking for a 250 ride next year and I can't stress enough that I think that's a bad idea. Cycle Trader is keeping Tommy Hahn on the 450 next year (huh?) so there's one 450 spot that is gone but can we just get Benny on Traders Kawasaki full-time 450 next year and call it a day?
9 10 Justin Brayton Fort Dodge, IA KTM 450 SX-F FE 9 9- Brayton's "home" track and one where he usually does pretty well. He posted that he wasn't that pumped with his ride there and I suppose getting beat by the rookie wasn't that cool to him but I think it's a solid day, no?
10 34 Phillip Nicoletti Cohocton, NY Yamaha YZ 450F 14 7- Phil crashed three times in the first moto and was hating life. The second moto broke a string of six sub-par motos in a row for Filthy and prevented him from hanging himself. No joke, Phil has thrown away approximately 237 points in the last month with crashes and bike issues.
11 15 Dean Wilson United Kingdom KTM 450 SX-F FE 11 11- Wilson is back! Lost in the Stew/Canard hype a bit, the #15 suited up for his first race since January (yes, that's a long time ago) and I'd say this was a nice ride. Dean said that he got tired, that actual racing is nothing like practicing and that he didn't remember Millville ever being that rough!
12 43 Fredrik Noren Sweden Honda CRF450R 13 12- Nice work for Fast Freddie and I got my answer as to why the factory Honda guys haven't put him on the team yet. Cole Seely is still hoping to come back and I heard the red riders didn't want to pull him for something that wasn't permanent. Don't weep for Freddie, though, he's still got some good parts on his bike and he's been testing the all-new 2017 CRF450 as well.
13 63 Jesse Wentland Elk River, MN Honda CRF450R 12 14- It hasn't been a great season for Wentland like last year (I think a lot due to injuries) but it's nice to see on his home track that he's still capable of some good finishes.
14 11 Kyle Chisholm Valrico, FL Honda CRF450R 17 13- The Chiz is sticking to his Ohlins suspension but has switched suspension companies to get more testing time and it's paying off with some better finishes for him. Someone hit me up that "they" should take Kyle's number away because he hasn't been that good lately and I get that but before we suggest taking Kyle's number away, I'd STRONGLY suggest they take away numbers guys earned by racing 250SX, which only recently started counting toward national number status. Chisholm's done things in the sport in the premier class that 60 percent of those 250SX dudes will NEVER do. Ok, let me get off my soapbox now.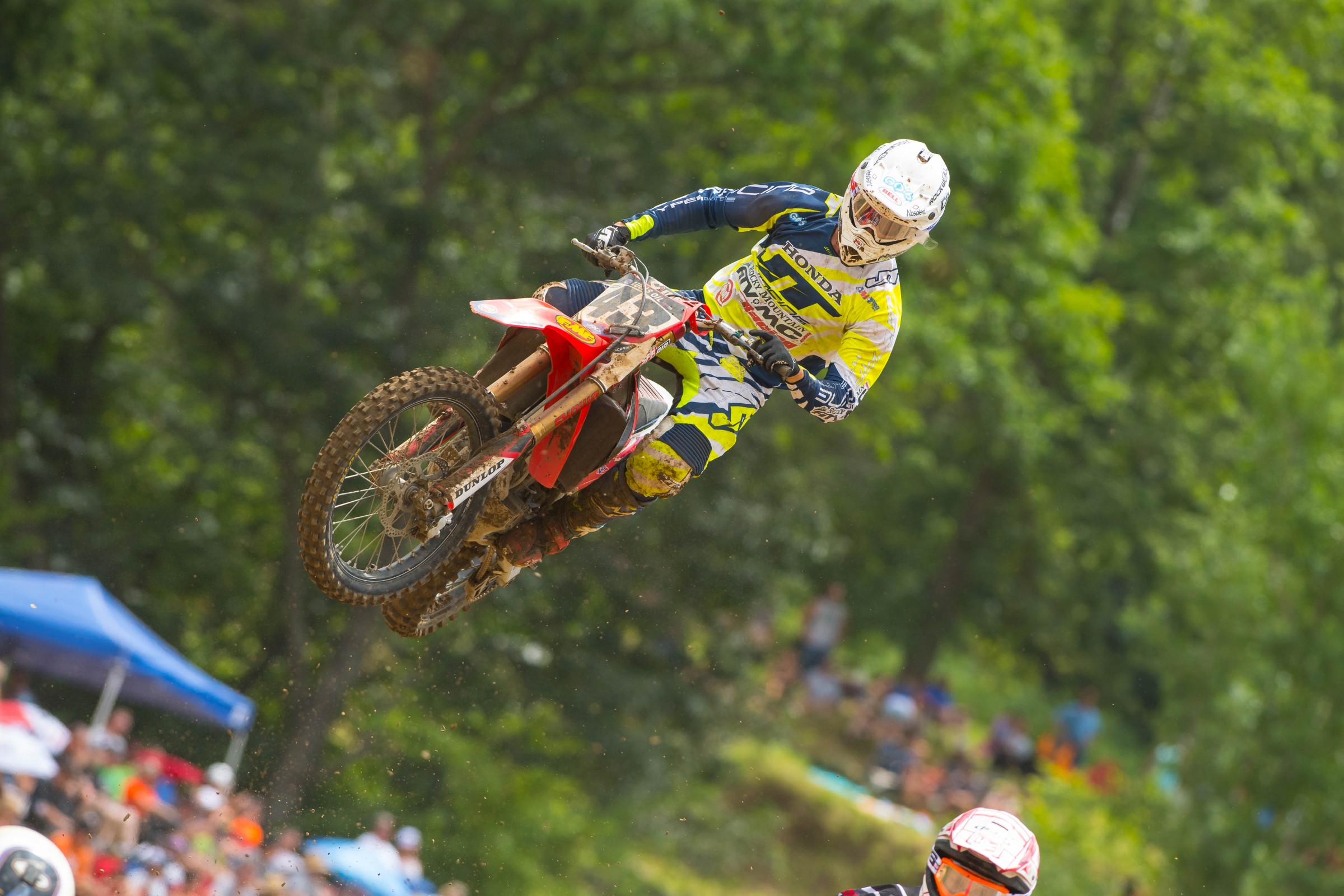 15 7 James Stewart Jr. Haines City, FL Suzuki RMZ 450 10 35- Again, I think James and his team have to leave Millville thinking it was a good day, right?
16 68 Cole Martinez Rimrock, AZ Yamaha YZ 450F 20 15- I always thought of Cole as this 250SX specialist dude but since jumping on the YZ450F for CycleTrader.com/Rock River Yamaha he's averaged a 16th place in each moto. Not too shabby, right?
17 80 Zack Williams Elko, MN Yamaha YZ 450F 19 16- I think I've mentioned this before but Williams is from Elko, Minnesota and I raced at a track there a few times in late '80s, early '90s and always thought it was pretty good. Nice work, by the way, Zack.
18 53 Tyler Bowers Danville, KY Kawasaki KX 450F 18 17- The Bear told me after the race that it was a rough one for some reason and "This weekend it was actually one of the hardest weekends for me. I don't know if it was the sand whoops or what, but this was actually the first weekend where I got real tired. It was even worse than my very first weekend."
19 96 Noah Mcconahy Spokane, WA Husqvarna FC450 15 20- Noah was tearing it up earlier in the season and then Pulpmx cub reporter Moser featured him in his Shorty's column. Then Noah promptly went into a bad streak. Nice to see he's recovered from talking to Moser via text and is back to being fast again.
20 52 Ben LaMay Wasilla, AK Yamaha YZ 450F 16 37- LaMay was stoked on his second moto. Why? Because he told me that he had just passed Stew "straight up" before he crashed big in the sand whoops. Yes, Stew isn't "Stew" but he's still "Stew" y'know? Ask LaMay how stoked he was.
Thanks for reading, I appreciate it. No, I really do. Email me at matthes@racerxonline.com if you want to chat about this race or anything else. Peace out, bros.