Buchanan, MI
RedBud
Lucas Oil AMA Pro Motocross Championship
It's easy to forget that Benny Bloss is a first-year pro. He's not the typical small, slight, teenaged kid from the amateur ranks—filled with aggression and revs on a 250F. "Big" Benny's best shot is on a 450, so his rookie season pits him against the established names of the big class, and he's riding for BTOSports.com-KTM-WPS, which means he works alongside the respected, thirty-something veterans Andrew Short and Justin Brayton. RedBud represented a breakthrough, as Benny locked down his first career top ten via 11-10 scores for tenth overall. While he has been riding more like a veteran than a rookie, his reaction to the result brought everything back into perspective. Deep down, he's still a kid trying to make his way, and this top ten was absolutely huge to him.
"Whew!" Benny said multiple times when we asked him about the result. He sighed. He gave a slight fist pump. He wasn't just thrilled—he was relieved, pumped, excited…this was a rookie hitting a significant milestone!
"Yeah, that's been a goal all year," he said. "So to finally get it out of the way and done with is super, super nerve-ending for me. It feels so good, so much off of my shoulders now.
"It helped to be consistent. Usually if I have my best moto of the weekend, or of the year, it'll be followed by my worst. So to pull through and do 11-10 for tenth is super, super exciting."
Because the 6'5" Bloss is racing the 450s, he has the strange situation of racing against riders he has looked up to, instead of riders he grew up battling with. If you scan the 250F landscape, you'll find plenty of teenagers who battled on minibikes still battling each other as pros. Benny's challenge is different, but it doesn't scare him.
"It's definitely different, but I love it," he says. "It's so cool to be on the line with all these people that I've looked up to since I was on 85s and 65s. I really love it."
It helps that Bloss is surrounded by such talent all the time. He's spent years training with the legendary Robbie Reynard, one of the fastest, most talented riders ever, and now his training crew during the week is packed with established riders. He's moto-ing down with the likes of Trey Canard, Justin Bogle, fellow rookie Austin Forkner, Jimmy Albertson, Colt Nichols and more. Talk to anyone from that group, and they'll tell you this: top-ten isn't even a surprise. During the week, Benny is going even faster.
"It helps so much to rider with those guys," Benny says. "Just getting stronger, I'd say the fitness is definitely crazy when everyone is pushing each other so much. Getting to ride with all the great guys like Canard and Bogle and Forkner and Nichols and Albertson… To have a group like that and we're all so close is really, really good.
"I don't want to talk too much about myself, but I guess lately I've been kind of going a little bit faster than the rest, besides Trey," he says. "It's definitely a battle with Bogle. I definitely am going a little bit better during the week and I'm more consistent with my riding during the week. Trying to translate that over to the races is difficult but slowly but surely I think it's starting to show and I'm starting to get a little bit better."
Unlike some of those in his group, like Forkner, for example, Bloss wasn't much heralded as a minicycle pilot. Unfortunately, his first claim to fame came in 2014 as a B rider at Loretta Lynn's, but for dubious reasons. The day before riding was to begin, Benny jumped into the creek at the ranch and sliced his foot open. The story of "The B rider who came all the way to Loretta's just to slice his foot open the day before the race" ran amuck through the race week, but lo and behold, Benny suited up and logged his motos, blood pouring into his boot each time. In significant discomfort, he managed 3-1-5 moto scores for second in the 450 B Limited class. Last year, as an A rider, he scored the Open Pro Sport title, notching the coveted AMA Horizon Award. Still, "Hey, that's the guy that sliced his foot open!" seemed to follow him around.
"People still come up to me and are like, 'You're the guy that had the cut foot, right?' It's like, 'Yeah, I am.' But hopefully soon we can get away from people knowing me as that!"
Prior to the "year of the cut foot," few had heard much from Benny in the amateur ranks. He credits going to Reynard's, and stepping up his commitment, for his sudden rise.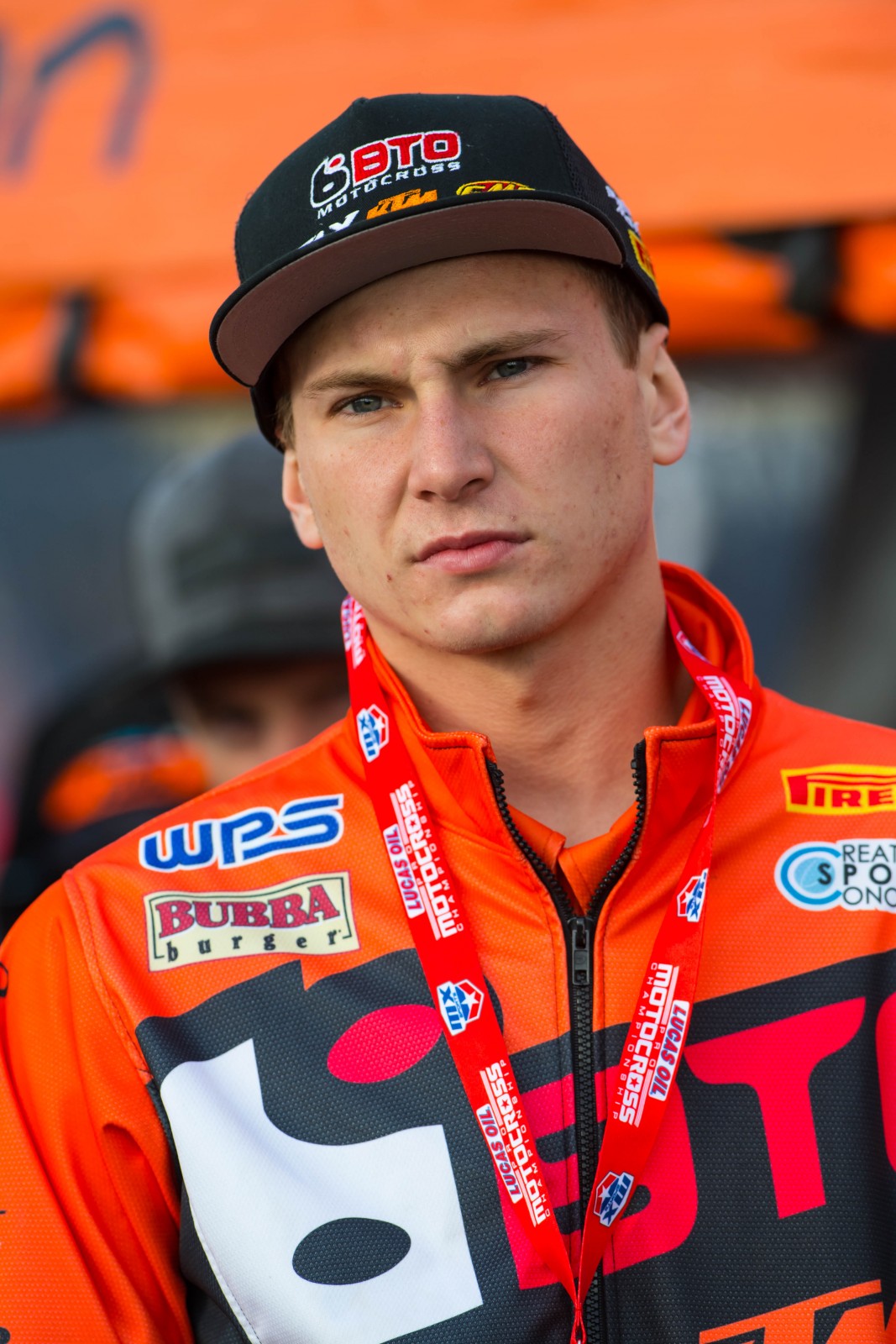 "Yeah, it's crazy to think about how fast everything has happened, but I couldn't be happier," he says. "I went to the Robbie Reynard Training Complex for my last two years of amateurs, and I think I just got a whole lot of more commitment to my program, my eating and working out and everything. Just started getting faster and riding with faster guys. It's all been a slow process but has seemed to work out pretty well. The main goal was to be on a halfway decent 250, so to be on a factory 450 is crazy to me. Like I said, I couldn't be happier with my life right now."
Oddly enough, Benny found himself locked in a battle with training partner Bogle late in each RedBud moto, trying to track down the #19 GEICO Honda in the closing laps. Bogle wasn't having his best weekend, but he wasn't about to let Benny beat him.
"Benny knows I'd rather die than let him beat me in the motos," laughed Bogle. "That's why he finished behind me both times!"
For now, Bloss is relieved to have made the top ten. The riders ahead of him aren't going to make it easy to move even higher. But so far, Benny hasn't had a problem rising and adapting to the challenge.