Broken Finger For Seely, Out For RedBud [Update]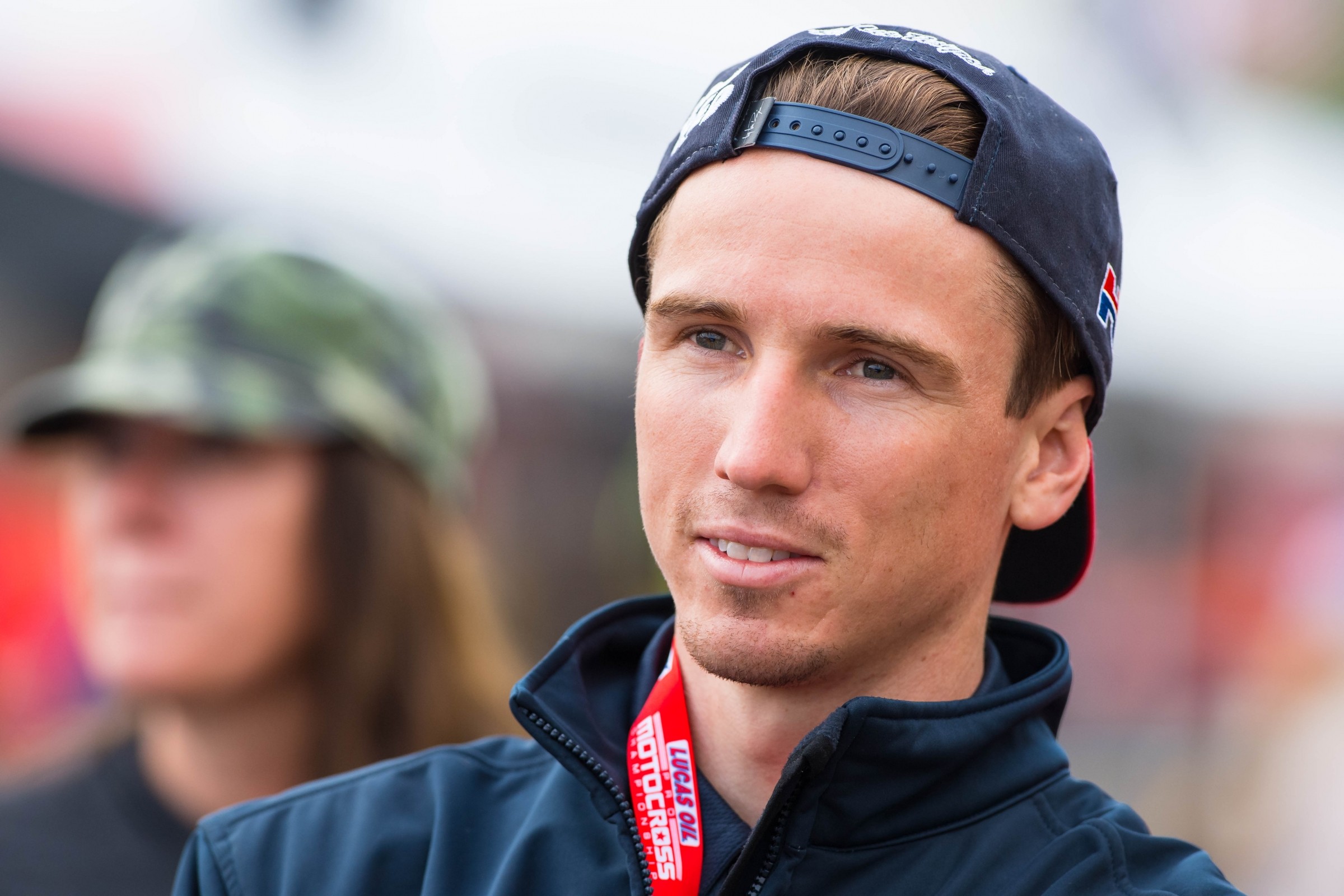 Buchanan, MI
RedBud
AMA Pro Motocross Championship
Jeez, they're dropping by the week! We've now received more bad news on the 450MX injury front, as Honda HRC's Cole Seely will miss Round 6 of Lucas Oil Pro Motocross this weekend at RedBud—and more races—after breaking his pinkie finger riding this week.
A broken pinkie finger might not sound that bad, but this injury was enough to require surgery for a fix, so Cole will be out for some time. An exact timetable is not yet known.
A source today told us Seely actually broke the finger without crashing. Cole had the bike laid over so far in a corner that he actually smacked a rock with his hand. Shows you how hard these guys push it.
Seely had been enjoying a breakout campaign in his second season in 450MX, including a strong third in the first moto at Muddy Creek last weekend, where he led half of the race. While doing much work to shed his rep as a "supercross specialist," Seely moved to up to third in the series standings after Muddy Creek.
We'll provide more info as it becomes available.
[Update: Wednesday, June 29]
Cole Seely underwent successful surgery today on his right hand after sustaining an injury during a practice session at Pala Raceway on Tuesday, the team announced. The surgery was performed by Dr. Nicholas Rose Hoag Hospital in Newport Beach. According to the team, Dr. Rose performed an open reduction internal fixation of Seely's pinky finger, inserting a plate and four screws.
Seely's hand is currently in a split and he will be evaluated in seven days to determine if a cast is needed.
"I'm extremely bummed," Seely said in a team statement. "I was starting to find a good rhythm and really had my sights set on getting my first overall podium and win in the 450 class, so needless to say, to have my season end with a broken pinky is disappointing. Although I can't ride, I'm going to continue to train and start focusing on next season."
"It's really unfortunate to see Cole's season end this way," added Team Honda HRC manager Dan Betley. "He has been gaining a lot of momentum through the opening rounds and was continuing to build himself into a great outdoor rider, so we're all very disappointed. The fracture to his hand was pretty severe, so he was left with no choice but to get it fixed. The entire team and everyone at Honda wishes him a speedy recovery, and we know he'll do everything he can to get back on the bike as soon as possible."
The team, already without Trey Canard for the last two rounds due to a bulging disc in his back, has yet to announce if they will seek a fill-in for Round 6 of Lucas Oil Pro Motocross at RedBud on Saturday.