Revamp Complete: KTM Fully Redesigns 2017 Enduro/Dual Sport Range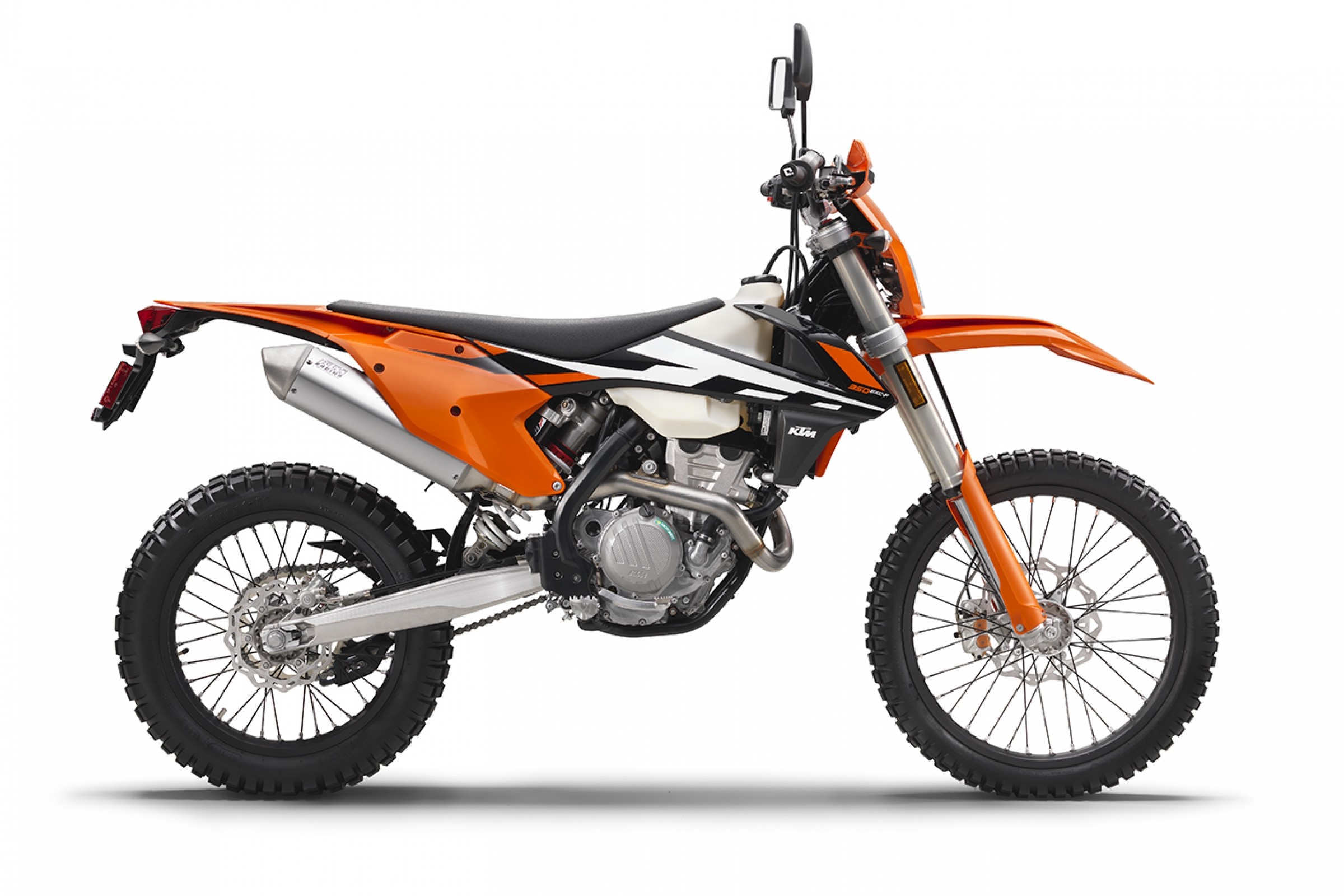 KTM people are a unique set. Yeah, the brand has been killing it on the motocross and supercross side lately, but the hard core orange folks know KTMs roots are in the gnarliest off-road disiplines. So when the SX line of motocross bikes and the XC closed-course off-roaders got a full redesign for 2016, the enduro gang knew they'd be getting some new stuff eventually, too. They'll get it for 2017, as KTM has announced a revamped line of EXC-Fs (four-stroke enduro bikes with license plates, yes, street legal) and XC-Ws (two-stroke enduro bikes).
These machines share many technologies with the SX and XC line that was redesigned last year, like lighter, stronger engines, and huge weight reductions and handling improvements all around. But there are unique elements to the new off-roaders, namely the all-new WP XPlor suspension. The forks stick with traditional coil springs (the 2017 SX line now goes to air forks) and the rear end uses the latest in KTM's long running PDS (no linkage) suspension. The linkage works for moto, but hard core off-road types always liked the PDS, so it's back in an updated fashion on these bikes.
And of course there's the associated hardware, including head and tail lights, wide ratio gear boxes, and everything needed for the thumpers to be ridden legally on the street.
The lineup has shuffled a bit. KTM used to offer four strokes in XC-F-W (enduro) and and EXC-F (dual sport) ranges, but now the XC-F-W four-strokes are gone. The 500 and 350 EXC-Fs are back, but the old 250XCF-W is replaced by a street-legal 250EXC-F. Yes, dual sports now come in 250, 350 and 500 flavors and we will emphasize again that these are STREET LEGAL DIRT BIKES!
The two-stroke line in XC-W fashion includes an all-new engine for the 250 and 300 machines, based on the package we recently saw debut in the 2017 SX line.
Basically, KTM redesigned nearly all of its bikes for 2016 except for all the 250 and 300 two-strokes, and the enduro bikes. They've rectified that situation for 2017.
Here are highlights of the new 250EXC-F street-legal four stroke. Most of the changes and features are mirrored by the whole rest of the line—150, 250 and 300 two-strokes, and the 250, 350 and 500 four strokes. You can read about all of them at http://www.ktm.com/us/enduro/
2017 KTM 250 EXC-F Highlights
Joining the KTM's street-legal enduro line for 2017, the 250 EXC-F has no equal in the quarter-liter dual sport category. An all-new chassis features a lightweight frame with higher torsional rigidity with less longitudinal stiffness to match the all -new WP Xplor front fork and shock.
Combine that with a new compact DOHC engine and you have a recipe for success.LayoutsWith all the requisite parts needs to have access to the asphalt to link all the best sections of trail; the result is a READY TO RACE EXC-F suitable for amateur explorers, while still satisfying the pros. Eat that, adversaries.
NEW 250 EXC-F engine has been redesigned in order to make the new powerplant more compact and lighter while delivering class-leading torque and power figures over the entire rev range
NEW Cylinder head with lightened camshafts, DLC coated finger followers and a reworked timing drive for outstanding power throughout the 12,800 rpm rev range
NEW 6mm Shorter connecting rod for a vertical compact engine with snappy response
NEW Engine cases with a centralized shaft configuration, moving the crankshaft closer to the bike's center of gravity while shortening the engine by 20mm.
NEW Engine covers feature an advanced surface structure to reduce wear for the rider's boots
NEW 42mm Keihin throttle body for instant throttle response and crisp fueling
NEW 6-speed wide ratio transmission is perfectly suited for off-road duty
NEW Hydraulically operated DDS clutch features a damping system for better traction and durability
NEW Lightweight Chromoly steel frame provides high torsional rigidity with less longitudinal stiffness resulting in excellent handling and energy absorption
NEW WP Xplor 48 upside-down split front fork has outstanding damping characteristics and better bottoming resistance with less weight
NEW WP Xplor PDS rear suspension is more progressive and is lighter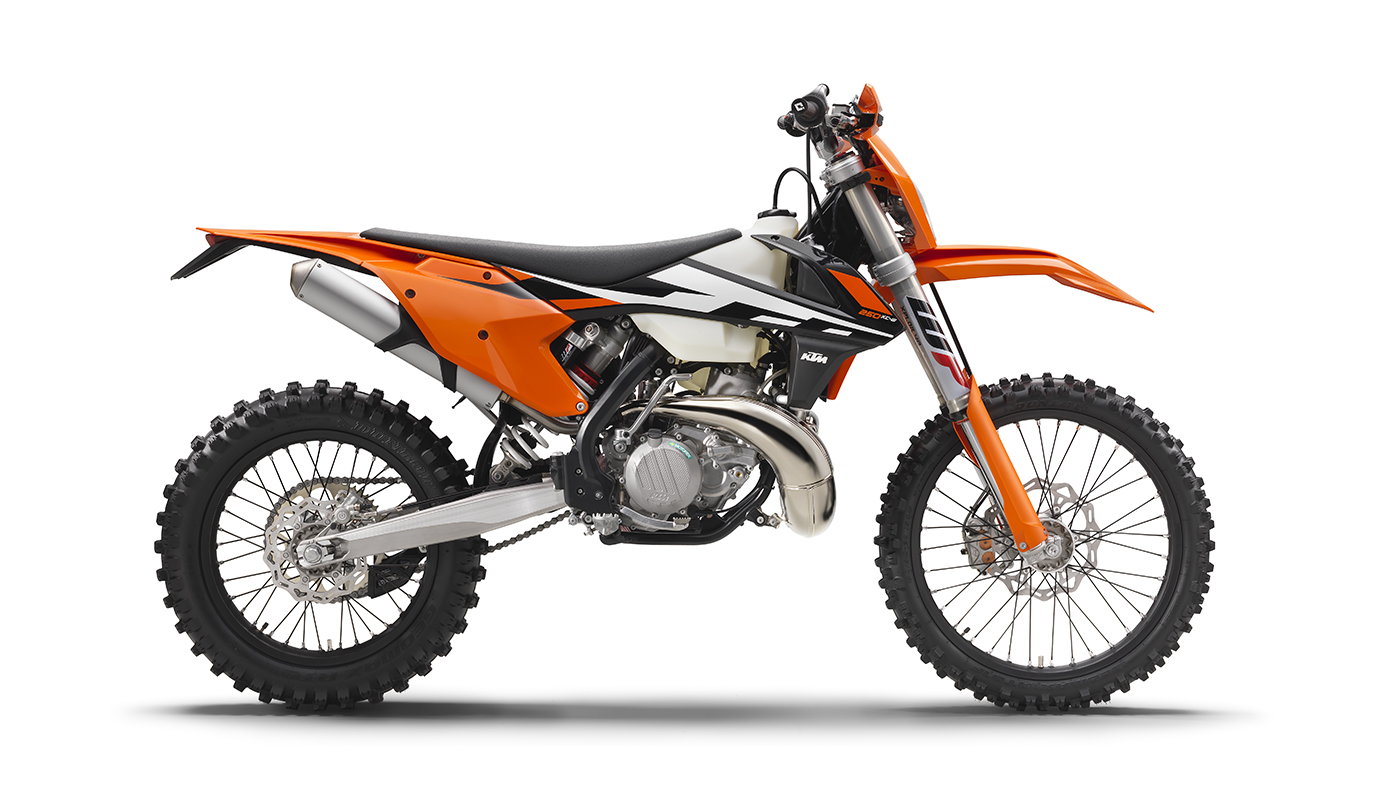 NEW shock mounting geometry is matched to the new swingarm with a more centered location for nearly symmetrical loads to the swing arm
NEW Forged aluminum triple clamp with handlebar positions and a 22mm offset for precise handling
LayoutsNEW ODI grips that feature a lock-on design for the left grip and a vulcanized grip on the throttle side
NEW 10mm longer rear brake pedal, smaller rear brake piston and lighter disks provide class leading brake performance and feel
NEW "No Dirt" footpeg design keeps the pegs pivot from becoming clogged, ensuring the footpeg is always in the correct position.
NEW CNC machined hubs, high-end Giant rims and Continental TKC-80 tires for maximum strength and traction on and off the road
NEW Airbox and filter design provides maximum performance with fast "no tools" air filter changes
NEW Bodywork with perfect ergonomics and contact points for maximum control and comfort
NEW Cooling system features stiffer radiators with better cooling efficiency while new radiator guards provide crash protection
NEW 2.25 gallon see-through polyethylene tank provides the range needed for extended rides
NEW "No Dirt" shift lever prevents dirt from fouling the lever joint to ensure proper shifting in any condition