Foxborough, MA
Foxborough
Monster Energy AMA Supercross Championship
Motocross is a relatively new sport, so old war stories that sound like something your 70-year-old grandpa would come up with actually come from riders who were in their prime just a generation ago. But when you hear them say what they went through—all of it true, no doubt—it sounds a whole lot like fighting in the Great Wars, or Korea, or 'Nam, or at least walking to school uphill both ways in the snow. At least in a relative sporting sense.
It started in the GEICO Honda truck, where we discussed various common motocross injuries. The worst is always the dreaded navicular in the wrist, which is notoriously slow to heal and usually requires surgery. Unless your name is "Iron" Mike LaRocco, that is. Mike broke his wrist after winning the 1992 AMA Supercross opener in Orlando, but kept riding with the broken navicular all year without much trouble, including a heroic ride nine months later at the Motocross of Nations in Australia, part of the famous U.S. "B" team that won the event.
"Yeah, I had surgery scheduled on it for the end of that year," Mike explained on Saturday. "But somehow by the end of the year it had healed itself even while I was doing at that stuff."
That stuff? He means racing an entire season of U.S. supercross and motocross. Mike healed up the hardest bone to heal while racing. These guys are just tougher than you.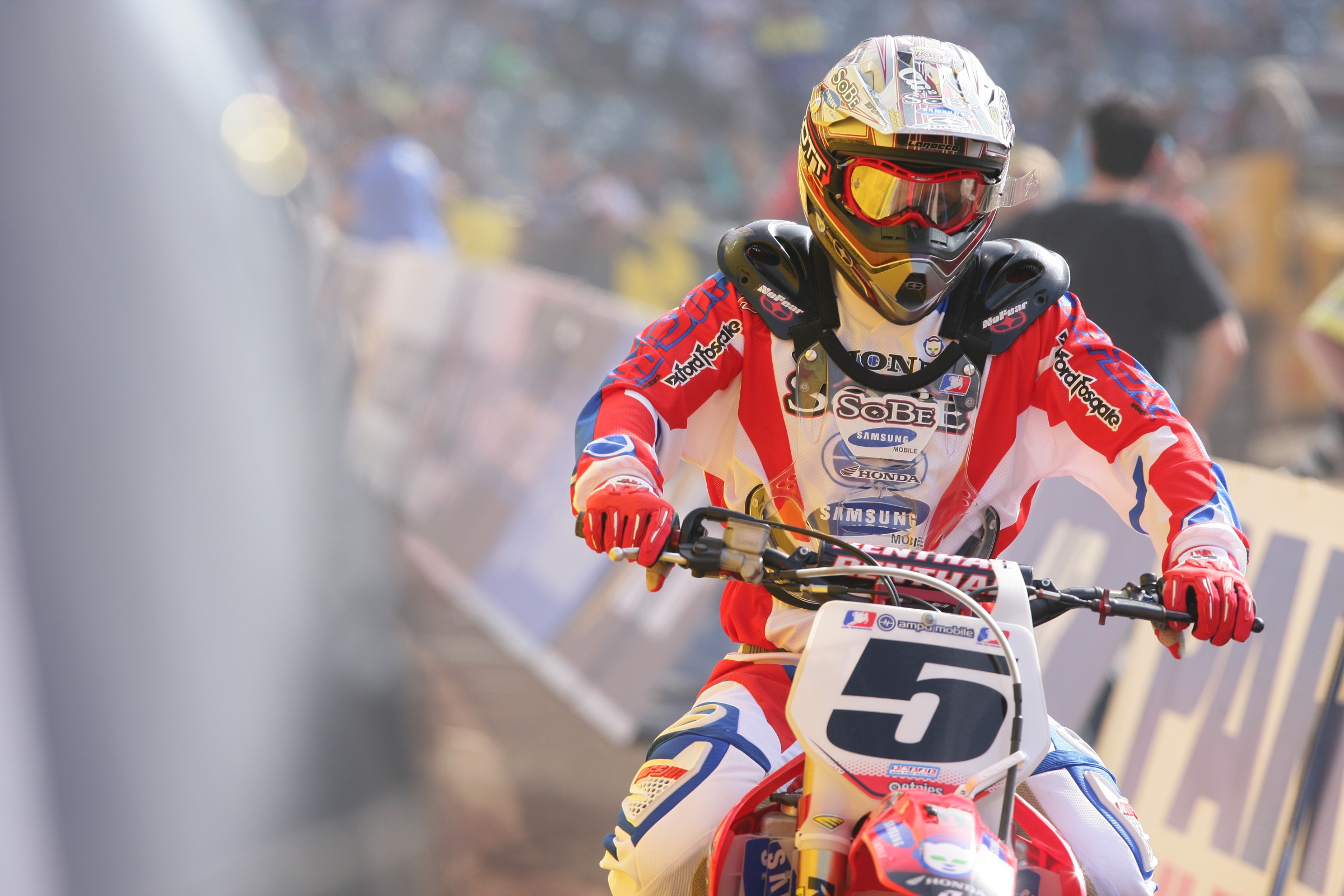 Before I left the GEICO truck, I got one more war story from Mike. (By the way, all of these stories had to be prompted by other people, because Mike LaRocco never wants to talk about himself.) Earlier this year, Justin Bogle broke a bone in his foot and soldiered through Anaheim 1. When he crashed hard the next weekend and hit his head in San Diego, it marked the perfect time to sit a few races out and let both his head and foot recover.
"Yeah, he broke one of the metacarpals," Mike said. "One year I broke three of them."
Mike kept racing. In fact he didn't really consider it an injury, just something else to ride through.
It was cool having a race back in the New England area, as the fans up there haven't had anything to watch since the Southwick National concluded in 2013. (Don't worry kids, The Wick returns to the schedule this summer.) New England racers are a hearty bunch. They don't ride—they race. All the time. They race in freezing cold conditions in the spring and fall, and a lot of motos on a lot of different bikes.
I ran into long-time pro Mike Treadwell, who told me about battling a 40-rider pro class gate at Southwick last weekend. As the stories started to flow, Treadwell showed his jacked up hand, the one where the pinky seems permanently aimed across his hand and toward his thumb.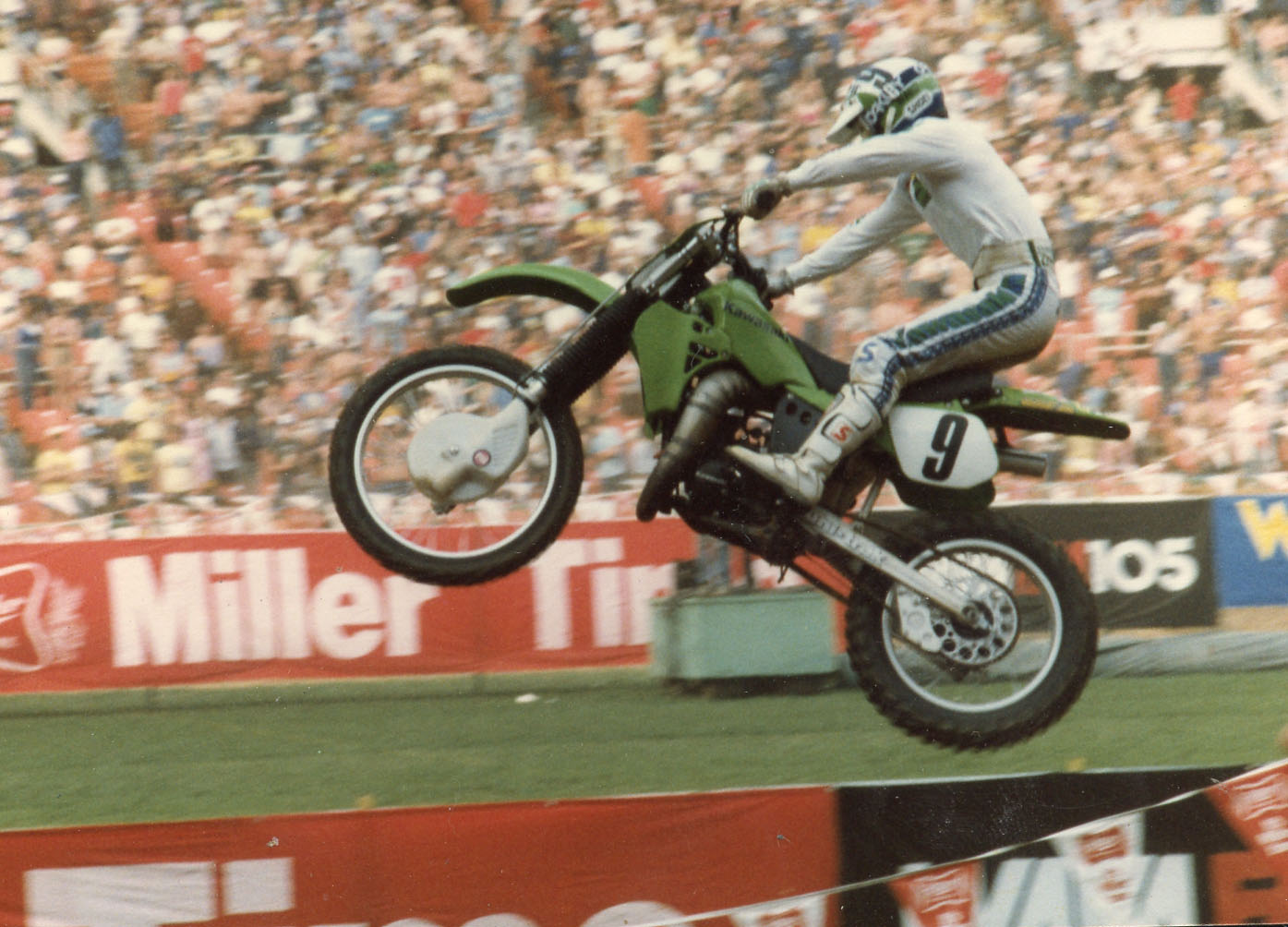 Well, in 2002, factory Red Bull KTM had an extra bike sitting around since Grant Langston was out with injury. This was before the replacement rider thing was really a thing, but they decided to give Treddy a shot on the bike at his home race. You know how those locals can just rip up Southwick, right? Well, Mike was absolutely hauling on his home track, running as high as third in a moto. Then he crashed and broke his hand. He still toughed out the second moto and scored an eleventh. His doctor said he'd have to get the hand pinned, but Mike had a race to be at the next weekend, so he just ignored it in pursuit of more results, contingency and glory.
Over at the Honda HRC truck, Cole Seely was warming up and preparing for opening ceremonies. Cole's appearance at the race bordered on heroic, because he broke part of a vertebrae a few weeks ago, and only climbed back on a bike on Monday. Usually riders take a few weeks to feel they're back in racing condition, but Cole got back on track as soon as he could.
Then his coach, seven-time AMA National Champion Jeff Ward, offered something up. "Anything he's ever had I probably raced through, too, so I know he can do it," Ward explained.
Then the stories started going.
Next week is the New Jersey Supercross and I remember going to that race as a kid in 1987 and 1988 and watching Ward blow out feet and ankles each time. Once, he was landing from a jump with one leg—which everyone thought was an awesome show of style—but it was really because he was riding with a broken ankle.
By the New Jersey round the ankle was really bad, so when he saw himself coming up short on a double, he took the bad ankle off the peg to absorb the hit with the good one. The result: he broke the good ankle worse than the bad one!
But Wardy still had titles to win, including a duel for the 250 National Motocross Championship with Rick Johnson. The next race: the grueling sand track at Southwick. So he flew to California to get surgery on the bad ankle. (Some sort of process of cleaning out bone chips which also jacked with tendons and ligaments and stuff. I'm not sure what he was explaining, I just know it made me wince.) Then he slept at his doctor's office the entire week so he could get ultrasound therapy on the ankle 24 hours a day. Before he left he had Dr. Jeff Spencer tape the ankle and then he flew to Southwick and won the race!
"It was a sand track, so I didn't need to use the rear brake that much," he said. "No big deal."
On the flight home, Ward's ankle started swelling, so he just had a stewardess on the plane cut the tape off—tape that had been installed in California days earlier. Whatever, he's been on flights in worse shape. Ward told us that one time he got so cramped up after a battle at RedBud that he couldn't even walk. No problem, his team just pushed him through the airport in a wheelbarrow.
Yeah, these guys are tougher than you.