Indianapolis, IN
Indianapolis
Monster Energy AMA Supercross Championship
Forgetting a sponsor might seem like the worst thing a rider can do during a podium speech, but that's not true. The worst thing a rider can do is forget himself. Fans don't identify with a robotic sponsor list, anyway. When riders reveal something about themselves in an interview, fans can start to form an opinion about them. It also draws more attention from the media and TV announcers, because now they've got a story to tell. That exposure and that story forms the basis of an image, and that can help sell product. In racing, winning is the hardest part, and there will only be one winner in every race. But just because you didn't win doesn't mean you've lost completely.
For the second year in a row, KTM flew me out to California to host a media training session for its Orange Brigade amateur riders. The riders spent two days riding under the tutelage of riding coach Nathan Ramsey, and an evening working with me on interviews. During last year's media training session, we stressed one basic premise: say something specific. That's the stuff the press, the fans and the announcers fixate onto.
Why did Andrew Short's third-gear starts get some much love last year? Well, because they have him a lot of holeshots, but also because the TV announcers knew about the third gear technique, leading to more discussion of it, and slow motion footage, and talking to Andrew about it. We even did a full feature on Andrew's third-gear starts in Racer X Illustrated. Andrew Short gave the media a nugget, and we ate it up. He scored a lot more exposure for his sponsors that way.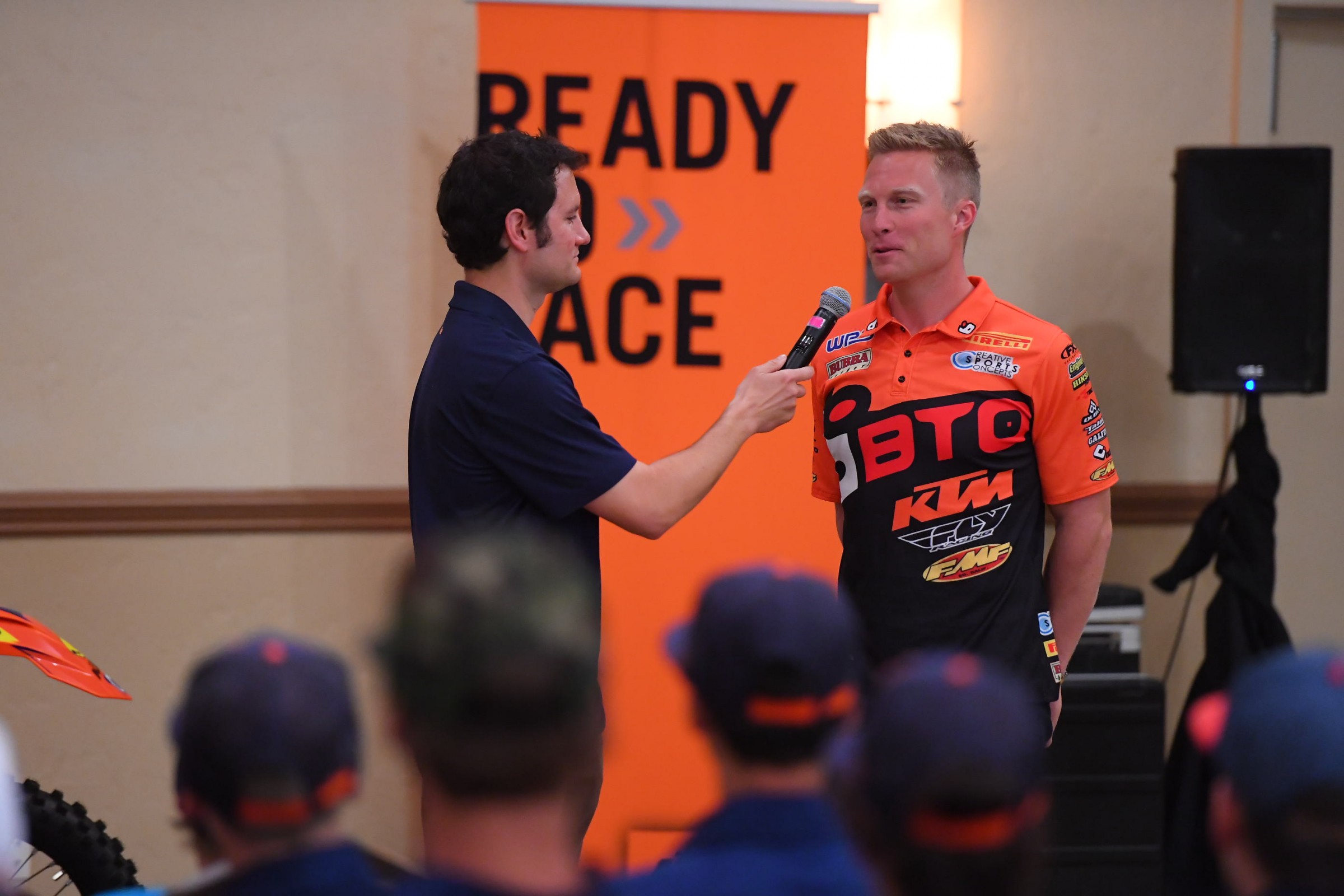 That's what I preach to the riders in these camps. Motocross is exciting, and surely something interesting happens on every race weekend. From the road trip to the race, to practice and the race itself, there has to be at least one interesting thing from every weekend. Just saying "we learned a lot" and "we're working on stuff" doesn't do anything for anyone. Tell us something you learned, something you're going to work on. It improves the interview by approximately 5 million percent.
(By the way, I didn't come up with this myself. I've gotten some lessons from the folks at NBC to do NASCAR interviews, and the first piece of advice is, "Ask a specific question and get a specific answer." Don't ask the athlete, "How does it feel?" but "On the third lap we saw a big mistake what happened there?" The TV execs know that specific examples create content people actually like to watch.)
For this year's media training, KTM's Christy Lacruelle even brought in professional KTM riders to judge the young riders' interview skills. On hand were Troy Lee Designs/Red Bull KTM riders Jessy Nelson, Shane McElrath, Alex Frye and Justin Hill, BTOSports.com-KTM-WPS riders Davi Millsaps and Andrew Short, and multi-time X Games Moto X Step Up gold medalist/freeriding and free spirit maestro Ronnie Renner. That group runs the full gamut, from teenaged pro rookies like Frye to husbands and fathers like Millsaps and Short. There's an image every fan can identify with, but it's up to the riders to get that out there.
The opportunities are growing. Last year we had the amateur kids do mock podium interviews, but the media is changing fast. The podium interview is old-school. This year I focused on two new drills. First was the "random video guy runs up to you when the moto is ending, gets in your face with a camera and says "How was the moto, bro? Take me through it!"
This type of interview is becoming so common that I heard five different theories as to who I was pretending to be in these mock sessions. The challenge is now the rider has to do all the lifting himself. Often the viewer won't even hear the interviewer's questions in the final edit, so the rider has to sell his story and image completely on his own. A good interviewer can help bring out the best in a subject, but the traditional interview is going the way of the Dodo Bird. Riders, it's all on you now.
The second mock up was of the "Chasing the Dream" style shoot, with an interviewer sitting across from a rider in a chair, and trying to bring out some emotion. For that, I asked the riders to tell stories about their parents and the sacrifices they made to get there. These interviews also require the very tricky "Repeat the question in your answer" technique. Once the question gets edited out, the answer must also contain the question. So, no more "I got arm pump," but instead "The reason I struggled was because I got arm pump."
Honestly, the judging thing never got too crazy. Besides the TLD boys joking with their amateur teammates and giving some low scores (they also gave their team manager Tyler Keefe a one after he spoke) most of the pros handed out nines and tens. Hey, these are just kids, right? But the advice and experience of the pros goes well beyond their score cards, especially for veterans like Millsaps, Short and Renner, who have seen it all.
Renner had a chance to speak, and he stressed being genuine. Ronnie explained that he started as a privateer motocrosser, but when he found more success in freestyle, he felt like he had to, "Start acting and looking like the other freestyle guys. But I was, not a redneck, but I was just a poor privateer kid from Florida. You can't fake it—you have to be who you are." Since then, Renner has built a reputation on fun, basically dreaming up and coming up with outlandish new ideas for his motorcycle exploits. His company is actually called Loose Program. But when it's time to get down to business, such as in X Games Step Up competition each year, he turns much more serious than you'd expect. No matter what he does, he stays true to himself, and he credits that with his long-running factory sponsorship from KTM, which started in 2003 and has recently been extended another three years. Yes, Renner's X Games medals mean he's earned some income through performance. But so much more comes strictly from being popular and well-liked.
As for Millsaps, the man has been through the wars. From injuries to family drama, it hasn't been all roses despite having a lot of talent, making a lot of money, and winning races at the highest level. As I sat the riders down for their "Chasing the Dream" type scenario, I decided to ask Millsaps why he's so willing to reveal personal information about his mother, wife, family and kids in interviews. In fact, when I first introduced Millsaps to the crowd early in the session, he talked about waking up at 6 a.m. and tending to his kids, then doing it all over again at 6 p.m. when he's done training. Why throw that out there?
"Because you want to show them it's not all glory," said Millsaps. "Yes, you're getting to ride a dirt bike for a living, and some of us can make a good living doing it, but it gives people a better idea of what is really going on. Maybe that helps them understand you a little more. We're just human beings, you know?"
Eventually Short decided to take it further in that direction. He stopped the room when he said, "I have something to add that has nothing to do with the media.
"Everyone in this room, you're going to have to discuss what the next step is with your parents," Short continued. "You're all going to go through it. It's better to get it out there now—understand what the expectations are."
Then Millsaps chimed in with his own story of his mom, who he has now not spoken to in eight years. The two explained how many things will get in the way, as parents will have a tough time pulling back, how some teams will not want them around, and how very few riders make it through that transition whole. Short finally summed it up like this:
"It's going to come down to money. And babes. Those two things."
The room laughed and we went back into the drills, with riders explaining the sacrifices their parents make. Hopefully, some conversations were looming about those sacrifices.
By the way, KTM served dinner after the event, and I got to know some of the riders and parents better over a meal. Talking to some riders and parents, I learned that some of the stuff Short brought up is already at the surface for some of the older amateurs. Some of them have already had mechanics brought in, so dad gets to back away. But the parents still absorb a lot of the emotional blows from the highs and lows of racing, especially because their young racer is a lot more comfortable blowing up on them than a new team manager or mechanic.
This topic always gets a little dicey to bring up. As Millsaps would say, it's not all glory, not all roses. However these are the human stories that draw the fans, and the right story at the right time can turn a nameless rider into a hero to many. And that was the number-one goal of the media-training seminar: get the riders to tell their story. Once that happens, they create an image, and everything else starts to fall into place.