In December 2002 the THQ "World Supercross GP" rounds in Geneva, Switzerland, and Arnhem, Holland, marked the first time the U.S.-based supercross series exported itself overseas. A World Supercross Series had come and gone many times through the decades, but this version was the first to actually incorporate most of the rounds of U.S. supercross into the structure. Despite the fact that the European rounds weren't on the AMA schedule, most of the teams and top stars went. The series organizers (then called Clear Channel) did their best to make the races feel as similar to the rounds back home as possible, but exporting an event of that magnitude overseas is not always easy, even if it's just across our northern border to Canada. With that in mind, let's touch on some of the little things that didn't quite go according to plan on the "away" races, which, collectively, make for what's now known as Monster Energy AMA Supercross, an FIM World Championship.
GENEVA, SWITZERLAND 2002: The aftermath of the AMA's Clear Channel/Jam Sports battle was an FIM sanction, and a mandate to hold international races, even if it didn't count toward the actual AMA Championship. Geneva was a great (and expensive) attempt to make it work, and Yamaha, Suzuki and KTM sent their full teams along. Yamaha went 1-2 with David Vuillemin and Tim Ferry, with KTM's Grant Langston rounding out the podium. Suzuki's Sebastien Tortelli was fourth, Yamaha's Chad Reed fifth, and Jeremy McGrath sixth in his debut for KTM. For Reed, this marked his first race as a full-time premiere-class rider; he was fast but crashed.
Not along for the ride was the reigning champion Ricky Carmichael of Team Honda, who elected to stay back in boot camp at home in Florida. Carmichael and his team were focused on winning the AMA Supercross Championship, which would not count the two European rounds, but would include Daytona—which was not part of the FIM deal.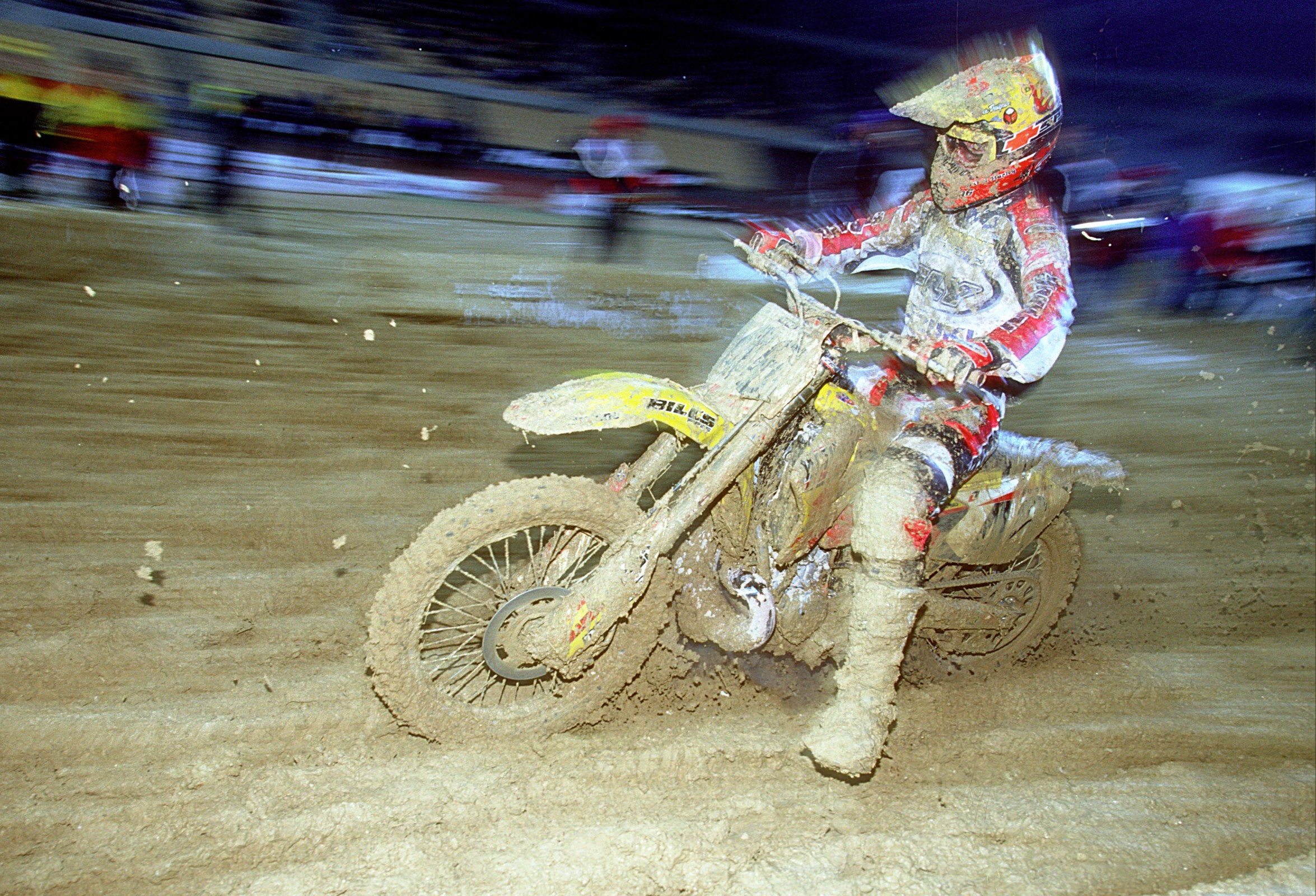 ARNHEM, HOLLAND 2002: One week later the whole tour moved up to Arnhem, Holland, site of an epic battle during World War II. This race was also a decent attempt at making it work, but Carmichael wasn't the only thing missing: the only non-AMA rider to make the main event was Spanish rider Manuel Rivas. The top European riders didn't bother showing up during their off-season, and as a result the event seemed like an awful long way to go for a race that ended up having the same field of riders as, say, Anaheim. Reed won this one. McGrath struggled on his new KTM and actually decided to call it a career before Anaheim, which would have made this his last race ever. In 2005 and 2006, though, he came out of retirement to race the first few rounds of the AMA series.
SEVILLE, SPAIN 2003: The international opener would be moved to Seville, Spain in December 2003, and count in the 2004 THQ World Supercross GP, and this time Honda was joining the trip. But then in November Carmichael crashed while practicing, tearing up his knee. He scratched not only for the European rounds, but the entire AMA season. That started something of a domino effect, with first Yamaha telling their guys they could stay back and focus on the AMA races, as did Factory Connection Honda's Mike LaRocco and Kevin Windham. Reed, by the way, officially scratched from the race when he dislocated his shoulder playing pool with his buddy Nathan Ramsey—and the announcement of that injury came not long after Carmichael pulled out with the knee injury, which made everyone skeptical about the whole process.
Then came the rain, and anyone who was there will no doubt offer this race up as one of the muddiest, nastiest SX races ever. The eventual winner would be Motoworld Suzuki rider Darryl Hurley of New Zealand, followed by KTM's Grant Langston and Moto-XXX rider Tyler Evans.
ARNHEM, HOLLAND 2003: It took days to clean up after Seville, but everyone got it done in time to make the flights to Arnhem, Holland. The stadium here had a roof, so bad weather didn't matter. Honda's Ernesto Fonseca took the opportunity to win what would ultimately become his one and only premier-class SX win.
The real problem here was not the mud or the rain, but the confusion to come in having a THQ World Supercross GP Champion—racing the international races was mandatory to count for that title—and an AMA Supercross Champion. Heath Voss would be named the 2004 World Champion, despite the fact that he was only seventh in points once the AMA rounds were added. And the AMA Champion? Yamaha's Chad Reed.
TORONTO, CANADA 2004: For the 2005 season the series organizers decided to make it much easier to attend the international rounds by moving them right across the border in Canada instead of overseas. There were lots of changes going on at the time, including James Stewart moving up to the premier class and Carmichael switching to Suzuki after splitting with Honda, and their collective arrival led to the Anaheim "Perfect Storm" marketing campaign that included Reed and Windham, as well as a hopefully-healed Travis Pastrana and a cameo appearance by the retired Jeremy McGrath.
After getting beaten by Reed at the U.S. Open in Las Vegas in his Suzuki debut, Carmichael decided to go to Canada and use the December races as "race tests" to sort out the bike. Unfortunately for the series, Reed, Stewart and many others did not follow him. Carmichael won both races, effectively putting away the World Supercross GP crown before the series reached the U.S., because the other men eligible—veterans LaRocco, Tim Ferry, Nick Wey—were going but not able to match up to the GOAT at this point.
VANCOUVER, CANADA 2004: Besides lacking many of the top stars, the otherwise beautiful visit to Vancouver on the western side of Canada revealed the fact that the area didn't have much suitable-for-supercross dirt. That would be problem—but not until the following year. In the end, Carmichael won not only the two rounds in Canada and the FIM crown, but the THQ AMA Supercross Championship as well, beating Reed by one full race (25 points). His final gap on second-place in the FIM series? Four and a half races (422-311) over Mike LaRocco.
TORONTO, CANADA 2005: Finally, for the 2006 season, everyone got on board for the races in Canada, which started on December 3, 2005, at the Rogers Centre. Why the sudden surge of interest? The three primary title contenders—Suzuki's Carmichael, Yamaha's Reed and Kawasaki's Stewart—were switching their SX bikes from two-strokes to four-strokes. The idea of getting two races of testing up in Canada was suddenly very appealing. Stewart drew first blood, winning a superb duel over Carmichael, with Reed a quiet third-place in the first round of what was now called the 2005-06 FIM Amp'd Mobile World Supercross GP Series.
VANCOUVER, CANADA 2005: Stewart won again, this time with a much easier time of it, with Carmichael and Reed in tow again, in that order. Wrote Cycle News' Kit Palmer, "The only thing that could have made the opening two rounds of the Amp'd Mobile World Supercross GP Series in Canada a little sweeter for James Stewart would have been if the Canadian rounds also offered points towards the AMA Series, which gets underway in a few short weeks in Anaheim, California."
That discrepancy would become a real problem when things played out the way they did: Carmichael would get his Suzuki sorted, and Reed would get much faster, and Stewart would remain fast. But then there were big crashes (Carmichael and Stewart, separately, in St. Louis; Stewart at Daytona) and a confusing penalty/non-penalty for Carmichael having trace amounts of lead in his fuel, which was also broken down to a discrepancy in AMA and FIM rules. In the end, Carmichael beat Stewart and Reed by two points for the AMA crown; Stewart beat Carmichael by 15 points for the FIM World Championship, with thanks to his two Canadian wins (and the fact that his big crash in Daytona didn't count toward the World points tally). The split championship led to one of the most confusing Cycle News' covers in history.
TORONTO, CANADA 2006: Even though he was only racing part-time in 2007 as he transitioned off into retirement, Carmichael went to Canada. It was the beginning of his farewell tour, though the first night would largely be overshadowed by an epic duel between Stewart and Reed, which resulted in them touching wheels before the finish line with three laps to go and Stewart flying off the side of the finish line jump. He went to get back on without looking and was drilled by Factory Connection Honda's Travis Preston! Stewart escaped only with a tweaked ankle, though he did fall back to third-place behind the rejuvenated Reed and Carmichael, and then would get a $4000 fine added on by the FIM for reckless riding.
There was a Lites SX race that night too, though it did not count towards either East or West AMA Regions, so few teams showed up to participate. One that did was Red Bull KTM, and their Ecuadorian rider won: Martin Davalos. (Remember that.)
VANCOUVER, CANADA 2006: Stewart's crash with Preston the week before left him sore, and he didn't have his best stuff at Vancouver, though he did lead early. Toronto winner Reed seemed to also have an off-night, which left the door wide-open for Carmichael to earn a surprising and satisfying win in Canada, where he had first gone three years earlier to get a leg up on his competition before 2005. Ricky was good to Canada, and Canada in turn was good to him. He may not have liked the dirt in Vancouver—not many did—but he rode it well enough to go out a winner.
Several months later, before the conclusion of the series, Stewart would clinch both the AMA and FIM titles early, unifying the crowns again.
TORONTO, CANADA 2008: After several years of the confusing series-within-a-series concept, it was decided prior to the 2008 season that the series would be unified, AMA and FIM, and the international visits would drop down to just one—Toronto—as the races way out in Vancouver, British Columbia, had a hard time gaining traction with fans. Canada's best riders continued to shy away, in large part because it's winter up there in December and the riders had few places to train, let alone learn supercross. And since it was just one race, and would count in both series, it was decided that Toronto would take place in March, rather than December, following the Daytona round, which was now co-sanctioned by the FIM. This was the beginning of the championship structure still used today.
Unfortunately, reigning champ Stewart was out by then, having re-injured the same knee he hurt the previous summer. Reed was running out front almost every weekend, and he kept on trucking right through Toronto on his way to the title. Kevin Windham would finish second, Davi Millsaps third.
There was a Lites race too, but it would again not count towards the AMA title, so few of the teams went. Butler Brothers/DNA Energy/BTOSports Honda did, sweeping the podium with: 1.) Shaun Skinner; 2.) Matt Boni; 3.) Kyle Cunningham.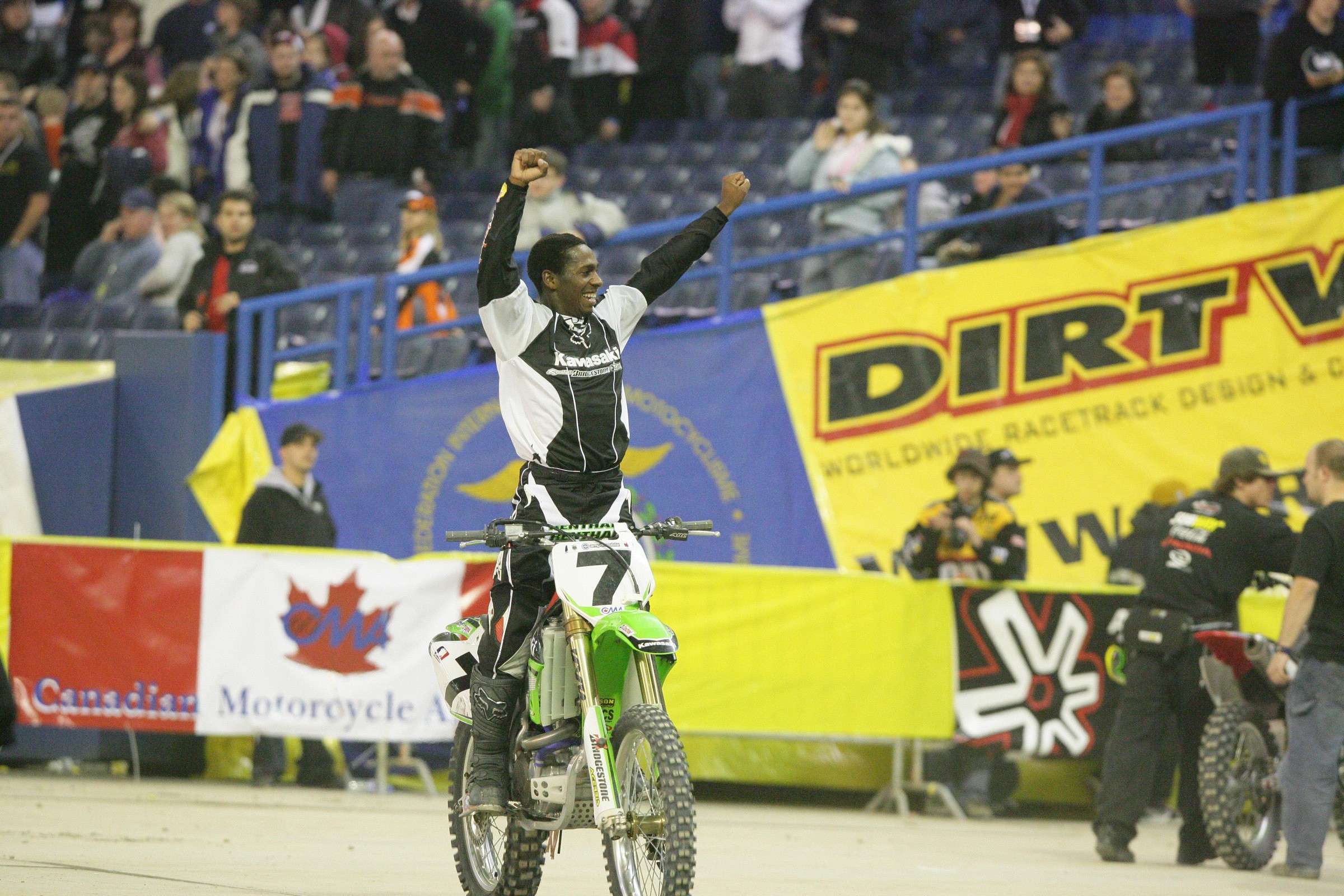 TORONTO, CANADA 2009-2014: For the next six years, the Toronto round fit in with the rest of the rounds of what was now called Monster Energy AMA Supercross, an FIM World Championship. Toronto was the easiest big city to get to, and while there were sometimes problems with traffic laws in Canada—trucks too big—it seemed to be an otherwise normal round.
But then in 2010 Dean Wilson of the Monster Energy/Pro Circuit Kawasaki team had a problem returning to the U.S. Wilson, a Scotsman who had migrated first to Canada and then California, did not have his visa sorted to return to the U.S. He finished fourth in Toronto, but what followed was a two-week standoff at the border, with Wilson missing races while sitting in a hotel north of the border. It would finally get sorted, but it was something of a cautionary tale for traveling out of the country, because even though he was maybe 90 minutes away from Detroit, he was still in a different country all together.
That all seemed like a moot point after the 2015 Monster Energy AMA Supercross schedule came out, as Toronto was not on it. It seemed that history would recall the last winners of the Toronto SX, in 2014, as James Stewart (450) and Justin Bogle (250). That was a memorable event, with Stewart pulling out huge jumps for an epic come-from-behind charge, and Bogle netting his first victory. It's also a sad one for Adam Cianciarulo, who led the 250SX East points as a rookie, but dislocated his shoulder twice and had to pull out of the series for surgery.
TORONTO, CANADA 2016: In a twist of irony, Toronto returned for 2016, and with three different foreign riders on the 450 podium: Ken Roczen (Germany), Marvin Musquin (France) and Ryan Dungey (USA). The 250 Class was won by Troy Lee Designs/Red Bull KTM's Justin Hill, with Jeremy Martin second and Matt Bisceglia third. Missing was the 250SX East Region points leader, Martin Davalos, for what the Rockstar Husqvarna team called "personal reasons" but was widely believed to be a problem with his travel visa. Remember, Davalos scored his first professional victory at this very race ten years earlier, but now it's led to his championship undoing.
The strange history of trying to export supercross abroad continues.