Detroit, MI
Detroit
Monster Energy AMA Supercross Championship
Paul Coates' journey to the top of professional racing has been a long one. Coates came to America from England at the end of 2009 for his debut race at Florida's Winter Olympics at Gatorback Cycle Park. At the time he was riding a CRF150 and used the Millsaps Training Facility for a base. Two years later, Coates had a breakthrough in the Schoolboy class—winning two titles at the Mini Os and a moto at Loretta's.
From that first national, where he knew no one in America, Coates has built his resume. "I always wanted to be in America," he told us about his life. "I always wanted to be where the competition was."
Since turning professional for the 2014 season Coates has been a world traveler. He's raced the GP series, done races in Germany, and has now settled back into racing in America. This season he is receiving help from TiLUBE and Storm Lake Honda and in Toronto he scored his first career top ten. We caught up with the Englishman on Monday to learn more about his life.
Racer X: What's up today, Paul? Are you just laying low today?
Paul Coates: Yeah, it was a direct flight out of Toronto, but it didn't leave until 7:00 p.m. I landed in Tampa at 9:30 and by the time I got home it was 10:30. I'll ride tomorrow, but I took today off. I'm just working out today and getting ready for another week. We'll push through this week until Detroit and then we have a two-week break. It's more about maintaining through the week and staying healthy between the rounds. I don't want to overdue myself. I just try to work really hard before the season and maintain each week. In the two-week break I'll be able to work on some technique and things like that.
Right on. All of that preparation paid off in Toronto with a career high ninth place finish for you. Congratulations on the top ten!
Thank you. We've been working a long time to be in the top ten of a supercross race. That's always been the goal, you know, but sometimes things change. I came to America six years ago. Sometimes things happen where other opportunities come about. I did end up off of the original path a little bit. I went and raced in Europe for a bit. I did the World Championship on the 450 and I did that over here as well. I've kind of been all over the place.
I'm back on the 250 now and I feel really good and I have a great team around me. I felt like I could do it at the first two rounds, but I had some uncontrollable issues in the main events. I want to keep the momentum going and try as much as I can to stay in the top ten. We'll see what happens.
It's always impressive to see a guy get a breakout performance. It leaves everybody wondering what made the difference and why couldn't this rider do it all along? What made the difference for you?
In this day and age of motocross and supercross everyone is working hard. I think that you just need a couple of things to go right. You have your foundation from working hard and when those things go right that puts yourself in the door for a good result. I think that once you do get a good result you then have the confidence and the belief that you can do it again. That's what I want to do. I want to continue to climb the ladder. The best thing for me is that no one expects anything out of me. They don't expect me to be on the podium. It's a good place to be in because if I put myself in the top ten or five it's just all for myself. Right now there isn't that much pressure. It's a good place to be in and I'm happy.
Did you have any industry people approach you after the race?
No, not as much as I would have thought. All of my sponsors were very happy. I have a lot of people helping me out. Those guys were congratulating me and stuff. I didn't get too much attention out of it, but if I can keep doing it from week to week I can get more attention. I'll take the top ten though. Whether anyone else is happy for me or not, it doesn't matter. At this point I'm doing it for myself. I've got a few people in my corner helping me. Hopefully other people can see that I'm working hard and good things will come.
Yeah, let's talk about your program now. How are you able to race in America this season?
The way I'm able to race is because I'm fortunate to do well overseas in the off-season. I have some good people helping me over there and they provide me the tools to gain some money and invest it. Recently a company called Forestry Transport has stepped up and started helping me. I was almost coming into the season as a full-blown privateer, but then I got them on board. They said they would help me with whatever I needed he'd make it happen and they did. Then I was able to receive help from the TiLUBE/Storm Lake Honda team. I got a Honda about five days before Atlanta, which sounds crazy, but when you are a privateer you'll take anything you can get.
Once I got on the bike and started dealing with Buddy Brooks, which is the team owner, he built me a very good bike. It's as close to a factory bike that you can get. I don't want to make out that I'm this privateer that I'm on this bike that's not good. I'm on a bike with a great engine and suspension. Honda gave them the tools to help me, so I've really got a good thing going. I don't want to be made out to be the guy who is begging for something better. I don't want to put the people down in my corner. My equipment is good and that's why I'm in the top ten. Buddy, Joel from TiLUBE, and Storm Lake Honda has put me on the best equipment. I feel like I'm on one of the best bikes out there.
You hear the same story a lot, guys who do really well as an amateur and then turn pro; it can either go really good or bad.
You don't make the top ten without a good bike underneath you in the sport today. Buddy has been behind a lot of guys who have put in some good results. It's very professional. Our budget isn't anywhere close to what the factory teams have. We make lemonade out of lemons. That just comes down to everyone working hard and putting everything they have into it. We're getting more help with Honda and we just want to represent them well.
Let's go back in time a little bit. Tell us about your time in America as an amateur.
I came over at the end of 2009 and was just training hard everyday. I got a breakthrough in 2011 when I won some titles at Mini Os and I won a moto at Loretta's. Here in America the amateur side of things is really big. I was able to get help for the last two years of my amateur career. I actually got more help then than I did in my first year as a pro. I think as a top amateur you can do really well here in America. I was able to be one of those guys that was on good equipment. Once I turned pro I had a string of injuries. You hear the same story a lot, guys who do really well as an amateur and then turn pro; it can either go really good or bad. I was up in the top fifteen of the 450 class outdoors and then I was offered a ride to race the World Championship. That was big for me. I wanted the experience of that. Now it's great that I'm back in America full-time. I'm looking forward to the rest of the season. Hopefully we can get something figured out for outdoors.
When you race all over the world like you have how much does that help you become a better rider?
A lot of things go into it. The biggest thing is the track and terrain is different. For instance, when I raced in Qatar and Thailand the tracks were really rough and the rider who went for it was the fastest. Sometimes skill doesn't come into it as much as being aggressive. The other end of the spectrum is when I raced in Germany the track is really tight and it had big whoops. The ground is sticky and soft at sometimes, so technique comes into it a little more. There is always a different recipe to win.
I've been able to put all of that together to make myself a better, more experienced, rider. I'm able to come back here put it all together. I still have a long way to go. It makes it easier when you've been in many situations and different scenarios.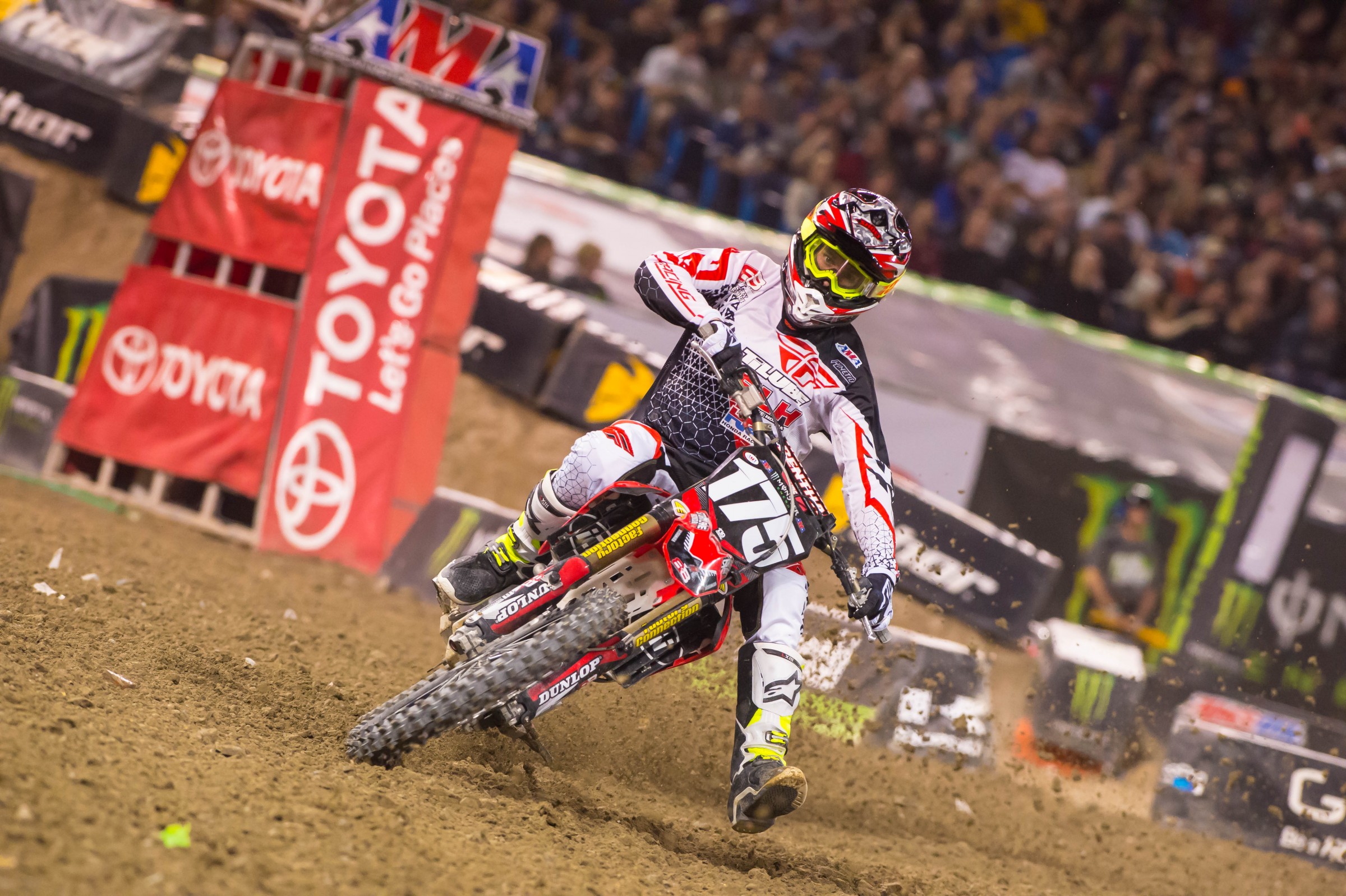 Man, you just seem like a good guy who is pumped to be racing in America living his dream.
Yeah, I'm happy to be where I'm at today. I think when I get to be thirty and this sport is finished for me I'll be a lot smarter because of it. The experience will make me a better person.
What do you want people to know about you?
That's a hard one! I don't want to be that guy that says the normal stuff. I've got a bunch of different sides. I'm like a Rubik's cube. I'm into everything. One week I'm into RC cars and the next week I'm into architecture. I try and learn as much as I can. Here in America you can do and learn whatever you want. There is so much out there to see. I'm a big fan of geography and I'm interested in design. I've got a business on the side that sells used equipment. I'm just a jack-of-all-trades, but a master of none. I also restore and have a collection of antique motorcycles from the 1960s to early 1980s.
You've got a lot of cool hobbies to keep you busy. That's very cool. Who would you like to thank for helping you out this season?
TiLUBE Storm Lake Honda, Forestry Transport, Buddy Brooks, Fly Racing, 100%, Shoei Helmets, 139 Designs, Dunlop, Factory Connection, Yoshimura, RK Excel, Renthal, Hinson, Moto Stuff, Moto Tassinari, Honda Racing Corporation, ICW Radiators, Cycra, CV4, Seat Concepts, Race Tech, Titanium, and Renegade Fuels.