Rogers Centre
Toronto

,

Canada
Toronto
Monster Energy AMA Supercross Championship
Every round of Monster Energy Supercross creates new questions, and there were plenty last week after Daytona. Would Eli Tomac's convincing win boost him to the top of the heap? Would Ryan Dungey break Chad Reed's streak of 25 straight podiums? And in the 250 Class would Malcolm Stewart, Justin Hill, or Aaron Plessinger break through for their first win? And how far down would Martin Davalos fall in the points after skipping the Toronto round? All those questions are answered in the Race Day Feed below. To read how the entire day unfolded start at the bottom and work your way up. Otherwise you can skip straight to the main events directly below.
450SX Main
More chaos right off the bat in this one, although it didn't come in the form of a first-turn pileup, unless you count Chad Reed going down on the start stretch and crashing out. The real carnage started when leader Justin Bogle came up way short in a rhythm section, went down, and took several riders with him, including Jason Anderson, Deven Raper, Tommy Hahn, and more. Eli Tomac narrowly avoided getting caught up in it too. When Bogle was finally able to come up for air, miraculously unhurt, Ryan Dungey had taken the lead with Tomac and Ken Roczen right on him. They wasted no time in passing Dungey, and the two proceeded to put on a short, but fierce, battle. A lap later Roczen stole the lead and started checking out. Then Tomac made a mistake in a rhythm section which allowed Dungey by in the next corner. But then Tomac retaliated and took the spot right back! The battle raged for a quite a while until Dungey finally took the spot just before the halfway point. A couple laps later Marvin Musquin also went by Tomac.
Up front Roczen was three or four seconds up on Dungey but there was plenty of time for Dungey to try to make something happen. Roczen wasn't having it though and refused to let Dungey cut into his lead. Then Dungey made a mistake and lost some time and Musquin, who was absolutely ripping, got by into second. Behind them Tomac's slide continued, coughing up fourth place to Cole Seely. He nearly lost fifth place to Justin Brayton at the end of the race too but was able to hold on for a top-five finish. Roczen took the win, Musquin second, and Dungey recorded his worst finish of the season, a third, and broke Chad Reed's record of most consecutive podiums. Dungey now holds the record with an astounding twenty-six straight 450SX podiums.
250SX Main
The start of the 250SX main was chaos. Riders were betting bounced around, and it ended up in a huge pileup in the first turn, including names like Jeremy Martin, Aaron Plessinger, Jimmy Albertson, Arnaud Tonus, RJ Hampshire, Malcolm Stewart, and more. The benefactor was Matt Bisceglia, who rode off with the lead, followed by Shane McElrath, Alex Fry, Justin Hill, and Tyler Bowers. Frye got shuffled back pretty quickly, but would make a comeback later and take fourth. Bisceglia started losing positions too, but like Frye, would hang tough in the later stages and motor back to a third. The first two riders to get by Bisceglia were Shane McElrath and Justin Hill. One lap later Hill snatched the lead from his teammate and started pulling away. Stewart meanwhile was coming from the very back after a visit to the mechanics area, most likely prompted by going down on the start. Amazingly, he was able to work his way back up to sixth. That's some serious damage control in the points!
McElrath had a flat tire halfway through the race while running second and pulled into the mechanics area to have his rear wheel swapped out. Hampshire had the same problem with just a few laps left in the race. And Martin? He put his head down and dropped the hammer, smashing through the pack after getting collected in that big crash on the start. A little past the halfway point he'd already worked his way into second. That's as far as he could get though, as Hill had been killing it up front and had a huge lead. Hill would go on to take his first win of the year, with Martin and Bisceglia joining him on the podium.
450SX LCQ
Kyle Cunningham got out to the early lead in the final qualifying race of the night and did his best impression of Ryan Dungey by checking out for the win. Behind him Deven Raper, AJ Catanzaro, Cade Clason, and Tony Archer were putting on a good battle, with Archer and Raper really going at it for the final transfer position. Archer was doing everything he could to make something stick, but Raper stubbornly held on to the spot. Archer squared up and tried to blast by in the final turn but he just wasn't close enough. Cunningham, Catanzaro, Clason, and Raper all transferred to the main.
450SX Semi Two
Blake Baggett did the opposite of nailing the holeshot in this one when the pack left the gate and he was stuck in it. No worries for Yoshimura Suzuki though, over half the racers flinched and started to go, prompting officials to throw the red flag for a restart. When the gate dropped for the second time Vince Friese briefly took the lead, but Cole Seely immediately took the spot and sprinted away for the win. Back in the pack Nick Wey and Tommy Hahn were tasked with working their way into transfer spots after less than great starts. Wey got it done about halfway into the race, and with two to go Hahn block passed AJ Catanzaro to take over the final spot. Hahn would go on to catch and pass Wey for fourth. Final transferring order was Seely, Baggett, Friese, Hahn, and Wey.
450SX Semi One
Chad Reed, who is racing his final race tonight as a 33-year-old, celebrated his impending birthday with a holeshot. He kept the party going all race long too by leading the whole race and taking the win. Behind him were Justin Brayton, Jake Weimer, Mike Alessi, and Nick Schmidt, but there wasn't much battling going on, as the top five were pretty spread out, except at the end of the race when Brayton got close to Reed. That ended up being the final finishing order for this semi's transfer spots.
250SX LCQ
Aaron Plessinger took control of this one from the second the gate dropped—he holeshot and disappeared for the win like, well, a factory rider in an LCQ. Behind him Josh Cartwright and Cody Church battled briefly for second, but it wasn't long before Cartwright was able to get away and he rode to a lonely second. Then Church found himself barely ahead of the battle for the final transfer spot between Logan Karnow and Gradie Featherstone. Late in the race Karnow threw an aggressive block pass on Featherstone, who attempted to return the favor in the last turn. Unfortunately for Featherstone, Karnow was just out of striking range and Featherstone missed transferring by less than two tenths of a second. Plessinger, Cartwright, Church, and Karnow all went on to the main.
450SX Heat Two
When the gate dropped it was Marvin Musquin taking the lead, but Trey Canard and Ryan Dungey quickly shuffled him back to third. It looked like Dungey was hot to make a move for the lead, Canard was riding great and Dungey wasn't able to challenge. A few seconds back Ken Roczen was all over Musquin, and late in the race Roczen finally made a move stick. Up front Canard was still hanging tough, and while Dungey was close, he wasn't close enough to make a move. Canard took the win, with Dungey, Roczen, and Musquin joining him in the main.
450SX Heat One
Justin Bogle kicked off the first 450 race with a holeshot. Eli Tomac settled into second all by himself, with a nice battle for third playing out between Weston Peick, Jason Anderson, Chad Reed, and Cole Seely. It stayed that way for a couple laps, but on lap three Tomac caught and passed Bogle and took off for the win. But before the checkers flew the battle for third got hot. Peick and Anderson were able to distance themselves a bit from Reed and Seely and were really going at it. With Anderson's track record for aggressive passes and Peick's take-no-prisoners reputation it seemed like something epic was about to happen, but it didn't. Anderson made a clean pass and took off with the spot. Tomac, Bogle, Anderson, and Peick all transferred.
250SX Heat Two
Malcolm Stewart got the jump in this one, but as the pack rocketed toward the first turn he moved over, clipping Aaron Plessinger, who clipped Gannon Audette, with Audette going down. Plessinger, who wasn't happy about Stewart's move, then went down in a rhythm section, hurting his thumb and taking a bar to the groin in the process. Just like that, Plessinger was off to prepare for the LCQ. No such problems for Stewart, who led the whole race and won by a decent margin over Justin Hill. The remaining transfer spots were filled by Benny Boss, Jesse Wentland, Daniel Herrlein, Cedric Soubeyras, Justin Starling, Anthony Rodriguez, and Audette. Credit to Audette for fighting back to a transfer spot after going down on the start. Vicki Golden made the night show for the second time in her career and was in this heat, but she didn't make the cut. We'll see her again in the LCQ.
250SX Heat One
First holeshot of the night went to Jeremy Martin, with Tyler Bowers and RJ Hampshire close behind. Martin and Bowers slowly started gapping Hampshire, and on lap two Bowers made a move on Martin in the whoops to take the lead. Martin kept him honest but was never close enough to show him a wheel. Bowers controlled this one, with Jeremy Martin, RJ Hampshire, Arnaud Tonus, Alex Frye, Shane McElrath, Matt Bisceglia, Jimmy Albertson, and Paul Coates filling the remaining transfer spots. The first two rounds weren't great for Bowers, but if he rides the main like he did his heat, he could turn things around in Toronto.
Second Practice
This 450 session was surprising, because riders who aren't known for fast practice times--Chad Reed and Jason Anderson--were fast in this session. Reed was quick early on, putting his 22 at the top of the board, and when that time got pushed back to third quickest, he responded with another quick time to jump back into second. But as the session went on, the track got quicker--it appears some of the sections, like the whoops, are breaking down and getting easier. Also the big wall jump into the sand isn't nearly as steep as it was when riders first hit it earlier today. Later in the session is when Anderson's number popped to the top of the board, and he stayed there for a few laps until Marvin Musquin took the top spot away. Just when it appeared Musquin would notch top qualifier, Trey Canard busted out the first sub-54 lap to take the top spot. Eli Tomac logged one quick one to get ahead of Musquin for second-quickest, but Canard's time held up to make him top qualifier. If Trey could just turn these good gate picks into starts, he could win tonight.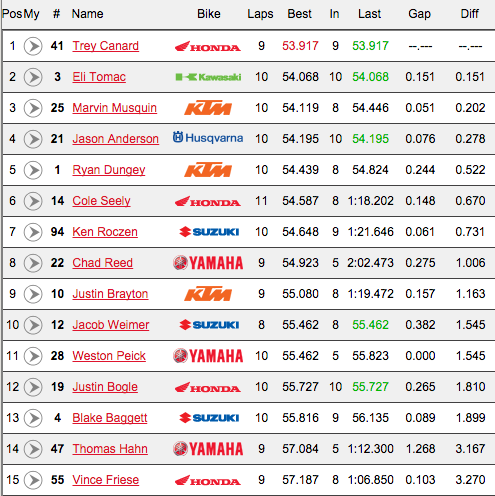 Could it be Justin Hill's night? He once again immediately established himself again on the top of the board. Jeremy Martin was a few tenths off but looked strong, no troubles through the whoops which used to be a question mark for him, and the whoops are pretty tough on this track. Hill just looks so comfortable, though, just a great flow all the way around the track. The rest of the fast times were not a surprise--Malcolm Stewart, Tyler Bowers, Aaron Plessinger, Arnaud Tonus, but kudos to rookie Benny Bloss, who is filling in for the injured Luke Renzland on the CycleTrader.com Rock River Yamaha team. He's been fast all day.
Also, Vicki Golden was 14th quickest in the unseeded 250 group earlier, that should be enough to put the female racer into the night show for the second time in her career.
First Practice
From the first laps of the first practice, we thought a triple-triple single combo might be tough on the riders. After a few laps, it wasn't tough for anyone--all the dudes were jumping it, even the 250 contenders. That's about it for different combinations so this race might come down to corner speed. It's loose in some of the berms and it's easy to bring the back end around a little too far--whoever can control the slide a bit will have an advantage.
For a lot of the first timed 450 session, Marvin Musquin's number stood at the top of the charts. Marvin just continues his recent string of great riding. Ken Roczen and Trey Canard were fast as well, but then on the eighth lap of the session, Ryan Dungey reestablished himself with a fast lap, went to the top, and ended the session with the best time. No holes in his game right now.
The 250 class should be fun to watch tonight. Even with Davalos missing there are still a ton of contenders, and they're all fast. For most of the session Malcolm Stewart's name stood at the top of the qualifying board, with Jeremy Martin right behind. Then Justin Hill kicked it into gear and went to the top, and threw a massive whip over a triple to celebrate. After two weeks of bad starts and strong come-from-behind rides, Hill seems to be confident, and could be the man to beat tonight.
Morning Report
Go, go Toronto! Monster Energy Supercross is back north after skipping the race here last year. Coming to Canada is a bit of a pain for the teams, who have to get a lot of stuff through customs to race here. For example, Yamalube/Star Racing Yamaha is pitting out of a rented box van this weekend instead of the usual team semi. And travel is also a problem for some of the riders, like 250SX East points leader Martin Davalos, who isn't here due to what we hear are VISA issues, just a heartbreaking scenario....
Oh, wait! We asked Davalos' Rockstar Energy Husqvarna team owner Bobby Hewitt about it, and he is sticking with the, "Marty has a personal issue to attend to, he is with his family." So there's that. Whatever it is, Hewitt says the hope is some of the other riders further back in points, like say Tyler Bowers, run up front and take points away from series' front runners like Malcolm Stewart, Justin Hill and Jeremy Martin, who are currently right behind Davalos in points. The thinking is that Cooper Webb DNFed a race in the West and still holds the points lead, so one non-start for Davalos might not be the end of it.
Rockstar Husqvarna's Christophe Pourcel is also not here. Now, with rumors of Davalos' VISA issues, people started thinking that maybe the Frenchman Pourcel was also staying away from Canada for the same reason, but Hewitt literally showed us X-rays of a small fracture in Pourcel's neck. That sounds scary but we're talking a small, pencil-point sized piece broken off the end of a vertebrae. Doctors think after a few days of scar tissue build up, Christophe will be okay and could possibly race next weekend in Detroit.
As for the Toronto track, it looks good. Dirt is sweet, there are two sets of legit whoops, and five good 180s to make passes, four of them with huge berms. Nice.
A few milestones to watch in the 450 class. Ryan Dungey has now tied Chad Reed's all-time mark for 450SX consecutive podiums, so a trip to the box tonight will clinch a new record. As for Reed, he is of course here as well, so maybe he could have a hand in ending Dungey's streak? Chad also told us he has one more chance to win a race at age 33--he'll turn 34 in three days.