Arlington, TX
Arlington (Dallas)
Monster Energy AMA Supercross Championship
I can't believe we're almost halfway through the 2016 Monster Energy AMA Supercross season. Scary where the time goes. This week we were in Arlington/Dallas, Texas at Jerry's Dome, aka AT&T Stadium, and man, I know it's like my fifth time here but holy sh**, the dome still impresses me. It's not just the ginormous Jumbotron that's amazing (although it still is). This stadium is so nice in every way. From the taps in the bathroom, to the door handles, to the concessions to the seats in the press box, the place is top notch. It also cost 80 bazillion dollars to build, so there's that.
We've seen some great tracks this year but I didn't think Dallas was one of them despite the over/under bridge, which always mixes things up. I'd like to see the bridge become part of a rhythm lane though— maybe a jump off? That would be pretty gnarly, but they've done it before.
The track this week didn't have enough turns where you could get by someone and in typical Dallas fashion, it got hard and slick, which made passing tough. However, there was a pretty big quad in one rhythm (Jake Weimer said it was easy—and this was coming from a guy that wouldn't triple out of the sand last week) that not everyone did consistently. If you go by my tried and trued theory that there should be obstacles that not everyone can do in the main event, then this made the track cool! So we had a big jump and an over/under but I still didn't like it. I don't know what that means!
We wanted a race? WE GOT A RACE, BABY! Ryan Dungey and Kenny Roczen waged all-out war for twenty laps with the German coming out on top for his second win of the year. It was a great battle and they yarded third place Jason Anderson in the process. With the win, Roczen gave us all a bit of hope that Dungey will not run away with this championship.
Full props to Kenny for this one—he was passed by Dungey at one point, got him back, then caught by Dungey and still held on for the win. It's tough to do both of those things and extra tough when it's Ryan effing Dungey. Roczen held his lines, adopted some new ones and consistently pulled off the big quad. He was very happy after the race (of course) and you have to think this could give him some serious confidence going forward.
Like I said, this series is almost half over. Roczen's got to rip off multiple wins in a row before he can even think that he's got a chance at this thing. Yeah, Dungey can get hurt or like Cooper Webb his bike can break but I don't think Ken's strategy involves waiting for that.
Dungey was more than respectful on the podium afterwards about the loss. How could he not be? He knows that he was one mistake from breaking Kenny and winning the race—he was right there the entire time! Also, if you're Dungey you're on-box-of-Wheaties-pumped that you finished so far in front of third place.
One of the keys to the race to me was Dungey cutting the gap to .5 on Roczen and then with three laps remaining clanking two rhythm sections in row (one in the end zone when he screwed up the corner and couldn't triple in and then the next one when he couldn't nail the quad). By my fingers the gap went from .4 to 1.1 as Roczen got both sections clean. Slowing it down, Dungey only made the smallest mistake with his front wheel both times, but that's all the 94 needed to put the final touches on the win.
Last week I wrote about Dungey and his penchant for getting out first in practice. I said, "So because of this fact and because I expect someone to try and mess with Ryan, expect some dudes to try and get out first before Ryan and see if they can upset him. It won't work but this is stuff that goes on from time to time."
Well, Roczen basically cut Dungey off at the start of second practice to get out in front of the #1. It was a blatant move and Dungey was right on him. It was basically go time ten seconds into the practice until Kenny made a mistake and Dungey squirted by. I mentioned this to Kenny and he didn't say anything, just smiled. Look for more of this as we move closer to the end of the series. It's not my first rodeo at these races, people.
I was talking about Dungey's practice habits with another top rider and he says that the official that signals it's time to go out has some sort of pact with Dungey. He says the official gives a small nod of his head and Ryan goes at that. According to this rider, you're supposed to wait for the point, but Ryan goes on the nod. Yes, I'm serious.
Big time change in the 250SX West Region this week! Cooper Webb broke out of his slump and took his first win in four weeks. It had to be a massive relief for Coop but I have to admit that I thought he was still going to blow it when he hit the gate in his heat race. Who hits the gate nowadays? This is stuff that Cooper Webb shouldn't be doing. Maybe his mechanic Eric Gass put a new clutch on the bike for the night show and things went weird with that but c'mon, Cooper!
He came from last to sixth in the heat and salvaged a decent gate pick, but with the way points leader Joey Savatgy had been riding all day (hint: he was faster than Cooper), it didn't look good for Webb to rebound.
Webb pulled a start from the far inside and tiptoed around the first turn to end up third. It was a nice recovery for the champ and he was set up nicely for a return to the top of the box. There was just one problem— the riders that were first and third in the series were right ahead of him.
Christian Craig was leading with Savatgy right behind him. By now we've all seen what happened: Both riders raced down a set of whoops and into a wall jump, Savatgy made up some time and was set to pass into the lead as they raced down the wall and into the second set of whoops, then Craig moved over on Joey and down went Savatgy. It was an ugly crash and Craig was immediately talking about the move to do as much damage control as he could.
"You can watch the replay and I'm blocking my line. I'm moving over," Craig told me. "I did move over and take his front end out, but he was in the air and I did not want him to take me high the next corner. That's what he was going to do. I had a bike… I'd say I had two wheels on him, and I moved over."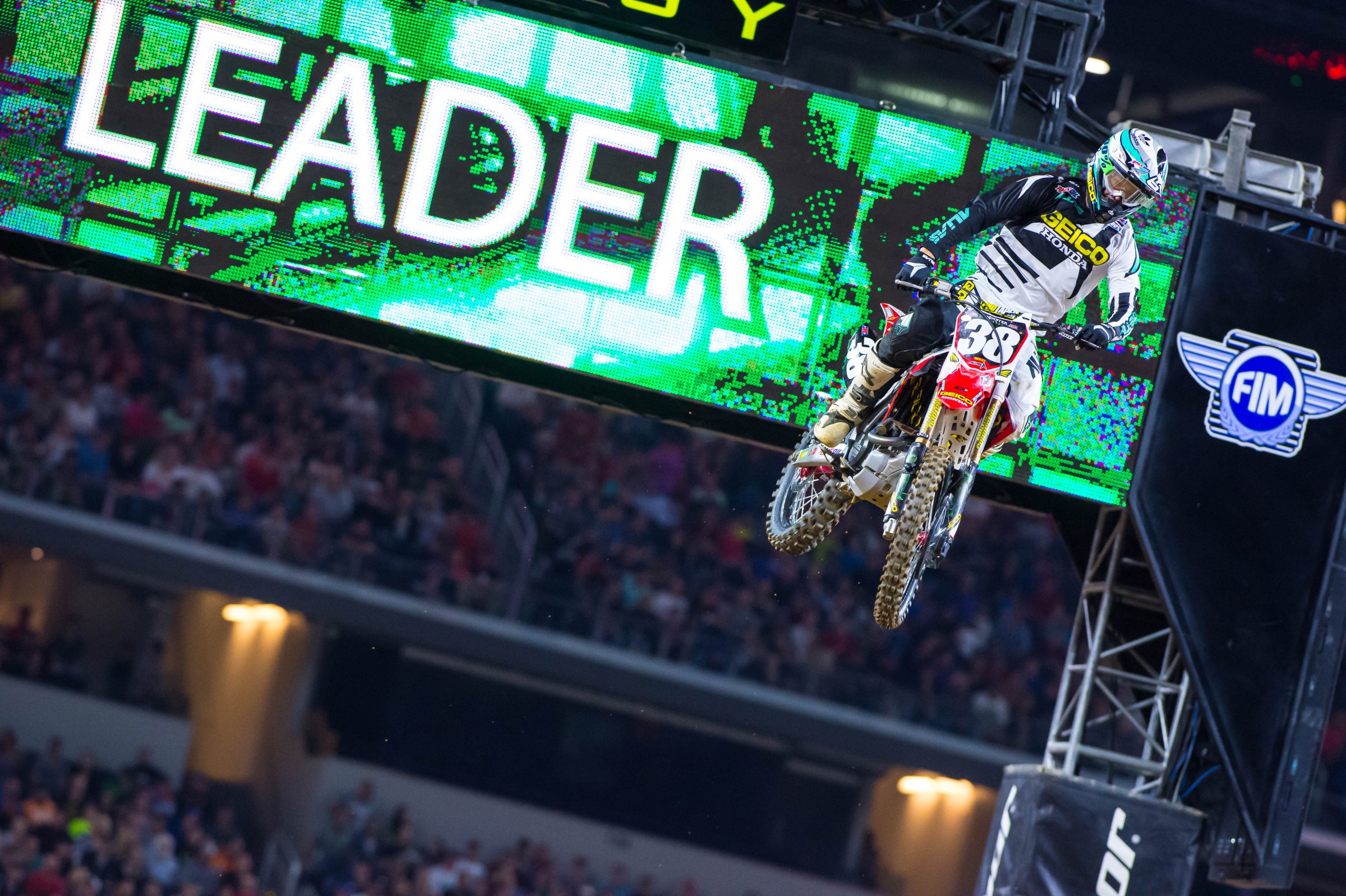 Weege got differing points of views from both riders. What do I think? I was texting back and forth with Craig on Monday and I'll tell you guys what I told him. It was a greasy move, as Craig admitted he moved over knowing full well what kind of "mode" a rider is in when he's in a set of whoops. But it wasn't a T-Bone move. It wasn't Friese on Peick at A1 dirty. No one should think Craig was trying to injure anyone.
He was AHEAD of Savatgy and controlled the track. He knew he needed to get over to block Joey from taking the lead and he did that. It was a racing move to block a competitor from overtaking and it went bad for Savatgy. Joey saw an opening, went for it, and Craig blocked it. I 100 percent understand Savatgy and the PC guys getting upset at the move but it's racing and it happens. Greasy? Yes. Dirty? No.
So, yeah, back to racing. Webb caught Craig late in the race and took the win to move eleven points ahead of Savatgy with two races left in the championship. But afterwards all anyone wanted to talk about was "the move."
Let's take a look at the results shall we?
250SX West Region

1 1 Cooper Webb Newport, NC Yamaha YZ250F- Savatgy crash or not, I can't imagine the relief that Cooper had when he crossed the finish line. That had to have been some long weeks when he wasn't winning.
2 38 Christian Craig Corona, CA Honda CRF 250- Five straight podiums for Craig. He's officially become the favorite for the 2017 250SX title in whatever coast he races, so there's that.
3 16 Zach Osborne LAKE ELSINORE, CA Husqvarna FC250- I spoke with Zach and Davi Millsaps on track walk and both guys said they don't read anything I write and don't care what I have to say. This hurt my feelings and I'm not going to comment on Zach's third until he says he's sorry.
4 69 Colt Nichols Muskogee, OK Yamaha YZ250F- Another great ride for Nichols out there as he just becomes a regular top five guy.
5 42 Mitchell Oldenburg Alvord, TX KTM 250 SX-F
6 26 Alex Martin Millville, MN Yamaha YZ250F- AMart is fully aware he is killing everyone's fantasy SX season. Somehow I think he cares more about his own season, but he does feel all of our pain, people.
7 58 James Decotis Peabody, MA Honda CRF 250- I heard this weekend that the GEICO Honda team is sponsored by Buca di Beppo. How have I not known this? Is this common knowledge? I've got to start going over there more often.
8 35 Chris Alldredge Powell Butte, OR Kawasaki KX 250F- A quiet night for Alldredge one week after a heartbreaking DNF. He'll take it.
9 40 Kyle Peters Greensboro, NC Honda CRF 250
10 37 Joey Savatgy Thomasville, GA Kawasaki KX 250F- After the crash it was nice to see Joey get back to this spot. I thought that he was donezo for sure.
11 85 Michael Leib Wildomar, CA Yamaha YZ250F- Leib's probably bummed the series is ending—he's recovered from a poor start to ride pretty well these last few weeks. I still think he needs to get on with actually making money in the 450SX class but you've all heard me go on and on about that.
12 43 Fredrik Noren Menifee, CA Honda CRF 250- Fast Freddie's had a couple of nice weeks where he's held it together and produced some nice rides.
13 68 Cole Martinez Rimrock, AZ Yamaha YZ250F
14 72 Hayden Mellross Australia Yamaha YZ250F- Mellross was pretty happy with his how first six weeks of supercross have gone and I'd agree with that. Some ups, some downs. In other words, a rookie season.
15 289 Mitchell Harrison Murrieta, CA Yamaha YZ250F- We talked about this on the Pulpmx Show. Harrison, like Zach Bell, like Chris Alldredge, like so many other kids, has so much skill on a supercross track it's ridiculous but so little race craft. It's like they just can't handle being around other riders on a track or if something happens, they just pin it and hope for the best (oftentimes it goes bad).
16 45 Kyle Cunningham Willow Park, TX Suzuki RM-Z250- It seems that because of injuries to the team's 250SX East riders, Cunningham is going to ride the 450 on the East Coast for the team. Should be interesting to see how he does.
17 127 Cole Thompson Brigden, Canada KTM 250 SX-F- The Canadian got together with JIMMMYYY DDDD in the main and it left him on the ground which I'm sure he didn't think was cool. He'll get his chance at payback this summer in the Canadian Nationals!
18 76 Scott Champion Wildomar, CA Yamaha YZ250F
19 82 Trevor Reis Alpine, CA Yamaha YZ250F- Reis puts it back in the main event after a week off. This guy's week selling bikes and side-by-sides at Motoworld Yamaha dealership should be a lot better.
20 222 Chris Howell Spokane Valley, WA Husqvarna FC250- Six out of the first seven mains for Howell is a nice series. You'd like to see him get up there a little more in the mains, but at least he'll be dropping that three-digit number next year.
21 96 Noah Mcconahy Spokane, WA Husqvarna FC250
22 87 Austin Politelli Menifee, CA Yamaha YZ250F- Austin's not having a good 250SX series as he crashed out in Dallas and I believe he has crashed out all three of the mains that he's made.
450SX Results
1 94 Ken Roczen Clermont, FL Suzuki RM-Z450- In the pits, I was asking about the rumored Roczen to Honda thing, and someone who knows both Kenny and Ricky Carmichael says they have never really gotten along that well. He said that it's a case of both guys being really stubborn about their programs and probably RC not bending at all to Roczen.
2 1 Ryan Dungey Clermont, FL KTM 450 SX-F
3 21 Jason Anderson Rio Rancho, NM Husqvarna FC450- The good news: Anderson got on the podium for the first time since the opener and in the process charged hard all main to eat up Seely late in the race. The bad news: he was eighteen seconds back of second place Dungey on a 50-second lap time track. Still, it was a nice ride by Anderson he won the "Human" group.
4 14 Cole Seely Sherman Oaks, CA Honda CRF 450- David Vuillemin, who knows a thing or two about winning supercrosses, thinks that Seely could be the next great rider in terms of winning titles in 450SX.
5 3 Eli Tomac Cortez, CO Kawasaki KX 450F- It's a new bike for Kawasaki and they're working on it, and Tomac is working on himself, but this was just another so-so night in a year of so-so nights for the #3. It IS NOT a disaster, no one is sounding any panic buttons, he'll get better, but he's a champion and can't be pumped that he was right behind Anderson in fourth and finished eight seconds back of him after 20 laps.
6 25 Marvin Musquin Corona, CA KTM 450 SX-F- Marvin was great all day long. He was fastest in the second practice session, second in the third one and second overall. He crashed in the heat with Canard and crashed in the first turn in the main. He got up in last and got all the way up to sixth. It was an incredible ride, man! Golf claps for Marv, as I think he rode better here than he did when he got third in Oakland.
7 18 David Millsaps Murrieta, CA KTM 450 SX-F- Davi's battling a thumb injury right now that is preventing him from riding during the week. It's not good, but this ride was.
8 377 Christophe Pourcel San Antonio, FL Husqvarna FC450- CP has been saying he'd be better at round seven and he certainly was this week with his first top ten of the year. And more than that, he actually, like, raced with dudes and stuff. It's an interesting strategy by an interesting guy. I'm going to tell Coombs that I want the next six weeks off but on week seven I'm coming in with a hell of a feature!
9 41 Trey Canard Edmond, OK Honda CRF 450- Rough night for Trey yet again as a couple of crashes and a bad start held him back.
10 12 Jacob Weimer Wildomar, CA Suzuki RM-Z450- Weimer had a nice rebound after a couple of not-so-great main events for him. With this field, you have to be happy with a top ten. I haven't seen Jake get a great start this year in a main outside of one race.
11 10 Justin Brayton Mint Hill, NC KTM 450 SX-F- Brayton's developed a nice friendship with seven-time NASCAR champion Jimmy Johnson over the years to where they text and mountain bike together so I'm sure this week in the ATL, where NASCAR is racing the next day, they'll be buddies all weekend long.
12 22 Chad Reed Dade City, FL Yamaha YZ450F- This week might be rock bottom for Reed as he failed to jump a quad most everyone was doing until late in his last practice, he qualified fifteenth fastest, rode around in eighth in the main until the last lap when he crashed and lost four spots. What's happened to the "pressuring Ryan Dungey for twenty laps" Chad Reed? The good news: he's in Atlanta this weekend, a race he won last year.
13 29 Andrew Short Smithville, TX KTM 450 SX-F- Short's not pumped on his first two races back but it's tough to jump right in and run the pace. Shorty's never been known as a speed demon anyways so it's going to take some time. He'll get there, his track record tells me to bet on him to get into the top ten real soon.
14 54 William Hahn Menifee, CA Kawasaki KX 450F- Five out of seven races Wil's gone to the LCQ but he pulls through every time. I'm sure he's not stoked on this finish but like I said about Bogle last week, take a look at the names above Wil and tell me who he is for sure, hands down, better than? Exactly. #deepfield
15 34 Phillip Nicoletti Bethel, NY Yamaha YZ450F- Tim McAdams (Toolie) at the AMA decides who gets into which practice. He bases it on qualifying times, not race results. Toolie wants the fastest riders all together so that meant Phil, who qualifies outside the top twenty-two many, many weeks, got bumped to the "B" practice even though he always makes the main. And Phil wasn't happy about this AT ALL. Well, with this result (I believe this is the first main event he hasn't crashed in) Toolie told Phil he's in the fast group next week. Congrats, Phil!
16 800 Mike Alessi Hilliard, FL Honda CRF 450- The 800's starts are back! Mike and his teammate Vince Friese both rode very well this week and their results on paper weren't indicative of how fast they were. I think Mike crashed twice to finish sixteenth.
17 55 Vince Friese Cape Girardeau, MO Honda CRF 450- I have NO idea what got into Friese (or Alessi for that reason) this weekend but he was very fast all day long. In the main he was inside the top ten for most of the race before he lost control over a smaller triple and sadly for him, unintentionally took Justin Bogle out…
18 19 Justin Bogle Cushing, OK Honda CRF 450- …and because Bogle had no idea what had happened and saw the #55 machine laying there, he assumed the worse and flipped out on Friese, trying twice to knock Vince back down. I saw the whole thing—Vince's crash into Bogle was completely unintentional and truthfully the way Bogle was going backwards and Vince was holding strong (Vince had made up over three seconds on Justin in the three laps before the incident), Vince would've gotten past the #19 anyway. It wasn't the best decision by Vince but he was charging hard and putting pressure on. But reputations are a hard thing to shake so I can't blame Bogle for being pissed. But this time, it was a racing deal. That didn't stop words from being exchanged back at the pits, and Vince went to the GEICO truck to express his frustration with Bogle's antics after the crash.
19 79 Nicholas Schmidt Lake Elsinore, CA Suzuki RM-Z450- I feel like when Schmidt hit the scene a couple of years ago, on the #415 Honda with his long hair out of the back of his helmet, he was like that band that just came out of nowhere with massive hits. Then last year, when he struggled a bit, he was like that same band who got into coke and hookers and released a sub-par second effort . But for the third record, when they realized that success was eluding them, they sobered up, put their heads down, wrote some more hits and rebounded big time! Schmidt is back to being that solid main event guy again. He let the success of his first year get to him (I'm sure Teddy Parks was lining up the after parties, setting up the velvet ropes, etc) and now he's realized that he's got to work to get into these mains. I also guarantee that I just wrote more words about Nick Schmidt than you're going to read anywhere else this week.
20 447 Deven Raper Mesa, AZ Kawasaki KX 450F
21 28 Weston Peick Menifee, CA Yamaha YZ450F- Peick was inside the top ten before he aggravated a hand injury he suffered in Oakland and he slowly dropped back as the pain got to be too much. He eventually pulled out of the race.
22 314 Alex Ray Milan, TN Honda CRF 450- Ray's a good guy and made another main this week. He also has to buy his Oakley goggles and told me that on the line for the main he asked Wil Hahn if he could have his parade lap goggles as he's trying to save money. This is pretty awesome and sad all at the same time. And the fact that Wil gave them away was also awesome. I spoke with Anthony Paggio from Oakley and he's going to send a few pairs to Ray to rectify this problem. Props to him for doing that.
Some other news and notes:
—The partnership of 360fly cameras and Chad Reed came about last summer when Peter Adderton, the former CEO of Boost Mobile and Amp'd Mobile, became CEO of the newest action sports camera. Reed famously got upset with the Lucas Oil Pro Motocross promoters and their exclusive deal with GoPro and shortly after, coincidence or not, folded his team and quit the series. Well 360fly is back with Reed again as well as a big team sponsor of the new factory Yamaha effort. They also have a sponsorship deal with Monster Energy/Pro Circuit Kawasaki. A couple of weeks ago Adderton released a poorly worded Instagram post about how Monster Energy is forcing 360fly off the teams because 360fly chose to use green in their logos. Of course, after doing some digging, there's more to this than what Adderton posted.
Monster Energy was indeed upset with 360fly using green in their logo but it was also the hiring of promotional models that looked a lot like Monster girls, the marketing of the camera on spots with riders that Monster has secured and so on and so on. My sources tell me that Monster had a meeting with Adderton about this and tried to get some separation between the companies, and then Adderton just decided to take his frustrations public before any compromise could be reached. Now, a couple weeks after that post, it's business as usual with the two companies. Everyone's happy again, no logos were removed, and cooler heads prevailed. As someone close to the situation but with no stake in the game told me, "It's massive egos of Monster butting up against the massive ego of Adderton and this is what happens." So stay tuned as the green claw turns…
Thanks for reading, email me at matthes@racerxonline.com if you want to chat about this or anything else.