PETCO Park
San Diego

,

CA
San Diego 2
Monster Energy AMA Supercross Championship
Ryan Dungey is doing everything right, from start to finish. Not only is he faster, fitter, more confident and more aggressive this year, but he's also beating his rivals off the start.
The thing is, Dungey actually hasn't been as good out of the gate as it looks. Twice, he's gotten holeshots this year when he shouldn't have!
Check out these clips from the Oakland and San Diego 2 races, where he entered turn one outside the top five, stuck to the inside, and emerged with the lead.
San Diego 2 Start
SD2 had a tricky right-hand first turn, and that's a recipe for the trouble because riders need to put their leg out in the corner, which prevents access to the rear brake. Not surprisingly, several riders couldn't slow down and pushed wide in turn one, and that's what allowed Dungey to turn a mediocre start into a holeshot.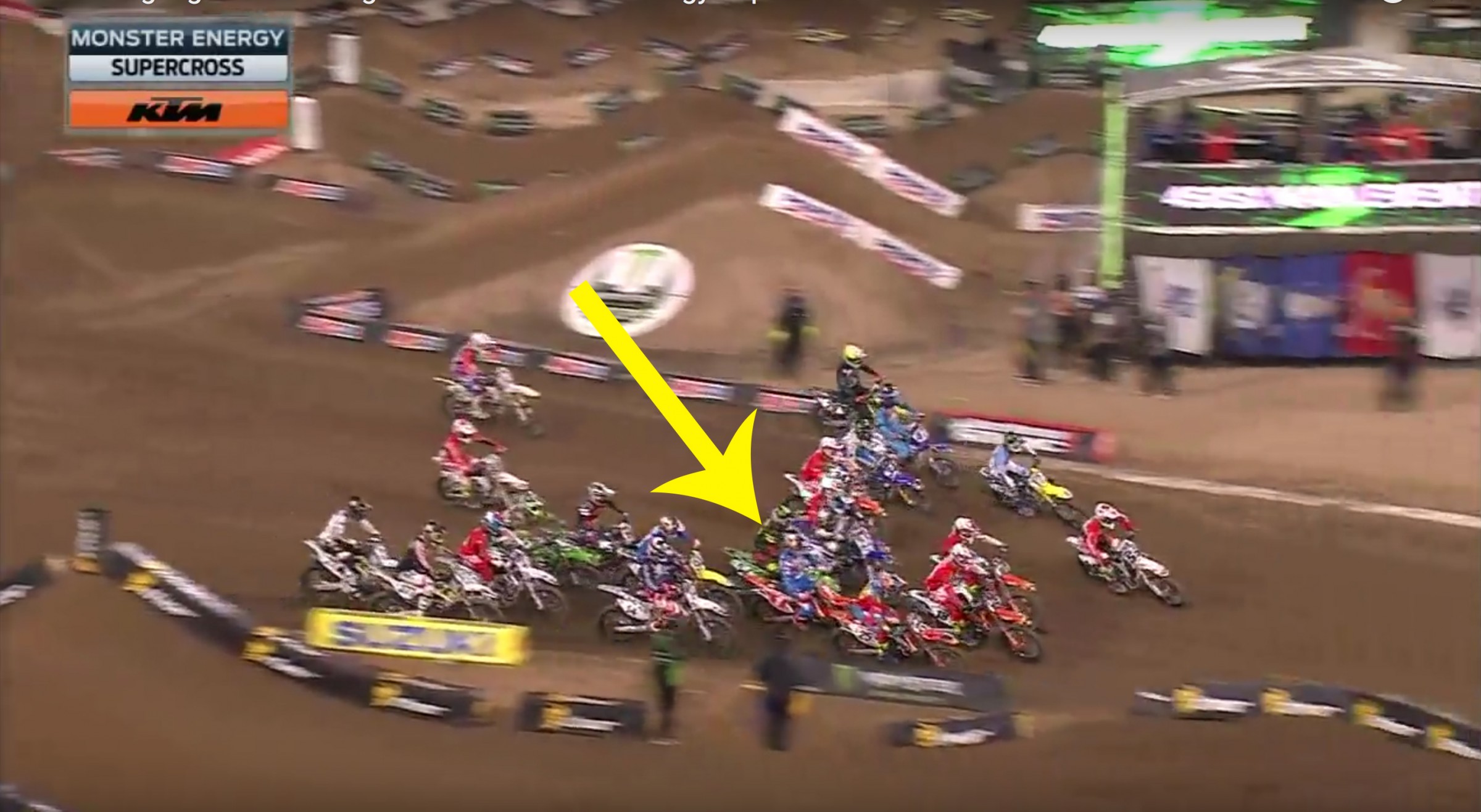 Here's a screen shot from the start below. You can see that Dungey isn't close to the lead! By the way, look at Jason Anderson basically in last place here. That's no bueno for El Hombre. Tomac (in green) and Roczen (yellow) are also behind Dungey. Mid-to-back-of the pack starts aren't getting it done.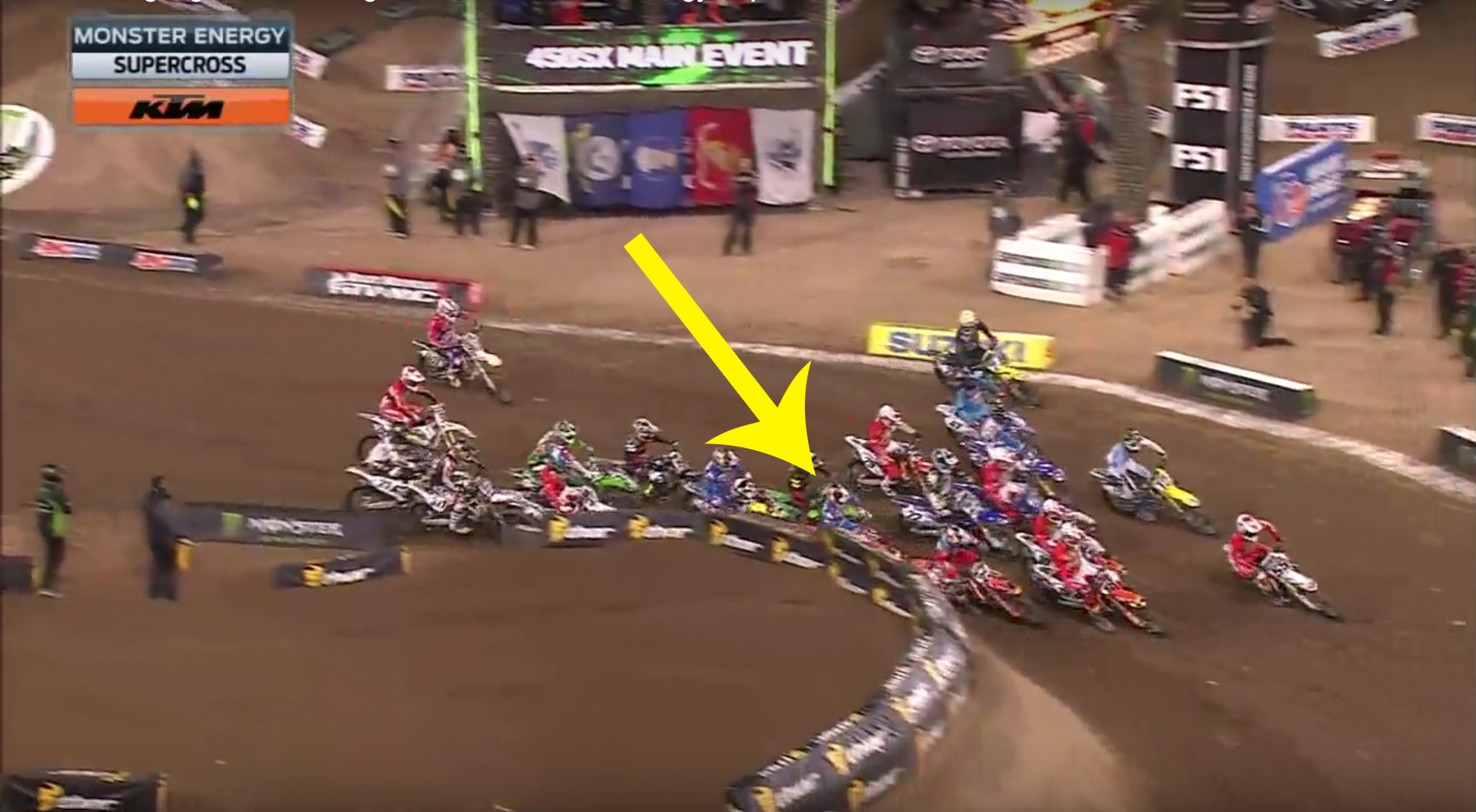 You can barely see Dungey here, he's almost hidden by the Tuff Block, so we'll use the arrow to point him out. What you can see is that Dungey has his bike at a completely different angle than the guys in front of him. He's aimed to match the Tuff Blocks on the inside, while everyone else is already headed way wide. This was Dungey's last chance to get to the rear brake and he used it to maximum effectiveness.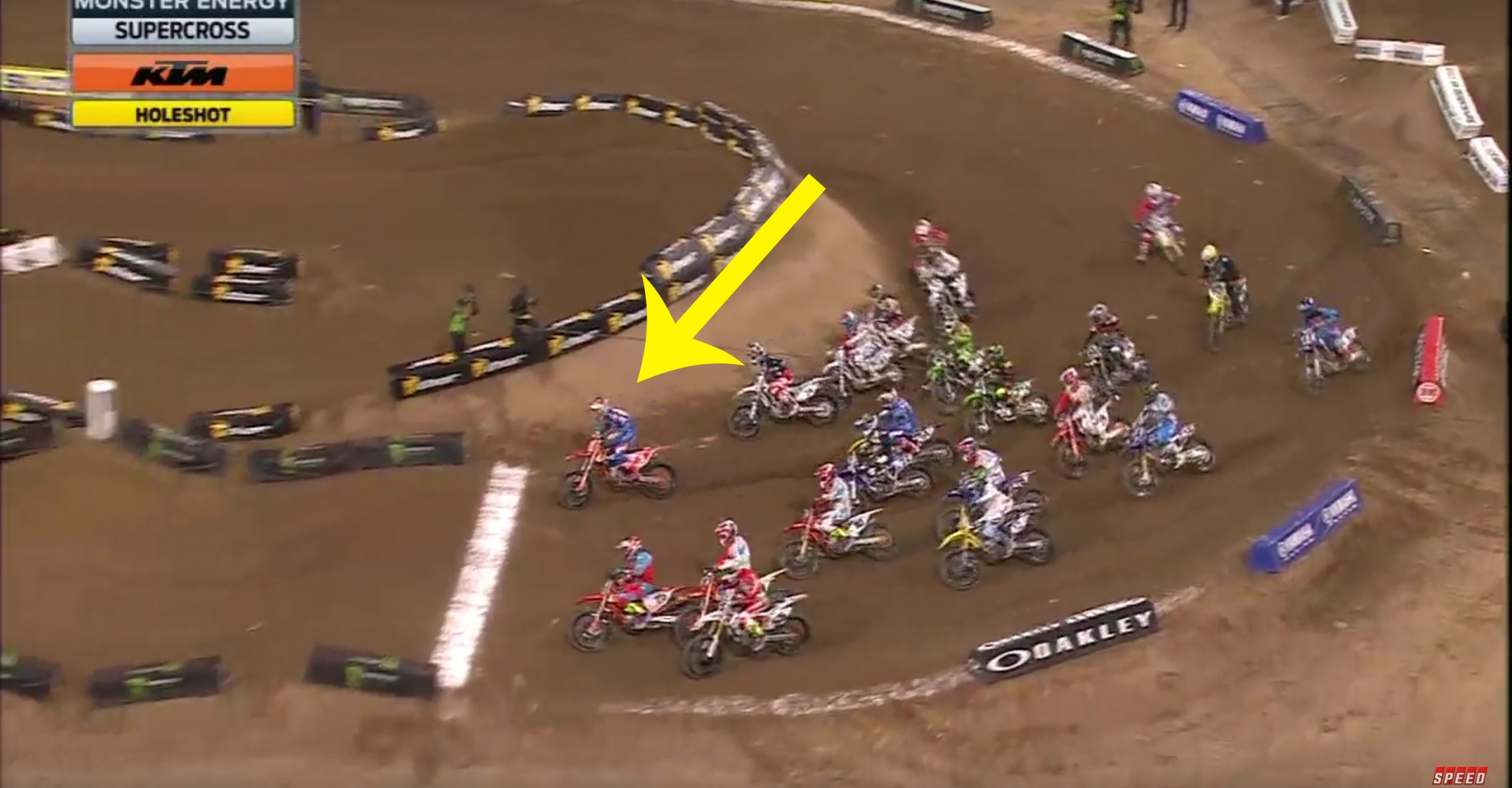 Boo ya. Dungey is about to get the holeshot while Marvin Musquin is plowing Davi Millsaps and Vince Friese wide. Said Millsaps: "I had a good start but then Marv didn't stop and ran everyone really, really wide and let everyone go inside of us."
Check out video of the start below.
That's the second time Dungey has pulled a move like this. Let's look back at Round 4 in Oakland.
Oakland Start
Once again Dungey was not even close to getting a holeshot off the line. Let's look at it closely.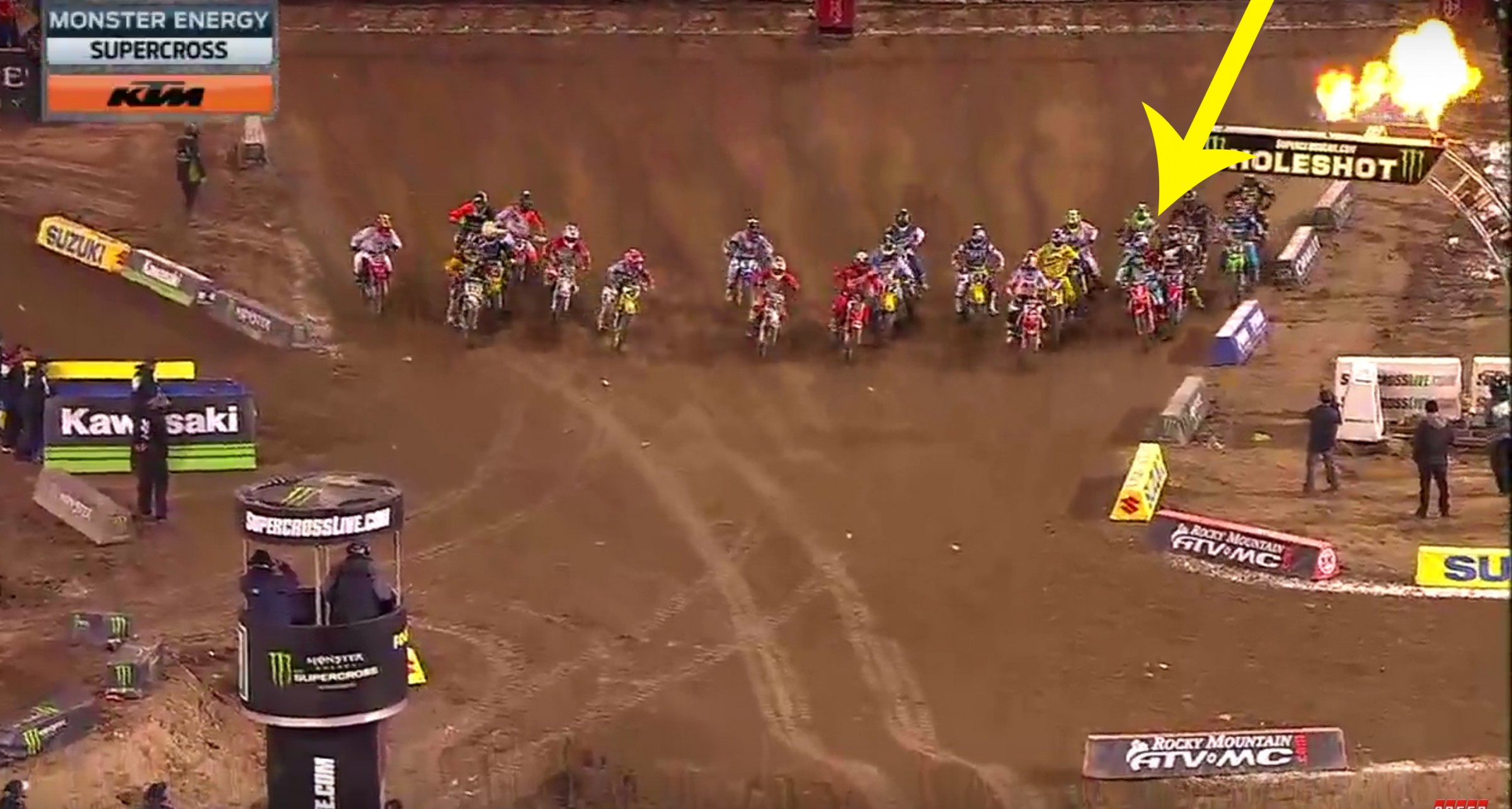 Look above and you'll notice how similar this shot is to that first screen shot from SD2. Dungey is not in the top five and it appears he's about to get pinched off.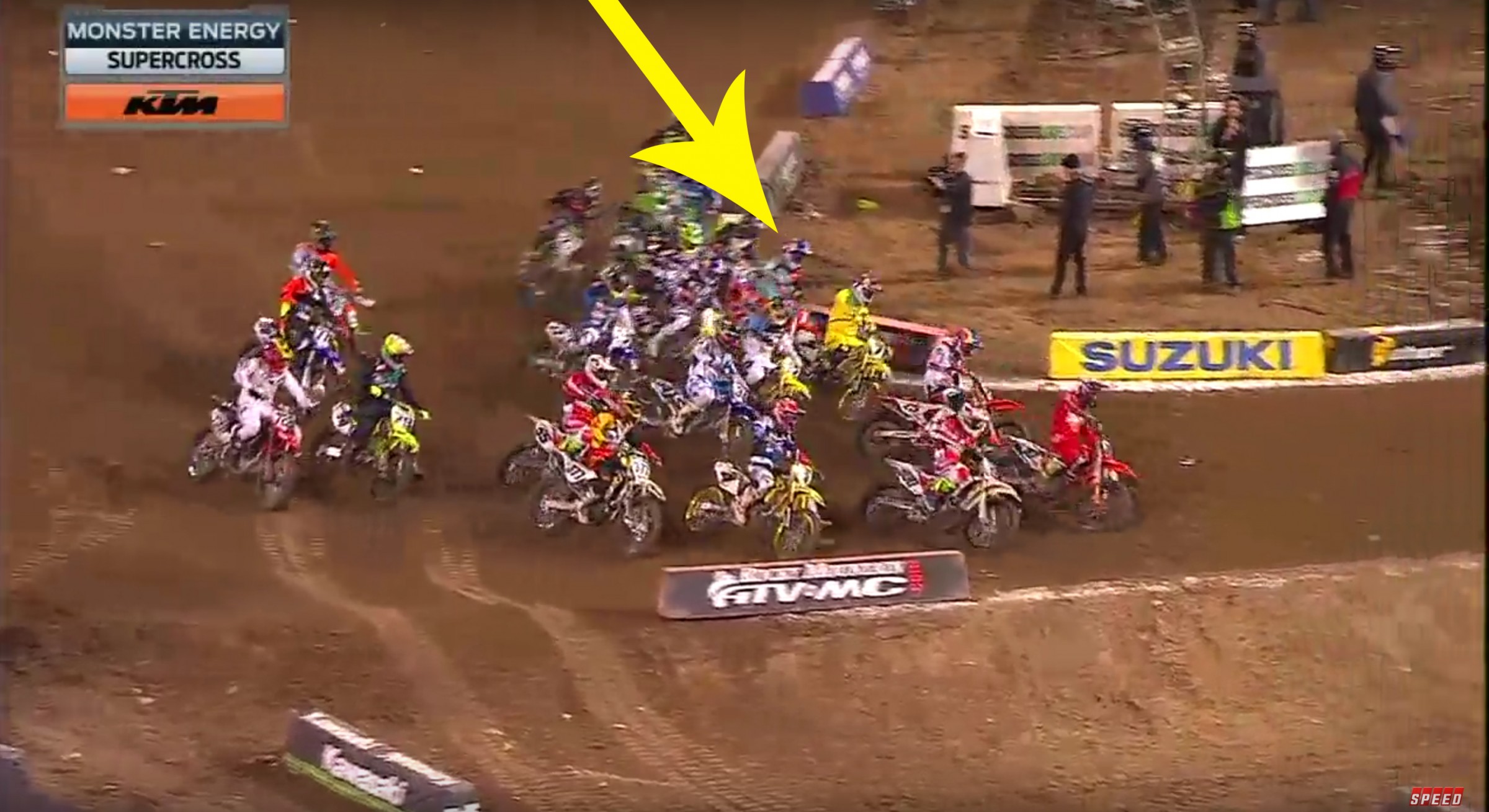 Look at this! He's only mid pack!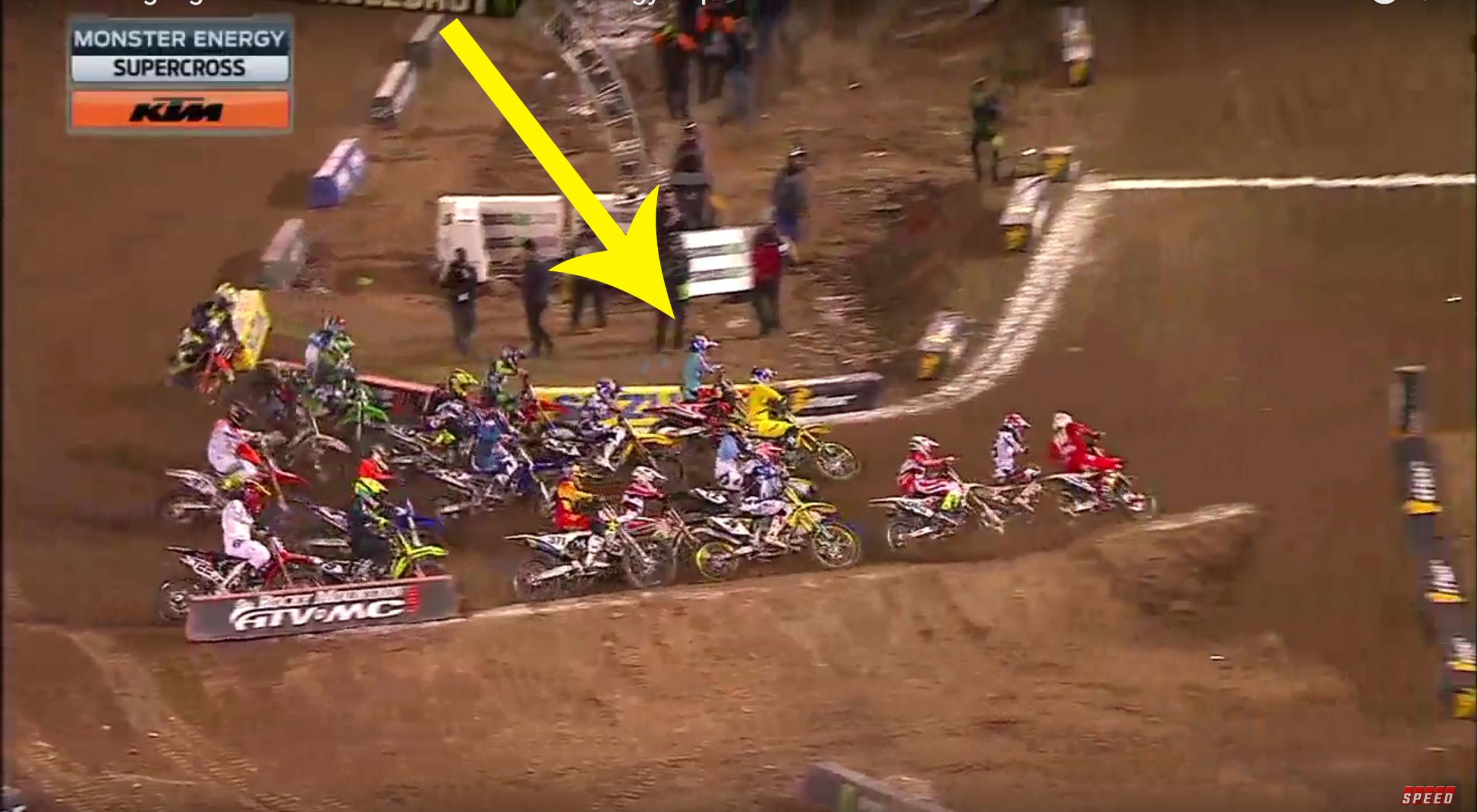 Now you're seeing the inside start to work for him.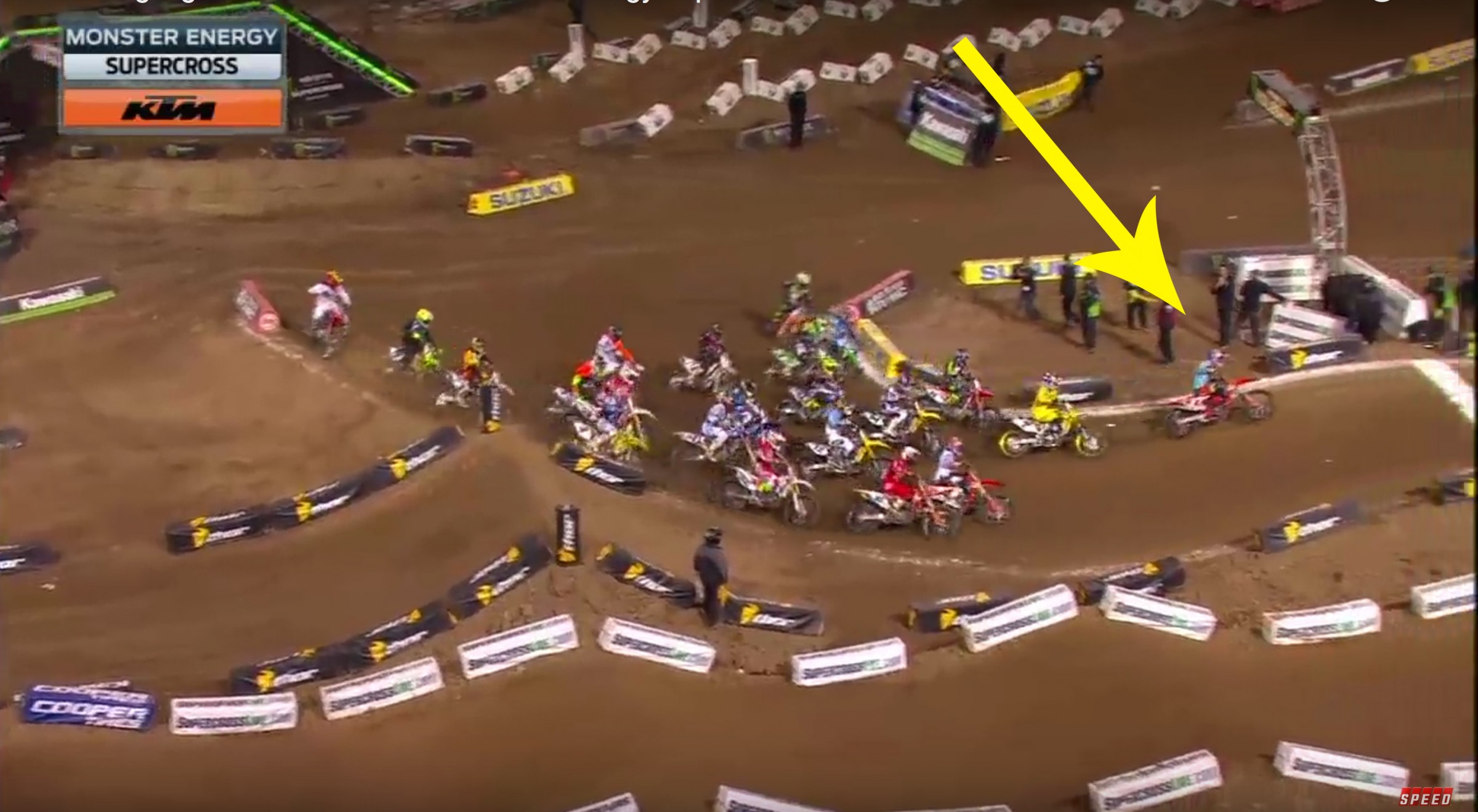 A few seconds after being mid-pack, Dungey is about to cinch the holeshot. By the way, that's Musquin on the lead KTM along the outside. This has been a theme.
Check out the video below for more from Oakland.
Earlier we were talking about the San Diego 2 start and that right hand first turn. It helped Dungey that Musquin went so darned wide and pushed several riders into the Tuff Blocks. Well, it's not the first time. Here's the right hand first turn from Anaheim 2.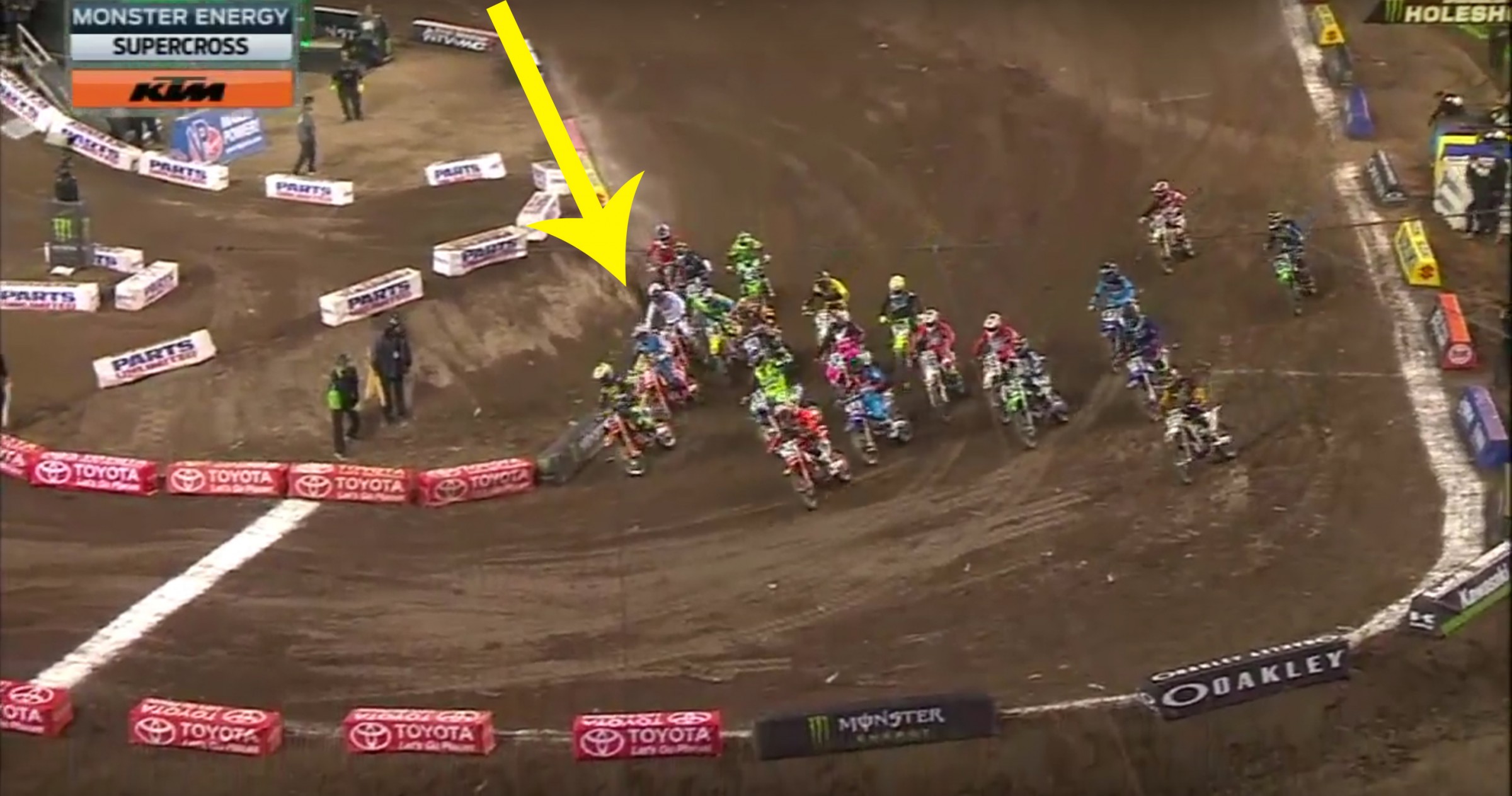 Marvin is headed wide and would eventually hit the Tuff Blocks himself and crash. He did the same thing that night in his heat race. Meanwhile, look who is in fifth place, but is about to tuck inside and emerge in second? (Use the arrow) Yup, Dungey. He just keeps sticking to the inside in the first turn, and it's working out perfectly time and time again.
By the way, one stat to share here: Dungey has won his last five heat races, and has had the first gate pick for the last five main events. No doubt his gate position has helped a ton.
Compared to Dungey's move, this is the best advice you can give the rest of the riders (like poor Marvin) when headed into turn one: