Glendale, AZ
Glendale
Monster Energy AMA Supercross Championship
The money quote from Jason Anderson after his Anaheim 1 win?
"I had to pass six guys that were waxing me last year."
There were rumors throughout the off-season that Anderson was flying, and the A1 win stamped that story as legitimate. But Anderson knew better than to start aiming too high. As we approached the Rockstar Energy Racing Husqvarna semi at Anaheim, he was greeted by a huge pack of well-wishers. Soon, cheers rang out, and Jason was about to get an hours' worth of hand shakes, hugs and fist pumps. He would take none of it for granted. One win didn't guarantee more.
"I see those guys and I know they're amazing riders who have won championships and races, but I also want to see through them and not think about that…but you can never count any of them out," he said after his huge win. "They're great riders. You know they're all going to step up their game. That's round one of seventeen. Everyone's going to be good on their good nights."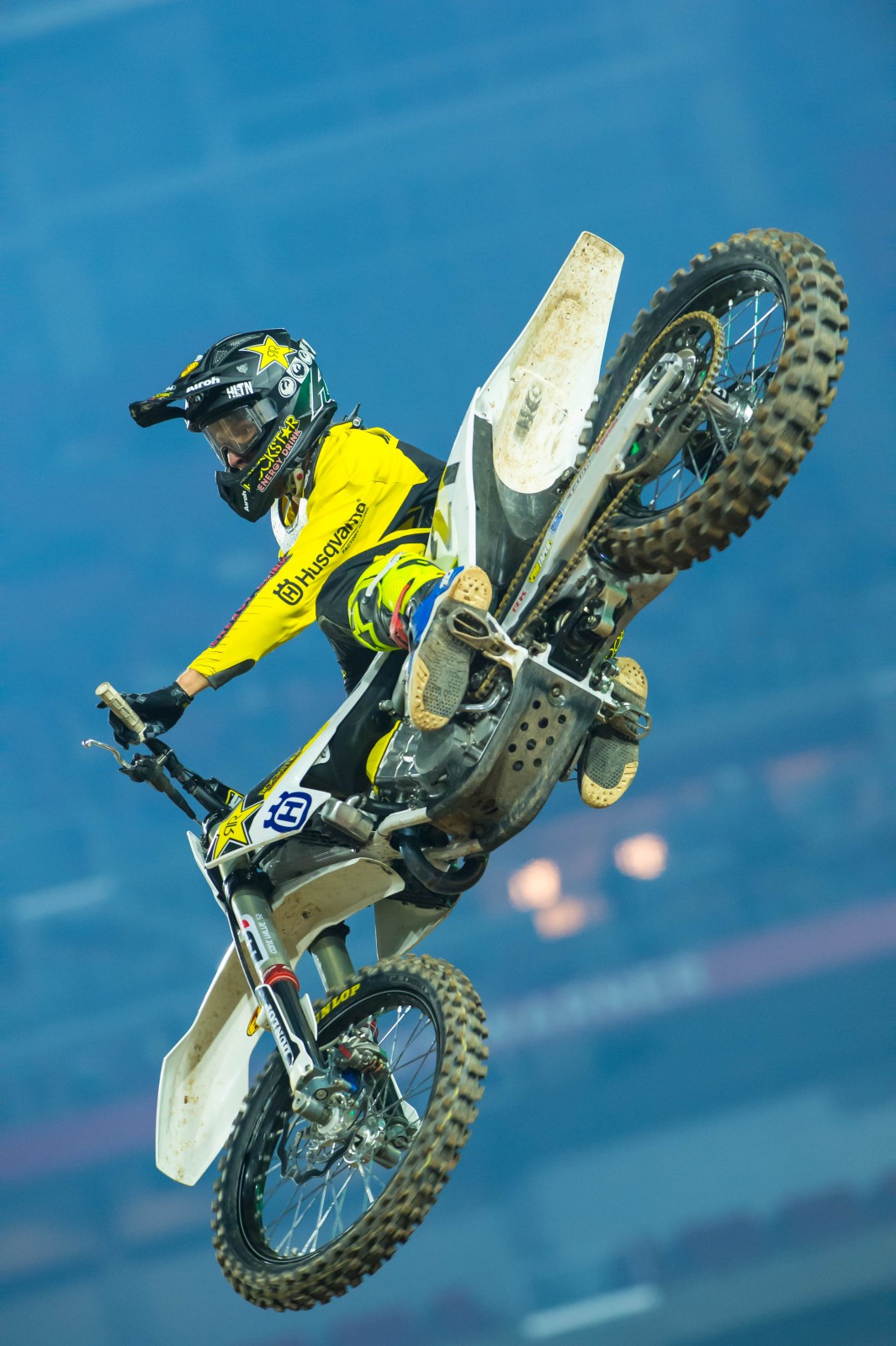 Since A1, Anderson's finishes are 5-5-4-4. After the Anaheim win, going podiumless could look like a disappointment. But he's kept the right perspective the whole time—he had the red plate for a week, but he never expected to be dominating the championship anyway. Even if the title grows out of reach, he's glad to keep learning every week—and keep doing better than last year. You want progress? Last year he went 2-6-7-10-9 at the first five rounds.
On Saturday night in Arizona, Anderson told us that he's getting better at setting up his bike. The last two tracks have offered totally different dirt—tacky and rough in Oakland, and dry and slippery in Glendale. He knows he can change the bike to suit each track, but is still learning how far to go. It's a tricky line, because while you can make changes to suit a track, you don't want to go too far and make the bike feel totally different than usual.
"For me, it's my second year so I feel like learning how to set up your bike…obviously I want to be in the championship hunt but for me it's just about progressing," he explained. "I feel like this year I'm way better than last year. So I'm just going to try and keep doing that."
There have been quite a few lessons along the way.
"Last year I pulled some bonehead moves," Anderson told us, wearing some of his on-track scuffles with riders like Jake Weimer and Blake Baggett. "I admit it! I was just trying, though. I was going for it. I'm learning from it."
On Saturday Anderson had a chance to learn from Ryan Dungey, as Dunge had a rare bad start. Jason tried to hook on, but Dungey got away, eventually slotting into second while Anderson took fourth.
"Tonight, I was right behind him [Dungey] at the beginning and he ended up second," Anderson said. "So I feel like I should have latched onto him a little bit sooner, but whenever he had that little gap I was trying to catch him and I kind of overrode a little bit.
"Tonight I felt like I was trying to gas it super hard to catch up and I was losing the rear end and fighting traction," he adds. "I feel like maybe a little bit of setup that I could have done better to maybe tame my bike down, even in the whoops too. This is my second year but I want to be a winner in the future."
The lessons continue. Anderson gets to learn from Dungey all the time.
"We ride together every day," he says. "Even when [trainer] Aldon's [Baker] not there. I feel like we have a pretty good level of respect for each other. We know we do really benefit from riding with each other. We don't text each other or anything like that but we always know like Monday we'll see him at the track at 9:30. We know what motos we have to do. Tuesdays we have two 25-lap motos and it's a battle. He starts first, I start second, Marv starts third and we're all just pacing each other. He catches me, I catch him. It's a good little trio that we got going out there. If we're in California, if we're in Florida, we're always riding together every day."
Five weeks after his big Anaheim 1 triumph, Anderson has ceded the red plate and sits some 26 points behind Dungey in the standings. He could be disappointed, but instead, he's just taking every lesson he can, keeping his progress in perspective, and hoping someday he's at an even higher level than he is today. He might be 26 points down, but he's also scored 19 more points than he did in the first five rounds last year.
Now you know why Anderson noted not just winning Anaheim, but that he did it by passing "six guys that were waxing me last year." That's that mark of progress, and progress is the ultimate goal for 2016, regardless of the finishing position.
Anderson's win at the season opener not only marked his first time standing atop the box in the 450SX class, but also Husqvarna's first supercross win in the premier class. For that, Anderson landed on the cover of the April '16 issue of Racer X Illustrated as well as our limited edition cover shirt, which comes free with a one-year subscription. They're print to order and won't be for sale anywhere else, so subscribe or renew today while the offer is still available!