Glendale, AZ
Glendale
Monster Energy AMA Supercross Championship
Round five of the Monster Energy Supercross Series took place in a Phoenix suburb called Glendale, which made it fun because everyone in the pits called it something different. Was this the Phoenix supercross? Glendale? Regardless, it had a totally different feel to it compared to previous years .This week we saw some new winners and the points races tightened up which is always a good thing. Let's dive right into it, yes?
So as I said, the new location was different, and after 15 years in downtown Phoenix at Chase Field, a bit jarring. I liked the old stadium/location. The building was awesome, the Jumbotron was great and there was a TGI Friday's inside where you could watch practice and eat some garlic cheese bread. What's not to love? If you're Feld Motorsports, you're yelling "THE PIT SET UP, DUMMY" right now. Yes, there was a lot more room for pits at the new place.
The new stadium in Glendale is a football stadium, so the track layout was much different than Chase Field's baseball shape. For most riders, it's a welcome switch. The football fields can offer long rhythm lanes and long starts. And boy, did Glendale ever have a long start. By my count it was some seven seconds from the drop of gate to the first turn.
By the way I had a data guy tell me that the 450 riders hit almost 60 mph down the start straight in Glendale which is almost as high as the Glen Helen start straight. That's fast!
The track was good again! This year seems to have breathed new life to the Dirt Wurx guys. They were creative enough to send the track outside the stadium and use an over-bridge out there, and they made that long ass start to challenge the teams in terms of gearing and mapping. They had some tough whoops as well. It was the same typical Phoenix dirt so the moisture went away fast but it was still a very good track. Tough, challenging, different and even though I thought the dragon-back to dragon-back thing would be much, much tougher that it turned out to be, it was still a cool little section.
Kenny Roczen had an early season issue with his starts, but he and his team worked hard to change some things including the clutch arm length and the lever ratio. I'd say it's paid off because the last couple of weeks (even A2 in his heat race) his starts have been much better. This weekend he grabbed the lead early from Davi Millsaps and sped off for his first win of the season. Roczen's gone 5-6 (pre-clutch adjustment) and then 3-2-1 (post clutch adjustment). Is it the clutch adjustment only? Of course not, silly, but starting up front has helped for sure.
I had the recorder off at Anaheim 2 while I walked to the pits with Ken and his girlfriend Courtney. We talked about some different things and afterwards I realized that he's got a positive attitude about most everything. A lot of racers, when they lose, are not fun to be around. Ryan Villopoto, James Stewart, Ryan Dungey (at least a couple of years ago) all come off as absolutely hating second and third places, but not Ken. Yeah he wants to win but he also will accept these losses if he rode well. He'll just tip his visor to the competition and go back at it the next week. I truly believe that he left trainer Aldon Baker's program last year because it was not fun at all and Roczen, as most of us can see, likes to have fun (while also working hard because you can't win 450SX races if you're not in shape).
Think about this: Roczen handled that departure from Baker in a good manner, no huge drama. His dad dropped a bomb on his current team in terms of an interview last year, and Ken handled that like butter. He also left KTM on pretty good terms, as I've seen him talk to Roger DeCoster and Pit Beier a few times without trouble. Roczen's got this game figured out from all angles if you ask me.
Christian Craig has been getting closer and closer to his first main event win and this week he brought it all home. What a nice story and by the way, he just re-signed with GEICO Honda for two more years, so that's a quick reward for the team. Craig's an amazingly talented rider and his starts have been on point as well. He fended off the mighty Cooper Webb in the main event with some nice countermeasures and then Webb washed his front end out, and from there Craig was free to go on and win it. The track was hard and slippery, and that suits Craig's smooth style, as he can apply just the perfect amount of throttle when needed. He was one of the first riders to recognize that the left side of the whoops was no bueno and switched to the right.
Webb's DNF last week, his mini-meltdowns in practice, and this week's main event bobble are all tiny little hits to his invincibility shield. No, he's not a superhero but he's easily been the man in this class. Lately, he's given his competition some hope, though, and he's also pissing off some dudes (more on that in a second). Craig's determined to not let Webb beat him, and so is Savtagy. Cooper is a bit more human than he was to start the year. It's all a confidence game, baby, and Cooper's shield has a few dents in it.
In practice, Webb got upset at Chris Alldredge again for holding him up on a fast lap (I'm sure Cooper believes it's on purpose, but whatever). Cooper then parked Alldredge in a turn, and the move sent both riders to the concrete. It was not a smart move at all and another team reported that Webb flipped off a privateer guy before the whoops and they say they have it on film as well. So that's three middle fingers and a take out in the last three weeks of practices. This is starting to remind me of Justin Barcia when he was in the 250 class. Back then, I remember Honda's Erik Kehoe telling me that Barcia's going to need friends out on the track whether he's lapping them or battling them, and stuff like this isn't helping.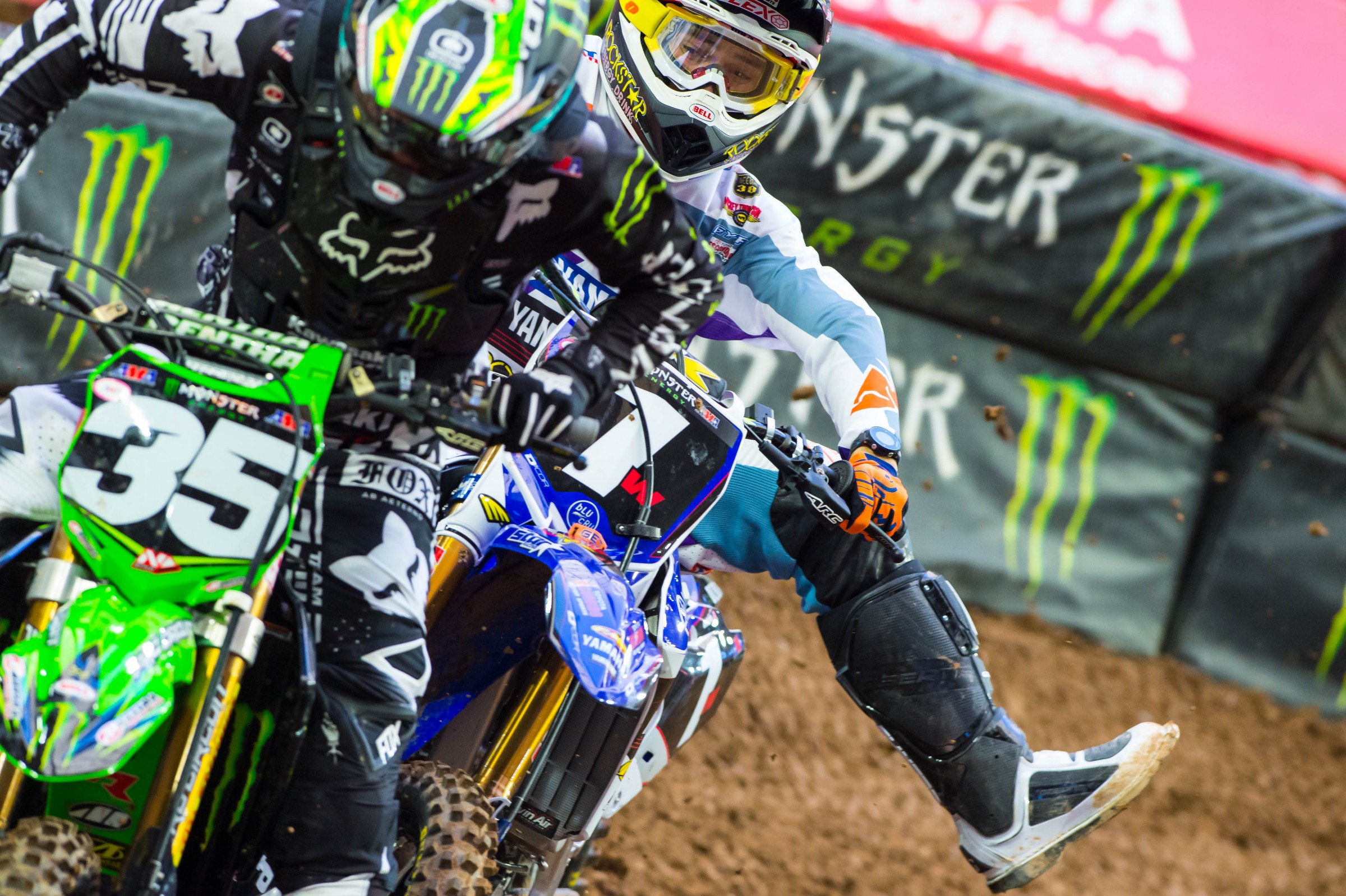 Boo hoo, someone got in your way while you were doing a fast lap. You're going to send them onto the concrete (and yourself as well) because of it? You're the number one plate holder, you have the most wins, you're going to be a millionaire next year and you're one of the sports brightest stars! Why you mad bro? You have sixteen laps in the two practices to get a lap or two in and even if someone is jacking with you by (GASP!) holding you up in turn, shake your head, swear to yourself and put in another lap all the while thinking of the above facts. Be the bigger dude, y'know?
This title might come down to the wire, and in the final main of the season, Webb might need to pass Alldredge or maybe one of those other dudes he's flipped off and maybe one of them tries to extract some revenge on Webb. It would cost him dearly.
I like Webb for his "Bradshaw-esque" attitude and his podium speeches and all that, but remember when Bradshaw went into the 1992 SX finale in a close title fight with Jeff Stanton, every rider on the line wanted to see Bradshaw lose, because they'd been dirtied by him before. (Well, except for Jean-Michel Bayle, who hated Bradshaw but wanted Stanton to lose even more…anyway, that wasn't a good scenario for Damon). For Cooper, the stuff in practice is not something I feel he needs to do. Save it all for the race. At this point I'm just waiting for some medics to get roosted.
I wrote last week that Eli Tomac has been up and down often in the same day this year with wild practice times, heats and mains. He's not quite where he needs to be yet but he is coming off some surgeries and is on a new bike. Glendale was a perfect example of the inconsistencies of Tomac's year. He was blazing fast in the first half of the main and was tracking Roczen down, getting the gap to 1.8. I thought he was going to win, I really did. He was on the move.
From there he started slowing a bit and almost crashed in the whoops. Then Dungey caught him from behind and dropped him. It was a very good ride mixed in with a shaky second half. The inconsistencies in Tomac's riding were all captured in one main event!
If you're Eli and the team, you take your first podium of the year and build on it, but he's yet to fully be "ELI TOMAC/BAD ASS" this year. Maybe he needs to dig a pit with some of his competitors' number plates in it, and set fire to them with a bow and arrow.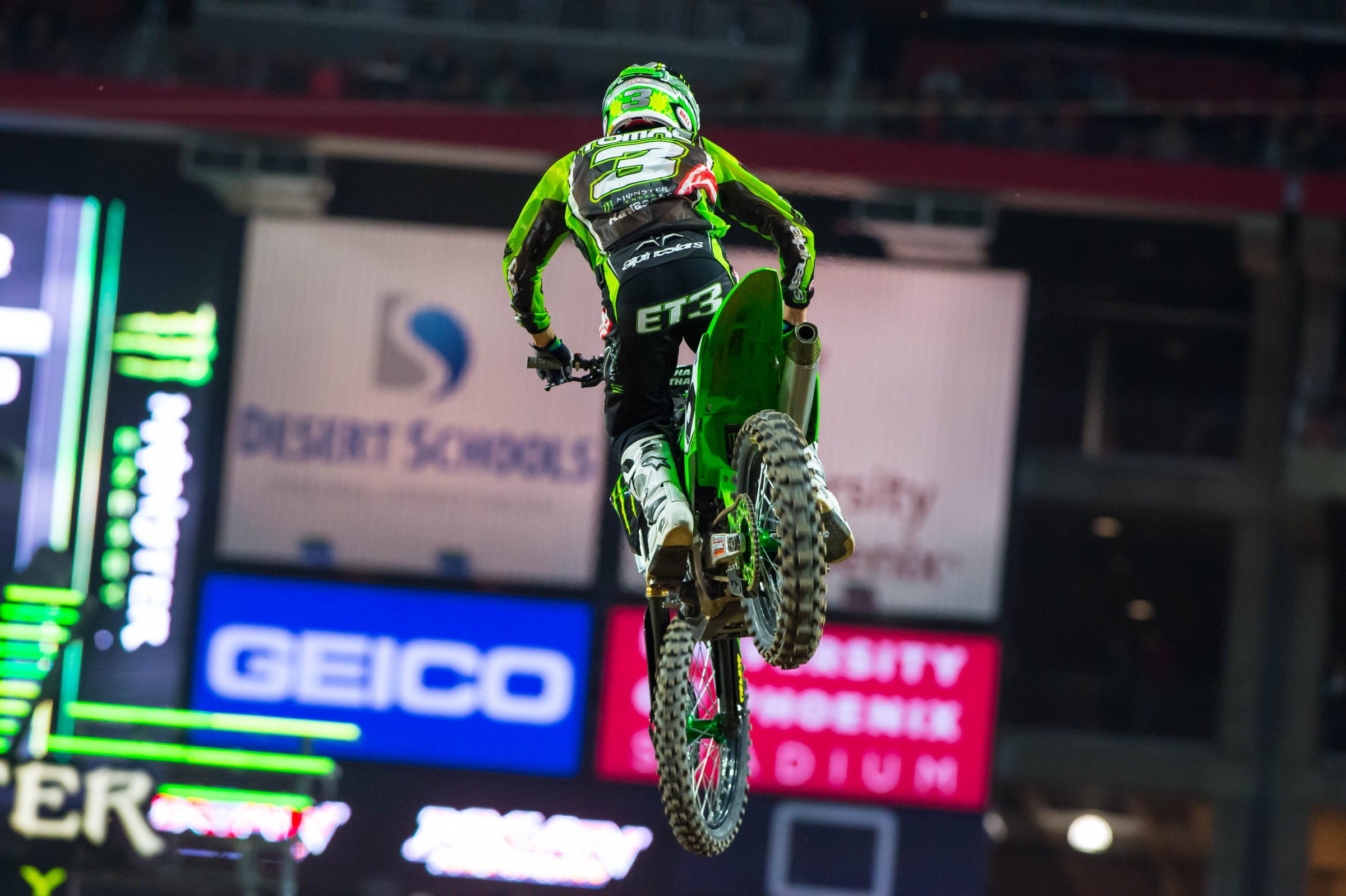 I know that Toolie (Tim McAdams) down there at the AMA has some sort of secret formula for who gets into what practices, and I know he explained it to me and that it's based on qualifying times and not really on main event results, but how does Chris Howell, who had made three mains in a row, not get in the seeded practice last week? And how does Adam Enticknap, who made last week's main, not get in seeded 450's this week but Alex Ray who hadn't made a main get in? I'm confused about the whole deal for sure.
A trend I've noticed this year is really fast gate drops. I don't know if this is because of TV or what but the rule is once the card turns sideways the gate drops five to ten seconds later. I noticed the gates were dropping fast and even timed five random races in Glendale. Just one of them was over five seconds and it was a 5.1. The others were 4.3, 4.4, 4.4 and 4.7 which are all technically illegal. I told my buddy on the seven-deuce-deuce after his heat race to be ready for this to which he replied after his LCQ, where he failed to make the main: "I wish I'd seen this earlier". You KNOW that Tony Alessi had these drops timed as well right?
Let's take a look at the results shall we?
250SX Results
1 38 Christian Craig Corona, CA Honda CRF 250- Craig wasn't super pumped to hear me say that I think Webb would've won had he not crashed but that's okay, it'll be fun to watch if they battle again and he gets to prove me wrong.
2 1 Cooper Webb Newport, NC Yamaha YZ250F- Webb's probably never going to talk to me again after this column, but he's just too good for this shit. I feel like whether it's Josh Grant, James Stewart, Justin Barcia or Webb, I've seen this stuff before. He's got to calm down, put his head down, take this title and go on to be a bad ass next year in 450's. And speaking of 450's I had a couple prominent 450 guys tell me that the stuff he's doing in practice is not going to fly in the big boys class.
3 37 Joey Savatgy Thomasville, GA Kawasaki KX 250F- Joe Dog wasn't happy after the main event and I get why, but if you had told him that he'll be tied for the points lead with four rounds left, he would have taken it.
4 42 Mitchell Oldenburg Alvord, TX KTM 250 SX-F- Two solid rides in a row for Mitch. He admitted to me after the race that he's trying to just calm down and put in laps. Whatever happens will happen and he can't just turn the throttle more and hope to win. It's not that easy.
5 69 Colt Nichols Muskogee, OK Yamaha YZ250F- Yet another great ride by Nichols. Yeah, he didn't back up his Oakland podium but he came from the back to get this and looks terrific out there. I wonder if A-Mart is wishing he had his old bike and team back as he watches Colt killing it on the CycleTrader.com Rock River Yamaha? Probably doesn't want his old salary though!
6 35 Chris Alldredge Powell Butte, OR Kawasaki KX 250F- Looking at the final results I was surprised to see Chris this high, it seemed to me that after a good start he slipped further back, so I have to say this is a good finish for him.
7 26 Alex Martin Millville, MN Yamaha YZ250F- A-Mart was really good last weekend but crashed out. This weekend he wasn't as good but logged his second best finish of the year. He's got two more chances to end this 250SX west swing on a high note.
8 45 Kyle Cunningham Willow Park, TX Suzuki RM-Z250- I wrote last week that Kyle was approaching "Marty Davalos" territory in terms of career 250SX starts. Well, thanks to Chris Bond, producer on the TV side of things, I learned that not only is Kyle APPROACHING Marty for career starts he actually PASSED him in the third week of the season. Someone needed to throw a party! Don't worry Kyle, Davalos will get back at it and zoom by you if he can stay healthy for the upcoming east coast series.
9 58 James Decotis Peabody, MA Honda CRF 250- Decotis holeshot the race so to see him here is a bit of a bummer for him and the GEICO team. He was on the Pulpmx Show on Monday and admitted that he's been dealing with an illness since before last week, so he's getting really tired out there. He also said that when he goes from first to ninth, he does not talk to manager Mike LaRocco for fear of getting beaten up.
10 40 Kyle Peters Greensboro, NC Honda CRF 250
11 85 Michael Leib Wildomar, CA Yamaha YZ250F- I need to go by Leib's pits to check on him, have Larry Brooks tell me some MXA stories and try to score 40-50 bags of Blue Buffalo dog food for my four basset hounds. Not in that particular order.
12 68 Cole Martinez Rimrock, AZ Yamaha YZ250F- Shockingly, Martinez didn't make the main last week so it's good to see him rebound with another solid finish this week.
13 127 Cole Thompson Brigden, Canada KTM 250 SX-F- I hear that Thompson is going to ride 250MX up in Canada in 2016. That's the dumbest idea I've ever heard next to Bill Cosby getting a Humanitarian Award. http://chronicle.augusta.com/stories/2003/09/22/tel_390244.shtml#.Vrp_Z1MrKfU
14 43 Fredrik Noren Menifee, CA Honda CRF 250- These are the things you don't see when you don't go to the races. Fast Freddie was on the ground and SO FAR back on the first lap he was probably closer to being lapped than he was to the guy in front of him. But he put his head down, rode great and salvaged a 14th out of a terrible beginning of the race. Great job by him!
15 72 Hayden Mellross Australia Yamaha YZ250F- Mellross is fast, for sure, he should be in the top ten every week, for sure, but he also makes a mistake or two every race that prevents this from happening.
16 76 Scott Champion Wildomar, CA Yamaha YZ250F- Champion is a veteran out here and do I have to give my "Time to move up to 450's and make some real money" speech or should I save it for Politelli below? Ok, I'll save it for Austin. Seriously, you're not doing anything in terms of catching a team's eye or making any money at all in this class so just move up and try to make good 450 LCQ or main event money. Champion is a good enough rider to be in the 450 mains.
17 82 Trevor Reis Alpine, CA Yamaha YZ250F- This guy has REALLY been under the radar this year as a full privateer and he's made four out of five main events.
18 96 Noah Mcconahy Spokane, WA Husqvarna FC250
19 212 Chase Marquier Newcastle, OK Honda CRF 250
20 222 Chris Howell Spokane Valley, WA Husqvarna FC250- Howell and Reis are battling it out for "Most Unknown Main Event Dude" each week. Right now Trevor has 9 more points than Chris.
21 87 Austin Politelli Menifee, CA Yamaha YZ250F- A few years ago I really thought Austin was on the verge of something special. He's got a lot of talent, won a 250MX title in Canada and I watched him rip through the pack more than a few times to get good 250SX finishes. Since then it's been injuries and crashes for Austin, who's a good dude. I hope he figures it out or at least move to the 450 class where he can make mains and make some real money.
22 16 Zach Osborne LAKE ELSINORE, CA Husqvarna FC250- Rough night for Wacko. His bike quit moments after he took the lead in his heat, but he saved a qualifying spot when it fired back up a few moments later. Then, he was in a huge crash in the second turn of the main event and DNF'd. It's really got to chap Zach's ass to see Craig win his first race before he does right?
450SX Results
1 94 Ken Roczen Clermont, FL Suzuki RM-Z450- If you're Kenny and Pink is at the races how can you not just tell her that you want to get the party started all the time??? Would that just be me?
2 1 Ryan Dungey Clermont, FL KTM 450 SX-F- Dungey got a rare bad start and still ripped through the pack for a second. It's exactly what we've been saying about Ryan this year. Not even a bad start can keep him off the podium at this point. Great ride!
3 3 Eli Tomac Cortez, CO Kawasaki KX 450F- After practice Tomac was casually asking me how Dungey could be so fast in the first segment, so I told him I thought I saw him wheel tap this triple thing before the whoops. Eli said he was looking at it but it seemed gnarly. I then watched Dungey from there on out and he never did that once so maybe I was drunk or high when I thought I saw that. Thank God Eli didn't cartwheel trying to do that because, "Matthes told me to."
4 21 Jason Anderson Rio Rancho, NM Husqvarna FC450- We talked about Anderson's starts last week as being the only thing keeping him from wins or at least podiums, and the beat goes on as he once again sucked off the line. Coming around in ninth after lap (right behind Dungey) isn't going to get you on the box most nights.
5 18 David Millsaps Murrieta, CA KTM 450 SX-F- Real great ride here and don't look now, but Millsaps is riding very well. He was one of the only guys to jump to the bottom of the dragon back all night long, he won a heat again and grabbed the holeshot in the main. I know Millsaps' deal with the actual BBMX [BTOSports.com KTM] team was a SX only and bonus only type deal, and it was helped along by a new sponsor that Davi bought on board. I also know that sponsor has been a bit behind on helping both Millsaps and the team with some sizable sponsorship money. Some people have told me they think it's all going to work out and the money will show up, but for teams and riders, go time is now and they are in the thick of it. So, if the #18 is performing the way he is while being (probably) stressed over a sponsorship, just imagine how great Davi might be when all that stuff works out.
6 22 Chad Reed Dade City, FL Yamaha YZ450F- Chad's never won in Glendale/Phoenix and continued that trend this year. He rode well, not excellent (although he had a small bike issue also) and I thought it was funny that Brayton was going faster than him but couldn't find a way around. Reed, the veteran, made some nice moves and picked up his pace to fend off the #10. This is what Chad Reed does! I'm sure Brayton didn't find this funny at all.
7 10 Justin Brayton Mint Hill, NC KTM 450 SX-F- "Matthes, I'm feeling good tonight," Justin told me while I was upstairs watching some video with him and his coach Nathan Ramsey. Then we rewound a clip of Phil Nicoletti flying into a berm and crashing over and over while laughing. #PoorPhil. Brayton's been much better this year and in Glendale he was in an intense battle with Reed, Musquin and Seely for most of the main.
8 14 Cole Seely Sherman Oaks, CA Honda CRF 450- Seely told me during track walk that he tells everyone in the media the same thing every week and even though I talk to him one on one, he's not telling me anything special. This sort of hurt my feelings.
9 25 Marvin Musquin Corona, CA KTM 450 SX-F- Musquin had some good and some bad in his main event. He moved forward early on and showed some nice moves getting by Reed. Then Reed got him back, which Marv admitted afterwards sort of rattled him. Then he started struggling with the whoops and went down when Seely passed him.
10 54 William Hahn Menifee, CA Kawasaki KX 450F- Maybe these last two weeks will get the jackals off Hahn's back? We had Ryan Villopoto on the Pulpmx Show last Monday and he went on and on about how Hahn needed to put in a seat hump for the starts. Well this week Wilbur had one on and he did get some good starts (his main wasn't that hot) and when I texted RV to tell him it worked, he replied, "I'm way smarter than you guys think".
11 28 Weston Peick Menifee, CA Yamaha YZ450F- Peick didn't have a great main event this week after two pretty good races the last couple of weeks. I spoke to him after the race and he's dealing with being a little banged up as well. It's been a year of bangs for Weston in terms of fights and crashes.
12 800 Mike Alessi Hilliard, FL Honda CRF 450- The 800 was back this weekend and by that I mean almost pulling the holeshot in the main event-type-of-back! I thought Mike was horrible in the whoops at A2 but when I watched him this weekend, I thought he was much better, although these were easier.
13 377 Christophe Pourcel San Antonio, FL Husqvarna FC450- #waitingforroundseven
14 12 Jacob Weimer Wildomar, CA Suzuki RM-Z450- Weimer had his worst race of the year and it all started with an over the bars crash in the whoops in practice. He never really looked very good and after the race he was so far back at one point, I thought he crashed. Just check out our text exchange for more.
15 47 Thomas Hahn Decatur, TX Yamaha YZ450F
16 778 Lawson Bopping Australia Yamaha YZ450F- This Aussie has been in the mains quite a bit this year and I'd say he's the guy doing the most with the least. He did get some support for the last round from the SKVI team that Enticknap was riding for. Bopping is scheduled to go home after this weekend's race unless he can figure out a way to stay here. 21st in the points with four out of five mains made tells me he should do everything he can to stay.
17 34 Phillip Nicoletti Bethel, NY Yamaha YZ450F- Filthy struggles a bit with supercross and isn't a big fan of big whoops. So I find it hilarious that Reed keeps mentioning to Phil that the whoops look big and tough whenever he has a chance. #PoorPhil
18 55 Vince Friese Cape Girardeau, MO Honda CRF 450- I was pretty high on Friese going into the year as being better at SX than his teammate Alessi. So far it hasn't worked out that way and I wonder how much the A1 incident with Peick has affected him. He's easily in the mains but then from there, he hasn't been as good as he's been in the past. The 800 has almost double the points Vince has. Shows you what I know.
19 79 Nicholas Schmidt Lake Elsinore, CA Suzuki RM-Z450- Schmidt's been a bit underrated in that he's getting into all the mains lately and really, it's been pretty easy for him to get in. Once there he seems to settle and be happy with whatever he gets, but it's about time we tipped our visor to Nick for making four out of five main events.
20 761 Cade Clason Chesterfield, SC Honda CRF 450- Another pretty strong ride for Clason to get into the main again. He's good in the whoops and seems to be able to hang it out there. By the way, he almost died going into the last turn of the Semi, so it was nice to see him get in in the LCQ with fresh pants I'm sure.
21 314 Alex Ray Milan, TN Honda CRF 450- Can't miss Ray out there with his FXR Racing gear. He looks like a giant bag of Skittles on a Honda. Good job by him to get into his first main of the year.
22 240 Bryce Stewart Canyon Lake, CA Yamaha YZ450F- I bet a lot of fans wanted to see a Stewart race on Saturday…well, they got one!
Some news and notes from Phoenix:
I've spoken with some people close to the situation and it overwhelmingly seems that Kenny Roczen's going to leave RCH Suzuki at the end of the year and move either to Honda or back to KTM. With Dungey and Tomac sewed up, Roczen is the big fish for 2017 and beyond, and although I thought it would be a surprise to see Roczen back on orange, by all accounts any harsh feelings have thawed and KTM seems able to welcome him back. Part of the problem with Kenny and KTM before was the presence of Kenny's father around the races (RCH can also attest to this), but it seems that Roczen's broken away from his dad a bit, so that would open up a return to KTM.
Of course, we've seen HRC step up in recent years and try to end Honda's 450SX title drought, so it's not a surprise they're in talks with Roczen. And still in the rumor department, we hear Roczen's looking for a five year deal so no matter what color he chooses, he'll be very rich and have a solid team for many years.
We had Roczen on the Pulpmx Show on Monday and asked him about all this, but again, demonstrating his smoothness, he just said he's not worried about it, it will all work out and then asked US when he should have a deal done! Whether or not Roczen leaves RCH, we've heard that they've already inked a deal with two-time 250MX champion Jeremy Martin to make his move to 450's on yellow. This is an interesting signing for sure and one that could fly under the radar a bit, but it could also be a very good move for Jeremy and the team.
Thanks for reading this column, I appreciate it. Email me at matthes@racerxonline.com if you want to chat about this or anything else really. I'll be here all week.