Angel Stadium
Anaheim

,

CA
Anaheim 2 (A2)
Monster Energy AMA Supercross Championship
Race Day Feed--all you need to know from Monster Energy Supercross
Words by "New Guy" Kyle Scott and Jason Weigandt
450 Main
Davi Millsaps and Ryan Dungey battled for the holeshot early in this one, Millsaps ended up just inside of Dungey out of turn one to secure it. The BTOSports.com KTM mounted Millsaps rode well early, holding Dungey at bay for a few laps while Chad Reed quickly worked to third to shadow them. The rest of the contenders? Way back. Ken Roczen had a bad start again, Eli Tomac wasn't much better, Jason Anderson and Cole Seely as well. Worse, Trey Canard collided with Justin Brayton and crashed out, completing a terrible night for him complete with a scary heat race crash and a cut hand.
On the fourth lap, Dungey dove inside of Millsaps and looked to have a pass made, but he bobbled trying to get out of a rut, and Millsaps squirted back ahead. Dungey tried an inside again a half lap later, and firmly shut the door to put his Red Bull KTM into the lead. Reed was right there and got around Millsaps on lap six, but by then Dungey was already rolling out front. Dungey just looks amazing right now, and while Reed charged hard, Dungey kept on pulling away.
Then some heavy hitters started moving toward the front. Weston Peick was next in the order behind Millsaps, but soon Tomac, Roczen and Anderson steamrolled through. They got around Peick and Millsaps, then closed on Reed to make for a tremendous battle for second during the second half of the race.
With a few laps left, Tomac was using his trick line through a rhythm lane to get close to Reed and try to set him up for a pass for second. But Tomac washed the front end of his Monster Energy Kawasaki in a corner and went down. This pu Roczen into third, and he attacked Reed before a late mistake. Reed held on for second behind Dungey for the second-straight week.
"I was sitting behind Davi for a bit and I was able to make the pass," said Dungey on Fox Sports' TV coverage. "Chad was back there for a bit, I know he was wanting that ninth Anaheim win, but my bike was working awesome. It's everything right now--the preparation, good starts, pushing hard the first five laps."
"Last week I was happy," said Monster Energy/360Fly/Chaparral Yamaha's Reed. "I keep telling myself this year I want to be appreciative with seconds and just getting up on the podium. But man I'm a competitor. I'm a little bummed on that ride. This was a really fun track, a lot of challenges out there, it had ruts....I would normally call that a track that suits me. But I struggled all day. To struggle and not feel 100 percent and get a second, I'm happy. We'll do our homework and keep going. Consistency is going to be key. There's a reason why we're [Dungey and I] are two time champs, it takes 17 rounds."
"It was tough, obviously the start didn't happen again, I'm actually pretty pissed off about it," said Roczen, of Soaring Eagle/Jimmy John's RCH Suzuki. "I came back strong in the second half, I made a mistake in that second whoop section, I think I might have been able to get Chad. We're going to come back strong, we're going to keep drilling those starts, and we'll make it happen, I promise you that."
Tomac picked it up to take fourth, ahead of Anderson's Rockstar Husqvarna. Honda HRC's Seely came from about tenth to snag sixth after back-to-back podiums to start the year. Millsaps was seventh ahead of his teammate Brayton, and Red Bull KTM's Marvin Musquin came from last--down in turn one--all the way back to ninth in a great ride.
Team Tedder/Monster Energy Kawasaki's Jake Weimer logged another solid ride with tenth, and Monster Energy Kawasaki's Wil Hahn had his season-best with 11th. Christophe Pourcel had a terrible start and finished 12th, ahead of SmarTop MotoConcepts' Mike Alessi. Peick crashed back to 14th on his Autotrader.com/Monster Energy JGR Yamaha, and CycleTrader.com/Rock River Yamaha's Tommy Hahn was 15th.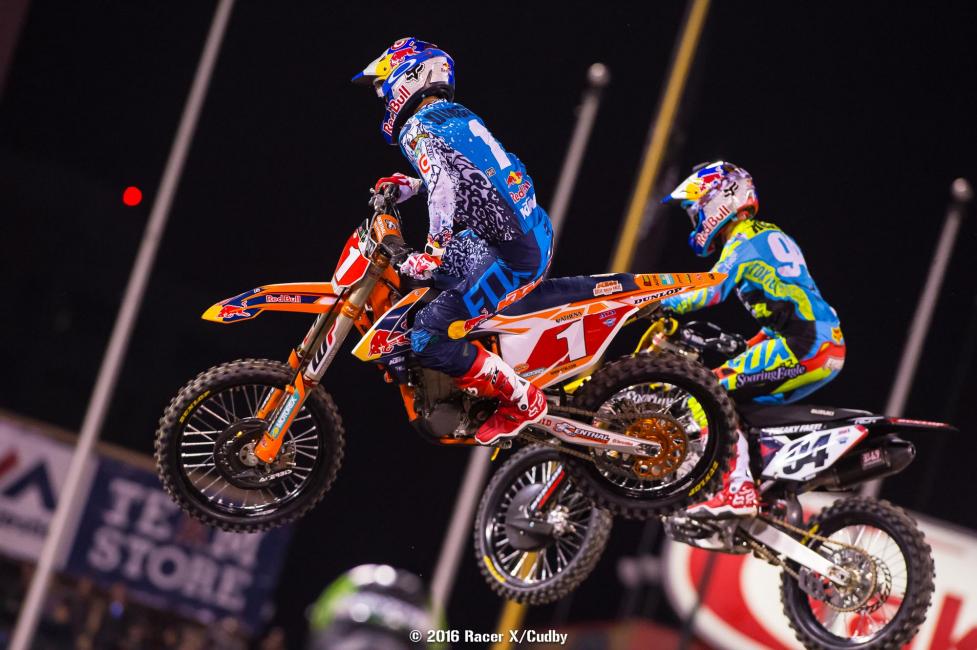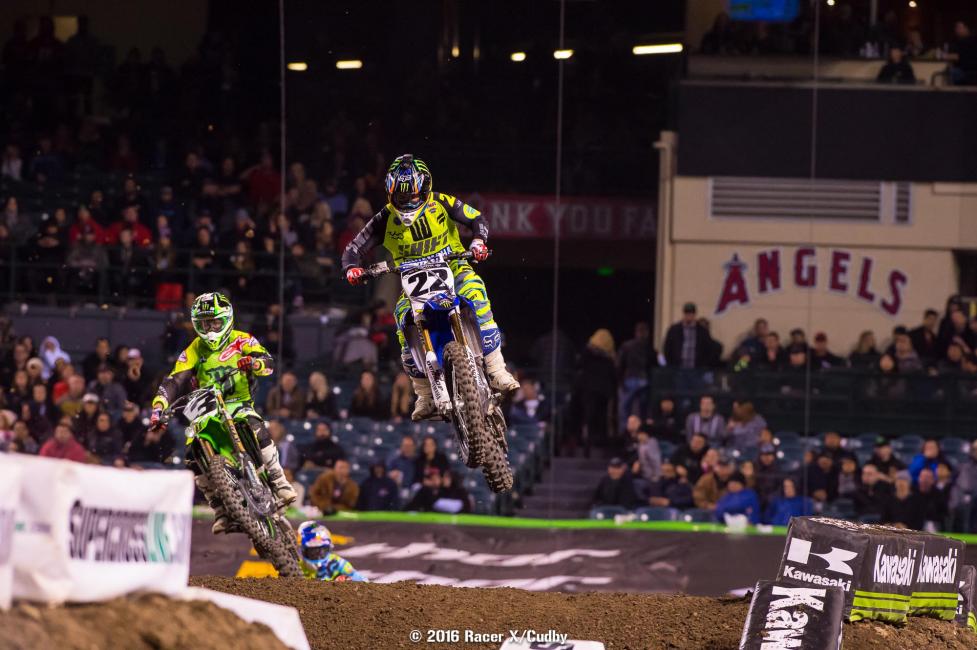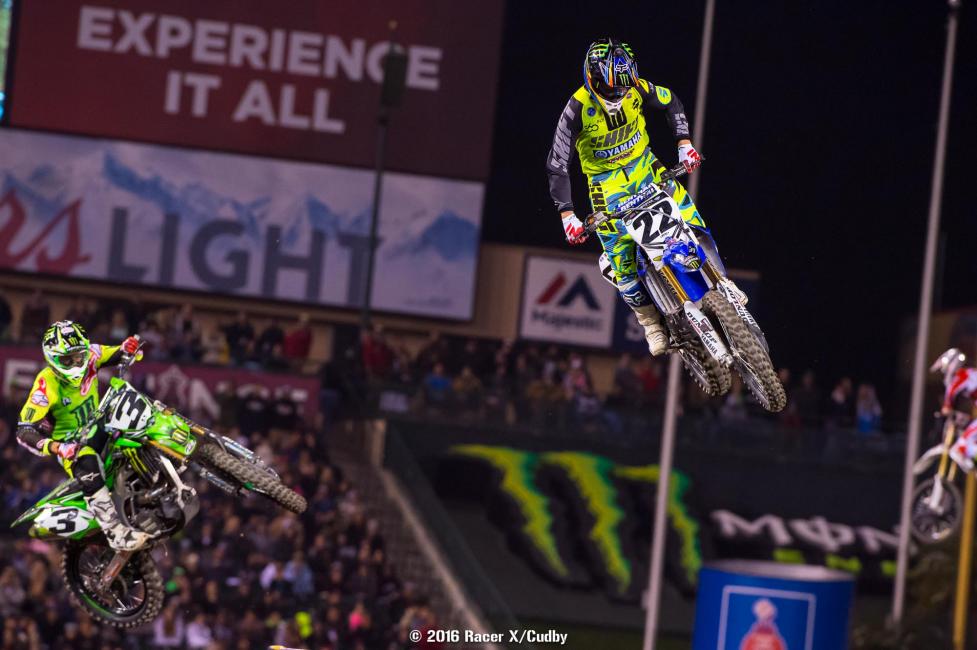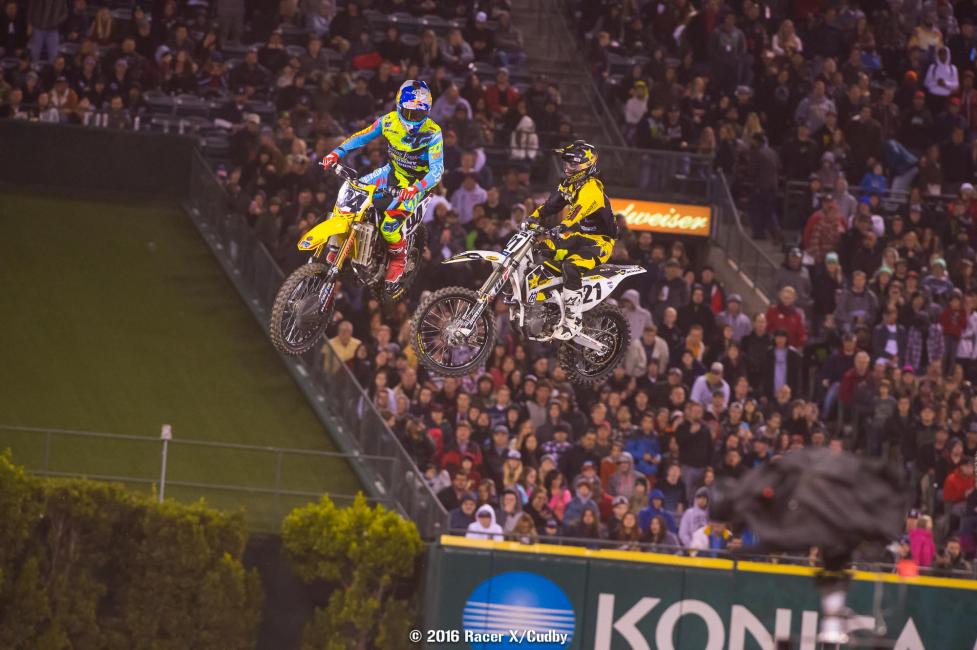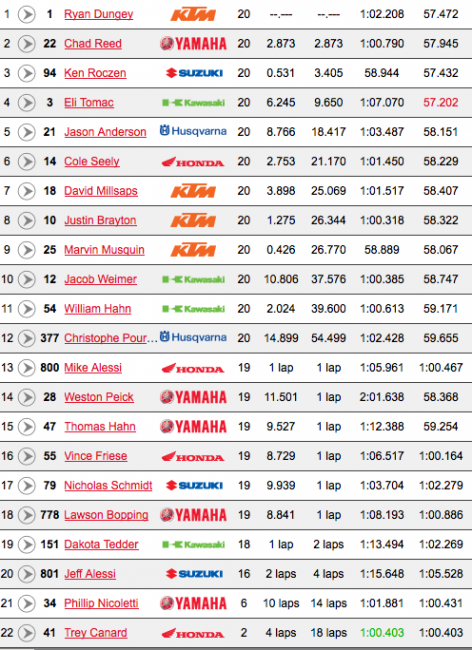 250 Main
What a race! Cooper Webb got off to his typical lackluster start, and his main competitors--Christian Craig, Joey Savatgy and Zach Osborne--were ahead of him. Craig stole the lead from Savatgy quickly and put down some incredible laps, while Webb went to work from about fifth. First he picked off his Yamalube/Star Racing Yamaha teammate Alex Martin, but then the going got tougher.
First Osborne put up a heck of a fight for third, Webb finally made his way around. Savatgy crashed from second all by himself in the whoops, leaving only Craig to try to stop Webb from snagging another win. And Craig fought for it! Webb caught him, and they spent three laps going crazy with passes, Webb repeatedly diving inside, and Craig squaring him up each time to hold him off.
On lap seven, Web made the pass in the last turn before the finish. Craig squared him up in the next corner and took it back. They exchanged spots again and Craig stood Webb up in the corner before the second whoops. They went back and forth standing each other up corners, but keeping it clean, which allowed Osborne to close in on the gap they had on him.
After awhile, it seemed like Webb would have to get frustrated and maybe get dirty, but instead he kept his cool. He finished the stand-up game by getting inside in the first turn corner, which forced Craig to check up and lose all his momentum going into the first rhythm section. This allowed Webb to pull away and ultimately check out.
"That was actually fun," said Webb, not angry over all the moves by Craig. "Been awhile since I've battled someone like that. Zach was in there too keeping it close."
Once Webb had the lead, Osborne was right there on Craig and made his move entering the first set of whoops. After all that battling, Craig looked like he had lost all his steam at this point as he was no longer charging and settled for third.
"I got tight--haven't led like that before," said Craig. "I'm learning."
"I wish I had pushed a little harder while they were in that battle," said Osborne. "Cooper's riding awesome, not taking anything away from him at all. I think it will take a perfect moto from me to win one of these."
Late in the race, Savatgy made his way back up to fourth, getting around Craig's GEICO Honda teammate Jimmy Decotis. Then came Jordon Smith, followed by Motorcyclesuperstore.com Suzuki's Kyle Cunningham with his best race of the season.
Another strong ride for Colt Nichols, the CycleTrader/Rock River Yamaha rider is 7-5-8 in results early this season. Mitch Oldenburg was ninth on a Go Pro/Red Bull/Troy Lee Designs KTM, with Ride365.com Honda's Kyle Peters logging another consistent performance with tenth.
Alex Martin had a rough night. He went down in his heat in the whoops in the exact same spot after a good start in the main.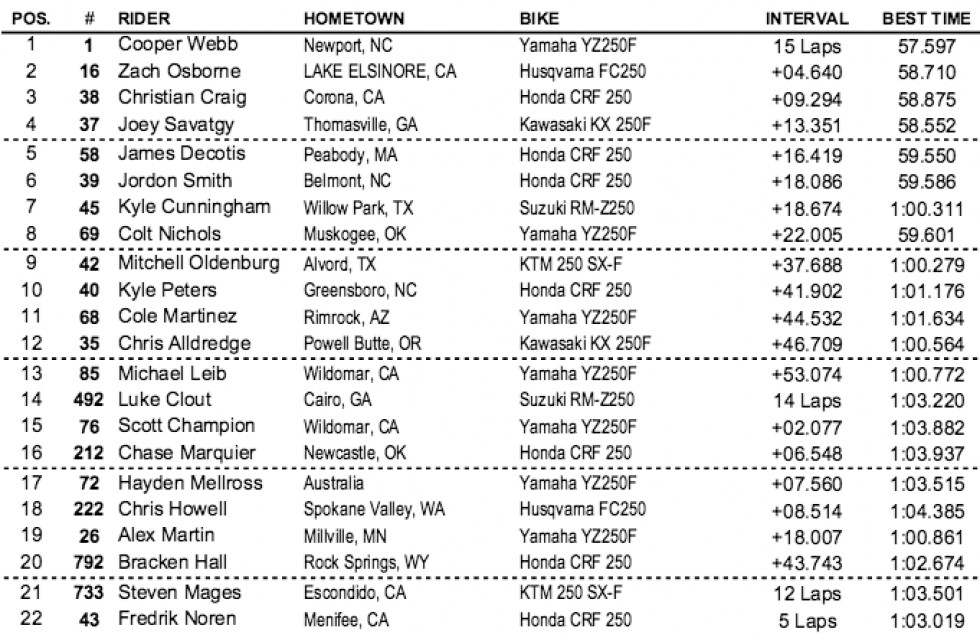 450 LCQ
With a ton of dudes out injured tonight, the door is open for privateers to make the main. Jeff Alessi took advantage, grabbing the holeshot in this one (Alessis get starts, kids). Wil Hahn, who is becoming a bit of an LCQ master lately, got around him to take the win. Aussie Lawson Bopping, impressive while making the main at Anaheim 1, came through for second in this one.
Then the door was open for some 2016 main event first timers. Jeff Alessi made it happen with third, and Dakota Tedder took fourth to make his first-ever 450 main.
450 Semi 2
The JGR boys unsurprisingly took the one and two spots off the start, with Filthy Phil Nicoleti, now on JGR team to replace Justin Barcia, leading lap one with Weston Peick close behind. Peick eventually passed him halfway through lap two.
Trey Canard was back! After enduring what feels like his 100th "huge collision off the start" in the heat, Trey returned for the semi with a cut and bloodied hand. He rode safely through the first lap then turned it up, taking the second spot from Nicoleti on the last lap. Peick redeemed his A1 eject in the semi with a semi win at A2.
Tommy Hahn sliced through traffic to take fourth behind Nicoletti, and Pourcel take fifth away from Wil Hahn to grab the final transfer spot.
450 Semi 1
Marvin Musquin took the holeshot with Jason Anderson behind him. Anderson took the lead from the outside in the corner before the second set of whoops. Musquin was being extra nice to not take Anderson wide--remember these two train together during the week. From there Anderson and Musquin checked out. Mike Alessi, Nick Schmidt and Vince Friese took the final transfer spots.
250 LCQ
Luke Clout, the Aussie making his first SX start this year to fill in for Daniel Baker, grabbed the early lead in this one. Zach Bell applied some pressure, then dropped back a bit. Hayden Mellross and Michael Leib were fighting through traffic to make it to the transfer spots, and they got in, with Mellross making a last second pass to steal second. That's an Aussie 1-2!
Chris Howell grabbed the final spot, and Bell ended up just short of the main.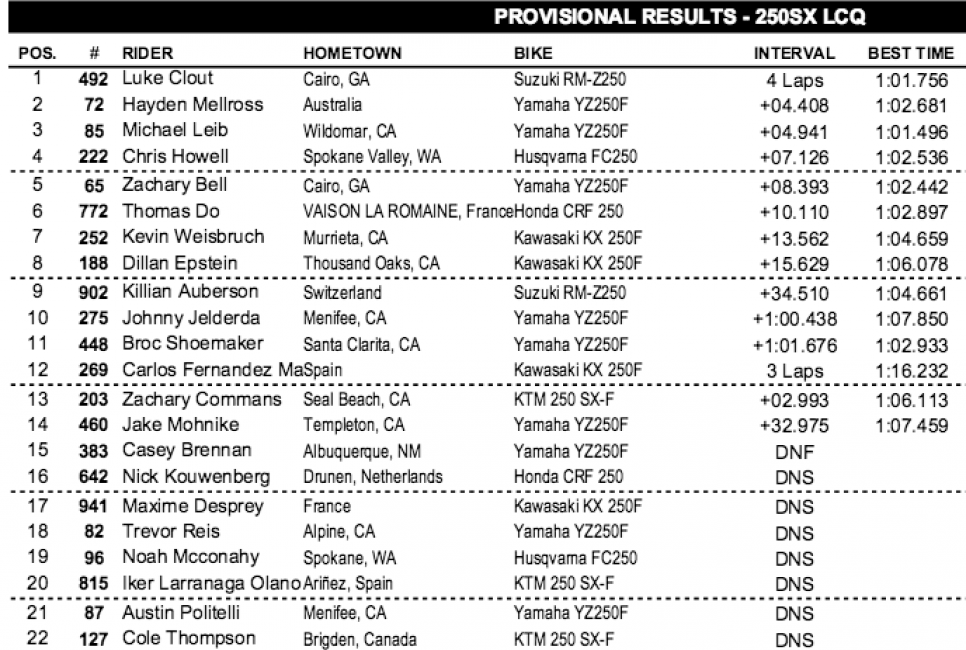 450 Heat Two
This one was stacked! Ken Roczen, Ryan Dungey, Jason Anderson and Eli Tomac were headliners, and Roczen emerged with the holie. Dungey wasted no time, though, dialing in a wide line out of a 180-degree corner and leaping past Roczen in a rhythm lane to take the lead. Roczen stuck close to Dungey the whole way, but wasn't quite able to stick a wheel in. That's a strong win for Dungey.
Right behind was Tomac, and he even threw out a slick new line through a rhythm while shadowing the leaders.
A three-rider battle raged for the final transfer spot. Weston Peick was there first but made a few mistakes, Justin Brayton closed up on him with Jason Anderson right there. Anderson bobbled while trying to find a line around Brayton, then Brayton made a slick pass on Peick to take fourth. He held it to the end--so the Anaheim 1 winner (Anderson) is headed to the Semi.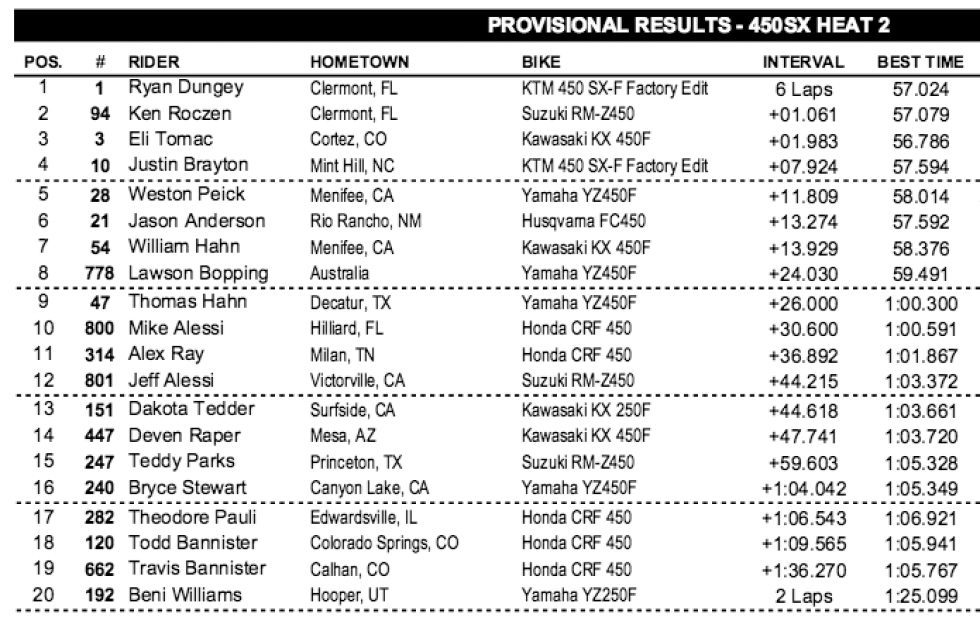 450 Heat One
Jake Weimer emerged with the lead off the start, but soon Cole Seely and Davi Millsaps were right there with him. Seely tried a move on Weimer but Millsaps actually slipped past, then Millsaps made the move on Weimer for the lead. Seely then took over second and tried to run back up to Millsaps, and for a few laps he kept the pressure on. Then Millsaps started to pull away, en route to the race win. That's big for Millsaps, who has certainly had his troubles over the last few years.
Seely then slipped into the clutches of Chad Reed late, with Reed taking second.
On the last lap Christophe Pourcel tried to run it in on Weimer to steal the final transfer spot, but came up just short.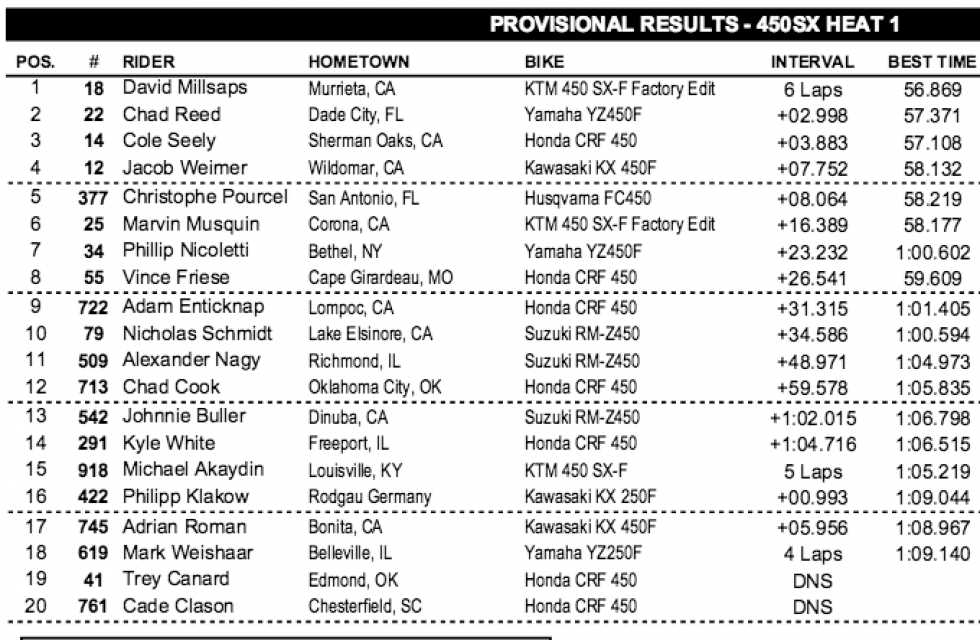 250 Heat Two
Five riders smashed into the gate before it even dropped for heat two, and the race was red flagged. That worked out well for Joey Savatgy, who was stuck in the gate in the first one, but then grabbed the holeshot in the restart. The loser in the deal? Zach Osborne, who had the lead when the first start got red flagged, and then started about fifth the second time.
Savatgy checked out from there to win the heat. A battle raged behind him between Alex Martin, Osborne and Jimmy Decotis. They battled hard, but Decotis ultimately won it, first by passing Osborne and AMart in one corner, and then repassing Osborne after Zach made a move on him. On the next lap Martin went down in the long, first set of whoops.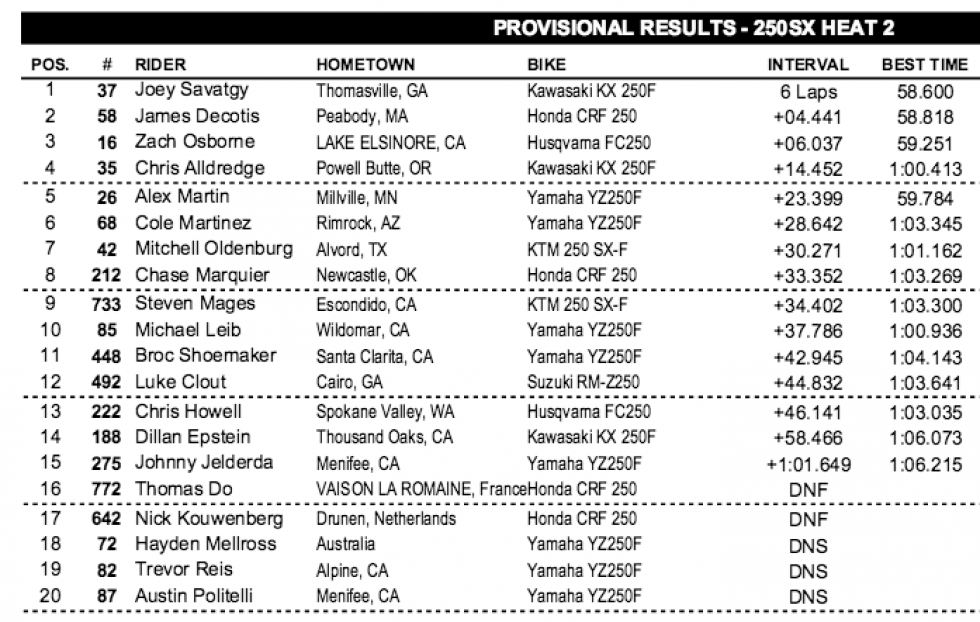 250 Heat One
Wait a minute! Somebody beat Cooper Webb straight up!
It's been a struggle--by his usual standards--for Webb all day. He actually wasn't fastest in practice, but then when he grabbed the holeshot in this heat it looked like it was all over. But then came Christian Craig, first shadowing Webb and then squaring him up in a corner and scrubbing underneath to take the lead!
Webb fought hard to try to get the lead back, and on the last lap he tried a dive-bomb pass to the inside. But there was a downed rider blocking his was, and Webb couldn't make the pass. Craig was strong, fast and solid under fire. He won!. Webb was second.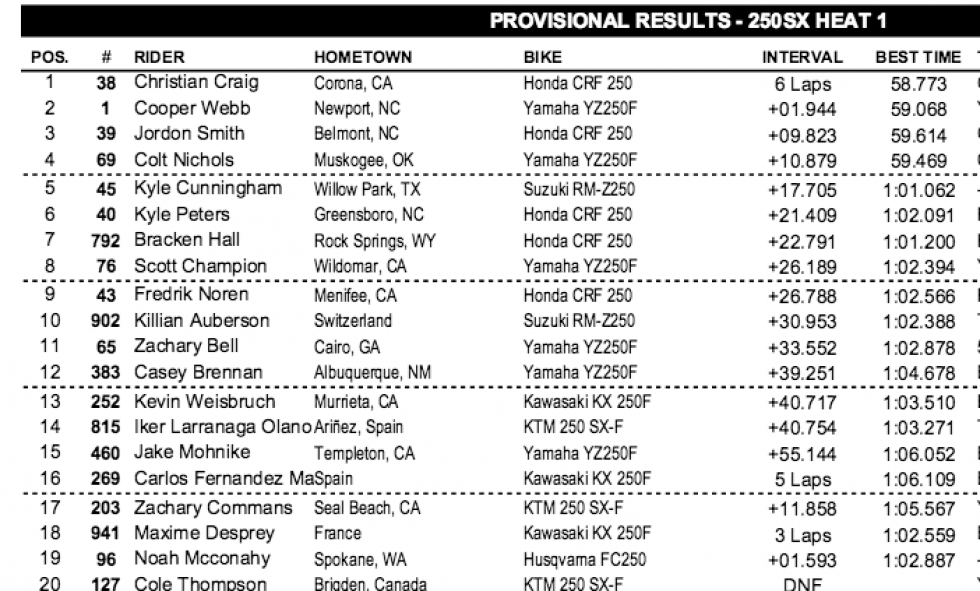 Final Timed Practices
450s The clouds started rolling back in as the lights came during 450 practice, and now the track is looking great. All the moisture here this morning is gone, as are the ruts. Ken Roczen put down a fast lap on lap four and the 94 stayed there...but you just knew Christophe Pourcel was coming. He missed, swooping into spot two on lap seven, just barely inching out Dungey's time.
Trey Canard went down in the turn after the finish and was a little slow to get up, but must have been okay as he then put down his fastest lap of the session on lap eight. Chad Reed appeared to be charging hard, but finished as tenth fastest--don't worry, you can never predict Reed's night based on lap times.
Jason Anderson was a little quiet in this round, and didn't put down his fastest time until his tenth and final lap. Roczen's time from this session holds up to make him fastest overall in the 450s.
We're trying to get word on Dean Wilson, who went down late in the previous session and didn't put down a time in the final session here. We hear he's tweaked his knee, but we don't know if there's a decision on tonight or not. Stay tuned to our @racerxonline Twitter feed for late breaking updates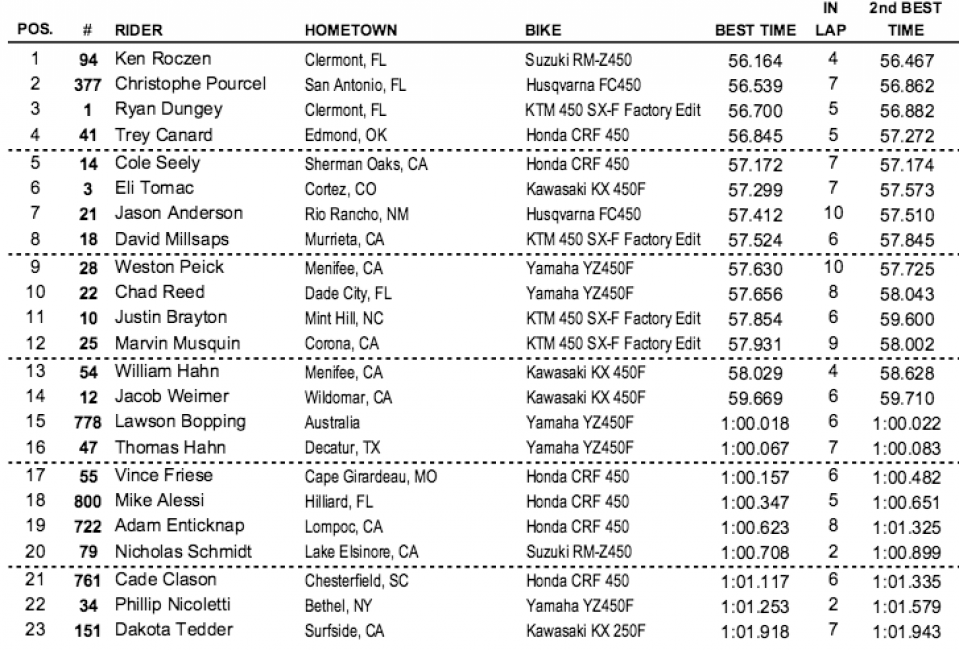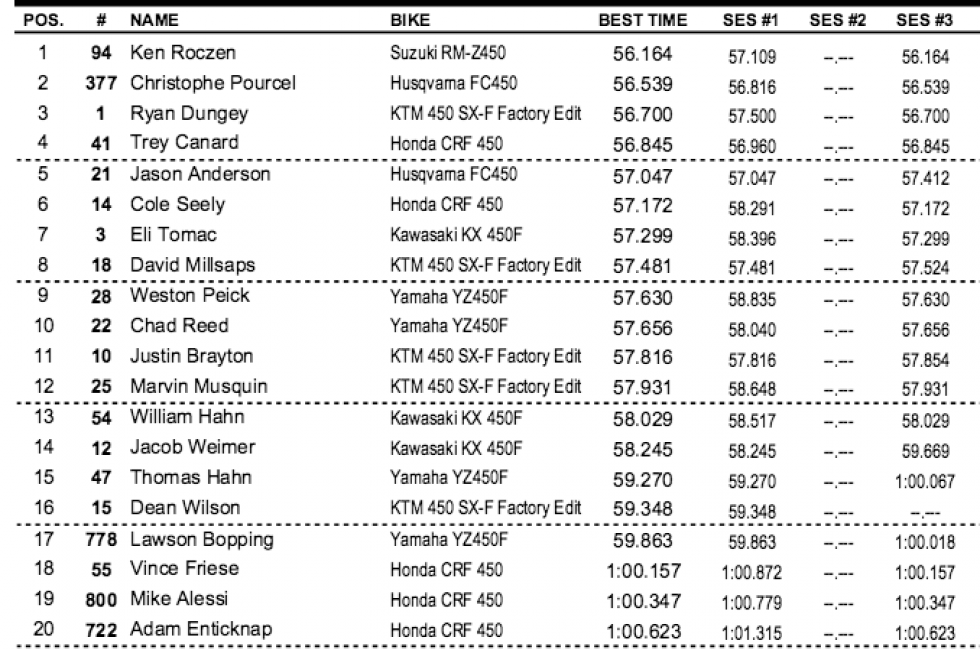 250s At least in qualifying, the guys have Cooper Webb on the ropes! Christian Craig put the first fast lap down followed by Jordan Smith. Joey Savatgy took the top spot on lap three and improved it on lap four, and remember he was fastest in the first session. Then his time was taken over by Zach Osborne on lap five. Only a few were doing the triple-double after the second set of whoops. The following lap Smith went down in the rhythm after the second set of whoops. He got up quick, adjusted his bars and hopped back on the track.
Then Smith crashed again! So that's once in the rhythm after whoop section two and another time in the first set of whoops. Tough go for a podium finisher from last week in San Diego. The whoops also claimed Kyle Peters and Mitchell Harrison. Harrison rode off the track with sitting in the back of the Asterisk mule. Hopefully he'll be okay for the night show.
Osborne's time from this session ends up as fastest overall. Wacko Zacho is giving it all he's got!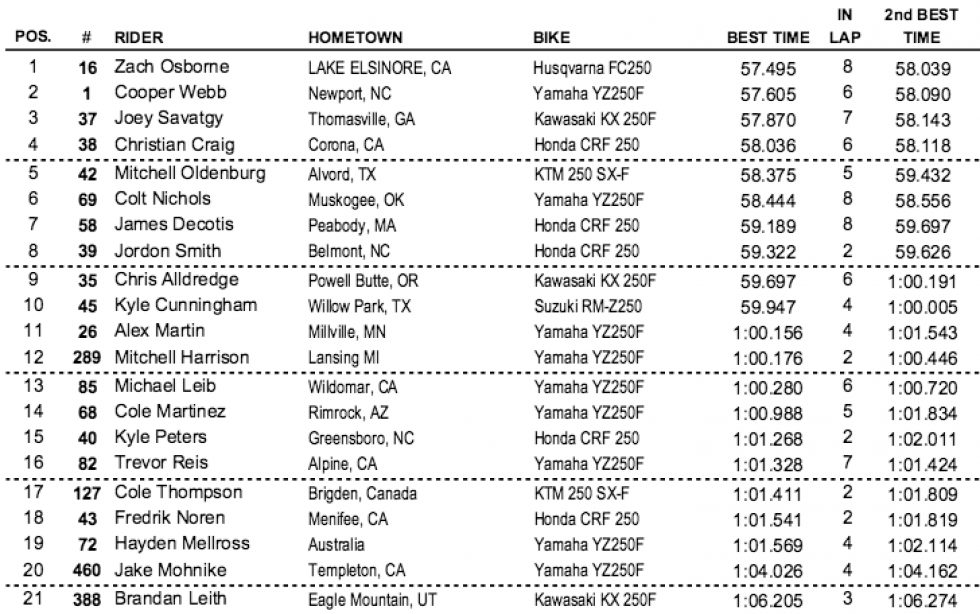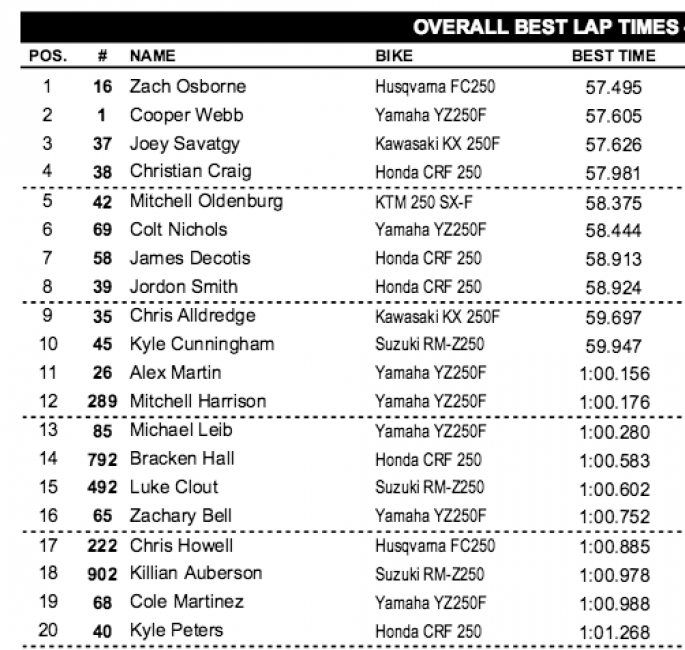 First Timed Practices
450s
Dungey and Anderson led the first group onto the track, going side by side all the way from the sand section until after the triple in the outfield. Lots of square edges forming in the ruts, if they don't get groomed, I'm predicting they will give everyone a bit of trouble tonight. Many riders elected to skip them when not putting down a fast time.
Ken Roczen set first fast lap of the session on lap 3, almost a full second ahead of Jason Anderson, but Anderson would later respond to take the top spot away. Dungey pulled into the mechanics area on lap 5 to talk to his mechanic, but he didn't touch the bike. Later, Dungey's front tire got stuck in Lawson Bopping's tire when he was trying to square up coming out of a corner. Don't make this a habit Dungey!
It looked like this session would be all Anderson, until Christophe Pourcel did his signature move by taking it easy most of the session and then laying down the fastest time on lap 8. Dude is incredible with this! It looked like the Rockstar Energy Racing Husqvarna riders were going to go 1-2, but Trey Canard pulled in fast at the very end of the session to steal second. Pourcel, though, held strong to the top spot.
Late in the session Dean Wilson went down. He got back up, but after the session we spotted his bike parked outside the Asterisk medical rig. Stay tuned.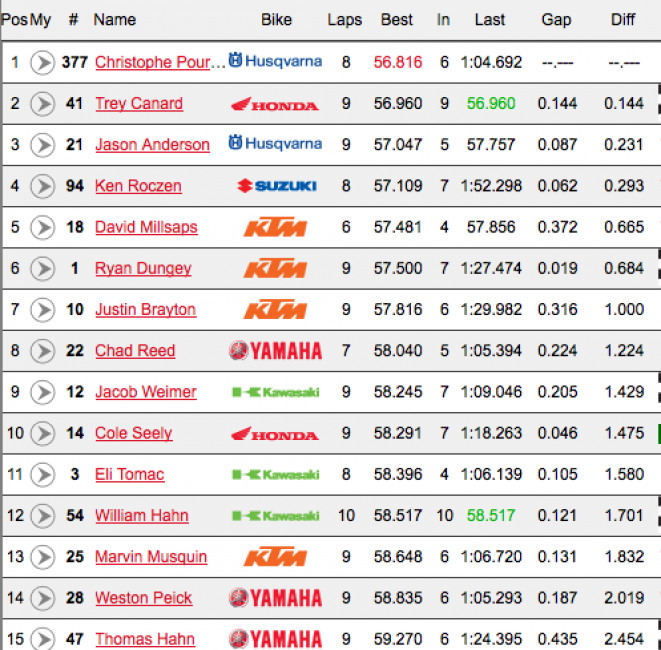 250s
The whoops this week are pretty gnarly. A long set in the back outfield have the huck n' buck written all over them. The second set of whoops look slightly uneven as everyone's rear tire is bucking up on the last few.
One rider in the unseeded sessions to watch might be Luke Clout, the Aussie who is filling in for the injured Daniel Baker on the MAD Racing/Dirt Candy Suzuki. He was fastest in his session by quite a bit, but definitely wasn't afraid to hang it out. If he keeps it on two wheels he could be a surprise contender tonight.
When group A hit the track Zach Osborne lead the field onto the track and didn't waste any time. He was riding like a man on a mission, and Mitchell Oldenburg followed closely behind. Then Cooper Webb crossed the line and set his own fast lap almost a full two seconds faster. That was just the beginning, though. On lap 4 Christian Craig took the top spot from Webb, a full .6 seconds faster. On lap 5 Joey Savatgy took over putting down a time .5 seconds even faster! Webb meanwhile, tried to respond and kept getting held up by other riders, at one point he completed a lap and then turned to Chris Alldredge and showed him, um, with one of his fingers, that he's #1 in 250SX West.
Webb and Osborne were trying some new lines in the long rhythm in the outfield, but Webb never got the clean lap and clean rhythm he needed. There were four big ruts before that section with the outside line being the fastest, and Webb railed the corner, but he still didn't get the leaps that he wanted. Webb looked to be riding angry out there the whole session!
Didn't matter, Savatgy's time held up to top the session. The Monster Energy/Pro Circuit Kawasaki man looks cool, calm and collected.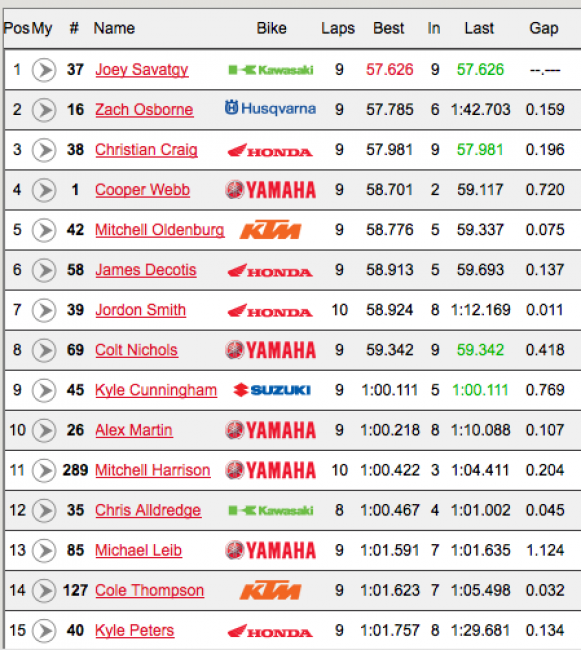 Morning Report
The track is a little soft in the early practices with lots of ruts forming all the way through the corners and into some sections. Even some Glen Helen like ruts all the way up the face of the triple in the outfield.
There are two sets of whoops here and one is legit! We'll see if they stay that way all night.
The step down jump after the finish is quite a little booter. No one is really able to stay low off of it. Tomac went down in the first practice section here. Nothing major, but he launched high and to the right on top of the tough blocks. He quickly pulled into the mechanics area, adjusted his levers and went back out.
Dungey and Roczen were the first to get through the long rhythm in the first practice doing 3-2-3-2.
Timed practice is about to roll here, we'll be back shortly.
Round Three
Welcome back to the unofficial home of Monster Energy AMA Supercross an FIM World Championship, Angel Stadium in Anaheim, California. This is Anaheim 2, and things look a little different than when the series last visited this building 14 days ago. Some things like very much the same, though.
For one, a few 450 riders are now out with injuries, including James Stewart, Blake Baggett, Broc Tickle, Kyle Chisholm, Justin Bogle and Justin Barcia. Bummer.
On the other end, the weather is kind of like Anaheim 1, as the track is in good shape but there's a small fear of rain. But what's more similar are the contenders. Ryan Dungey has the red background on his KTM plates just like he did at Anaheim 1, as Jason Anderson had to put his back on the work bench for at least a week. Chad Reed has once again proven to be a contender to win races here, just as he was all the way back in 2003, his first race in his first full-season in the top class of AMA Supercross. He won that night, and he's won here eight more times. If he gets the victory tonight, he'll be the winningest rider ever in this building, and that's saying a lot considering how many greats have won multiple times at Anaheim.
Cole Seely has been darned solid with a pair of thirds, and Ken Roczen, Eli Tomac, Trey Canard and more are looking for their breakout rides. Cooper Webb is two-for-two in the 250SX class. A few guys are out but still so many more are in, and round three has a certain way of bringing everyone's best. Bikes are much more dialed in than at the opener two weeks ago, and the round-one jitters are gone.The track looks pretty cool, too, with several 180 degree turns, a long sand section, and the always-crazy right hand first turn. Ex-pro Jason Thomas breaks that down here.
Good track, good bikes, good vibes. No excuses from the riders now, as they say: #LetsDoThis