Angel Stadium
Anaheim

,

CA
Anaheim 2 (A2)
Monster Energy AMA Supercross Championship
Welcome to a snowbound Racerhead, coming to you from the edge of whatever storm it is that's putting shivers into the entire East Coast. Everyone is so nervous about the weather that most schools were canceled in the region, and grocery store shelves have been emptied of the basics: bread, beer, Wheaties, road salt, cat food.… Hopefully it won't affect the AMA Awards Banquet we're headed to tomorrow night in Columbus.
But snow won't be a problem when Monster Energy AMA Supercross returns to Angel Stadium in Anaheim for Round 3. (And if there were snow, I have no doubt Dirt Wurx would be on point salvaging the track, just like they did the first time at Anaheim.) You can watch the races live on Fox Sports 1 beginning at 10 p.m. ET tomorrow night. Race Day Live! will have all of the qualifying news and action on their live stream, and of course follow @RacerXOnline throughout for the breaking news and behind-the-scenes coverage of what goes down in Anaheim.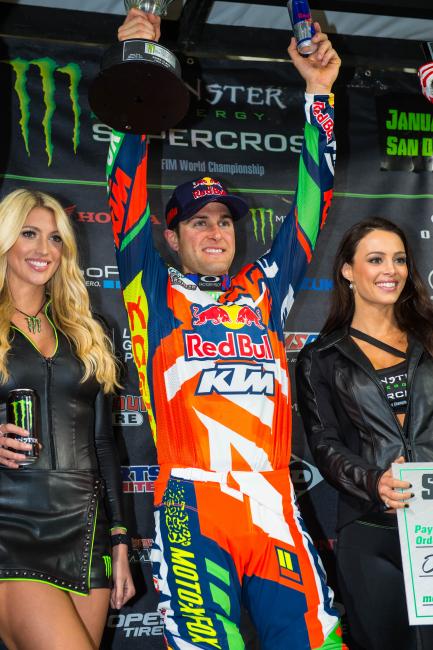 Of course the red plate changed hands last weekend after another solid outing by Red Bull KTM's Ryan Dungey, who truly looks to be in midseason form already. Dungey always seems to pick up steam as the series goes, and he's well ahead of where he started last year, when he won the championship going away. If he gets out of Anaheim with another win, a few riders and teams might be hitting the panic button. Weege will have more on that below.
So far we've seen a slightly older Chad Reed once again turn back time, we've seen Jason Anderson step up into the ranks of true title contention (though he did lose four points after last week's race when AMA/FIM officials docked him for jumping on a red cross flag), and Cole Seely's right there with him. We've seen Eli Tomac starting to pick up a little speed, and we're hoping Ken Roczen and Trey Canard do the same before this gets away from them.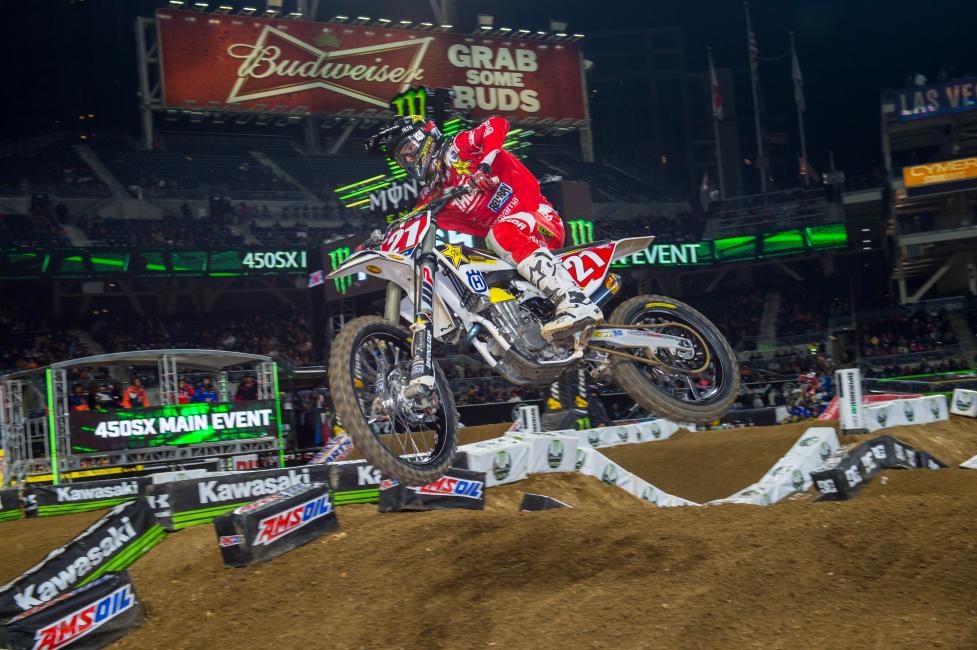 We also saw James Stewart do something very smart in pulling himself out of the race last week, as he was visibly not comfortable out there following the previous week's concussion. James was able to pass the mandatory ImPACT test required for race clearance after a head injury, but that doesn't necessarily mean he was ready to race a motorcycle at the highest level. Pulling out basically ended his shot at this title, but it also showed a responsibility to himself and his team, not to mention his fellow riders. It was just announced that James will sit out Anaheim 2 as well. He hopes to return next weekend in Oakland.
Another story to keep an eye on this weekend is the arenacross debut of Austin Forkner tonight in Allentown, Pennsylvania. Forkner is on Ricky Carmichael's Road 2 Supercross and is getting Ricky's tutelage as one of his advisees. Forkner was fastest in the afternoon's early qualifying, but then another top young prospect, New York's Justin Cooper, laid down some impressive laps too. Not sure when Cooper will step up to AMA Supercross and Motocross, but Forkner plans on being under Mitch Payton's Pro Circuit tent when Lucas Oil Pro Motocross starts in May at Hangtown.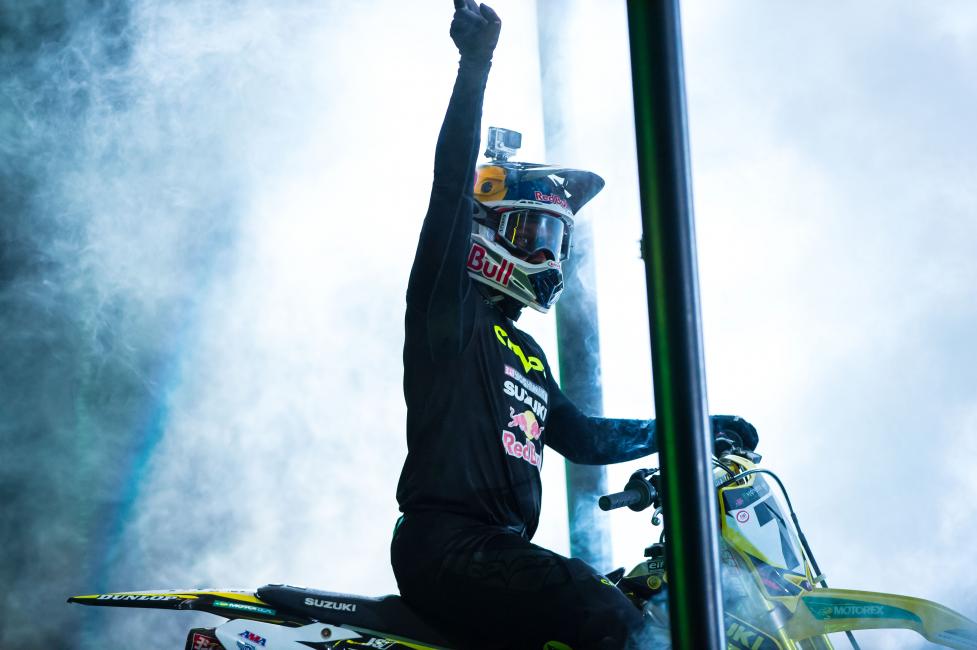 Finally, a tip of the visor to everyone on the BTOSports.com KTM team. Early last week their rig was broken into and they lost an incredible amount of parts and equipment and basic team supplies to burglars. With the help of their sponsors and crew, they were able to get their riders—Justin Brayton and Davi Millsaps—on the starting line at San Diego. Brayton even led the main event for a lap! That's a long way in a very short time for any team after such a crisis. They showed a collective professionalism and determination to compete at the highest level. When they catch these thieves, I hope the police tie these guys up behind a starting gate and let Justin and Davi and Andrew Short practice starts a couple of hundred times. Then they can clear the roost off them and put them in jail where they belong.
Let's get into the news as we look forward to Anaheim tomorrow night.
Round Three Theory (Jason Weigandt)

This is my favorite race of the year. Round three is the ultimate supercross, the race that fits between all the pitfalls that always ruin championship battles.
At the first two races, the riders are nervous and dialing in their bikes. Some teams nail the setup at Anaheim 1, but the racetracks have a different feel from the test tracks, so it sometimes takes a few races to make a match. The first two races help flush the opening-night jitters away too. By round three, bikes are dialed and nerves are gone and everyone is still in the hunt. By round ten, nerves and bikes are dialed, but by then someone usually has a good points lead, half of the contenders are out injured, and the rest are beaten down mentally.
It's crazy to expect ten riders to have equal confidence once they've raced each other ten times. Only in the early races does everyone still think they can win. That level mental playing field is what makes round three so good. The numbers prove it. Over the last twenty-five seasons, only eight times has the opening-round winner gone on to win the title. In that same span, the round-three winner has won the title sixteen times. That's double! The opener is just too nerve-wracking to really provide an accurate gauge. By round three, everyone has the right bike, the right mental state, and the best health, so you're looking at a true test. And more often than not, the winner is the best of the bunch.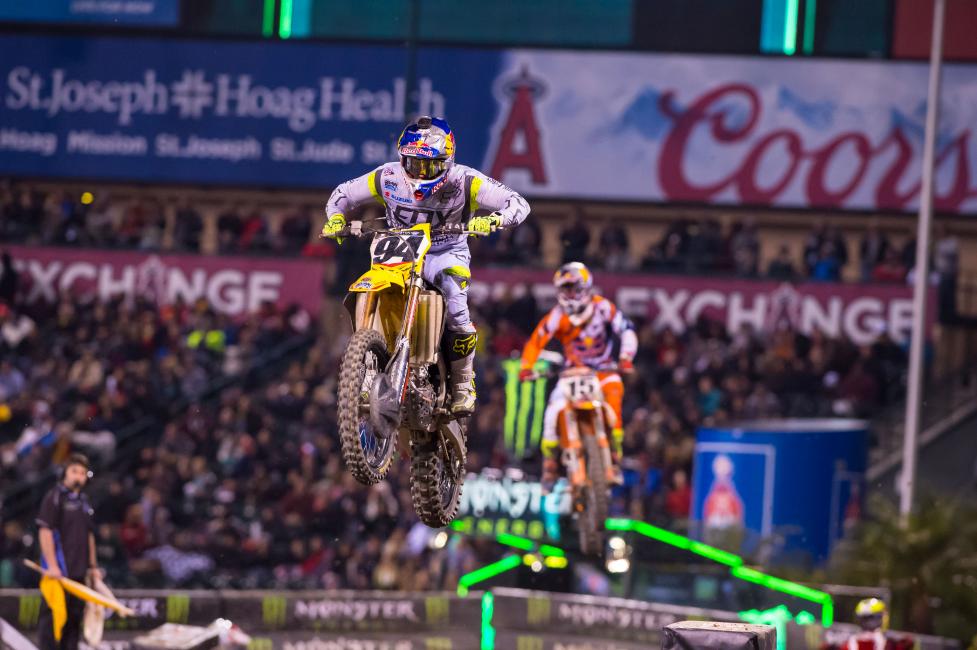 That leads to some stories to watch. For example, Ken Roczen has come from the back at the first two races, but that's fine—he salvaged something and scored points each time. He can do that for the first two races, no problem. But if he finishes off the box again, it's going to start stinging. Expect Kenny to come out of the blocks hard and fast this weekend—he knows he has to get some momentum going. Similarly, Trey Canard needs this race to go well. Jason Anderson has to bounce back now to prove Anaheim wasn't an aberration. His third place (later docked two spots) was a fine finish, but he did have to give the red plate back. Reed and Dungey already look ready.
About the only contender you can give a pass to is Kawasaki's Eli Tomac, who was expected to be a hair behind when the season began. Everyone else should be 100 percent ready, willing, and able to show their best stuff this weekend.
I can't wait!
Injury Bug (Chase Stallo)
San Diego's rash of injury news unfortunately carried over into the week. Soaring Eagle/Jimmy John's/RCH Suzuki's Broc Tickle will miss the next four to six weeks after fracturing the distal radius in his right forearm in a practice crash earlier this week. Tickle underwent surgery at Loma Linda University Medical Center in Murrieta, California. He finished eleventh and fourteenth, respectively, at the first two rounds.
Rocky Mountain ATV/MC's Kyle Chisholm is also out until at least the second half of Monster Energy Supercross after dislocating his shoulder and fracturing the upper part of his humerus in his semi race at San Diego. Chisholm was expected to undergo surgery today.
MAD Racing/Dirt Candy Suzuki rookie Daniel Baker will miss the remainder of the Monster Energy Supercross 250SX West Region after undergoing surgery this week to repair torn ligaments in his ankle, sustained during a practice crash in San Diego.
The team announced that Australian Luke Clout will fill in for Baker. Clout, a former MX2 champion in Australia and two-time member of the Australian MXoN team, flew to California earlier this week to test with the team and will make his debut at Anaheim 2 this weekend. Clout trained at the Millsaps Training Facility as an amateur before returning to Australia. The 21-year-old bypassed a factory Yamaha ride in Australia with Serco Yamaha to contest the remainder of Monster Energy Supercross.
"It felt awesome but I still hadn't reached my main goal of racing professionally in the States, and I am pumped on this new opportunity," Clout said earlier this week. "The first day went really well on the new bike and I felt comfortable right away on the Suzuki. As we made changes things continued to progress and I felt great by the end of the day. I can't wait to see what I can do out there. I feel really good and the team is really helpful which should make this an awesome run."
One last bit of news: Traders Racing Kawasaki's Nick Gaines will miss the 250SX East Region after fracturing his right femur earlier this week at Pala Raceway. We contacted race director Skip Norfolk earlier this week and he told us Gaines had a rod and two pins inserted and has already started physical therapy. While the team doesn't have a timetable for his return, there is hope that Gaines can return for the start of Lucas Oil Pro Motocross on May 21.
Late this afternoon, it was also announced that GEICO Honda's Justin Bogle and Yoshimura Suzuki's James Stewart will miss Anaheim 2.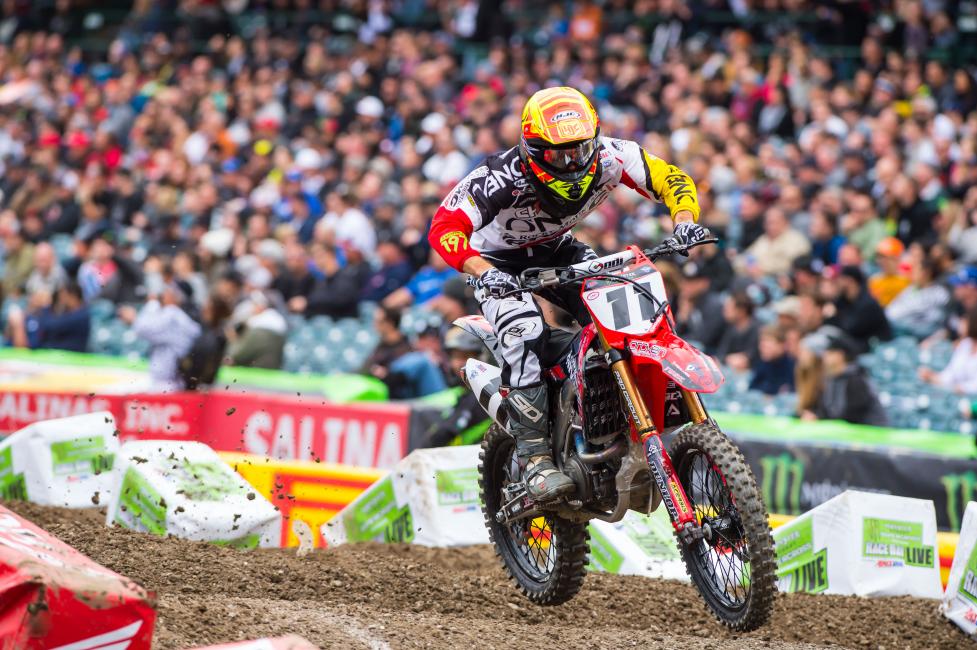 Dungey's Elite Club (Andras Hegyi)
Red Bull KTM's Ryan Dungey proved his skill and consistency once again in San Diego, grabbing his seventy-fourth podium (18 straight and counting) and twenty-third 450SX main-event victory. The current points leader has been able to win each season since 2010, giving him seven straight years of at least one race win. He could soon enter very restricted company: in supercross' premier class, Dungey is only the fifth rider to win in at least seven successive seasons.
James Stewart is the record-holder here, having won in ten consecutive seasons (2005 to '14). He broke the record of the greatest supercross rider ever, Jeremy McGrath, who had wins in nine years, from '93 to '01. Jeff Ward is next with wins in eight consecutive seasons ('84-91). The evergreen Chad Reed was able to win in seven straight years ('03-'09), which means he's now tied with Dungey on this list.
PRO PERSPECTIVE: HOW DO YOU STOP COOPER? (Jason Thomas)
Everyone not named Cooper Webb in the 250 West Region is scratching his head. The Yamalube/Star Racing rider has methodically reeled off two straight wins in his regional title defense. Winning two straight races is not what impresses me most, though: it's how he's won. He hasn't gotten particularly good starts, but that hasn't seemed to matter. He has been able to make up time when it counted and really never showed any urgency or panic. For a rider who doesn't have a ton of experience, he sure is riding like a veteran. I attribute that to his general confidence about where he stacks up against the field. That is bad news for the rest of the class.
For the likes of Joey Savatgy, Zach Osborne, and Christian Craig, their task is a big ask. Not only will they need a good start, but they will also need to match pace with Webb, who has proven he can win from virtually anywhere. If they can show Cooper that they can match speed with speed, they have a chance at breaking his mental advantage. The riding is, of course, paramount in whether they succeed, but the mental side can't be overstated. Until they can stand toe-to-toe with the defending champ and come out victorious, Cooper will have the edge. Then and only then will anyone have a real chance at stopping Webb's run to another championship.
HAHN VS. HAHN (DC)
If you're tracking laps at home, it's probably no surprise that Red Bull KTM's Ryan Dungey has led the most, with nineteen so far. More interesting to us, though, is the fact that the men who have raced the most laps so far are Monster Energy Kawasaki's Wil Hahn and his older brother Tommy of CycleTrader/Rock River Yamaha. Both have had to make each main event via the LCQ, but once in the mains, they both finished nineteen laps in the Anaheim 1 main. At San Diego their tie was broken when Tommy went a lap down on the rather short track and Wil did not. Adding all of the heats, semis, LCQs, and 450SX main events together, Wil Hahn has raced a total of sixty-nine laps already, while Tommy is second with sixty-eight. The always-witty Wil tweeted after San Diego, "Getting my money's worth out of my entries."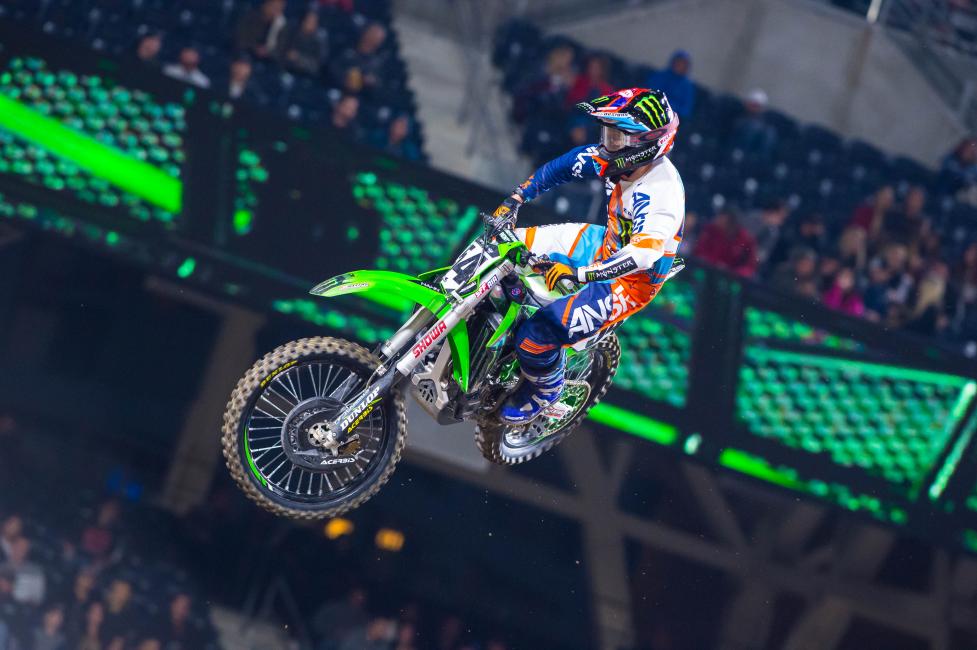 Tier Two (Matthes)
We're only two rounds down, so there are plenty of races to go here, but it's interesting that we've seen the same top seven in the first two races. And those seven guys were, to me anyways, the seven guys we talked about as being able to win races and/or the title. Of course the wild card is Yoshimura Suzuki's James Stewart, who is capable of winning both but is off to an extremely rough start. In case you're counting, Stew's now zero for his last six supercross races (Seattle 2014, Monster Cup 2015, Lille 2015, and now the first three rounds in 2016).
Anyway, back to our two tiers after two races. I think there's a good chance we see the same thing this Saturday for A2, as I can't see a rider in this "sinister seven" falling out without some sort of disaster. I can see, however, the #18 of BTOSports.com KTM's Davi Millsaps getting in there. Last season wasn't good for Davi on the Kawasaki, but he's off to a good start this year. In San Diego he crashed early and passed eight riders to get up to twelfth, and at A1 he also moved forward to get eighth. He's been pretty good after yet another long absence from the bike and yet another adjustment to a new one. Watch out for Millsaps as he warms up here.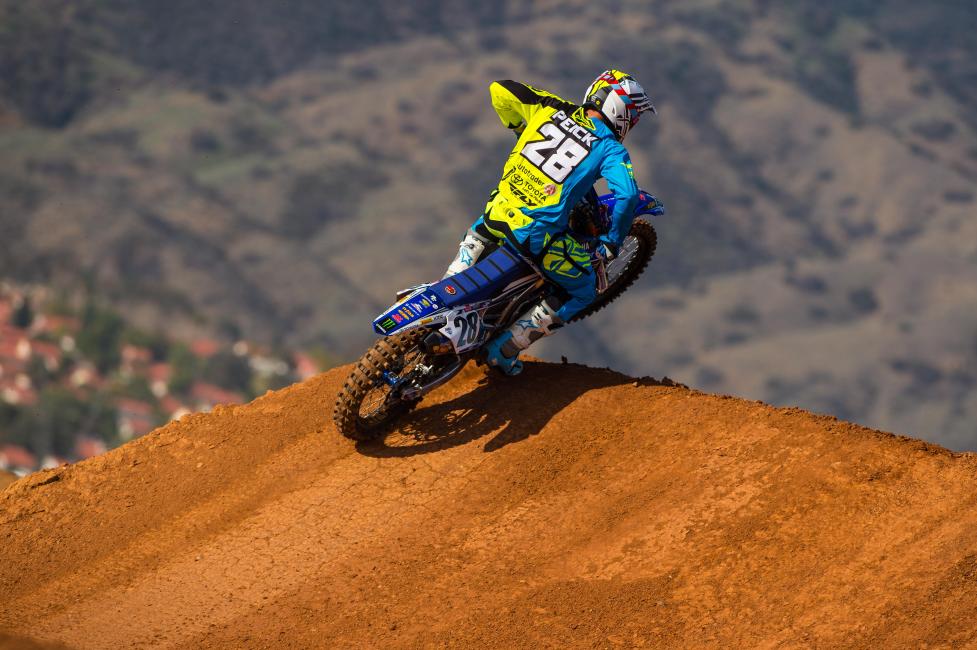 No End in Sight (Andras Hegyi)
Australian legend Chad Reed really knows the secret of a long life. What's more, he knows success very well. At his 185th AMA premier-class SX race, he got his 128th podium, extending his record. He also earned his eighty-seventh podium with Yamaha, which is another record, and has now been able to collect podium in fourteen consecutive seasons.
Reed debuted in 2002 with a few 250 Class races out west while dominating the 125 East Region with Yamaha of Troy. Since 2003 he has been able to get on an SX podium every year. He is only the second rider in history to do that. The other motocrosser is Mike LaRocco, who is the record-holder: The Rock got podiums in 17 successive years! The current GEICO Honda manager got podiums every season between 1989 and 2005. If Reed wants to break LaRocco's record, he would have to keep getting podiums for four more seasons, by which time he would be 38 years old.
RV VS. NYK (Matthes)
I don't even know if this is going to happen, but somewhere along the way the recently retired Ryan Villopoto most likely started something with the recently retired Nick Wey about who was faster. So now apparently these two are scheduled to race at the Kawasaki SX track this coming week for ten or twenty laps. I think the format is still to be determined, but there's been talk of a cash prize for the winner, a barbeque, and some beers brought out, and Mike Williamson, RV's old mechanic and now Kawasaki crew chief, has already started the crap-talking on Instagram. I spoke with Wey, who seems pretty confident that he's got RV covered, seeing as how Ryan hasn't really been riding SX while Wey did prep the entire off-season. But then again, he's Ryan Villopoto! Stay tuned to see how this turns out.
And speaking of RV, he wasn't at the press intro of the new Monster Energy MXGP (maybe he was training to race Nick). Nor was I, but Jason Weigandt and Jeremy McGrath were. Look for a 3-on-3 feature up on the site tomorrow morning on the presser.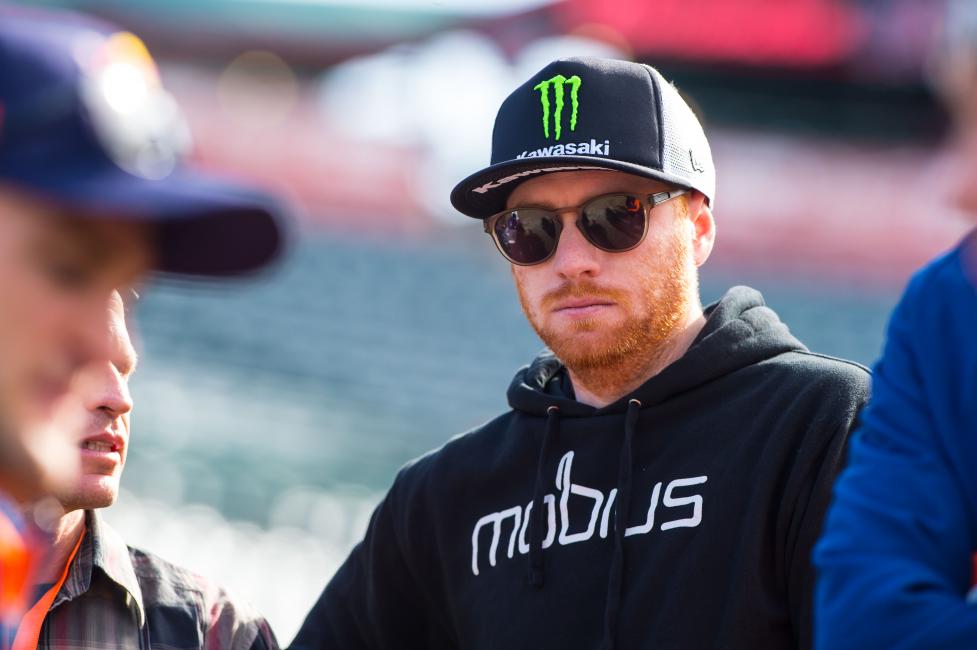 THE NUMBER: 3 (DC)
This is already a historic season unlike anything we've seen in two generations. Rockstar Husqvarna's Jason Anderson winning the Anaheim opener and Red Bull KTM's Ryan Dungey winning San Diego means that it will be until at least the third round of Monster Energy AMA Supercross before a Japanese OEM will be able to claim a race win. Believe it or not, this has happened before, all the way back in 1975. That was the year that Jimmy Ellis, riding a Canada-built Can-Am motorcycle, won all four rounds of the AMA Supercross Championship: Dallas, Daytona, Houston, and finally the Los Angeles Coliseum (though the Superbowl of Motocross was not a points-paying round of the series). Now that I think of it, that's a record that will probably never be broken: no wins in a series for any Japanese or European-made motorcycles … unless those Chinese and Indian motorcycles get about a hundred times better than they are now.
THE NUMBER: 9th (Andras Hegyi)
If you're Suzuki, you aren't happy about injuries to three of your four top 450SX riders—Stewart, Blake Baggett, and now Broc Tickle—nor the 5-6 finishes so far for Ken Roczen. But as far as the 250SX Class goes, they do have a glimmer of success with the ninth-place of Kyle Cunningham. Suzuki has not gotten such a result in 250SX since 2013. In the past, Suzuki had a great representation in this class, but things got bleak in 2014. Before that, going back to 1985 and the first year of what used to be the 125 Class, Suzuki had collected thirteen championship titles and 105 race victories altogether: five titles and forty-five wins in the West Region, eight titles and sixty wins in the East. But their last 250SX Champion was Ryan Dungey in 2009. Suzuki got its last win and last podium in 2013; the past two seasons were fruitless. Just for that reason, Motorcycle Superstore Suzuki rider Kyle Cunningham's ninth is a step in the right direction for a brand on the rebound.
250SX West Region is Tough (DC)
How cutthroat is it out there in 250SX? Imported talents like Maxime Desprey of the France-based Bud Racing Kawasaki team and Dutch prospect Nick Kouwenberg of Honda Pro Racing have only made one main event combined (Desprey, Anaheim 1), despite having considerable speed. In both cases, it sounds as though nervous energy and the short, hectic nature of AMA Supercross are obstacles both need to overcome. Desprey, who is getting help from none other than David Vuillemin, was holding down fourth in his heat race with two turns to go when he clipped a Tuff Block and went down. Then in what his team's PR called the "crazy race" (or what we call LCQ), someone fell in front of him on the first lap and that was that.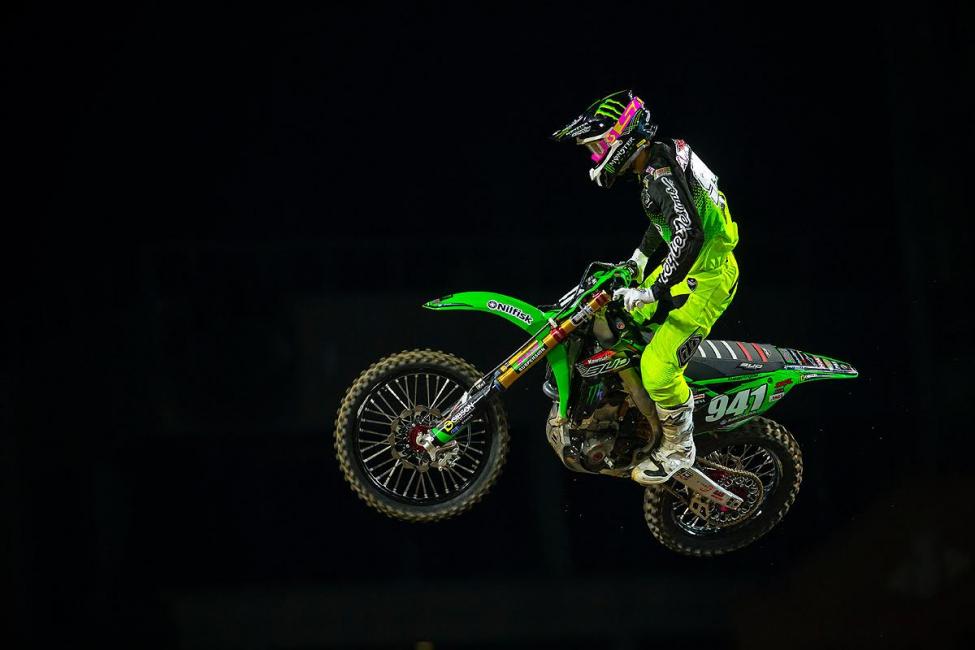 Said Kouwenberg via his team's PR: "It was a little bit more relaxed seeing the guys for the second time. It was tough again as expected but it was better in my mind this time... The heat race goes so fast, it's like it has ended before you've even watched it. My confidence is building every week but I know I need more riding time before I can improve enough to make the main event."
Don't count either out just yet. Supercross is not as easy as it looks—and I think it looks pretty damn hard!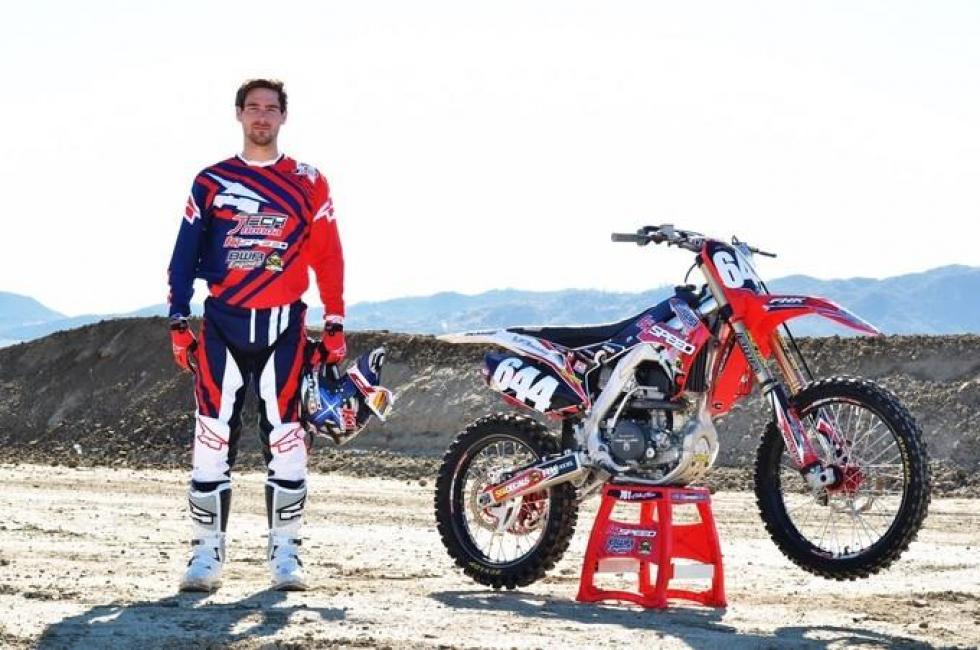 Head-Scratching Headline of the Week
Florida man steals puppy from pet store, trades it for crack —New York Daily News
Hey, Watch It!
Millsaps at Milestone
Team owner Forrest Butler updates us on the BTO Sports KTM rig robbery
Anaheim 2 Press Day
Hot Pulp Links
Moser profiles the guys that miss the main by one spot each and every week, so this week in his Just Short column, it's Dakota Tedder.
We miss Kevin Windham, right? Troy Bendgen gives us the 14 reasons we miss the OG #14 out there.
The folks at Slaton Racing give us a behind the scenes look at their team and Zac Commans debut for them here.
David Vuillemin wrote about San Diego and all that he saw there right here.
Jeff Emig, Jason Thomas, and David Pingree were all on the Fly Racing Moto:60 Show presented by N-Fab. In this show Ping answers the long awaited question of which rider he would want to chain up in his basement. You can listen here.
Tony Blazier profiles Honda's first entry into the CRF world here with his look at the 2002 CRF450R.
The 722 talks about his opening two races of the year in a column that has more exclamation marks than what is probably legally allowed here.
Random Notes
Heading to Anaheim 2 for the third round of Monster Energy Supercross this weekend? Stop by the Racer X booth—located in the Party in the Pits—to pick up a free copy of Racer X Illustrated. You can also sign up or renew for just $25 (60 percent off the cover price) to get a one-year subscription, a FREE Racer X beach towel, and an extra issue!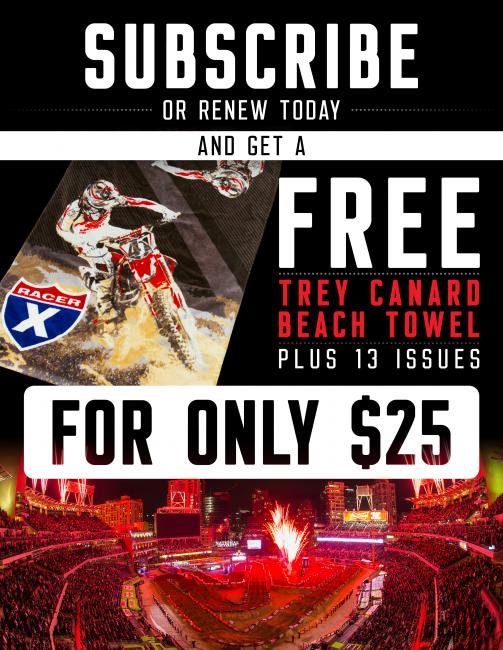 Brad Gebhardt from BigMx Radio told us he had the pleasure of having Jake Weimer on the show for "thirty minutes of gold! I was able to get Jake to really open up!" Check it out here.
Tony Pitcock, who was a Virginia State Champion and Twin County Champion, was injured while practicing at Southfork Motocross track on December 20. Tony's injuries include seven broken and one crushed vertebrae, 22 broken ribs, a broken sternum, and a broken scapula. Due to his injuries, there is a 1 percent chance he will walk again. His friends have set up a GoFundMe to help with medical bills and the extensive physical therapy. Go here to donate.
For updates from Canada, check out DMX Frid'Eh Update #3.
Looking for some racing to do in between Atlanta and Daytona? On Thursday, March 3 at Tampa MX, the Inaugural Pro Circuit Open Presented by BTOsports.com.
Gates Open at 3 p.m., Pro Practice is at 5, Amateur Practice 5:30, and racing starts at 7 p.m. There will be a $10,000 Pro Purse: 1st pays $4000, 2nd gets $2500, 3rd gets $1500, 4th $700, 5th $500 and down to $50 for tenth-place. There will also be a $500 Hollywood Racing Pro Holeshot Award. Class Entry is $50 Pro and $30 for a Amateur classes. For more info check out www.tampamx.com.
Thanks for reading Racerhead. See you at the races.