PETCO Park
San Diego

,

CA
San Diego 1
Monster Energy AMA Supercross Championship
Last year it took Ryan Dungey five races to get his first win, but this year he checked that box in just the second race. He's also sitting on a six-point lead, which is terrible news for the competition—Dungey is the last person you want to let start building a cushion. We caught up to Dungey next to the podium following his impressive win in San Diego to get his thoughts on his first win of the season and on getting the red plate.
Racer X: Great race!
Ryan Dungey: Yeah! Got off to a good start, think I came around the first turn in second, and then Chad [Reed] kind of came up the inside and some guys went up the outside and I went back to fifth. It took two or three laps to make the passes happen, but it was good—we were able to make those passes and get to the front, usually that's a little bit tougher. Was able to get in the lead and just tried to ride smooth, smart laps. The track was tricky with it being slippery, and getting the rhythms dialed in each lap was also a challenge. And with Chad on my heels the whole time, that elevated the pressure a little bit to not make any mistakes. But overall everything felt good and the bike felt really nice. Got some good starts tonight, which was good, and the Red Bull KTM felt good.
Does it feel like you're settling down to business now after all that hype leading up to A1?
Yeah. You've seen it, from the press conference to the race—I think everyone is just excited and anxious to get going. The intensity just escalates to a point where it's maybe a little too much. Nerves are high, and that's just what it is. We've been practicing for four months now it's time to go racing. It's always a little uncomfortable, but you get back in the groove and learn the feeling. Last week was good though. We got shuffled around a bit and had our work cut out for us but a second place was good. We rebounded for second and tonight I was looking to get a good podium finish. I wanted to get a win, that's the goal, but it was all going to start with the start and executing your laps, corners, and no mistakes. It was tricky tonight from practice on, all day. We had good times, but you had to be on your toes on this track.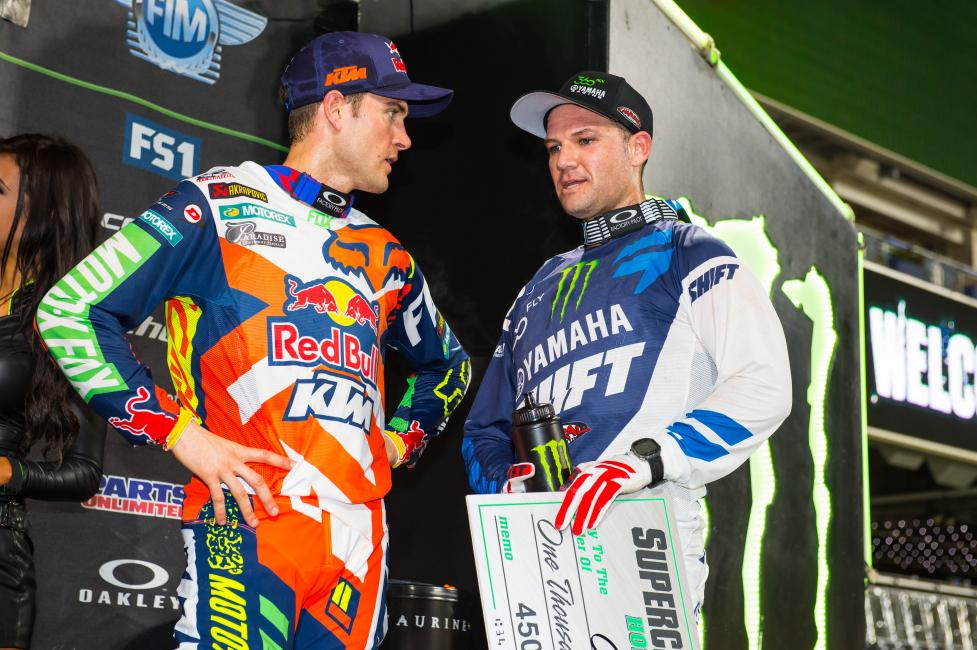 What was it like having the old guy chasing you around?
It's amazing; it's pretty cool. And not that he's an old guy. He's a little older than me, he's considered a veteran in this sport, a good one might I add, and it's awesome to see he's got that level of intensity. I know it's hard to walk away from this sport for a lot of guys, but I give him credit for keeping coming back and always being there. Last year he won a supercross! It's impressive.
Some guys changed a lot of stuff during the week. Were you one of those guys?
You know, we went into the week not really looking to change anything but we did get a little better on the rear shock, which really helped the balance of the bike. Just some small stuff, nothing really too crazy, but a little bit better traction and more comfort. So yeah, we ended up making progress and finding a little bit better balanced bike. A couple changes during the day fine-tuned it a little bit. I was happy with the little bit of testing we did during the week; it wasn't an all-day deal.
When Reed was behind you were you all out or did you have a little bit left in the tank in case he got right up on you?
I think we all had more left in us, but you would have to find the roll speed rather than intensity because the harder you attacked this track the more you would spin and you'd be prone to make a mistake—you're overriding it at that point. I felt him there but I just tried to keep things clean and tight. I think we all had a little more in us, but it was just such a fine line. A few corners were a little softer and kept getting pushed so I'd get inside and try to start a new line and just keep that momentum going.
You have the red plate now. Last year when you got it you held it all the way to the end. Do you think about that at all?
It's too early. It's awesome to have the red plate, it's a great position and we can build on it. That's the plan, build from here. This is round two of seventeen and you can't get ahead of yourself. We just have to keep applying ourselves, executing our plan, maintaining preparation during the week, and be ready to go on the weekends.
Any close calls with lappers?
No. The lappers actually weren't too bad coming up on them tonight, which is good.
Any close calls on the track?
Nothing close. I kind of lost the rear once before I went into the whoops before the halfway point but that was it. I lost my momentum a little bit and it was like, 'Here comes Chad," you know? [Laughs] That was probably the biggest mistake.
You were fastest in qualifying today too. Were you feeling the win when you lined up for the main?
Yeah, I hoped so. I felt good in practice and felt we were putting in laps we could do consistently for twenty. One fast lap in timed qualifying is one thing, twenty laps in the main is another. I felt confident if we put ourselves in a good position we could contend for a win. Of course, everything has to go right, right?
About what happened with James Stewart last week. Was that in your head? Do you think about that?
Yeah, it weighed on me this week if I'm being honest. I tried to reach out to James and apologize, and after the race on live TV I said it was an accident. I had no intention of going in there to do that, and they got all mixed up before they went into the turn and I was already on the inside. I'm not the kind of guy to go in and T-bone someone like that, especially putting myself at risk. I'm glad I didn't go down but I'm bummed he had to go down. I hope he comes back strong and healthy. It was a racing incident and it was unintentional.
What's on the to-do list this week?
Consistency with Aldon's [Baker] program as far as training and riding. We'll put in our laps, stay consistent, stay healthy, and stay smart. We have a good crew at the test track with Marvin [Musquin] and Jason [Anderson], and all the KTM and all the Husky guys. We have a good crew.