The Amsoil Grand National Cross Country Series and the Kenda AMA National Enduro Series have been around forever, but no rider has ever been able to successfully campaign both series and win both titles in the same season (in fact, only one rider ever, Charlie Mullins, has even won both titles, albeit in different seasons). That changed this year. FMF KTM's Kailub Russell locked down his third-straight GNCC Championship while also winning the National Enduro crown. Along the way, Kailub also dealt with a torn ACL after a crash while battling for the lead at the International Six-Days Enduro (ISDE), and then he and his wife Chandler welcomed their first baby into the world. That's quite a busy year!
For that, Cycle News, long the industry standard for race coverage, named Kailub its Rider of the Year, over stars like Ryan Dungey and Jorge Lorenzo. The publication hasn't given an off-road racer that honor since 1995. That's quite an accomplishment, so we gave Kailub a call for an update on it all.
Racer X: When we last talked to you for Racer X you were probably heading for surgery if you got the enduro title figured out. Now you've won it and you went for surgery. How's the recovery coming?
Kailub Russell: It was a pretty stressful few weeks right after the injury and trying to figure everything out, doing a bunch of math trying to figure out what place I need to finish at the races. There's a considerable amount of money up for grabs to win those championships. The doctors weren't giving me too much hope in being able to finish those races. But I ended up getting everything done, got both titles, and we had surgery.
We did a complete ACL reconstruction on my right knee. Recovery has been going good. It was a really tough first three weeks. It was crazy. You go from being able to move your knee fine and then I'm not even able to… The first few days standing up was just hard enough with just the blood rushing to it, all the pain and everything. But it's going good now. The first three weeks were the toughest part to get mobility back in the knee. Now I've been cycling a bunch and just training. The injury is probably a blessing in disguise because it's gotten me a little bit more motivated and got me training a lot sooner than what I normally ever have. I'm feeling really fit and I'm excited for March.
March is the big question. We know with an ACL sometimes it's five or six months. So are you sure you're going to be able to race the GNCC opener down near Daytona or do you not know yet?
Nothing's positive, but the way everything's been going, my knee feels good. I'm just a little over two months now and I did my first run yesterday. The knee's strong. It feels like it's healing well. There's virtually no pain. I've got all my mobility back. I feel like I'm taking all the right steps necessary to be able to ride. I'm trying to start riding at the end of January so that would be three and a half months. I'll just be taking it easy at that point. I feel like the hardest part is being in shape for actual racing. I think the bike stuff always came natural to me. I feel like that's going to be the easier part, it's getting enough on the bike fitness back that will be the question.
So the calendar says you could be able to do this?
Yeah, exactly. I've been training with some buddies, Travis Beam, been going down to his place. He's blown his knee out before and he has the steps of what it takes to kind of get back into shape. I got another kid that's down here, Layne Michel, been training with him. I'm seeing huge gains in fitness. It's exciting when you have people to train with and push each other and you're seeing results.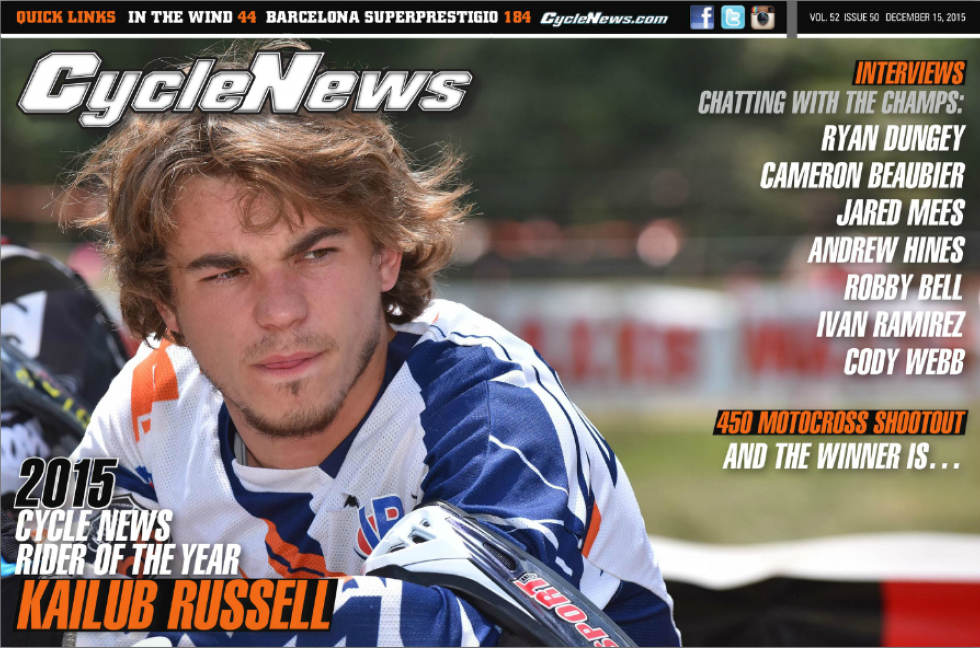 That didn't sound like it was always your deal, partnering up with people and all that. I know a lot of the GNCC guys live down there around North Carolina but you're not always in that training circle with all of them. Is this a little new for you?
Yeah, kind of. Layne, we were both mini bike riders together in the GNCC and we've always kind of meshed well together. Now he's dating my wife's sister. He's been around a lot more. It's somebody to ride with and train with. He's kind of coming into his own in the GNCCs now, so it's really good.
As far as the National Enduro title goes, I know when I talked to you last year you were a little worried because you said that wasn't quite as easy for you as the GNCCs come. So how were you able to pull it off? You actually wrapped up the title in one race, didn't have to go down to the final.
Yeah, I only had to do the second to last race. I was planning on having to do both of them, obviously. I wasn't expecting to wrap it up a race early. There was a chance to, but I was going to have to beat those guys. I wasn't positive if I was going to be able to do that because Russell [Bobbitt] had been riding really well and so had Steward [Baylor]. I was hurt and I knew I wasn't 100 percent, and even when I was it was tough for me to beat those guys. I was planning on racing both of them and I ended up kind of getting lucky. I ended up getting third and rode pretty decent. Kind of got better throughout the day. It was definitely a lot tougher to do the enduro on the knee than it was the GNCC. The GNCC you had continuous laps and you knew what lines were good to get smooth and get faster throughout the day.
With enduro it's a new trail, every test is something new. You don't know what's around the corner. I actually popped my knee—I don't know if I dislocated it or it popped or whatever, but I jammed it pretty hard in the enduro and it felt like it kind of came apart almost. It was pretty painful. It was kind of the same feeling as when I originally blew it out. Not quite as painful but it was still enough to make you slow down and cringe for 30, 45 seconds and then had to gather myself a few times. It was a lot tougher for the enduro for sure.
So by winning it one race early, you got to get surgery earlier?
I had already had that surgery planned for October 15 and that was three days after the last enduro. I ended up just keeping that surgery date because right after I won the title, the very next weekend my son was born. I had a few days where I could still be kind of mobile and help [wife] Chandler with him and not be a baby myself!
Not everybody is going to make a ton of money racing off-road. It's just not there yet. But there's money to be made and you've got to be smart about what you do.
That's got to be pretty rough around the house. So you've been going through this process, trying to get up and around, at the same time you've had your first child! That's a pretty crazy mix.
It's pretty tough. I'm kind of glad I waited a few days, because I had surgery in Morgantown so she was kind of on her own here in North Carolina for a week. She didn't want to travel with the baby yet because he was only just a few days old. I ended up staying the week at my dad's. I'm glad I was able to be there for a few days with her and him. Once I got back home after the surgery, I was kind of starting to be able to get along on the crutches a little better. I wasn't very active by any means; I was sitting on the couch quite a bit. But I could manage my way up and down the steps on the crutches and help her out somewhat.
To top this all off, Cycle News names you the Rider of the Year. They cover MotoGP, road racing, supercross and everything else. They tell me they haven't had an off-road guy win it since Ty Davis 20 years ago. That's a pretty amazing honor. Not best off-road guy, not best dirt guy, the rider of the year from any motorcycling anywhere.
Thanks. You know, until you put it in those words I didn't really realize that it was all motorcycle racing around the world, anything to do with two wheels. I just hadn't thought of it that way. It's pretty cool to be named Rider of the Year in Cycle News because it's like the Holy Bible of motocross and motorcycle racing in general. It's been around for forever.
So now you and your dad have both won the AMA National Enduro title. Now you've got a family you're starting to build here. Could we be talking about this 25 some years down the road, granddad, dad, and another kid racing, going for that same title?
It's pretty awesome to win the Enduro title. GNCC has always been my main focus, I never planned on racing the Enduros for a full year or whatever. Maybe in the future I will give it another shot. But it was really cool just to do that for my dad and to win a championship. As the series went on further and further people kept telling me how awesome you and your dad can have two National Enduro titles. It kind of gave me a little bit more motivation. But as far as Krue growing up racing, I'm going to try to treat him like my dad treated me with racing. It was never a main focus. It was always something that I just did for fun and kind of gradually grew into it and got better and better. It's whatever he wants to do. I'm not going to push him into it and say you got to race and be that moto dad out there just ripping into him. If he wants to do that it's all good, but I'm going to try to put some golf clubs in his hands and get him out on the links!
Golf probably sounds pretty appealing while you're recovering from a torn up knee.
Exactly!
That's a pretty amazing year. Obviously one huge thing didn't go your way with the ISDE and the injury and all that, but still when you look back at 2015, especially having a kid and everything, it's got to be a pretty amazing year.
It's been a great year. I look at 2013 and I won the championship. It was like, man, how can it get any better than this? I won seven races. I beat Charlie [Mullins] in the final round to do it. In 2014 I won even more races and then even won a race on the 150 two-stroke. Then this year, my wife is pregnant, we're having our first kid, I won two championships and a bunch of races. The years keep getting better. It's tough to keep that going. It's cool to kind of look back and see where you came from and what you've accomplished now. It just makes everything pretty gratifying.
So next year you're going back to just the GNCC Series?
Yeah, because the Sprint Enduros and the National Enduros start in February, and I'm only going to start riding right at the end of January. I want to just kind of take it easy the first part of the year and just do the GNCCs, my main focus. I might dabble in some other stuff here and there. That's kind of the plan. Maybe in 2017 we'll get back in the full swing of things if everything falls right.
You mentioned something that hardly anybody does, but that's cool that you did, especially on the off-road side. You said you had some money on the line to win these titles. You can be a professional in off-road and make money still; the dream is still out there.
Off-road nowadays it's really tough to make a good living. There's a lot of work to getting there. Not everybody is going to make a ton of money racing off-road. It's just not there yet. But there's money to be made and you've got to be smart about what you do. You've got to win and be able to brand yourself the right way. I think I've kind of accomplished that over the last few years and I'm just now starting to reap the benefits of some of my accomplishments.