Three weeks ago, Kailub Russell was working on a season the likes of which no American off-road racer had ever come close to accomplishing. He led both the Amsoil Grand National Cross Country Series, presented by Maxxis, and the Kenda National Enduro Series, attempting to become to the first rider to ever win both titles in the same year. Then, at the International Six-Days Enduro, he jumped out to the early overall lead as Team USA tried to win its first-ever World Team Trophy.
Then he twisted his leg and tore his ACL. His ISDE was done and both American off-road titles nearly evaporated, too. But on Sunday, he saddled up for the Parts Unlimited Unadilla GNCC, sore leg and all, and salvaged a fourth, more than enough to lock up his third straight championship. But, when we talked with him earlier this week, he says he has more work to do.
Racer X: Well, congratulations on grabbing the GNCC title again. How did it feel on the knee?
Kailub Russell: It was tough; it was really just about finding my limits. The track was super rough. So, at first when I did it in Six Days on day two, I actually rode with the injury for a bit and noticed some of the spots where it would hurt. Downhills hurt for some reason. And then on day three when I was riding, it was really hard for me to use my brake pedal. I had to kind of almost rotate my foot inward to hit the brake, and every time I'd do that, that's when the pain was at the worst, pushing down and pulling my foot into the bike.
Go through how this all happened. You crashed a couple of times. Do you know which one did it in?
Actually, I didn't crash at all. On day two I think it was maybe the second-to-last test, I just dabbed. It was pretty high speed, and I just started losing the front end, and I dabbed and just twisted my right foot pretty far around. And I had instant pain right after that. So I just didn't think much about it. Just thought I tweaked my knee a little bit. Kept riding, finished out the day, and I didn't do so hot the last couple of tests because I was in a little bit of pain. The next day I woke up and my knee was swollen up and super sore; I had actually wrapped it up because it was sore. It was hurting and my hamstring was tight. But I actually went out and won the first test, then the second test I dropped down into a ditch and it just blew out. I heard it pop and my foot kind of fell off the foot peg and that was that. I lost a bunch of time because the doctor was kind of evaluating it, and he gave me a shot and he sucked some of the fluid out of the knee from where it was swollen up. The injury didn't come from the crash. I think the crash came from the injury.
So you did crash after you blew the knee out?
Yeah, the crash was the end game. It was probably the best thing that happened. I probably would have tried to continue riding the rest of the week, and who knows what I would have ended up doing to my knee.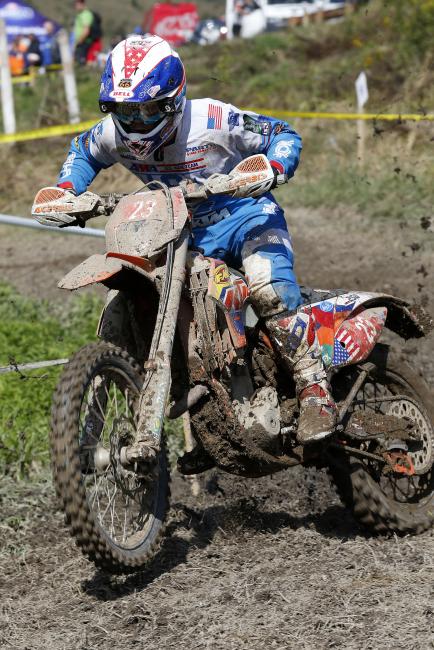 So you crashed. I know in the ISDE, if your bike gets torn up, you have to be able to fix it. So were you done physically, or was it actually a smashed bike that ended your week?
We were just going to try to finish out the rest of the day and then evaluate it. We knew something was torn because when he drew fluid out of my knee there was blood. So I kept going, and I ended up crashing. I crashed, I endoed down a hill, and my bike just kept going! The entire motorcycle was pretty much totaled. And in Six Days, they call it houring out; you only have thirty minutes. So if I'm not within thirty minutes of my time that I started on the day, then I'm out. So obviously I'm already seven minutes down from getting my knee looked at earlier in the day, so there was no time to fix my bike. We just called it.
Were you nervous? Obviously, in the GNCCs you got a big points lead. You didn't need to be able to do too much, but did the titles start running through your mind?
No, the first thing I thought of right when I dropped in that ditch and my knee popped and my whole leg just kind of gave out, it took me 30–45 seconds to actually kind of fathom what just happened. I knew something terrible just happened, and I was in a lot of pain at the moment. I was pretty bummed because I had a really good shot at winning the overall, and as a team we were looking really strong to win the World Trophy title. So right at that moment I didn't really think of the implications it had on the racing in the U.S. I was just thinking of what was at stake while we were there. It kind of evaporated rather quickly.
"The crash was the end game. It was probably the best thing that happened."
It's easy to go in confident, but then the way that first day went, you knew that was legit. You guys legitimately showed that you could win this thing. That probably makes it worse.
It was really a bummer because I was riding really well and [Australian Daniel] Milliner was riding really good on the second day, but I made up twenty seconds. I came from almost twenty seconds down on the first day to leading the overall by a second and a half, so I was pretty confident in myself that I could do it. I started out pretty good on the second day. I won a test and was in the top three, and then I tweaked my knee, and things kind of went downhill as soon as I tweaked my knee.
Were you able to hang out and watch for the team?
We knew something was torn in my knee, so the best thing for me was to book a flight. That's where it kind of set in; we needed to get on the ball here and see if I can ride the next few races I have here in the States. So we hopped on a plane straight away and as soon as we got off of it in Morgantown [West Virginia] I went and got the MRI. I went back to my dad and my doctor, the same doctors that worked on my knee last year when I broke my kneecap. I started doing therapy straight away. When he read the MRI to me, he said, "There's no way you can race." We were kind of down in the dumps there for a couple of days. I was still doing therapy just to try to get my knee strong, get the swelling down, and everything. At the end of the week I felt good and I felt pretty confident. He kept checking on me. He gave me a 50–75 percent chance of finishing the race, and I ended up finishing it and getting fourth. So I'm pretty happy with it.
Did you ride at all before Sunday?
No.
Not even a little bit before you at least went to the starting line?
I got on my bike at the semi and rode it down to the start to wait for the green flag. That was pretty much the most riding I had since the previous Wednesday.
The worst thing about off-road when you're injured is if you even rode for two hours, you would have gotten no points. You have to do the whole thing, three hours.
Yeah, that was the goal going into the day is just, if I happen to hurt it or tweak it, just try to keep going and salvage what I could because the championship kind of all rested on where Grant Baylor finished on the day because he was the only person that could catch me in the points standings. I got a bad start. I think he might have had a little mistake there in the first few turns. I just kind of rode with him all day, and at the end of the race those guys started dropping off. Before I knew it, I found myself in fourth on the last lap. I wasn't really riding any harder; I was just a little more confident. I knew my limits with my knee, and I kind of got in the groove. I stood up a ton all day. I hardly ever sat down. The track was really rough, and I can tell now because my lower back is really sore from how much I stood up and how rough the track was.
What's the enduro scenario here? What do you need to do?
After riding Unadilla I've got a lot more confidence, and I think I'm capable of putting in a pretty good result. Enduros aren't quite as rough. I just need to be careful and not smack my knee or anything on a tree or get bent out of shape. I feel like I might possibly be able to go for the win on the weekend because the enduros are so much different. The tracks aren't nearly as rough, and you're not really racing anybody heads up, so you don't have to worry about anybody getting up to you and taking you out except some of the guys on the roads in front of you, the slower guys, B and C groups that you have to pass. But I feel like I could possibly go for the win, but if that's not the case, I just need two eighth-place finishes if Russell Bobbitt were to win both of them.
Will you get this fixed at some point? A lot of guys keep racing with a torn ACL.
I've done a lot of research, and I think the best thing for me to do is to go ahead and get it fixed. That's what I have planned on doing. October 15 is the date I go in and get it fixed. It puts me behind schedule for next year, but I think with the right therapy and the right amount of work I can be back. I'm young, I'm healthy, so I think the healing process might not be as long, but we're definitely going to take our time with it and not rush it. If I feel like at the start of the year if the doctors are telling me, "You probably shouldn't race," that's what I'll do. But I'm pretty confident that I'll have enough time to get it fixed and start 2016 healthy.
Obviously this ISDE was a big disappointment the way it ended up. Sipes won, which was cool, but for the team it could have been so much more. Still, there was a significant step. Can you at least look at it and say, "Okay, we are definitely on the right track; all we need is luck on our side now"? You're definitely fast enough. Do you take a little something out of that?
I don't know. Antti's [Kallonen, team manager] could look at it like that, but I look at the last few years and I'm just bummed. We lost. That's just me. That's my own personal opinion. We've definitely been the favorite the last two years, and we haven't been able to make it happen. So I think it's a big disappointment, and I feel like we've let a lot of people down even though we showed some brilliance here and there, but as a team we haven't been able to keep it together. That's the biggest thing is not having bike problems and people staying healthy. We've made huge gains and we've got a good group of riders to pick from now, people that want to do it, so there's no reason we can't win. But we definitely haven't had luck on our side, but it's definitely been a huge disappointment the last couple of years.
So you're really not interested in moral victories at this point; you just want an actual victory?
Yeah. I don't take losing too well. Nothing's as satisfying as winning, and we got second a couple years in a row and now this year we had problems. Last year I really feel like as a team we should have won, and we definitely need to have a good year next year. I think we can still win it. I think the group of riders we had was really good. Some guys struggled here and there, but as a whole we were on top of it for a while, and then it all fell apart again.