Marvin Musquin's 2015 season was superb, complete with a 250SX East Region title in Monster Energy Supercross and a French team triumph at the Motocross of Nations, but he also incurred a wrist injury during Lucas Oil Pro Motocross. For the most part, it didn't slow him down, but off-season surgery was a requirement, and that has coincided with his bump up to the 450 class. How's the transition to the big bikes going? We asked the man at the Red Bull KTM media intro this week.
Racer X: I talked a little bit to Roger about it but can you take us through the process of choosing a 350 or a 450? He said that you more or less decided on the 350 or 450 before the GP but can you take me through the process of how you figured it out?
Marvin Musquin: Before the GP I tested it one day. The 350 was nice but that 450 was just another level, better traction, and actually the turning was really nice. So I picked the 450. I didn't have a lot of time on it for the GP. I didn't do it exactly when I wanted to do it but that's the way it is. Right now I'm just trying to get used to that 450 and trying to get stronger. I had surgery on the hand so the wrist and the whole arm is a little weak right now. It's been tough. I'm still wearing a brace to make sure it's safe. So it's obviously not easy right now. I wish I was 100 percent healthy, but hopefully it will come as soon as possible. Trying to be as good as I can before A1.
You're always the guy that's so smooth and deliberate with how you ride, it seems like that would help you on a 450 in supercross. Is that the way it's sort of panning out?
Yeah, I hope so. Obviously there are some riders that muscle it more than technique and it works, they do good. But that's not my style. I'm not a huge guy, super strong, so that's why also I need to use my technique. It has been like that my whole career. Just trying to get better, but the technique is the most important thing I think.
So you got a championship bike. Where are you putting this thing?
I have a room at my house. Not really a trophy room, but like a nice black wall where I have my red plates from GPs. Each round you get red plates when you leave. For two years I've been leading the championship quite a bit. So I have a few red plates, and my championship bike from 2010. So I'm just going to put that bike right next to it.
So you're not going to do any burnouts in the street or wheelies down the street on it?
No, we're done with that. That's after the race—we do that when we win.
Maybe fifteen years from now when you've been done racing for five or ten years then you'll take your trophy bikes out and do wheelies down the street.
If they still work. If you don't start a bike for many years that can be bad…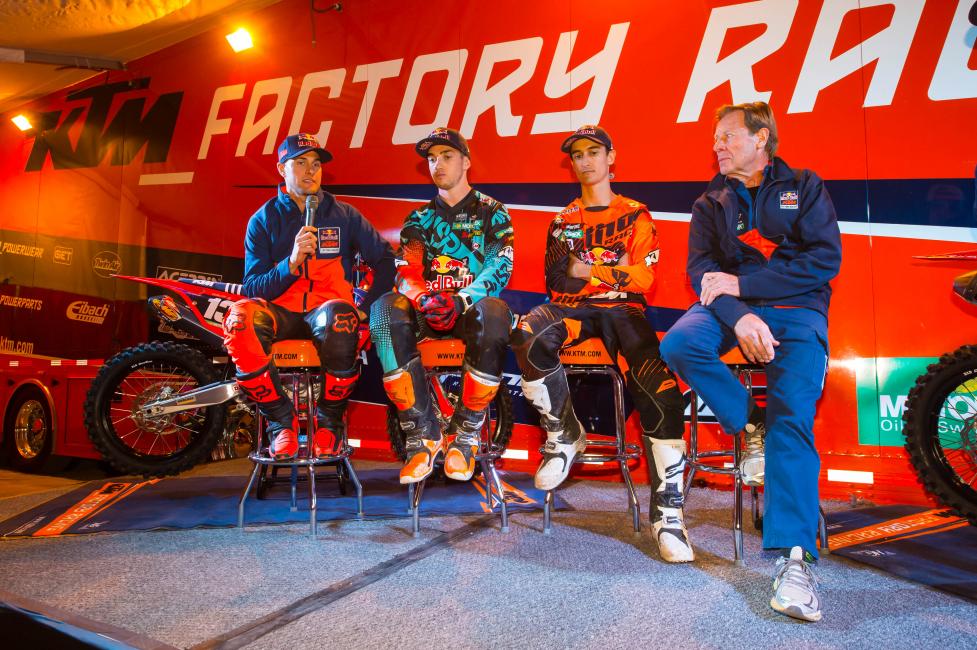 Going into the season there's got to be stuff that you're nervous about and things that you're totally not nervous about that you're actually looking forward to. Can you talk about what those things would be for you?
Obviously right now I'm more nervous than confident because it's new for me. And not being 100 percent with the hand and struggling a little bit right now even though it's getting better. We have to stay calm and enjoy the process and try to get better. I have the best team behind me and Franky [Latham, mechanic] is really good to me. Aldon [Baker] as a trainer, so I have everything to get better and I want to learn and hopefully do good results.
Roger said that he thought you wouldn't even be riding yet, and the fact that you're actually out here to him was kind of a big deal.
Yeah, true. I had a big surgery on my hand and to repair a tendon you have to wait… It was the tendon for the pinky. It ended up being torn. The one right next to it was about to get torn too. When they repair the tendon it's about four to five weeks of no movement on the hand. You can't do anything. But that's why after a couple weeks of not moving the hand, it's really hard to move it again. So I've been working with my chiropractor Dr. G. I think motocross riders don't do things like normal people, I would say. So obviously I started riding a little bit early, but it makes the hand get used to it again. That's what I do every day so it has to get used to it again.