Haaker Stays in Title Chase with Win in Idaho
Nampa, Idaho. – The GEICO AMA EnduroCross Series hit the Ford Idaho Center in Nampa, Idaho, for round eight with Colton Haaker taking an exciting win over series defending champion and points leader Cody Webb. Webb finished a smooth second after being caught by Haaker late in the race and now keeps a 10-point advantage going into the final round in Ontario, California, in two weeks.
A packed house and a fast and challenging track greeted the racers in Idaho, featuring big air jumps, multiple lines and corner options, fast straights, and a merciless firewood pile that stopped nearly every competitor at least once during the day.
FMF/RPM/Team Maxxis KTM's Webb started the evening with more laps of perfection, taking the first heat race win and earning the valuable bonus point to extend his lead. Behind him Geoff Aaron put his Gas Gas into second place, and young gun Ty Cullins grabbed third for a well-deserved ticket to the main on his Beta.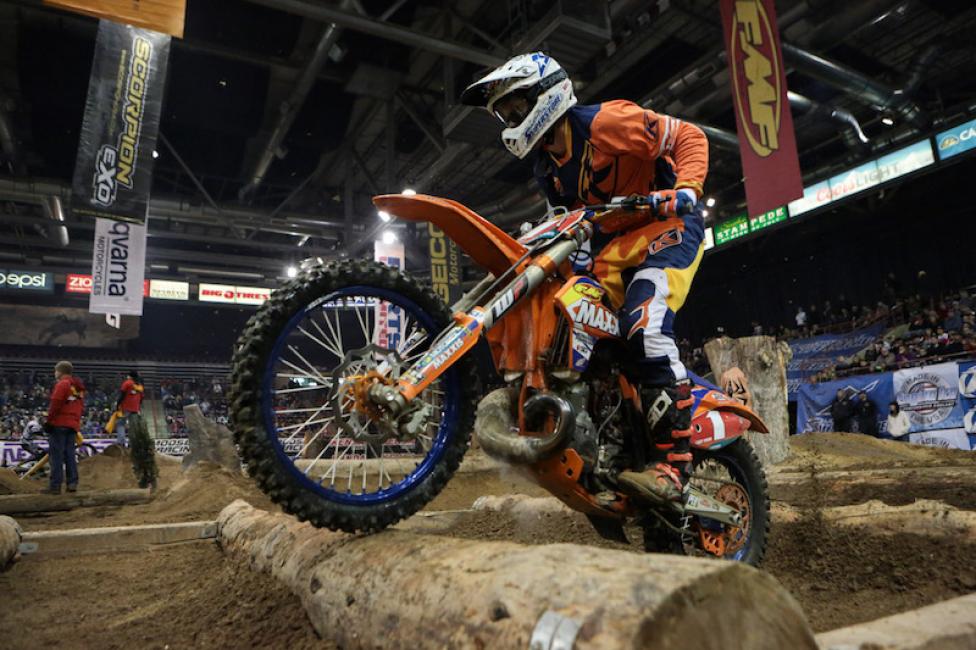 In the second heat race Husqvarna's Mike Brown rocketed to the holeshot and railed the first few laps with impressive speed. His charging style helped him gap a quick-starting Ty Tremaine and Factory FMF/KTM pilot Taylor Robert in second and third, respectively. Following the top three, after an oddly slow, start was Husqvarna's Colton Haaker—in need of any points possible to close the championship gap on Webb. But a heat race win wasn't in the cards for Haaker tonight as Brown rode fast and hard to the win while Haaker struggled with mistakes—mostly in the firewood pile. Taylor Robert came in second and Ty Tremaine—another young pro to watch—headed to the main out of the heat.
Riding momentum from an international win in Australia, Beta's Kyle Redmond took the third heat race win after powering past SRT Racing-backed Cory Graffunder in the firewood pile. Destry Abbott battled up front for most of the race while Beta's Max Gerston steadily moved forward from a slow start. In the end, Gerston would get by Abbott for third with two laps to go and move straight to the main event with Graffunder just in front in second.
During the evening Hot Laps, which challenges the top two finishers from the three heat races to race against the clock for one lap for a bonus point and the top gate picks for the main event, Webb was once again flawless. After multiple riders cut the lap times down, it was Haaker that put an impressive time in just before Webb had his turn. Webb rode flawless sand fast and knocked Haaker off—stealing the first gate pick and another championship point.
When the main event gate dropped the crowd was fired up and loud. Webb lined up on the first gate inside to be in prime position for the 180-degree fist turn and was first to the corner. Brown quickly dove inside to pressure and Webb gave in, letting Brown sneak away with the Nexen Tire $500 Holeshot Award. Webb went to work quickly and by the time the pack hit the second straight, he had put his KTM in the lead and was airing out the massive tire jump in front. Following closely was a motivated Brown, Redmond and Graffunder. Ty Tremaine and Taylor Robert rounded out the top five out of the start lap.
The start didn't go well for Haaker. He was pushed wide into the center lane of the course and as he re-joined the main line, he clipped his footpeg on a border log, sending him down immediately. He re-mounted his Husqvarna in absolutely dead last as the pack roared away.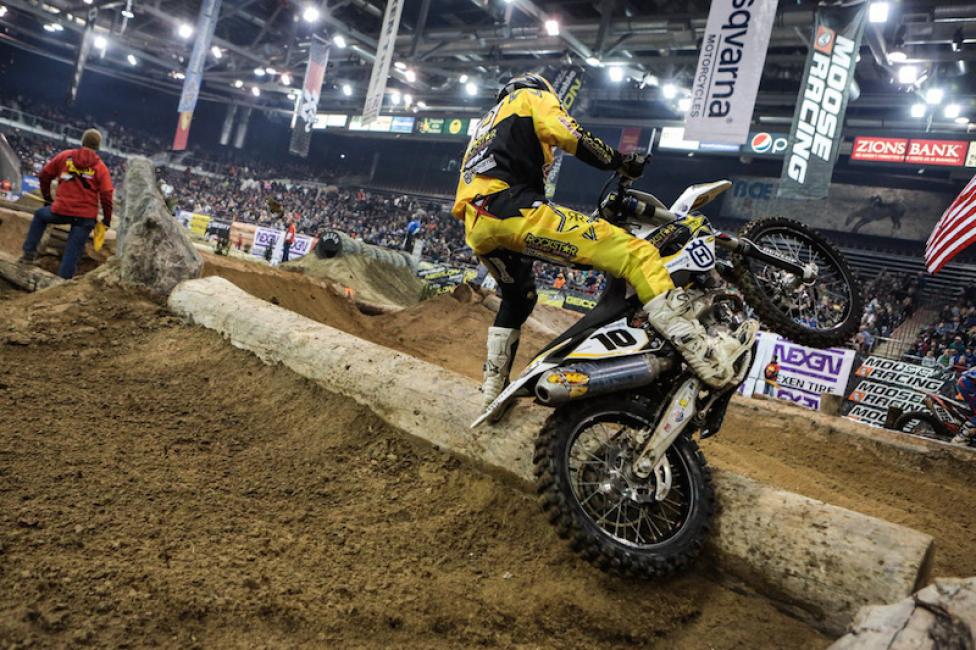 Webb continued his perfect night for the first few laps. Brown and Redmond battled back and forth lap after lap, with the firewood pile being the major factor for most of the front pack's momentum shifts. It seemed if they cleaned the woodpile, they had a fast lap. If they didn't, they often lost a position. Meanwhile, Haaker was moving. And he was moving fast.
By the second lap Haaker had passed up to fifth place. Then into fourth on lap three and into third that same lap—cruising by Redmond in the firewood pile like it hadn't troubled him at all earlier. Redmond would stay on him, though, and the two kept battling back and forth. Once again, the Firewood pile kept the racers honest every lap. Up front, Webb and Brown were cruising. Webb had an arena-length lead over Brown in second by the sixth lap.
Lap six was a turning point for Haaker. He went from fourth to second and took Taylor Robert with him. Now Brown had his hands full with Robert while Haaker set his sights on Webb and the lead.
A ten-second lead melted to six, the crowd was going out of their minds. Then he was on Webb. Then the firewood stopped him and sent him back while Webb pushed on. Then Haaker was back again and got close enough through the slippery matrix to make a pass right after the finish line. A few brake checks and looks back later and Haaker was in the lead with Webb backing off—clearly preserving championship points.
It was an impressive charge from last to first for Haaker and a smart race for Webb to ride into second place for the finish. The third-place battle between Brown and Robert went down to the last three laps when Robert took the spot for good. Brown would fall back a few more positions.
Cory Graffunder and Kyle Redmond rounded out the top five. Max Gerston, Mike Brown, Ty Tremaine, Trystan Hart, and Wyatt Hart rounded out the top ten, respectively.
Rounding out the Pro Main Event was Ty Cullins, Destry Abbott, and Geoff Aaron.
"I felt like I was riding great all night even though my heat race didn't show it," Haaker said. "I didn't get the start and from there I made a few too many mistakes that cost me. Heat races are so short that I can't do that and expect to recover. I know if the heat races don't go perfect I can still win at the end of the night. However, it doesn't help when I miss out on those championship points. In the main I fell on the first lap and knew it was time to go and I couldn't go anywhere but forward. So, I just tried to make the fewest mistakes as possible. The woodpile was challenging but in the main event there was a smooth line through it—which I found after following some guys that weren't getting stuck."
"You never want to walk away with second when you've been qualifying fastest all day," Webb said. "It's kind of embarrassing, but I didn't quite have it every lap in the main event. I've been breaking traction really badly between the logs in the matrix and it's been sort of my downfall lately. I was losing a lot of ground there every lap. I finally found the freeway through the woodpile after they caught up to me. Colton charged hard and rode awesome tonight. I did what I could and salvaged points."
"Tonight wasn't the best night I've had, actually," Robert said. "I felt good in practice and made little mistakes. I got a decent start in the main but got stuck in the firewood on the first lap and had to just move forward from there. I just tried to charge, charge, charge. and came from eight or ninth up to third, and I was right on Cody for the last couple laps, but I just couldn't make the move."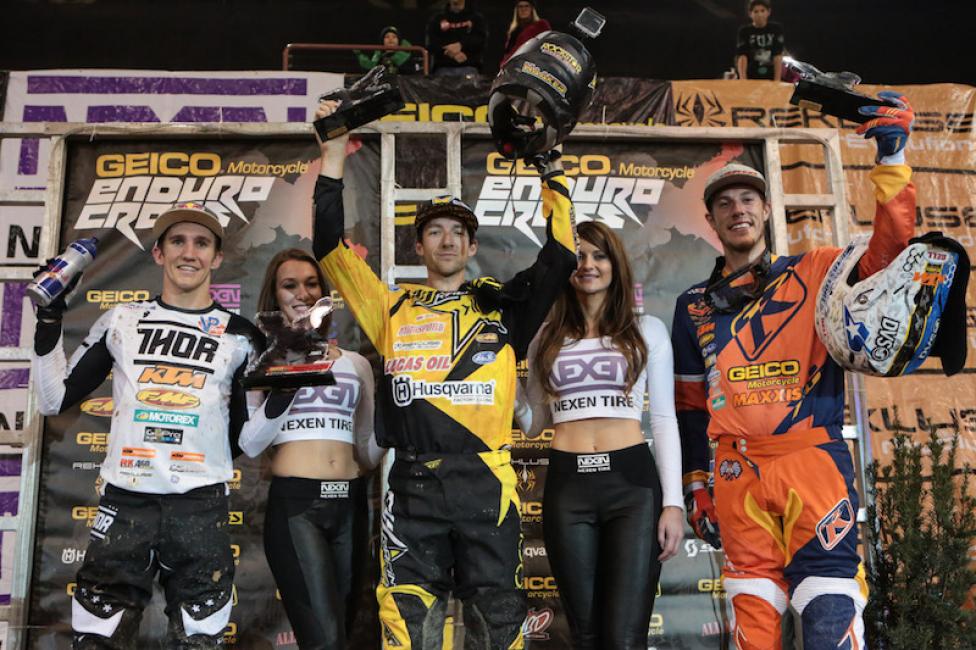 Boise, Idaho GEICO EnduroCross Main Event results
Colton Haaker Husqvarna
Cody Webb KTM
Taylor Robert KTM
Cory Graffunder KTM
Kyle Redmond Beta
Max Gerston Beta
Mike Brown Husqvarna
Ty Tremaine KTM
Tyrstan Hart Husqvarna
Wyatt Hart Husqvarna
Ty Cullins Beta
Destry Abbott Kawasaki
Geoff Aaron Kawasaki
The women's class was another great battle with multiple lead changes and back-and-forth racing courtesy of a fast class and a challenging track. Rachel Gutish took the win after Sandra Gomez grabbed the holeshot and led early in the first lap. After five laps of racing, Gomez finished up in second with defending champion Lexi Pechout rounding out the top three.
The women's points are tight heading into the final round with a one-point margin separating Sandra Gomez from Rachel Gutish.
EnduroCross events also include three support classes, and Canada's Stephen Foord again took the Vet class win on his Beta. John Beal and Kevin Murphy took second and third. In the Open Amateur class, Washington's Tyler Kinkade took the win over Michael Aranda and Joel Tonsgard. The TrialsCross class was another great race—decided on the last obstacle on the last lap—with Joel Tonsgard taking the win over Kyle Larsen and Ron Ringuette.
The GEICO AMA EnduroCross series will be back in action on Friday, November 20, and Saturday, November 21, at the Citizens Business Bank Arena, in Ontario, California.
You can get Ontario, California EnduroCross tickets at the following local Kawasaki dealers:
John Burr Cycles
Temecula Motorsports
Mid Cities Motorsports
Tickets are also available at the Citizens Business Bank Arena ticket office.
This is your last chance to see EnduroCross live in 2015! And if you want to see how your skills match up to the EnduroCross track, there are classes for Open Amateur, Vet 35+, Women, and TrialsCross that anyone can enter!
Tickets for all of the 2015 EnduroCross events are available here. All eight 2015 GEICO AMA EnduroCross events will air full one hour shows on CBS Sports Network.
For more information, please visit www.CBSsportsnetwork.com. If you can't be there in person, you can follow the events via the FMF Live Timing and Scoring at http://endurocross.escoremx.com/liveresults.asp.
2015 GEICO AMA EnduroCross
| | | | |
| --- | --- | --- | --- |
| Round 1 | March 6 | Ocean Center | Daytona Beach, FL |
| Round 2 | March 21 | Energy Solutions Arena | Salt Lake City, UT |
| Round 3 | April 25 | Sleep Train Arena | Sacramento, CA |
| Round 4 | May 1 | Orleans Arena | Las Vegas, NV |
| Round 5 | May 30 | Arizona Veterans Memorial Coliseum | Phoenix, AZ |
| Round 6 | June 5 | Circuit of the Americas (X Games) | Austin, TX |
| Round 7 | Aug. 22 | Gwinnett Center | Atlanta, GA |
| Round 8 | Oct. 3 | National Western Complex | Denver, CO |
| Round 9 | Oct. 17 | XFINITY Center | Everett, WA |
| Round 10 | Nov. 7 | Ford Idaho Center | Boise, ID |
| Round 11 | Nov. 20-21 | Citizens Business Bank Arena | Ontario, CA |
Schedule is provisional.
For more information, please visit www.EnduroCross.com