How big is the American supercross and motocross scene for fans in Europe? So big that Moto Verte, a French magazine, stationed Olivier de Vaulx in California to cover it full time (we also want to give a nod to our friend Stephan Legrand, who also lives here and reports in French for his own website, LeBigUSA.com). Olivier brought his family over here as well, and that leads to a fascinating story of adjusting to life in the U.S. both at and away from the racetrack. We talked to him recently at Red Bull Straight Rhythm.
Racer X: Why would a French journalist come here to report on American racing in French?
Olivier de Vaulx: The fact is, since the 1990s, maybe since Jean-Michele Bayle came here, everybody's dreaming about the U.S. All the French riders, they start racing thinking about U.S. guys. You are reading the magazines, looking at the pictures, and saying, "I want to go in California." That's the sort of dream of everybody in France. And the fact is, in the U.S. it's blue skies, perfect tracks, so for everybody, it's kind of a dream. But you cannot talk about something you cannot touch. You cannot just take the pictures from the KTM website and talk about a race you never saw on the TV. You need to be inside to understand how it works.
So you live here now full time as a French journalist to cover American racing?
Yeah, exactly. I'm working for Moto Verte and MX Mag mostly, so we try to cover all the aspects of the motocross. Mostly motocross, a little bit of enduro, but enduro is so different here because GNCC [is so different than off-road in Europe]. It's crazy to come here because first time you arrive in Washougal at the national, you see all the teams and you don't know where to start. So, first you start with some guys you know about perfectly, like [Ryan] Dungey. But it's so difficult to talk to them because they are like stars. You have to make an appointment just to ask an interview. It's not the same, because what you are writing about is way more difficult, so you need to kind of figure out a process, like which guys you are allowed to talk to and which guys you have to wait a little before you can talk to them. And I had a problem with the language. We French guys are not very good in English—you hear that right now!
[Laughs] So sometimes they can't even understand you?
Those guys are professionals. They are used to travel and to talk with journalists, so it's kind of easy. The most difficult part is to make jokes and to be friends with them. So, at first that was kind of tricky. They could understand the questions, but no more. And now I'm getting better, but they know me. So I needed a few months, and now it's crazy because I can interview everyone, everywhere. I can joke with them. At Straight Rhythm, you saw I was able to talk to Malcolm and James [Stewart] in one second. He knows me. I went to Malcolm's house and spent maybe eight hours in his house playing, bicycling….
You went to his house?
Yeah, we did some crazy stuff like some friends would do. So I guess I'm too old, so…hey, maybe they're just not worried about me taking their girlfriend! So I'm kind of an old guy, but I'm a smiling guy and I've got a weird accent, so for them it's kind of exotic.
It's like, "Oh, yeah, you're the French guy."
I'm the Frenchy. They're used to seeing me around. And they are kind of surprised that I could live here.
I know it might seem like the American motocross industry is big, but I know there aren't many journalist jobs here. So to think that it's big enough for even someone from France to make a living doing it and reporting from the United States is actually pretty surprising.
The fact is there are so many things to talk about: the best team managers, the best motorcycles, the best tracks. The first review I did was the tracks in California, the ten best tracks. You take a track like Milestone or Pala, you've got five tracks at the same place; they have a pro track and an old guy track. You have nothing like this in France. You just go to the main track; if you're not good enough, you just have to improve. But how can you improve if you're not good enough? It's so different here. So the point is not to talk only about the race; it's to talk about how people in U.S. are living the motocross. It's so different with the old bikes, the vintage bikes, and like Tom White and the museum of motocross. And everything here is so perfectly big and just perfectly thought about.
There's a lifestyle that goes with it here. Here, if you want to ride you have to have a pickup truck, probably need to lift it, get some big tires on it. And then you have to have the right clothing. You have to live the whole thing; got to get some tattoos, hot girl on your arm…. What's the lifestyle in France?
[Laughs] For example, you don't have pickups, or barely. You don't want to go to wear shorts all day long during the whole year because it's too cold. It's kind of muddy. Each time you ride you have to clean the bike. It's a pain. And you don't have that much tracks, so you have to drive. And driving in France is kind of freaky. It's not like taking the highway and putting the cruise control and sleeping and waiting to ride.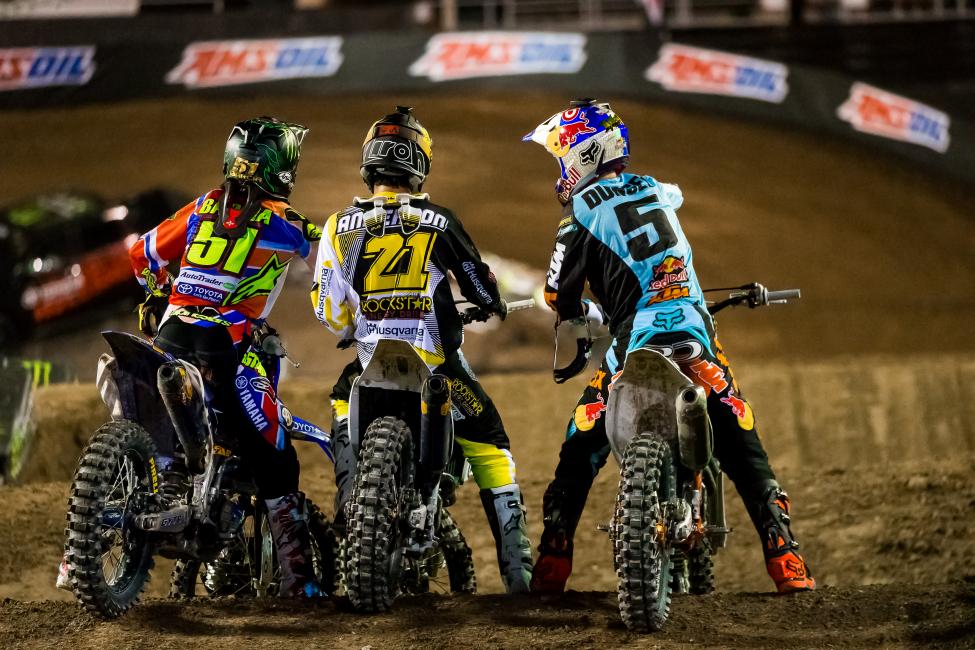 Wait, you're in Southern California—the driving here can't be that easy.
For me, it's easier than in France! The traffic is not a big deal. The fact is you take the highway and you have nothing else to do. There's no corners. You can just sit in the car and wait to ride.
You're the only person in this entire state saying this traffic isn't that bad. This is excellent perspective.
For example, I had a track maybe half an hour from my home, but a very small, narrow road with lot of corners, so you arrive at the track and you can puke out your door just because of the driving. For me, the fact that when I came here I just bought a pickup, that was part of the dream.
"Working here is to be with the best riders, the best team managers, the best photographers."
You have to!
You have to. So I said I will wear my flip flops every day, all year long, and I did it! It's crazy. On Facebook I have a friend of mine, lot of people who are reading the magazines. They said, "Oh, you did an interview with James? That's amazing!" And the first time I talked with James, I said it; I was dreaming about doing that my whole career. And I just talked with Ricky Johnson maybe one hour ago, and I said, "Man, I'm here in the U.S. because of you!" That is some guys that aren't even racers; you take a guy like Simon Cudby for example. You will see his pictures all these years. So the first time you come in a supercross, you talk to Simon; it's like talking with James! The fact is that in U.S., you've got some pretty good guys. They are right at the top of the class for the pictures, and then you are here and you say, "I want to be in range with those guys. I have to push myself. I want to be one of the top guys!"
So sometimes you get depressed because these guys, they know all the tracks. They did this for so long and they know the sport. So you have to find another way to work. You don't want to do exactly the same picture. It would be stupid to be out there standing next to Simon and taking the same picture. So you have to move around and be creative, so you push yourself. Like Malcolm said, today he had to push himself. It's kind of the same for me. Working here is to be with the best riders, the best team managers, the best photographers.
C'mon, guy. Don't forget best journalists and announcers.
[Laughs] Yes, and I will say something about the journalists. The guys here are taking pictures—I like it. I improve and I'm better and better, and I'm very proud of myself. But the way you are writing in U.S. is so different than the way we are writing in France. For example, we never say "I"—"I did this." We never talk about us. We never put a story in front of the story. But you guys say, "I ride with my pickup. I talk with the mechanic. And I did this, and I have an idea." That is your story inside the story. For example, two and a half pages of the text is about you guys, or something different to give the story some atmosphere, to make it seem like you were there. But we cannot write like this in France. And I was talking with a lawyer; she said exactly the same. She is working with an American girl who is doing exactly the same job but with twice more paper.
Because of all the "Is"?
Not the "Is," but the way of talking—it's just very free. So you can talk about basically everything to talk about the race, and we guys are focused on one thing. Just so crazy different. So that's not something I can adjust. It's not the same. It's like the language—I cannot write in English.
I feel that the riders in Europe in general—not even just motocross, but even MotoGP and all—I feel they are much more honest. When they are not feeling good, they just say it. When their bike's not great, they just say it. Kenny [Roczen] is really open. When things suck, he just tells you. But the Americans are so guarded. It's like they know that whatever they say people are going to go on Facebook and Twitter and the comments section on our website and twist it and pull it apart, and their bosses will too. I feel like the Europeans in general are just much more honest.
I have something to say about that. I have many emails from my colleagues. For example, they say, "This interview with Justin Barcia is one of the best I ever read." So I was very proud, but then I started to think, Why was it so good? Am I really smarter than the other people doing interviews, or is it something else? And I guess, what I'm thinking is that I'm a French guy and I can ask some different questions, and they are not afraid about what they're going to say to me. It doesn't matter. So they are more of a friend with me and maybe talk more about some stuff they're not used to talking about. So they are kind of surprised and they are kind of free. Most of the time they say that at the end of the interview, "That was longer than what I expected," but also that, "You did a great job." For example, Dungey, I had fifteen minutes with him and it turned into fifty! And it's always like that. It's always longer because they're kind of confident. They know that we don't have lawyers in France. I also have eight pages when I do an interview. That's a lot of space, so a lot of talking.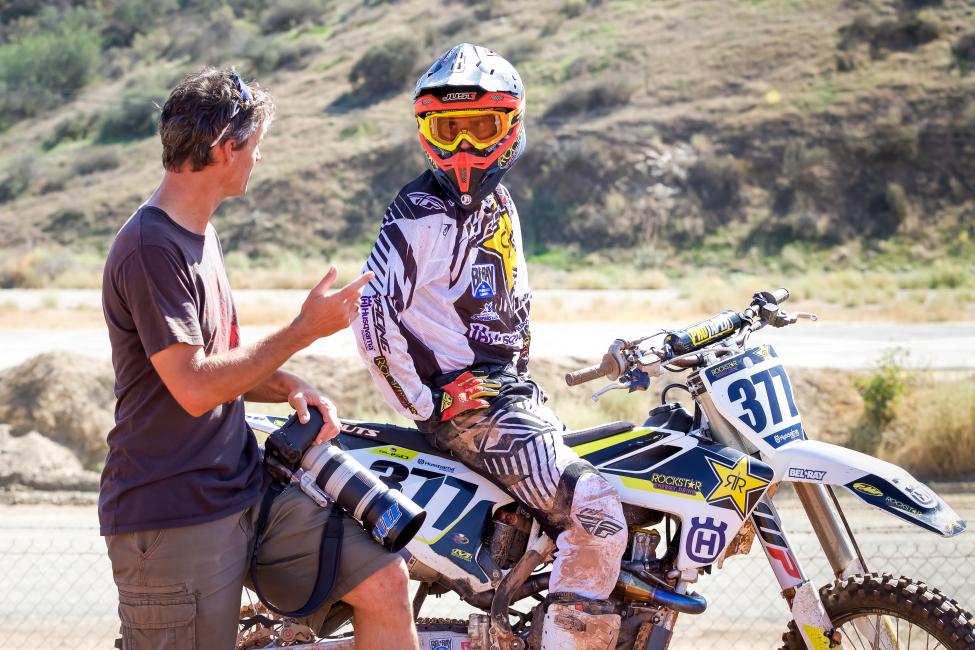 But I think you are less afraid to ask the questions in general because you're not used to knowing that everything they say, everything you say, everything you report, it could be out of line or make them uncomfortable. I think you just don't care, so you just ask. I think that's what I've noticed with the European riders. Kenny was struggling this year, and then our reaction here was like, "Don't ask him about it. He'll never want to talk about it." But it turns out he doesn't care; he'll just tell you! And I think all the Euros are like that. They're just open. And then you probably are more willing to ask questions because you're used to the riders being open.
I will say it in another way. It looks like here they are maybe too professional. You can see it on the podium. It's kind of boring. I really want to avoid that. I don't want an interview I can view on the website everywhere. So I always start with something weird and mostly about their feelings, not so much about the technical stuff. I guess it's like the food. The food in U.S. and the food in France are not the same, so I guess the interviews cannot be the same. So we are just a little bit different, but just enough to make the difference.
When you're here, are your bosses saying, "Make sure you get [Marvin] Musquin or another French rider"? Or do they like Stewart or Dungey just as much?
They have to cover the French riders, but they love the U.S. riders. We made some covers with Musquin, but we made some covers with James.
So you're not just here to report on French riders?
No, we are here for the U.S. industry. I spend a lot of time with the mechanics. With Troy Lee Designs, for example, I met Troy Lee and I met his son. Now I'm kind of a friend with Shane McElrath and guys like this, which is good. He's maybe not so famous now, but someday those guys will be the big guys and they will know me.
The last thing I will like to say: something you don't realize, but here in the U.S., everybody's so helpful. Everybody's so friendly. They are very polite; they try to help. So I thought it would be very difficult because of the language. Everybody's so helpful—it's just crazy. So now I feel I belong to the country. I guess the people in U.S. are very, very nice. In France they are more complaining. They always have something to say bad, and here they are moving forward and being nice. You can see the mechanics, for example, they are working seven days a week, ten hours a day. They don't complain.
How long have you been here?
One year and three months.
So you moved your whole family? How many kids do you have?
Two.
And your wife. So you moved four of you to the United States? How old are your kids?
Eleven and 14. The most interesting part, maybe, is that my kids came in the public American school and they could barely talk English. They only knew the colors and names of the days. They went to school and in three months they were totally like American guys, no accents. If you could see my son, he's talking like any American guys, and they are top of the class. They like it.
Were they excited to come?
They were kind of excited. My daughter was very, very excited, and my son didn't want to move. But then he said, "Okay, let's go." The tricky part was the school. They were kind of afraid to have some kids teasing them or being mad at them because they couldn't speak English. As I said, everybody is very helpful in the U.S. And they had no problem at all.