Sam Boyd Stadium
Las Vegas

,

NV
Monster Energy Cup
Monster Energy Cup
By Jason Thomas, Steve Matthes, and Jason Weigandt
Monster Energy Cup is in the rear view. Here are Jason Thomas, Steve Matthes, and Jason Weigandt weighing in on what they saw. Be sure to leave your comments on these topics below.
1. Easier track means closer racing, or easier track means no passing?
Jason Thomas: I think the aim of having an easier track is to tighten up the racing, and in some cases that may be true. For the Monster Energy Cup, specifically, I don't think that necessarily is the case. What generally happens is the leaders all find the fast lines and learn where the danger spots are (where they need to protect the inside line). One of the other factors inhibiting the passing at this particular race is the lack of traction. The slippery Las Vegas clay makes the inside lines virtually useless, forcing a "follow the leader" path from berm to berm. When coupling the easy track and this event's dirt make-up, passing becomes wishful thinking.
Steve Matthes: Can I take both for $500, Alex? I think this is exactly what the track designers and Feld Motor Sports want in this event. Besides, the track has to be easy enough for the Super Mini and the Amateur All-Stars Classes. And this one certainly was. Besides no whoops, it had a basic rhythm section that offered even the lowest skilled riders an opportunity to do something—and a giant single jump into some sand! This wasn't exactly Anaheim 2000 here, folks. That's okay—this race has lots of other things to capture your attention other than the track. I've got no issues with its simplicity.
Jason Weigandt: I could go on and on about this topic. Fans and riders always say they want "separation" because that should lead to passing, and passing equals great racing. But separation also means the field pulls away from each other. Also, all the scientists and engineers in the world can't consistently create obstacles that only one of two guys can do. I believe it's wishful thinking to believe there's a magical track out there that's so difficult that it actually makes the racing better. James Stewart quadded a bunch of stuff in Toronto 2014, and it was magical watching him blow past dudes. But if he got a holeshot that night, it wouldn't have been nearly as exciting.
I get it—every rider thinks they are the one that's going to benefit from the separation, but that's not ever going to be true. I think keeping the tracks simple is fine, and the great racing in the second main of the MEC is good proof. You do need whoops, though, because that's too good of a passing zone to pass up. The tight stuff outside the stadium at this track doesn't work for passing, either. I say keep the tracks simple, but make sure there are enough corners with options and decent whoops—that's the best you're going to get. No track design will ever guarantee a battle for the lead.
2. KYB suspension for Kenny. New Husky for Anderson. Discuss.
Thomas: The re-introduction of the air fork in recent years seemed to jumpstart the back and forth swapping of suspension providers. Every rider from Chad Reed to Eli Tomac, Cole Seely, Trey Canard, Ryan Villopoto, and Ken Roczen has bounced between the two different forks. I don't have an opinion as to which is better, nor do I think there is one uniform answer. I think both systems have different characteristics that will react differently to each unique OEM chassis. Riders are always looking for a different "feel" than their competitors, so it's impossible to say one is better than the other. It's all about preference. The tough part for the teams is that they have to prepare parts and resources for an entire season, including signing contracts with either Showa or KYB. When riders' opinions change with the breeze, or when different riders within the same team have a different preference (Seely on Showa and Canard on KYB last year), the team manager's job becomes almost impossible. I blame the air fork revolution. And Obama.
Jason Anderson's performance on the new Husky was similar to what I saw from Ryan Dungey this past supercross season. Both riders switched from a bigger, bulkier frame to a smaller, lighter machine. Right away, both of their starts improved, evidenced by Jason Anderson's three holeshots on Saturday and Ryan's consistent starts all season. Also, they look able to maneuver the bike much more effectively, which makes everything from using inside lines to staying low on jumps easier. There doesn't seem to be any drawback from the switch to the new model. Anderson's rookie season was filled with ups and downs, but if Saturday was any indication, he may be a serious contender at all seventeen rounds in 2016.
Matthes: Yeah, man, add suspension companies to the list that includes trainers and man friends that these riders plow through every six months. We're going to need a chart here soon to figure out who likes what and what companies they now think hold the magic ticket. This is Roczen's third suspension system in a calendar year (Showa air and spring forks, and now KYB air), which is a lot, but he still trails Chad Reed by twelve or so. And, oh, yeah, Reed is now on air forks yet again. As I chronicled in my Observations column from the MEC, the KYB system—which has one air chamber in each fork—seems to be the preferred one right now. As a former mechanic, I prefer what works best for the rider, and KYB certainly worked for the #94 this past Saturday night.
Anderson was great on Saturday night. He looked like a real force on the new Husky, which looks a lot like the KTM 450 SX-F FE that Dungey got on this year. But it's white. Anyway, Dungey and Andrew Short told me over and over about how great this new bike was, and when you look at what Anderson did this year in his rookie year in 450SX, it's not hard to think he'll be even better come January as long as there are no Joker Lanes. Too soon?
Weigandt: I can't profess to be a suspension expert like the ex-pro racer and ex-pro mechanic above. However, I do know Canard's switch from Showa to KYB late in 2014 led to one of the most dramatic turnarounds I've ever seen from a setup change. He literally went from a third-to-fourth-place guy to a race winner.
I also know that Kenny struggled with suspension in 2015. We all know how good and talented Kenny is. If he finds something that solves all of his setup problems, the sky is the limit. If I were his competition, I'd be trying to find legal clauses that prevent him from switching to something he likes so much!
As for Anderson, I found it funny that the "new" KTM was being credited by Dungey and company as a game-changing breakthrough, while the poor Husky guys were over there still on the old-style bike, pretending that it didn't matter. Well, we're about to see Anderson and his Rockstar Energy Racing Husqvarna mates make the same leap Dungey (and Marvin Musquin) made in 2015. But you'll have to judge for yourself—you'll never hear a KTM or Husqvarna official tell you the bikes are similar.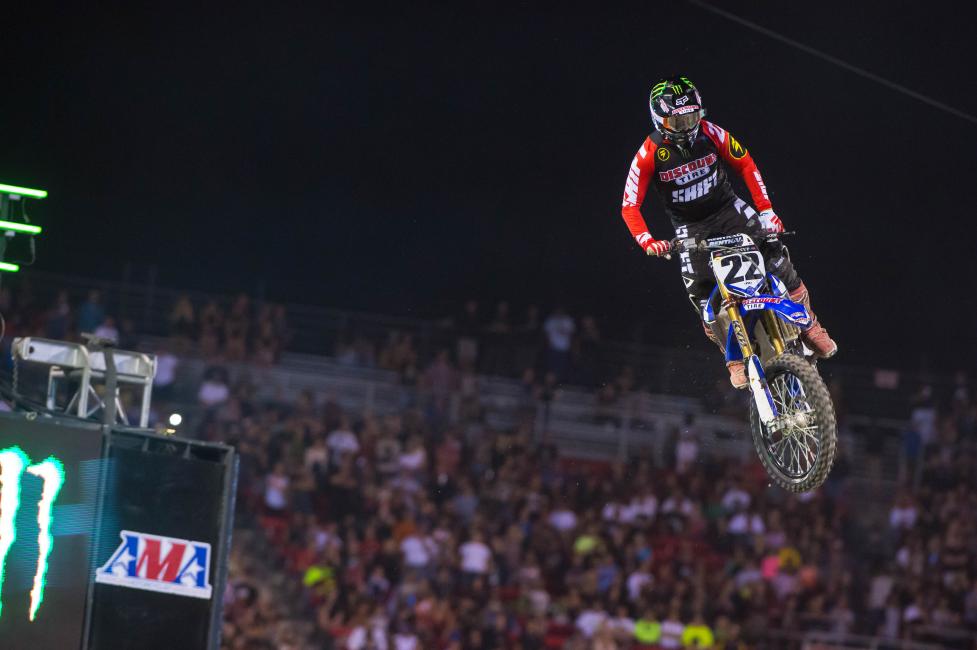 3. So-so night for Reed; bad night for Stew. Does this mean anything?
Thomas: I really don't like to draw conclusions from any off-season race—this one included. Riders generally enter this race fairly unprepared. They haven't been riding much, and knowing they have eight weeks of grueling pre-season training about to kick off, this race is taken lightly.
In Reed's case, he had exactly one week of testing completed with the Yamaha technicians, and even Saturday, they were still guessing at settings. Chad himself isn't 100 percent prepared yet, either, as the off-season training programs do wonders in terms of fitness and reaching peak performance. If he can get this Yamaha program locked down and execute his boot camp program, he will be just fine when the pits open for Anaheim.
For Stew, the situation is similar. Fortunately for him, he has his contracts signed and doesn't have to deal with that headache. But, like Reed, he isn't in his race trim just yet. He's been out of racing for over a year, and it was useless to try to keep the razor's edge of fitness during that time. He still knows how to ride, evidenced by his dominating win at the Red Bull Straight Rhythm, but to find his sustainable race pace he'll need to get to work. That's the tough part about this event and why I don't gauge anything from it. It makes no sense to be at your peak performance in October. That requires months of steady work during the end of August, September, and early October, precisely when riders need to be giving their bodies much-needed rest. Riders come into this event less prepared than any other during the season, and with the current schedule, I don't see that changing.
Matthes: Nah, not at all. Reed's never really done well at this race, and Stew's not ready yet, although I thought he would be. I actually went on record many times predicting him for the win. I've never been more wrong about something. Anyone besides that one guy on my Twitter who said Reed should retire want to bet that the #22 and the #7 are right in the mix come A1?
Weigandt: Yeah, you can take nothing out of this for Reed, who didn't even really have a program together and, I believe, just had to race this to make Monster happy, and maybe to get some extra seat time on a Yamaha. His life goal was not to win this race.
It's not make or break for Stewart, either, although I was surprised to see him actually looking like a guy who indeed hadn't raced in a year. Well, yeah, he actually hadn't raced in a year, but I think bench-racers thought James would be training himself to death during his time off, like a prisoner doing nothing but push-ups and sit-ups in his cell all day. I believe Matthes thought he would be so motivated and fired up he'd win this race. Some other industry dudes were predicting he'd win the full Monster Million. He didn't do that. He's not ready for that yet.
During his time off, he enjoyed life and worked on other things. Now we'll just have to see if a prison-style boot camp ramps up between now and January. James told me he'll be ready to go by then. Let's hope so.