Sam Boyd Stadium
Las Vegas

,

NV
Monster Energy Cup
Monster Energy Cup
BTO Sports is your number-one source for all of your motocross parts, gear, accessories, and apparel. BTOSports.com is a motocross company who is truly dedicated to the sport and to the customer. BTO Sports is a proud sponsor of your Racer X Podcasts and the BTO Sports race team.
The Monster Energy Cup, now in its fifth year, is a bit different than your usual supercross, and that's by design. When Monster approached Feld Motor Sports with the idea of doing a race, their only stipulation was that it be "different." And this race certainly is. Three ten-lappers, a Joker Lane, a Supermini Class, Amateur All-Stars Class—it all fits the bill of a different race.
And I like it.
Why not try something different? Some of it works, some of it doesn't, but it's different and I'm down with that. The track can't be gnarly, as it has to fit riders of all skill levels and bike sizes (due to the amateur classes). It places more emphasis on the start for the 450 riders, because, well, they figure things out quickly, and they only have ten laps to make up time.
I think a certain number of supercross races should be two ten- or twelve-lappers; I think they should have a race or two with a Joker Lane; I think they should award points for holeshots, heat race wins, and to the fastest qualifier, along with entirely revamping the way points are paid. We have to do something different in our sport; it's been the same for way too long. If you're not evolving, you're dying. It's time to shake the series up.
And I heard in 2017, supercross is indeed going to be shaken up. I, for one, can't wait.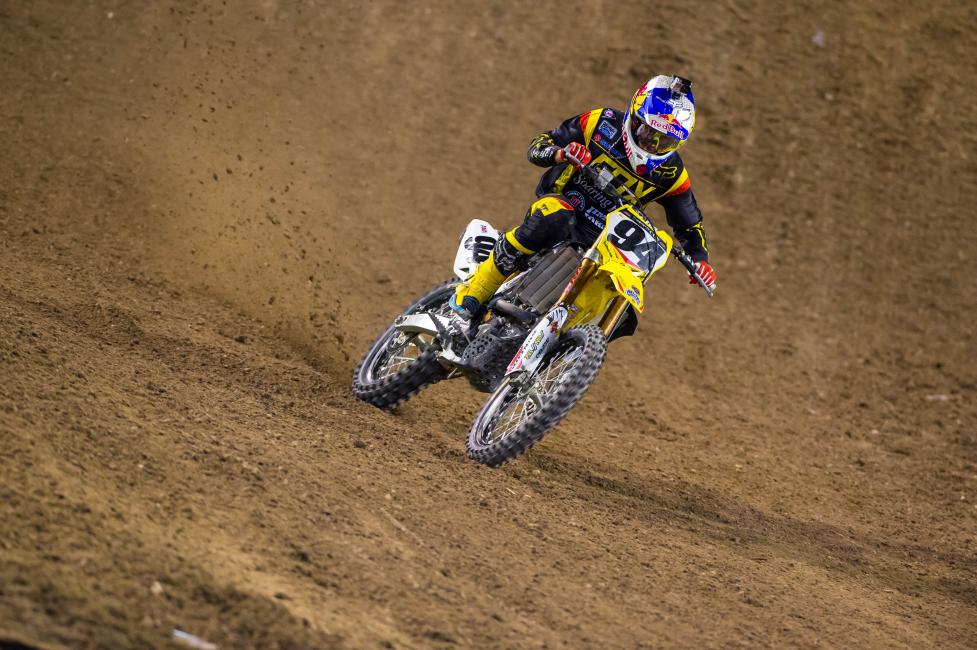 Despite winning two of the first three 450SX races, Ken Roczen had a tough year. An ankle injury, a back injury, some so-so rides that made him look more human than ever, an interview with his dad with a German magazine that basically dropped a neutron bomb on his new RCH team, and, finally, a switch to Showa spring forks near the end of the Lucas Oil Pro Motocross Championship indicated a troubled year for the German. But, by the end of the season, Roczen had somewhat salvaged the year with some nice rides.
I've said all along that I think 2016 is going to be a big year for Roczen. He's a world-class rider who's had nothing but good things happen to him since he was 15 in terms of wins and titles. He'd never faced the kind of adversity he dealt with in 2015. Will he break through and be the next Ryan Dungey or Ryan Villopoto? Or will he be a Trey Canard only be someone who can win at any time but doesn't have the wins and titles of the all-timers?
Although it's just an off-season race that doesn't mean all that much, he looked great. He got good starts, had great speed, and showed nice fitness to take the Monster Energy Cup win this past weekend. Again, it's not a massive indicator of what he's going to do next year, but it certainly can't hurt.
One of the changes Roczen's made is switching to KYB suspension on his RCH/Soaring Eagle/Jimmy John's Suzuki. We saw Canard do this last year after using Showa for years, and it seemed to work. And next year Eli Tomac will have KYB on his Monster Energy Kawasaki also. So we're seeing riders and teams go from Showa to KYB now, and this is after we saw a team like Monster Energy Kawasaki go from KYB to Showa a few years ago. It's the battle of the suspension components.
The forks are both air, but Showa keeps all the air in one side of the fork (with two chambers) and the oil and valving in the other, while KYB has the traditional two air chambers (where the springs would go) and oil and valving in both forks. The riders and suspension guys I talk to just can't trust the single-sided air chamber system in the Showa to be consistent from lap to lap. The performance is fine, but KYB's feel (to these riders, anyway) is more consistent, hence the riders deciding to go this route.
A guy from RCH told me they had to go through many hoops to get approval to use KYB suspension. The Suzukis come with Showas, and heaven forbid someone sees that the Suzuki they just bought from their dealer doesn't have the same suspension company on it that Roczen uses. Never mind the exhaust, bars, grips, sprockets, etc. I get the marketing angle of it all, but the best marketing is winning, and making these fragile little flowers known as riders happy is the only way to do that. In my experience, if the rider is struggling and wants to try something out, you make it happen. When I was a mechanic, switching suspension companies would've never happened, but with Honda, Kawasaki, and now RCH having two riders on different companies, it's nice to see the teams chilling out on the "IT MUST BE WHAT WE SELL" philosophy and letting the riders have what they want.
Roczen's got KYB on, and if you're keeping track at home, this is his third different suspension system in the last calendar year. Let's see if this is what he needs to win.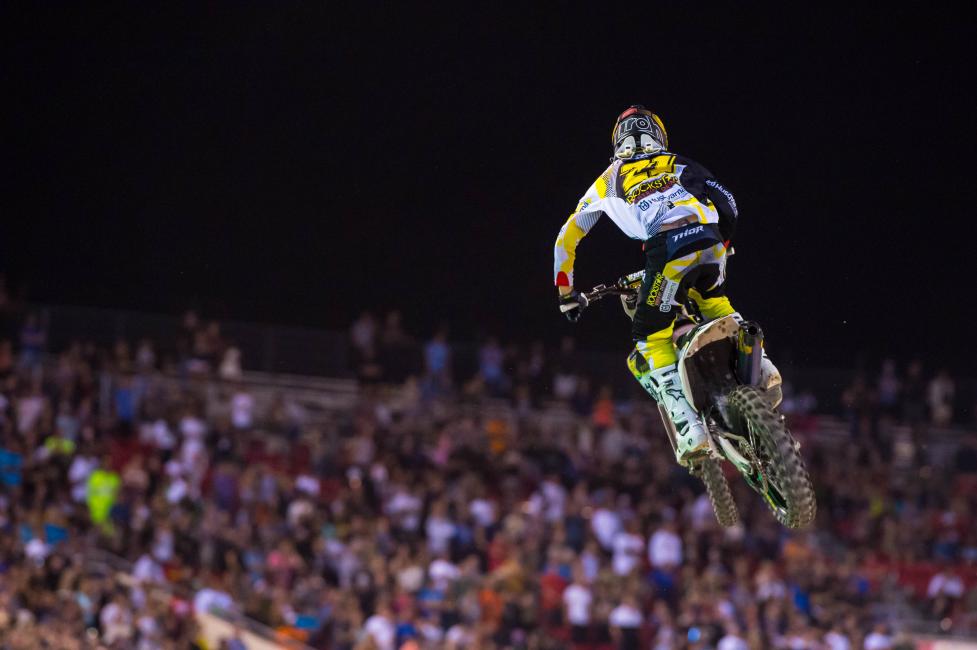 I just don't have a lot of sympathy for riders who forget to take the Joker Lane. You've got to dip into it one time in ten laps. You have to basically remember one thing outside of your usual multitude of things, and we've seen riders win and lose races by simply forgetting. If you had asked me before the first-ever MEC if any riders would forget to take the Joker Lane, I would've said no way. But we're five years in and four riders have now forgotten this one thing. Like, c'mon, guys! This year's "guy" was Jason Anderson, who was a strong third and then got into the lead when the leaders took Joker Lane. He never went in and was docked five positions after taking the checkers. Anderson said he miscounted the laps remaining. I guess he didn't see the white flag either.
But…but…did he think that he just magically got into the lead? He never passed the leaders; he only got by them when they just disappeared! Shouldn't this have been the first clue that he had to take Joker Lane? I'm surmising he knew this and miscounted the laps, but, c'mon, man…you've got ONE THING TO REMEMBER!
Oh, well, Anderson's gaffe probably cost him second overall, but as it was he got third overall and rode great. He also got all three holeshots (although the AMA credited Barcia with the second main event holeshot, which is strange) and won a Toyota truck, which is cool. Jason could be a sleeper for the 2016 450SX title. Pay attention to this guy…as long as there are no Joker Lanes that is.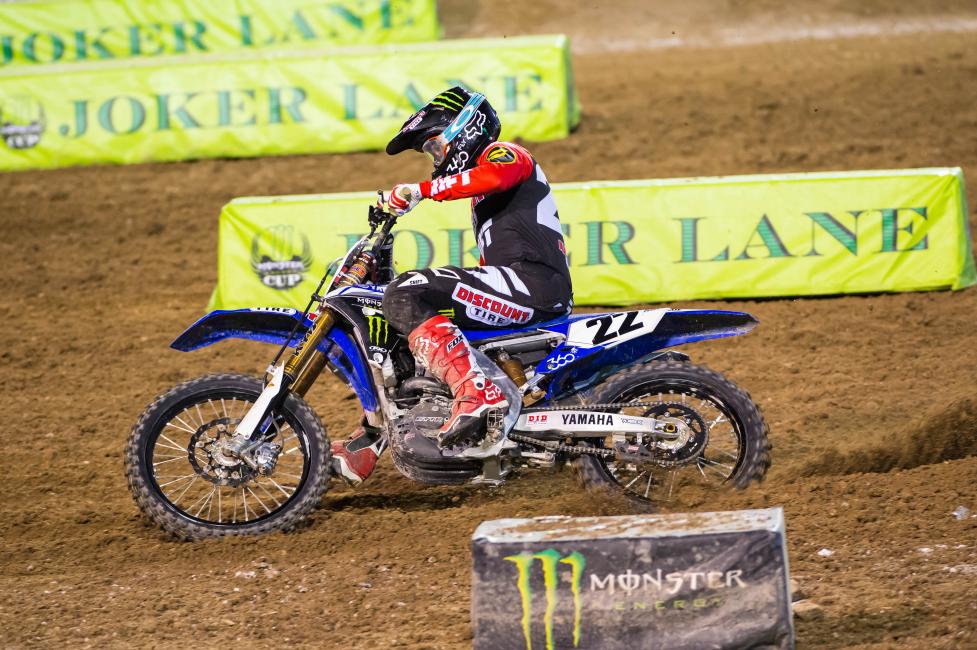 Chad Reed was there on a Yamaha, and somehow he's the only guy to ride a factory Yamaha 450 and not get good starts. Still, his lap times were decent, and he looked okay with minimal prep on the blue bike. When I spoke with him, he was okay with his day, but said that he's not in good enough shape and didn't get good enough starts to really do any damage. I'm not 100 percent sure on this, but I don't think the MEC has ever really been the #22's strongest race.
Reed worked out of the factory Yamaha rig, with Jimmy Perry managing, Bob Oliver working on motor stuff, and "Dyno" Dan Rambert there as well, all veteran Team Yamaha guys Chad knows from his previous run with the brand. Combine that with Lars Lindstrom wrenching and Shane Drew helping out with suspension (who are from Team TwoTwo) and you have a lot of familiarity for Reed. There has been lots of talk of Yamaha coming back with Monster as a title sponsor and Reed and Justin Bogle signing up, and I even heard the team was looking for a third guy (Josh Grant maybe) because Reed's not doing outdoors anymore. Well, that deal is not happening because Bogle is going back to GEICO on a 450 under the factory Honda truck (like Tomac last year), and the guys working with Chad are telling me they have nothing guaranteed beyond the MEC.
Some people I talk to in the know say the whole thing is dead, Monster's not coming through, and Yamaha's not footing the bill. Others tell me it's going to happen, but just with Reed on a seventeen-race SX deal and with Monster. I don't really have any idea one way or another, and I have no idea what Chad's going to do if this thing does fall apart. Who's got room and would take him? I guess there's a chance he doesn't race if this deal doesn't come through, but I can't see that. I think, in the end, the #22 will be out there on a blue bike doing SX only. Stay tuned though….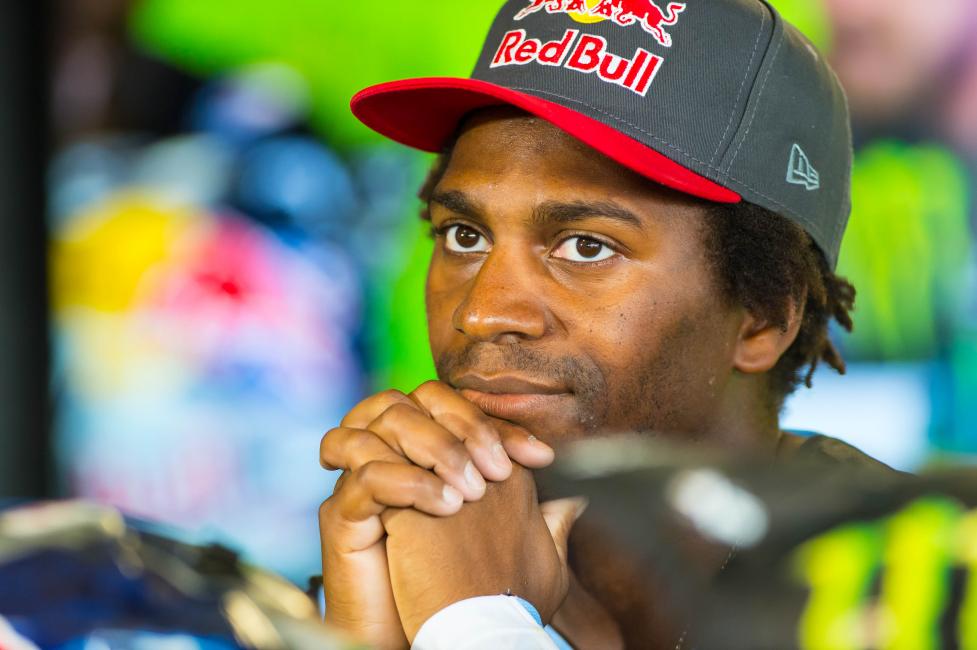 I really thought James Stewart was going to win the MEC. Stew is many things, and one of them is master of the theatre. Coming out of the gates after a long suspension and taking a win is just, to me, something he could do. He creates drama in the sport. If you put together a race that he was hyped up for, riders who weren't that jacked for the race, and Stew's remarkable skill on a dirt bike, this all equaled a win.
Well, "we" didn't take the win. It didn't work out like "we" thought. Stew was just okay all day, got a poor start in the first heat, fell on the first lap, and then never came back out after he hurt his wrist. I felt so gypped. Like that time I waited in line forever for Jaws 4 and it turned out to be so bad. I was excited for Stew to come back, but it was a dud. Oh, well, he's got lots of time to get ready for the races that count, and we'll see him soon.
Let's take a look at the results, shall we?
1. 94 Ken Roczen; Clermont, FL; 6 points (1-4-1) – It had to feel so good to the RCH team to know that they're all okay, the storm is over, and they're focused on 2016. Let's just hope no Hurricane Heikos hit again.
2. 5 Ryan Dungey; Tallahassee, FL; 9 points (2-5-2) – I had heard that Dungey had taken a bit of time off the bike—more than he's used to—and it showed at the MEC. He still got second, which speaks to his greatness, but he lacked a bit of his usual spark out there.
3. 21 Jason Anderson; Edgewood, NM; 10 points (6-1-3) – Don't forget that Anderson's new Husky is now the 2015 KTM race replica bike, and we've seen how much Dungey credited it with his strong rides this year. Something to think about for next year.
4. 51 Justin Barcia; Greenville, FL; 12 points (5-3-4) – Last year at this race, we were wondering what was going on with Barcia on the new AutoTrader.com/Toyota/JGR Yamaha, and that question lingered in the supercross season. He struggled a bit. There was none of that this year, as Barcia was pretty good at the MEC and got better every time out.
5. 1 David Millsaps; Murrieta, CA; 15 points (3-6-6) – Millsaps qualified eighteenth…as in he was the last guy to get into the show before they ran the LCQ. As last year's champ, he wore the big gold #1, but on a new bike. But he didn't look that great going into the night show. We asked Davi what was up with his qualifying effort on the Pulpmx Show, but he said he didn't want to get into it. He got much better once the lights went on; this turned out to be a good race for him.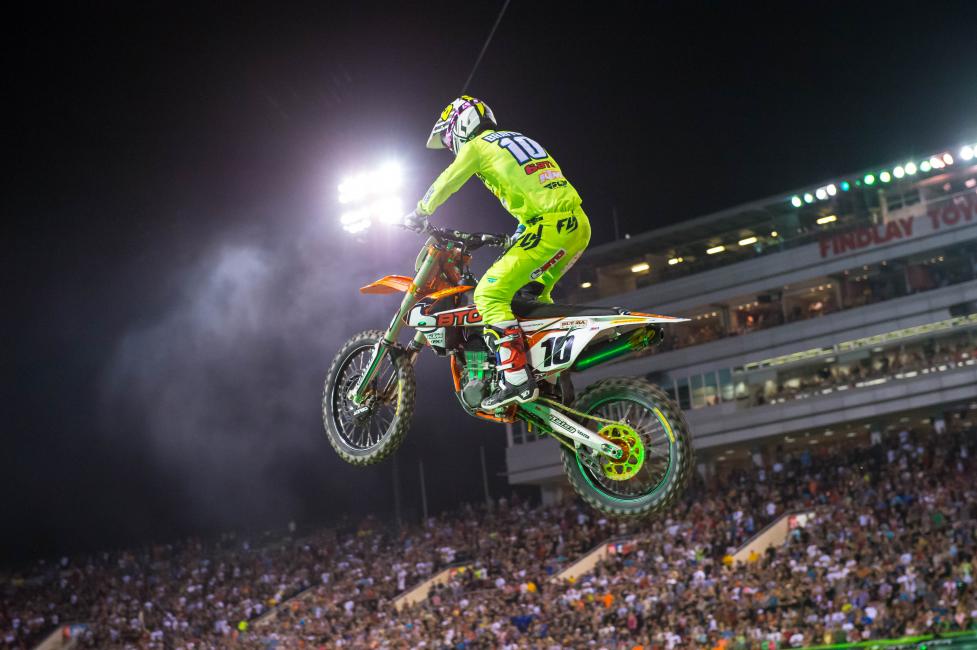 6. 41 Trey Canard; Edmond, OK; 26 points (10-2-14) – Canard was way fast at this race. Remember last year when he won the first two motos before crashing in the last one? Well, this year he was fastest in qualifying and led the first main event before losing the front end. In the second main, he was second, and in the third moto, he was looking good again before crashing. Sixth doesn't really do him justice. Years from now no one looking at the 2015 MEC results will understand that Canard was very fast.
7. 10 Justin Brayton; Mint Hill, NC; 30 points (11-7-12) – A good result for Brayton, who needs some on this team. Once again, Brayton will be heading overseas to do some races in this off-season, and he will no doubt dominate and cash in.
8. 4 Blake Baggett; Grand Terrace, CA; 31 points (4-9-18) – Baggett crashed right before the last turn in the last main with Broc Tickle when he was in sixth, so this overall result should've been better. Baggett was the first guy I saw (there may have been others) to quad out at the end of the rhythm section in practice.
9. 38 Christian Craig; Plymouth MN; 33 points (14-14-5) – Craig wasn't really noticeable out there in the first two motos, so before the third moto he posted on Twitter: "Why can't I get the starts?" along with a lot of angry red face emojis. He seemed to be asking for some advice, so I passed it along to him, he got a great start and result in the third moto, and then he thanked me afterward. Just call me Tony D.
10. 22 Chad Reed; Dade City, FL; 33 points (9-16-8)
11. 28 Weston Peick; Menifee, CA; 33 points (15-8-10) – Plessinger is running Peick's old number now, and Peick is #28. Took me a bit to get that down pat.
12. 20 Broc Tickle; Holly, MI; 35 points (8-10-17) – This would have been seventh overall or somewhere around there if he and Baggett hadn't tangled one hundred feet before the finish in the last moto. Tickle's a great rider who's, like, right there, behind the big dogs and often doesn't get noticed enough. He qualified second, people!
13. 377 Christophe Pourcel; San Antonio, FL; 36 points (17-12-7) – In the first main, CP fell and was dead last, so it kind of set him up for a bad gate pick for the second main, so he then had a bad start from there—just go down the line….
14. 30 Shane McElrath; Canton, NC; 39 points (12-18-9)
15. 16 Zach Osborne; Chesterfield, SC; 41 points (19-11-11) – Wacko Zacho was on the 350, so he was down some CCs out there. We also got into a bit of a text fight over the track because he loved it and I didn't. He has a point though, as in, at this time riders like him aren't in "full-on SX training mode" and don't want a technical, gnarly track. No one wants to get hurt before the off-season starts. I hate when he makes good points in our arguments.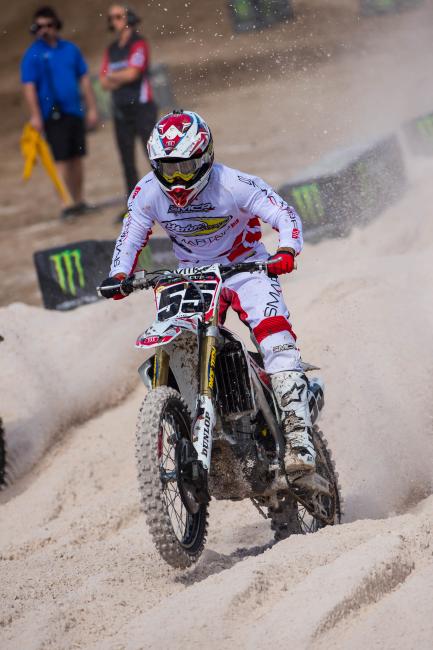 16. 55 Vince Friese; Cape Girardeau, MO; 44 points (16-13-15) – I was talking about the dudes who may have to go to the LCQ in the press box with a guy, and we both had Friese into the show on his fast lap time alone. That's where we're at with him—he's just that good. So, suck on that, haters. I'm telling you guys, he's doing 450SX full time in 2016, and I think we're all going to see how good he is.
17. 29 Andrew Short; Smithville, TX; 44 points (13-15-16) – Uh, yeah, this isn't the type of race that a seasoned veteran like Short would excel at. It's dependent on a fast lap (nope, not Short's specialty), it's three ten-lap sprints (nope), and it's smack dab in the off-season (nope), so Shorty was there, he rode as hard as he needed to, and I'm betting he was super-cool to fans.
18. 15 Dean Wilson; Wesley Chapel, FL; 48 points (7-20-21) – Poor Dean. He crashed hard in practice (I didn't see it), and then again in the second moto, which sort of knocked him dizzy for a bit. It's not the end of the world, but you hate to see a dude like him, with injury history, go down that hard, that often.
19. 800 Mike Alessi; Hilliard, FL; 50 points (20-17-13) – The #800 is on a Honda now, so I was watching to see how he would do after years on a Suzuki. Well, the good news is, unlike last year, he qualified right into the show. From there, though, he didn't get good starts and didn't really stand out.
20. 71 Kyle Partridge; Lake Elsinore, CA; 59 points (21-19-19) – Partridge looks to be the guy for the CycleTrader.com/Rock River Yamaha team in 2016 in the 450 Class.
21. 7 James Stewart; Haines City, FL; 60 points (18-22-20)
22. 49 Martin Davalos; Cairo, GA; 65 points (22-21-22) – The anvil falls on Marty once again, and it wasn't really even his own fault, as he got landed on. He had to ride the LCQ to make it into the event, so it was a tough day all around for him.
Thanks for reading. Good times in Las Vegas for the MEC. Email me at matthes@racerxonline.com if you want to chat about this race or anything else.