Pomona, CA
Red Bull Straight Rhythm
Red Bull Straight Rhythm
BTOSports.com KTM's Justin Brayton was expected to do big things in Monster Energy Supercross in 2015, but he never got going due to a big crash before the season, and a variety of injuries after it—including a concussion that took him out of the final two rounds of Lucas Oil Pro Motocross.
About the only highlight of his first year with the team was making the finals at last year's Red Bull Straight Rhythm, ultimately finishing second to James Stewart. Brayton is now back and healthy, and hopes Straight Rhythm this year provides a springboard to a better 2016. We called him yesterday before he logged some laps on the KTM test track.
Racer X: Let's get an update on you here. Have you been back riding?
Justin Brayton: Basically, I got a concussion at Millville. Being a stubborn rider like most of us are, I tried to keep racing through it. I wasn't riding during the week. I still tried to race Washougal and Unadilla, and my headaches were just through the roof. I've never had such bad headaches. So I went to a specialist in Charlotte. Got some scans and went through that whole process, and they basically said four weeks of doing nothing. No real exercise—nothing that would elevate my heart rate. At that point, obviously I knew I had to take it pretty seriously, so I did, and didn't really do anything. Just kind of hung out with family and was kind of off the grid for a while. I had checkups throughout those four weeks, and then I got released to start riding bicycles and start training. I guess that was maybe a month or so ago, and then I started riding about two and a half weeks ago. Just kind of slowly got back into it. Today will be my fourth day on a supercross track.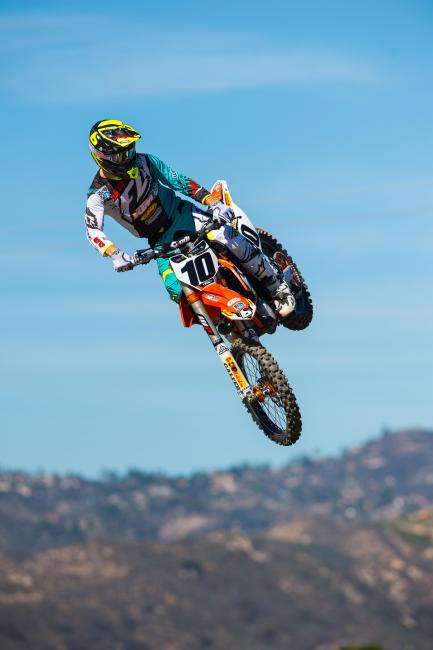 The concussion thing—you weren't riding during the week. So is it one of those things where you don't realize how bad you're going to feel until you actually are in a moto, and then you're like, "Oh, wait, I'm in trouble"?
Yeah. You know the whole protocol of getting your heart rate up to a certain level; maybe on a bicycle or a rowing machine, it's different [than racing a motocross bike]. Actually, one of the weeks I did ride on a Thursday and I felt fine. I felt totally fine. And, actually, if you remember, Washougal was a mudder kind of first moto and I felt totally fine, but during a mud race you typically don't get your heart rate that high. During the practicing, I didn't get my heart rate as high as you do during a full-blown thirty-minute moto. So, second moto at Washougal, I was in a battle. It was inside the top ten. You're going harder than you normally probably would during a practice day. And I just instantly got this crazy headache. It's just really hard to replicate a race. It might be just five beats or eight beats heart-rate-wise more than what you are at practice, or when you did a test on a bicycle, and that can trigger it. I really learned a lot through it. I just had to not be so stubborn and really listen to my body.
"I don't have a lot of years left, so it's motivating for me to do well and represent my sponsors well and achieve what I want to achieve in my career."
It would be obvious for someone on the sidelines to be like, "Dude, you have a concussion—just don't race." It's not as simple as people probably think to actually know how you're going to react and feel.
It's really, really difficult, I think for everybody. I was still learning so much on it. As a rider, if you don't have a broken bone, or if you're just not feeling completely terrible, you show up and go race. I felt like I was totally normal until I got my heart rate up to where I would just have those crazy headaches, and that only happened in the motos. If I was sitting there talking to you, you would never know that I had a concussion. And that's the hardest part. Sometimes you can't physically feel it, and you feel like you can just go race and be fine. I felt totally fine until I was actually in the motos.
Let's move to Straight Rhythm. You made the finals last year. This is an event that might work out well for you again.
I really enjoyed this event last year. None of us really knew what to expect going there. I was so nervous driving to the event because I'm thinking, gnarly whoops, huge jumps. It was really quite the opposite. It was really fun. Technical jumps, but they were really, really safe. We could quad stuff and you could go big, but the consequence wasn't quite as big as I thought it was going to be, which is good because then it's just better racing and more fun for us. It's a little bit safer that way. I can't really recall anybody having a real big crash or really being too scared to do something. It was just a fun weekend and really good racing. I think when the riders are happy with the track like that, it brings out the best in all of us. We're just having a good time. I'm really looking forward to it. It's kind of right up my alley with doing some big jumps and being good in the whoops.
It was way safer than I thought, and probably everybody thought, it would be. Is that just because the way the track was designed? Or did we just learn that if you take out fatigue and corners and actually having to pass a guy physically, not being able to land on each other, that it takes some danger out of things?
I honestly believe it's the way they designed the track. All the jumps were really big, but they were really round. And the transitions were really good. When it really gets kind of scary for us as riders is when the transitions aren't built well and one jump is really steep and the next jump's round. You're trying to get into a pocket that you're not really supposed to do because of the way the track builders shaped it. You can build a really technical track but make it fairly safe. I believe that's what the builders at the Straight Rhythm did.
Now that you've done it once, is there anything you learned to go even faster this year?
Not really. The track changed a lot throughout. From the first round to the finals, the track really changed. So, for me, I think it's more just, not conserving, but not just going all out the first couple rounds. Obviously do enough to beat the guys next to you, but by the time I got into the finals it was almost like I had to kind of take a breath. It was really one after another. They say it's fifty seconds or whatever the run may be, but then you're right back to the starting gate and you're going again. I think a lot of it is just knowing which side is better and kind of picking your battles really throughout the whole day and being ready for the last few rounds.
Without a twenty-lap race it seems like fitness and fatigue and endurance aren't factors, but can you actually get a little bit winded? Could you actually get a little bit tired adding it all up or even in the middle of a run if you're not breathing?
Yeah, for sure, because it's so intense. You always see on pit boards, "Breathe." The fans think it's kind of dumb, but we really sometimes forget to breathe, and if you forget to breathe for fifty seconds and then you have fifty seconds to get back to the starting gate and you're trying to catch your breath…. It's just so intense. A guy could say it's maybe easier to do just the twenty-lap moto than doing twenty one-lap sprints back to back to back to back. There's definitely some fatigue that starts to set in.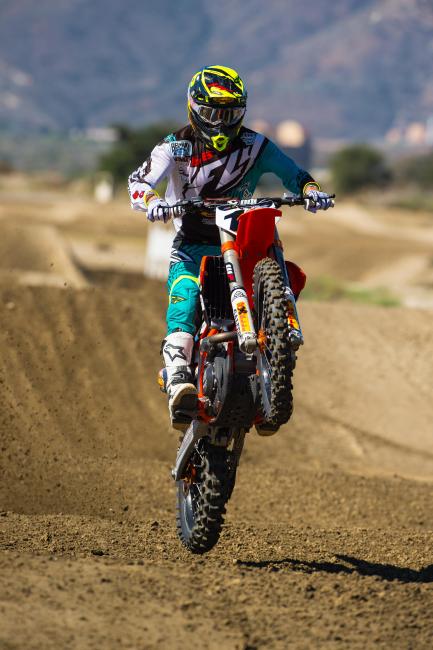 Your background works well for this. I remember you saying you even feel like you do well in some of the off-season events in Europe because you just seem to be able to adapt to tracks, probably just from your arenacross background. When there's a new event and a new style, do you pick it up pretty quickly?
Yeah, I really like it. I believe it's because, growing up in Iowa, I did a lot of fair races. It was always tighter tracks. It was always technical stuff. When you're at a backyard track in Iowa, it's not like the track builder is Dirt Wurx or anyone who builds tracks every week. At the fair races, they kind of build some strange stuff every now and again. I just had to adapt to it. I didn't have the best equipment growing up, so I had to adapt to that as well. So now I love supercross. It's funny, this being my fourth day in supercross, my first day I was just so at home and it didn't seem like I had missed a beat. I'm just naturally gifted or whatever it may be, maybe because that's what I've ridden the most in my life—it's just something that I really, really enjoy. I have fun doing it and I have a lot of confidence in it. Outdoors, for me, is tougher. I've got to work twice as hard to be even close to as confident as I am in supercross. Supercross, I'm just naturally more confident. Naturally, I can get tracks down quicker. Not to say it's not hard work, but it just comes a little bit easier to me.
As far as the 2015 season in general, do you feel you really had a chance to show what you had? In the end you even came into Anaheim a little bit roughed up. Were you ever in supercross at least at full strength?
No, not even close. And, looking back, it's such a bummer for all my sponsors. KTM went out on a limb and hired me, and BTO and all these guys that believed in me. I didn't show nearly what I had. Even today as I sit here I feel better. I'm more confident; I'm more comfortable on the bike than I ever was last year. Most people know I had a really big crash a week and a half before Anaheim. Fractured a couple vertebrae in my back. I could never get going. It was always like I was behind the eight ball and really not that comfortable and not that confident. If you're not comfortable in supercross, you're just going to be off. But, if you are comfortable like I am feeling now, it's like you can do no wrong. So I'm definitely looking forward to putting myself back in position to win races and to be on the podium. I don't have a lot of years left, so it's motivating for me to do well and represent my sponsors well and achieve what I want to achieve in my career.