This weekend's FIM Motocross of Nations is almost here, and we have been counting down the days with our Monster Energy Team USA Countdown, which chronicles each American victory at the event. Today we reach 2008. If you missed any of the previous years, you can view them all here.
After a dominant run at home in 2007, the 2008 Motocross of Nations, held at Donington Park in England, would prove a much bigger challenge for Team USA. An all-Kawasaki team was tabbed for the effort, with Ryan Villopoto and Tim Ferry reprising their 2007 roles in MX2 and the Open class, respectively, and James Stewart back in MX1 after missing the 2007 race with a knee injury.
Stewart had just completed a perfect 24-0 season in AMA Motocross on his Monster Energy Kawasaki, and with Stefan Everts and Ricky Carmichael slinking into retirement at the previous two years' events, the world was his for the taking. In the first moto, Stewart came through, passing new MX1 World Champion David Philippaerts for the lead and checking out. Sebastien Pourcel (Christophe's older brother) would finish second, and was a factor in another way, as Villopoto claimed the Frenchman ran into him in the first turn and knocked him down. RV wouldn't be able to repeat his 2007 double-moto overall wins, but he did come all the way back for tenth, and was the second MX2 rider.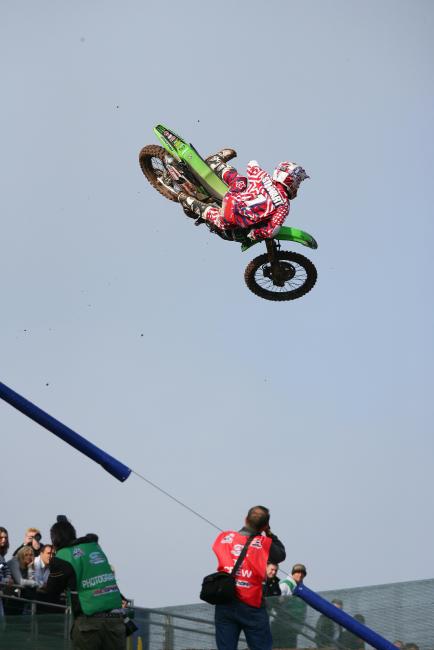 To set things back on track, Villopoto vanquished the field again in moto two on his KX250F.
"The first moto started off pretty good, but about forty seconds into the race I got blown out from behind by Pourcel, and I was in a big pileup and I was the last guy to get up," said Villopoto, who ended his 250F career with another impressive victory at the Motocross of Nations. "It was just a bummer. It just seemed like this year we had a pretty big target on our back. The second moto was a lot better for me. I just wanted to get out front and open up a gap and ride my own race, and that's what I did."
In a noteworthy ride, American Zach Osborne, at this point stationed in England as Grand Prix regular, logged an incredible moto, starting last but charging to sixth while riding for Team Puerto Rico. Ferry, saddled with the second (worse) of America's two gate picks, ended up ninth, but with two moto wins in two motos, Team USA looked good for moto three. Plus, they had Stewart ready to go, and he'd yet to lose a motocross race all year.
In the final moto, once again, Stewart and Pourcel went to the head of the field, and Pourcel pressured and even momentarily passed Stewart for the lead. Stewart then upped the pace, passed Pourcel back, and pulled away.
That was it, it was over, it was done.
Stewart was going two win both of his motos, and Team USA was going to win the 'Nations for the fourth straight time.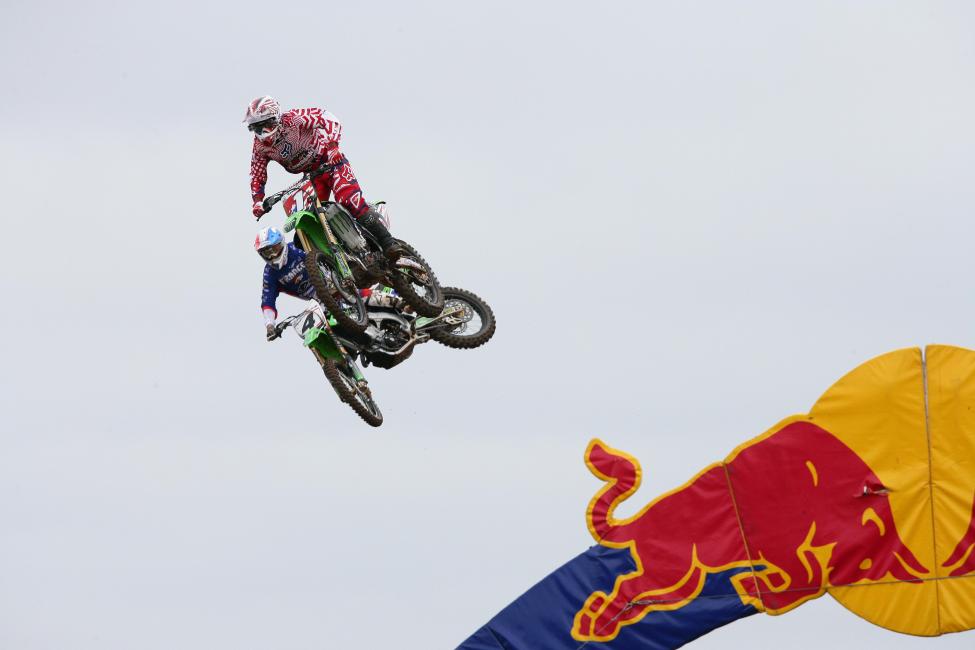 Then, suddenly, Stewart crashed!
Pourcel took the lead as Stewart kicked and kicked and kicked but couldn't get his KX to re-fire. Now eyes switched to Ferry, who was once again saddled with a horrible start and would have to work his way forward. He did just that, slogging to fifth, enough to save the day for Team USA. France finished 5 points back in second.
"Tim proved he could come from behind," said Roger DeCoster in the press conference. "He was our security—our insurance."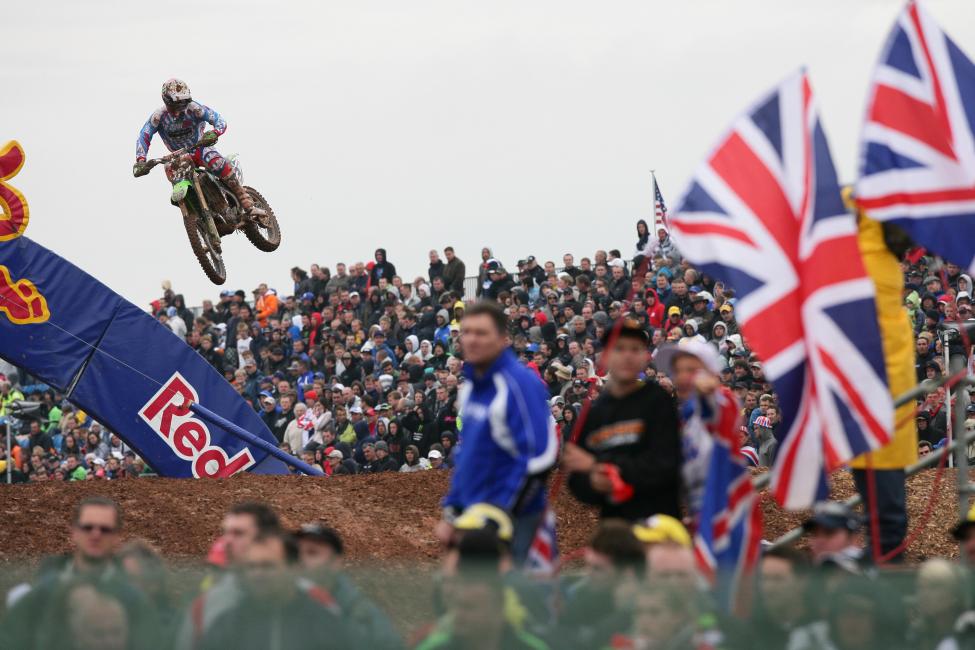 "It definitely feels good to win it again," Ferry answered in the press conference. "That track out there was really gnarly—it was really rutty and it was tough to pass on, so we had our work cut out for us. We came in thinking there's no way we can do what we did last year—we won so easily last year that this year I feel we really accomplished something with having to fight the track. It was raining, and it was cold, and we're in England. Unfortunately, that last moto, James went down, but we came here and won as a team."
"I don't know if I got cross-rutted or what, but I ended up landing on a hay bale on the tabletop," said Stewart. "When I first fell, I was like, 'All right, I can get up and ride.' I was kicking and wore myself out trying to kick that thing over. A few guys passed, and all of a sudden a lot of people came by and I saw Timmy, and I was like, 'You got to bail me out on this one!' At the end of the day, it was a team effort and I couldn't have done it without them. Winning that first moto helped out a lot, but when I was sitting there kicking I was a little embarrassed, actually."
Stewart had come within a few laps of winning every moto he lined up for in 2008, but ended up with one small mark on an otherwise perfect motocross season. Ferry and Villopoto were there to keep the streak alive. The weather and the results were much different than 2007 at Budds Creek, but Team USA had won again nonetheless.