As we pointed out a few days ago in this 22-Day Countdown with Team USA to the 2015 Monster Energy FIM Motocross of Nations, in 1985 the Americans showed up at Gaildorf, West Germany, for the forty-second running of the radically overhauled MXdN. And like the other twenty teams that entered that dreary afternoon outside of Stuttgart, Team USA had sent three riders—Team Honda's David Bailey and Ron Lechien, and Jeff Ward of Team Kawasaki—to fight for national pride and glory. With Lechien on the 125, Ward on the 250, and Bailey on the works Open bike, the American team managed to come to terms with the smooth, ultra-high speed Gaildorf circuit, win the overall, and extend its MXdN win streak to five years. Now four years later, and with the Gaildorf circuit once again slated to host what was locally called the "1989 Moto-Cross Der Nationen," the Americans were back with their red and green motorcycles, the winning streak now ratcheted up to the number eight.
(And forgive us not having many photos or highlights from this event. We borrowed screen grabs from Cycle News' always superb event coverage and some from PulpMX.com)
Leading the team in West Germany (this being just before the Iron Curtain fell and Germany reunited into one nation) would be the stalwart Jeff Ward. In what would be his sixth time representing the red, white, and blue, the ever-steady Californian would pilot the Kawasaki KX500. Ward's experience and longevity would be needed in Europe, as his two teammates, Jeff Stanton and Mike Kiedrowski, were Team USA rookies.
In the span of one season—a season that wasn't even complete at the time of the Motocross des Nations—Stanton had managed to win both the '89 Camel AMA Supercross Championship as well as the AMA 250cc National MX Championship. An understudy to Team Honda franchise player Rick Johnson, Stanton had never won a race before 1989, but had now been shoved into the lead man role at Honda after RJ had his wrist snapped at Gainesville during practice for the outdoor opener. Stanton had come through for Honda time after time in the months to come, and all involved in the U.S. MXdN effort knew he'd be a strong man in a storm. He'd even volunteered to ride the 125 Class so his teammate Johnson could come back on the 250, showing his commitment by riding the 125 Support Class at the 250cc U.S. Grand Prix at Unadilla—the one and only time in his professional career that Stanton raced (and won) the 125 Class. Coincidentally, Johnson came back and won the 250 Class over Frenchman Jean-Michel Bayle.
Kiedrowski? Well, that was another story all together. A Honda support prospect, the professional rookie was embroiled in grueling fight for the 125cc National Championship with the mercurial Damon Bradshaw. When the American team was first chosen for the MXdN in early September (talk about cutting it close!), the "MX Kied" wasn't even considered. First it was announced that Rick Johnson would, somewhat surprisingly, now ride the 125 in West Germany. Then came the September 6, 1989, issue of Cycle News, which stated, "Team Honda's Rick Johnson has announced he will not compete as a member of the American team at the September 10 Motocross des Nations in Gaildorf, West Germany. Johnson has been replaced by Team Kawasaki's Ron Lechien." Johnson, who had torn up chest cartilage a few weeks prior at Washougal, was out and Lechien was in.
Then came the September 13, 1989, issue of Cycle News: "Ron Lechien has selected not to ride as a replacement for Rick Johnson in the 125cc class at the September 10 Motocross des Nations in Gaildorf, West Germany. Johnson's Honda teammate Mike Kiedrowski will now join Kawasaki's Jeff Ward and Honda's Jeff Stanton on the American team."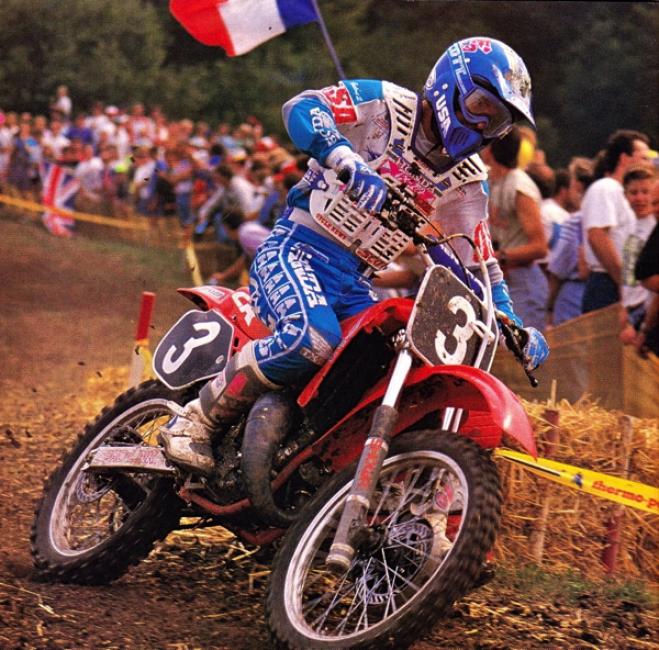 The upstart team of Ward, Stanton, and Kiedrowski chugged on into Bavaria and took a look around their collective surroundings. Stanton was trying to hide the fact that he was in awe of 1985, 1986, and newly crowned 1989 500cc World Champion David Thorpe of Great Britain.
"What I remember most about going to the Motocross des Nations was that everybody looked up to Dave," admitted Stanton, who caught up with us from his home In Michigan, taking a break between sorting out whitetail deer and getting ready to attend his son's high school football game later that night. "Thorpe was kind of a god in Europe. He was the Stefan Everts of Europe at that time. I was more nervous about that—having to race David Thorpe—than anything, really. He was the man, and I just wanted to beat him. I was nervous to have to race him and to even have to just meet him!"
Then there was the matter of the incredibly hard and fast Gaildorf surface. "I was scared to death when I saw the place because Gaildorf was as hard-pack as hard-pack can be. It was rock hard and solid blue-groove. I wasn't from California. I wasn't a blue-groove-type guy, so I was nervous as hell. The track was like asphalt."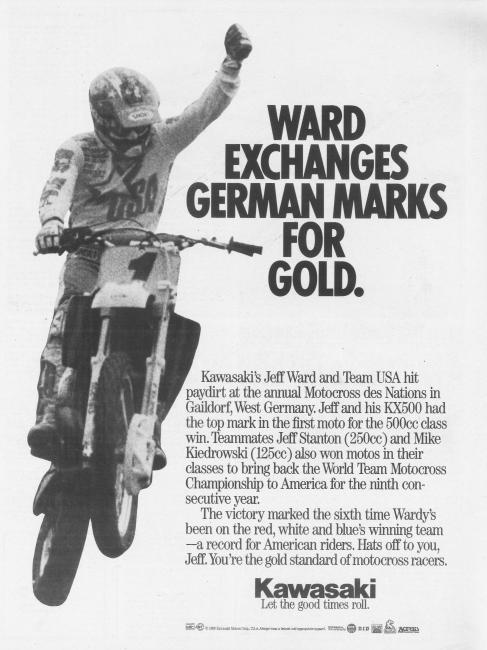 Nobody wanted to smolder out the American MXdN bonfire at Gaildorf more than Dave Thorpe. Angry with the new world order of global motocross, Thorpe wanted to avenge himself from losing two years ago at Maggiora, and Jeff Ward was the one he wanted to tread on the most. Problem was, in the opening 500/125 moto, Thorpe, who started second behind the leading Ward, couldn't catch him!
"I knew after the first few laps he wouldn't get me," Ward told Cycle News scribe Nate Rauba. "I was being cautious and he wasn't gaining." Thorpe stayed close, but could never close the gap, and Ward won the moto by seven seconds. And putting a big exclamation mark on the thirty-minute deal, the youngster Kiedrowski had come from behind via his second-row start to cross the finish line as the first 125cc rider.
"At first it was tough out there," offered Kiedrowski, who wore #762 back home as a rookie. "There are a lot of riders, and I haven't watched any of them before. Once we spread out I could push harder and just read my pit board."
Here are the highlights from moto one:
When the 250/125 moto took to the Gaildorf pool table, it was Stanton, obviously having overcome his nerves, leading the whole contest wire-to-wire. "It was fun, easy," Stanton said matter-of-factly afterwards. "The track is smooth, so you don't get tired." Italy's superstar Alex Puzar beat Kiedrowski to the finish in the small-bore war of the worlds, but then again, he had started on the front row. Kiedrowski fought his way up through to just miss Puzar at the line. (And in a weird footnote, an American finished second in this moto, as Georgia transplant Billy Liles, who raced the 500cc World Championship, signed up to race for Luxembourg and finished behind Stanton in this moto.)
Just as it was the year before in France, Team USA had clinched the Motocross des Nations at the conclusion of the second moto. As a formality, the third and final was run and Stanton won it in a waltz. Ward struggled and let both his teammate Stanton and Thorpe go, the war won. Thorpe appeared to have the runner-up position covered, but yet another American, newly crowned 125cc World Champion Trampas Parker (who was actually riding for Italy, where he lived) deftly zapped him at the end. Just as he had shocked the world by winning the '89 125cc world title, Parker now shocked everyone again by showing up on a 500cc KTM and beating everyone but Stanton.
"I watched Thorpe for about fifteen minutes and learned more as I followed," Parker said. "I noticed he rode the corners slower, so I went inside and he didn't see me."
When asked what the victory in Germany meant to him, Stanton said, "It was a great race for me. Maybe not the very best, but very good. I was very proud of what we did as a team. And the German fans were great. They flew their flags everywhere and let you know they were there. I was fond of all of it. I wasn't fond of the beer tents, though, as I wasn't a drinker. The Germans were fond of them, though! They were really serious about their beer!"
With his 1-1 performance overall in his Motocross des Nations motos, Stanton had completed the last step in taking the mantle from Johnson. Since RJ would never fully recover from his wrist injury and Ward was beginning to age, the experience Stanton gained at the '89 event would prove pivotal for Team USA's win streak going forward. Soon, the European competition would start to get closer, and Stanton would have to go into hero mode to keep the streak alive.