Nineteen-year-old American racer Thomas Covington is rapidly closing in on completing his second straight season in the FIM World Motocross Championship. In what was an unprecedented move, the former amateur standout signed on with Team CLS Monster Energy Kawasaki to compete in the 2014 FIM MX2 World Championship following his Loretta Lynn's graduation. In his first season in the GPs, Covington finished seventeenth in the final championship standings after a season of hard knocks.
One year later, Covington is heading south of the border to begin the final stretch of his second season. It's been another rough and tumble year for the #64 rider, but not one without more than a few impressive—and very encouraging—moto performances.
While trying to cool down from yet another forty-minute moto in oppressive hundred-degree heat in Southern California, Covington spoke with Racer X about his season thus far, this weekend's MXGP of Mexico, and the approaching USGP set to run at Glen Helen.
Racer X: Thomas, what are you doing here in San Bernardino? If I have it right, you should really be on your way to Leon, Mexico for the penultimate round of the 2015 MXGP season.
Thomas Covington: We had this weekend off before Mexico, so I figured I'd just come straight back here after Assen to get used to the time difference and all that, and do some riding here in the heat. I ended up hooking up with the champ—Jeremy Martin—and my old buddy Johnny O'Mara. We did some riding and training the last couple of days, and it's been going really good. Couldn't ask for a better training partner than the champ. It's been awesome. We went out to Elsinore a couple days ago and we went to Pala and we went mountain biking. It's been good, but it's been hot. This week here has been insane hot. It's been triple digits every day. I noticed that straightaway and was like, "Man, I'm not used to this anymore." But I'm lucky that I'm able to come back and ride in it a little bit before the GP here.
Before we really get rolling here, what was your take on the MXGP event that recently ran at Assen?
The Assen GP was a pretty cool event. It reminded me a lot of Daytona, but on a bigger scale, you know? And there was a lot more sand there. It was awesome. There were a ton of fans there, and that's what made it pretty special. It really reminded me of supercross. After my qualifying race on Saturday I went and watched my buddy Glenn Coldenhoff race. He ended up winning the qualifying race, and it was his home GP. I was sitting there watching, and it was like I was watching practice for supercross. It was the daytime and I was sitting in the stands and the place was packed. When Glenn was winning the race, every lap he came around, the fans would just go nuts. It was cool.
You raced at the Parque Metropolitano de Leon in Mexico last year. What did you make of the track?
The track wasn't anything special. The altitude is really high there [5,955 feet above sea level], higher than anywhere I've ever raced. We do first-gear starts there because the bike just won't pull second gear. The jumps were actually really big, so every jump was just getting it wide open, and you'd just barely make it on the downside. I liked the track. It reminded me of Elsinore with the hard-pack and the fact it gets sort of blue groove in some places. I did pretty well there last year. I was fifth in the qualifying race and top ten in one of the motos. Hopefully I can run up front there again this year.
Looking back at the 2015 season, I spoke with you after the first three Grands Prix of the season had run. You started off strong going 11-10 at Qatar, 5-5 at Thailand, and 7-7 at Argentina. You were really encouraged with the way things were going. However, with the flyaway races done, the series then moved on to Europe and your results dropped off pretty quickly.
Yeah, the season started out great. I was running in the top five basically every moto during the first three GPs and then we go back to Europe. It was the same as last year. I just kind of hit a slump. I was struggling with the tracks again. I'm not sure if it was bike setup or me not being comfortable on those tracks. It wasn't even with the sand; it was more with the really hard-pack stuff, like rocky, slippery, sketchy stuff. I was just being a little too cautious instead of just letting it go. I mean the tracks were really gnarly. You saw how many guys got hurt. The tracks were just really tough, and I never really could find my rhythm there. Then in France [round eight of the series] I injured my shoulder, and that put me out for a couple of weekends. On qualifying day I overshot this step-down and kind of tweaked my shoulder. I thought I had torn something and went to the hospital and had to lay off of it for a couple weeks. That kind of hurt me in the points. Latvia was actually a good race for me. It wasn't fantastic, but I was kind of pulling myself out of the hole. I got a top-ten finish there and was pretty happy with that.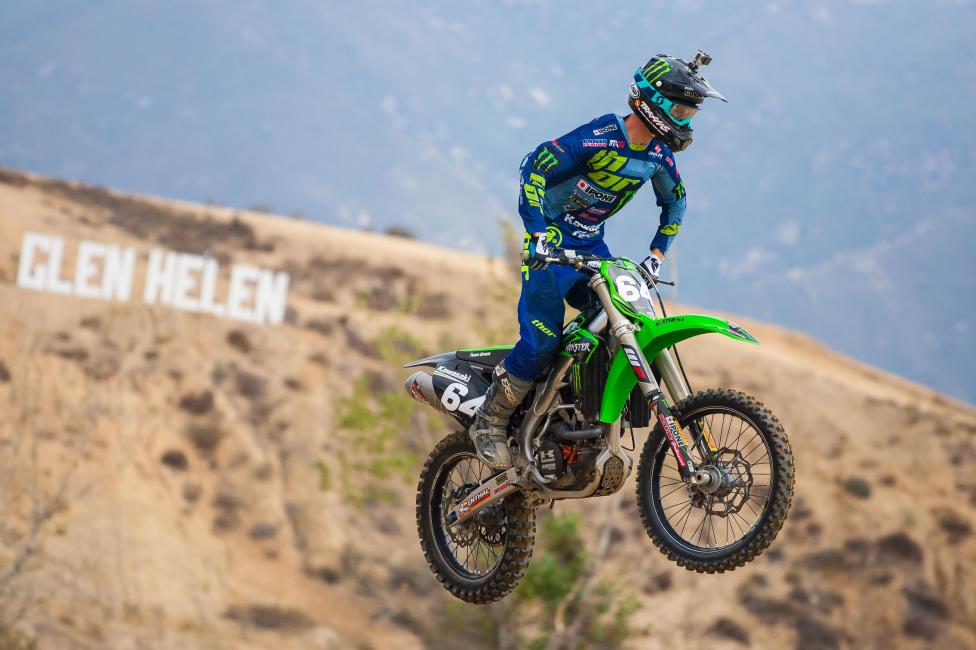 At Lommel, Montova, and the aforementioned Assen race you picked it back up and scored a number of top-ten finishes, correct?
Yeah, Lommel went well for me. In the first moto my bike ended up overheating and I didn't finish. I was in a top-ten position there. In the second moto I came back to tenth. A top-ten for an American at Lommel wasn't bad. Everybody was pretty impressed by that, and that just sort of got me in the groove for the sand at Montova and Assen.
Montova ended up being a cool track. They built some cool jumps in it and it was more American style. It was like one of the tracks I practice on out here, like Perris or something. It was kind of small and had some nice little jumps. I went out on Saturday and put the fastest time down in the first practice. During warm-up on Sunday morning, I was running the fastest time. In the first moto I crashed twice and kind of blew it there. In the second moto I came from like twentieth back up to sixth place. That was one of my best rides of the year so far. That's where I got my confidence going.
I was happy with my riding in Assen. I got a sixth in the qualifying race and was sixth again in the first moto. In the second moto I was right around the top ten and I pulled my way back up to the top five, but ended up washing out the front end trying go around the outside of some guys. I was so bummed. I slammed my hand on the bars, and my friends saw it on TV and said, "Wow! We didn't know you could get mad, Tom!" I was a little frustrated because I knew I had a top-five finish and I just blew it with the crash there. I still salvaged a top-ten finish.
You're almost done with your second complete season as a professional racer competing the MXGP World Championship. If you compared yourself right now to this exact same point in time a year ago, how much have you improved and what have you improved upon the most?
I wouldn't say it's a giant improvement. I would have liked to improve more, of course. It's probably been a 30 percent improvement, I'd say, which is good. Always getting better is good. If I can make that same step again next year, I'll be doing great. This year, my starts were just a lot better. My sand riding was a lot better. And now I'm more used to living over there. It's more normal for me. I'm not so caught in the travel and everything, and getting used to living there. I'm more focused on the racing and getting the job done.
"When I do leave Europe, I want to leave with some pride. Like, 'I came in here and figured it out and I conquered it.' I didn't feel like it was right just to leave what I've been working on the last two years and come back here."
Is the first year on the MXGP World Championship tour essentially a throwaway?
In my situation, I don't really think anyone has done what I've done, really. I came straight out of the amateurs in the U.S. and go to the GPs. In my eyes, I don't think you could have taken a bigger step, really. It would have been a lot easier for me to stay here and ride for Mitch Payton and Pro Circuit and race the outdoors. It's what I've known my whole life. I just really just couldn't pass up this opportunity with the GPs. It was something I thought was really cool. For sure, it takes some time to figure out what's going on, you know? I'm really enjoying riding the GPs now. I feel like I can make a career of it over there.
Most people are not aware of it, but when the MXGP series came back to Europe this spring and you were struggling, you actually thought about coming home and taking a shot at the AMA racing scene. True?
It is true. After I came back to Europe after the first three GPs, I had a bad race and was like, "Oh, man. I'm so good on these normal tracks, but then when I get on one of these European tracks I forget how to ride. If I was on an American track, I'd be top-five every weekend." I kept pushing through it, though, and thought, I can't really give up on it just yet. When I do leave Europe, I want to leave with some pride. Like, "I came in here and figured it out and I conquered it." I didn't feel like it was right just to leave what I've been working on the last two years and come back here.
Many fans out there that may be reading this may be wondering what makes the AMA and FIM tracks so different from each other. If you had to explain the differences to them, what would you say?
I think it's just different. It's just a totally different style. Like here when I watch the AMA races online, the tracks do look rough. Like the second moto at Hangtown looked insane rough, but there is still some grip and some moisture in the dirt. There's good loamy dirt. That's something we just don't have. I can't think of one track we raced this year that had that—maybe Argentina or something. They still have the tracks here where the bikes are hooking up.
With us, we're racing on tracks that are built on rock at times. Yeah, they'll try and rip it, but it only goes a few inches deep. It's a totally different style. Ryan Dungey did an interview a few weeks ago and [talked about] how bad the tracks looked in Europe, but that's kind of the way it is. For me, watching races on the American tracks, I'm just drooling. It looks [like] so much fun. Then I'll go to a GP track and it's tough; it's work. I think that's good in some ways, though, because you develop skills that I would never even use. Like I had a conversation with Ryan Villopoto at dinner when we were at Assen, and he was like, "Yeah, for you, you're learning skills that you would have never developed riding in the U.S." I think this is making me a better rider all around.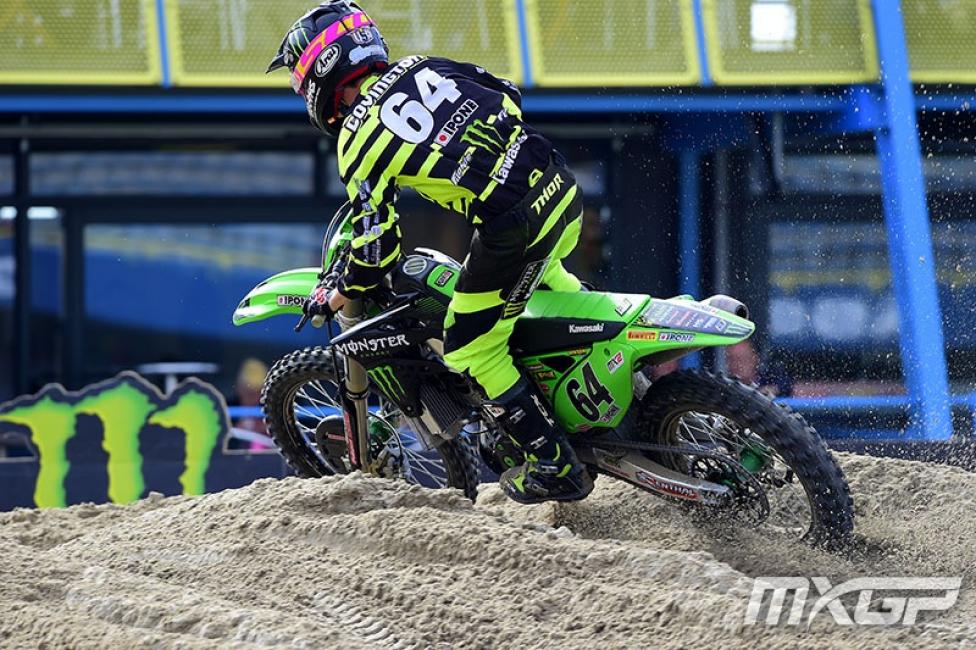 As far as the Glen Helen USGP next weekend, it's something of a homecoming for you, isn't it?
Glen Helen has been in the back of my mind for the last couple of months. I've been thinking, Oh, I have to be ready for Glen Helen and do good for the home crowd! I'm really pumped for it. I'm really looking forward to it. I think it's going to be a fun weekend.
Do you think you're going to have something of an advantage over your Grand Prix colleagues?
I've never really had a home race. This is my first one. I don't know how much of an advantage that really is. I've ridden at Lommel the last two years, and I still struggle there. I think Glen Helen will still be tough, just like any other GP.
As far as a result, what'll make you leave Glen Helen with a smile on your face?
Really, I'm shooting for a podium. I'd really like to get my first podium at my home race, or hopefully I can get the podium at Mexico this weekend. But it would be cool if it was at Glen Helen.