Racer X is counting down the days to the 2015 Monster Energy FIM Motocross of Nations, which will take place Sunday, September 27, in Ernee, France. Team USA has won this race a record twenty-two times, so we decided to count down the days by looking back at each of the winning versions of Team USA. Today we reach 1988 and America's first attempt to win in France.
For seven years, Team USA had ruled as the world's motocross superpower by winning the annual FIM Motocross des Nations every year since 1981. The Americans won abroad as well as home; in dry as well as mud; in the sand as well as the hills. In September '88, Team USA invaded the Villars-sous-Ecot circuit in the Franche-Comte region of France. Narrowly dodging a bullet by slithering to a dramatic victory the year prior at Unadilla, the Yankees were determined to win again.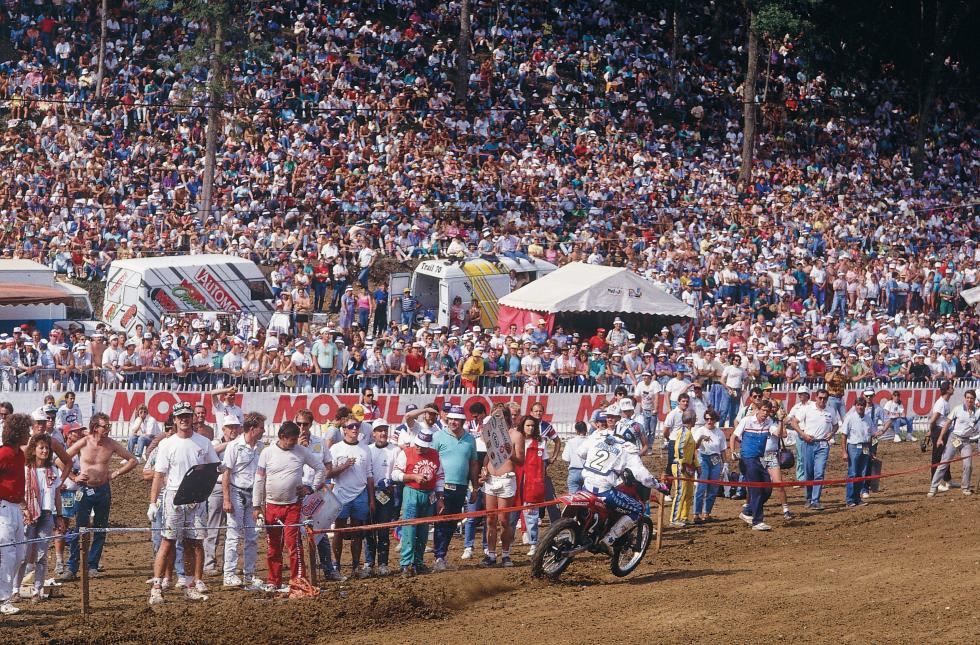 Team USA manager Roger DeCoster had once again assembled an all-star team to get the job done. He included three native Californians—Rick Johnson, Jeff Ward, and Ron Lechien—all of whom had prior winning experience at the MXdN.
Johnson, the 1988 AMA Supercross and 500cc Motocross Champion, would lead the charge on a 250 Honda. Jeff Ward, the '88 250cc Motocross Champion, would drop down to ride a Kawasaki KX125. That's because DeCoster and the AMA decided the Americans would have a better chance with Ron Lechien as the third man on a 500, as compared to '88 AMA 125 Motocross Champion George Holland joining the team on a 125 and Wardy riding the 500. In other words, for the third year in a row, DeCoster left the 125 champ home—even though all three times (Micky Dymond twice and Holland once) they were his own American Honda riders.
"I knew that our guys had the speed and all that," said Roger DeCoster of his trio of Californians. "I was part of the group that picked the team so I believed in the team, and we went over there thinking we could do it."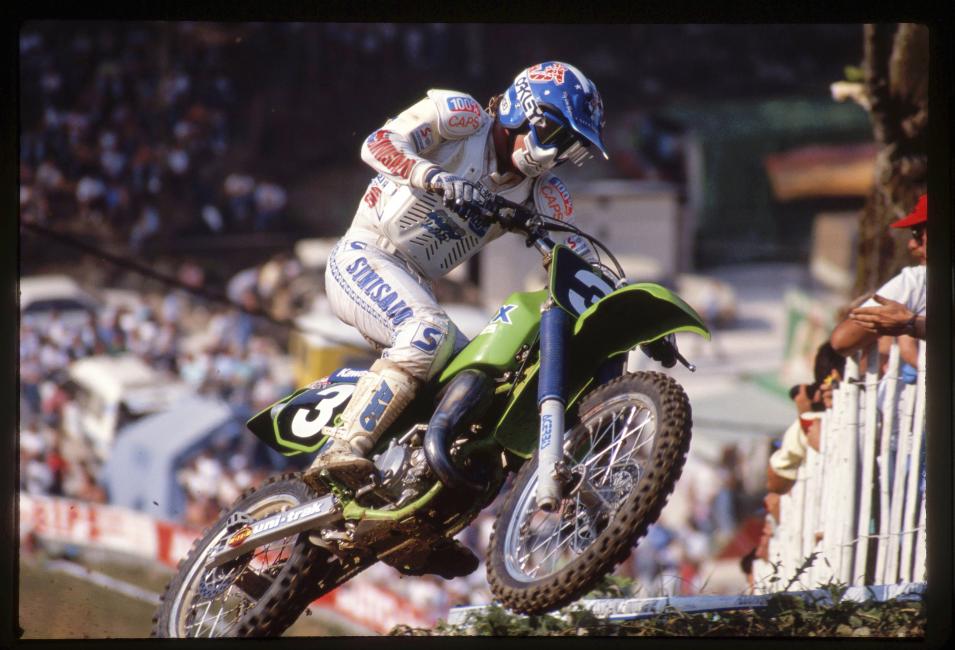 "I had a good year that year, so I kind of just assumed I'd be on the team," said Johnson of his assignment. "I'd been on the team the two previous years in Italy and at Unadilla and had won two out of the three major U.S. championships and finished second in the other one. Ronnie would race on the 500 and Wardy was the smaller of the two of us, so they put him on the 125. We knew we had a fast team."
"Rick had been strong all season long and I knew Ronnie's capabilities, especially on the 500," said Ward, who by this point was the most seasoned and most successful Team USA rider of all: six-for-six on winning teams in the Motocross and Trophee des Nations. "If you gave Ronnie a certain track on a certain day, there was nobody who could beat him."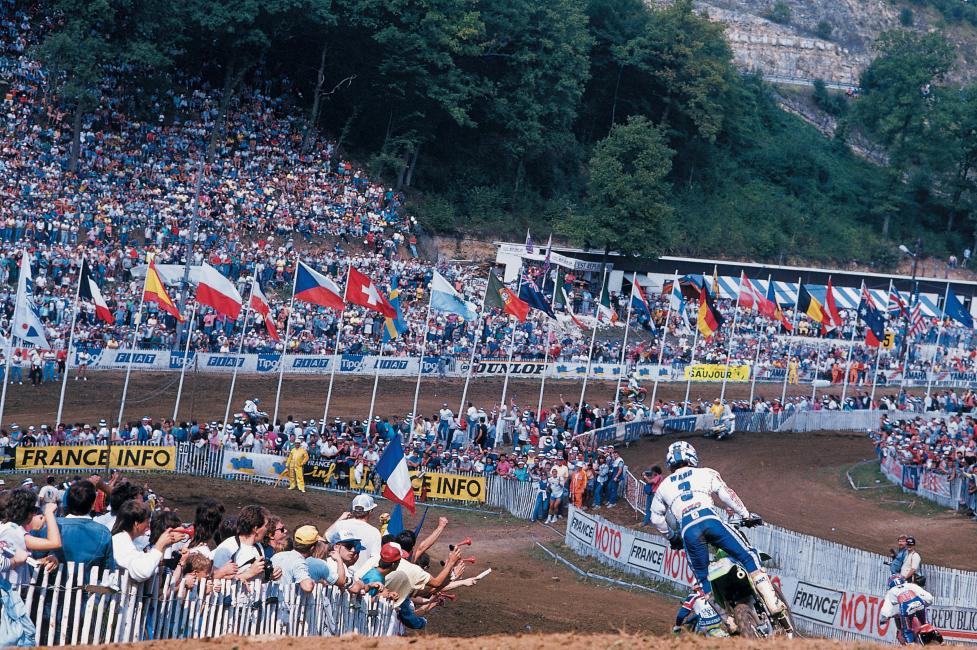 The Villars circuit was etched out of something of a natural amphitheater, and boasted steeply pitched hills and a fast, hard racing surface.
"When I saw the track for the first time, I knew needed a big chest protector because I knew I was going to be eating roost all day," recalled Ward. "The track was fast and it had a lot of up and downhills and a tree back section and a couple of drop-offs, but no big jumps or anything."
In practice, Lechien, railing turns with his flowing style, had a close call with an old wooden pole that very well could have dictated an entirely different historical outcome.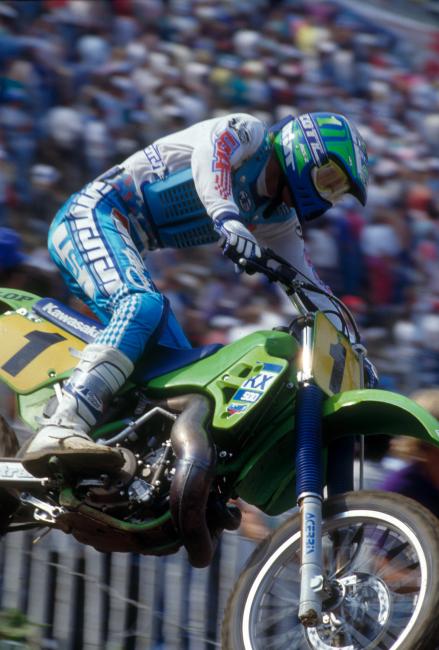 "We went out and did some practice on Saturday, and I actually hit a fence that was right after the finish line," he remembered. "It was in a switchback kind of zigzag thing and I got a little too close to the fence and I hit it with my arm and ended up with a big knot on my left arm from whacking this fence. You didn't want to get too close to the side of the track at those European races because they had big posts and stuff like that. I remember thinking, I got away with one there and I'm lucky I didn't go down and hurt myself too bad. But I was digging the track. It was super-fun to ride and had a good flow."
Hounding the Americans on his screaming HRC125 that Saturday was newly crowned 125cc World Champion Jean-Michel Bayle of the home nation. "Through Pro Circuit and him being a Honda guy, I had heard about Jean-Michel Bayle," said Johnson of the new sensation in Europe. "In France he really showed us how amazing his speed was. He had a unique style—not really a pretty style, but kind of a weird style. He had a very, very effective style. He could apply a lot of speed and carry a lot of momentum into the corners. He definitely came onto the scene and had the attention of Team America, for sure."
"In practice I was feeling very good," said Bayle, who would go on to revolutionize global motocross in his own unique way. "In practice I knew that it was possible to do something very good. There were a lot of big downhills on that track. The downhills are not so bad for a 125 because the bike is very light and you can go down the hills very fast and you can brake very late. I was able to make up a lot of time on the track because of the downhills, and I knew I would be able to fight with the 500s."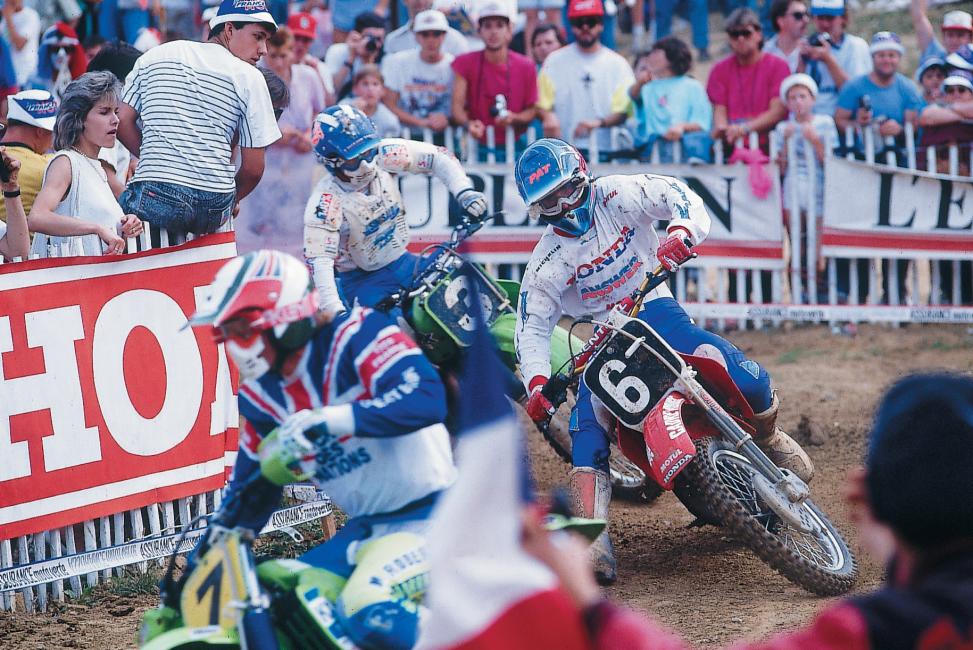 Despite his relatively young age, Bayle was the anchor for the ambitious French team of former 250cc World Champ Jacky Vimond and Grand Prix contender Yannig Kervella. France had never won the Motocross des Nations to this point, and with it being on their home track, this might have offered their best chance yet. They were hoping that French elan (fighting spirit) and the perceived weakness of Lechien as a wild-child would help them upset the Yanks.
When the gate dropped to send the combined 500/125 moto out before forty thousand spellbound fans, it would be Lechien—who had started on the front row of a two-row start—immediately streaked to the front. He was wearing a small radio box on the back of his helmet, as Team USA decided to try something new, with the mechanics communicating directly to the riders during the races.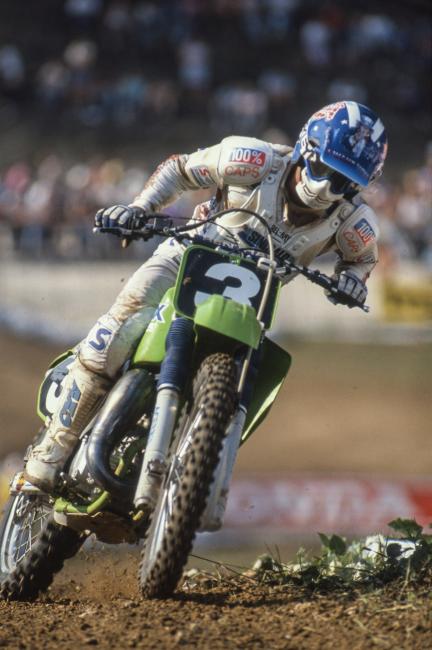 "At the start of the first moto I got out well and Kees Van der Ven [Holland] was ahead of me, and I got by him and just kind of rode my pace," said the fantastically talented but undisciplined Dogger. "It really wasn't that eventful. I got out there and stayed smooth. It was real slick, but that kind of thing played into my favor. I really wasn't riding that hard."
While Lechien would race away from the 500s of Jeff Leisk (Australia), Hakan Carlqvist (Sweden), and Jacky Vimond (France), 125cc combatants Ward and Bayle went at it, their duel drafting them right on up near the aforementioned big-bike riders. Urged on by the roar of the home nation crowd, Bayle reached for another gear, zapping Leisk for second place on the last lap.
"Bayle really started hounding me right there at the end," said Jeff Leisk after getting beat by the 125. "It was a French crowd cheering him on, and I could definitely tell he was right behind me. He was on a 125 and just screaming the thing. I was hoping I could hold him off, but he got me right in the end. That was little bit of a disappointment that he got me, but it's not entirely a shame to be passed by Bayle, I guess."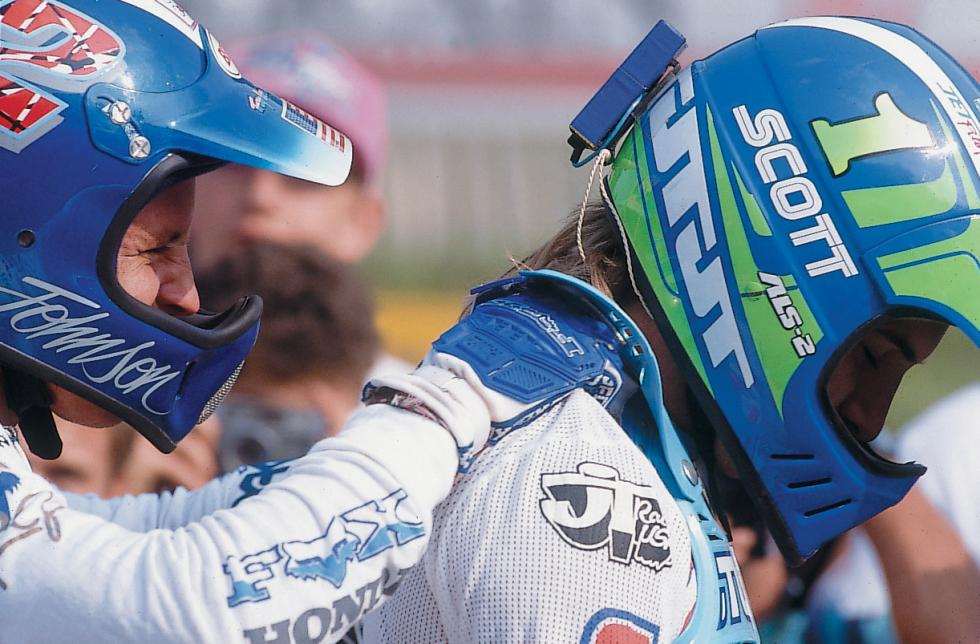 With Lechien winning the 500cc class and Ward the runner-up to Bayle, Team USA already had something of a comfortable lead leading into the 250/125 moto. By the second lap of the afternoon's second moto, once again it was a rider from El Cajon, California, leading the world, this time with Rick Johnson out front, Roland Diepold of West Germany (as it was then called), and Holland's recently christened 250cc World Champion Jon Van den Berk were trying to keep him in check. That is until RJ's mechanic Brian Lunniss got word to his man to turn up the heat.
"I was riding a smooth pace, but then Brian Lunniss told me, 'The geeks are still behind you, so move it,'" recalled Johnson. "So I pulled out about five seconds in one lap and rode a comfortable race." RJ would forge ahead to win the moto in a stomp-off over Van Den Berk, while Ward, who took advantage of an early-race crash by an exasperated Bayle, brought his KX125 across the finish line in P1 in the division to win the 125cc overall.
With four of six moto scores counting in Motocross des Nations final scoring, when Johnson and Ward rolled off the Ernee circuit and motored back to the paddock, they did so as champions. With 1-2-1-1 moto scores in the opening two motos, Team USA had already managed to win the Motocross des Nations before the third and final moto was even summoned to the starting gate.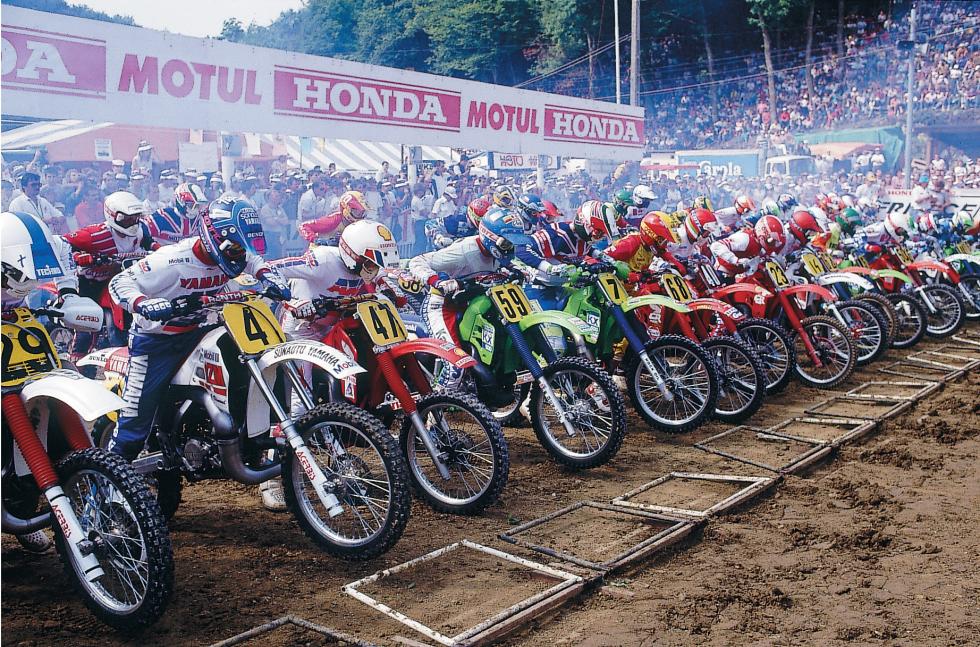 "It felt good. It was great to win," said Ward of being on yet another triumphant U.S. MXdN team. "We were never in trouble. We pretty much had it handled the whole day. It was like business as usual a little bit. I was pumped just because I won the class overall because I had only done that a couple times before that."
For the final 500/250 moto, Team USA made a collective decision to start the Dogger and his burly 500 on the front row. Johnson, meanwhile, would start the race from the second row. And it was that starting strategy that ultimately dictated the outcome of the race, as Lechien was, once again, untouchable, disappearing in victory. RJ was forced to slice and dice his way to the front, coming up just short to moto runner-up Rob Herring of Great Britain.
Said DeCoster of the great El Cajon grudge match, "I really did not think that Ronnie was going to be able to beat Ricky in that third moto. I did not think he would beat Ricky in that last head-to-head race."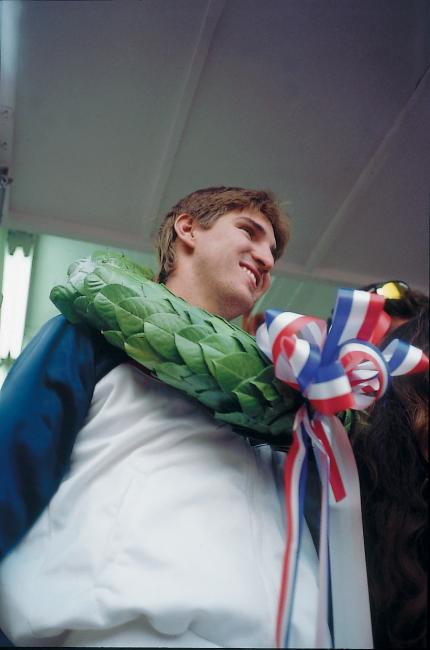 But he did, and when it came time to climb upon the top step of the podium and uncork the champagne, the Dogger was smiling big as he had had his day in the sun. "The last moto was like a dream," Lechien told Cycle News that same afternoon. "To beat them all and be the first guy across the line feels like a dream."
1988 marked not only another year up front, but the end of an era of sorts, as neither Rick Johnson nor Ron Lechien would line up again for Team USA.