Austin Forkner's face didn't tell the story. Here was a 16-year-old ready to face off against long-established veterans Nick Wey, Broc Tickle, Mike Alessi, and Jacob Hayes, among others, as he, his mechanic, and our own Davey Coombs chatted under Forkner's small canopy last Saturday at the Edge of Summer MX race in Mt. Pleasant, Michigan. Austin and the crew chatted about what number he may pick for his professional debut, expected to take place at the 2016 Lucas Oil Pro Motocross Championship opener. But the prospect of actually racing against some pros later in the evening still hung there in the background. The humble kid from Missouri just smiled and prepared to race—just like any other.
Just a year ago, Forkner, son of Mike (a farmer) and Julie (a school-teacher), was putting the final touches on an impressive minicycle career with a win (the fourth of his career to that point) at the Loretta Lynn Amateur National Championship. At the time, most of the talk concerning Forkner, just 5'5", 122 pounds at the time, was how he would adjust to the bigger bike. Forkner spoke with Andy Bowyer last year prior to the Monster Energy Cup, where he was expected to make his debut, about the transition:
Well, first I rode the stock one, and to be honest with you, it has more than enough power for me. I only weigh 122 pounds, so it pulls me just fine for sure. Now I have one of their [Monster Energy/Pro Circuit Kawasaki's] practice motors from the race shop. It's not a full race engine, but it's fast. It's funny, at first even the stocker was too much, but now I like the mod motor. The power isn't a priority for me, though; we really just want to try to get the suspension to work for me. I'm 5'5" and I'm getting taller, but still don't weigh that much.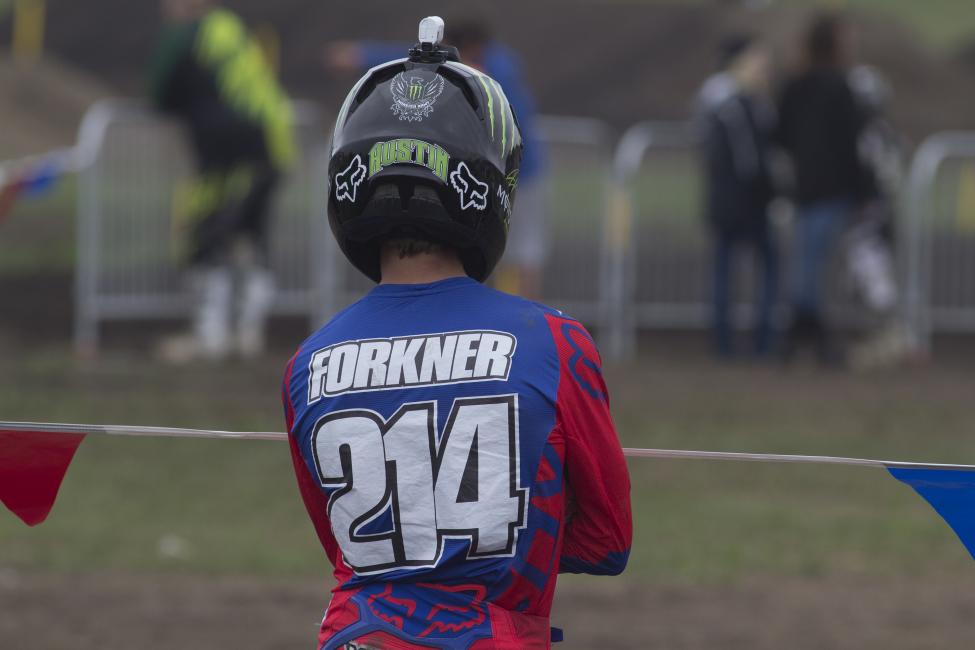 Forkner wasn't able to make his anticipated debut at MEC due to injury, but it didn't take long after to show the adjustment to the 250F was going well. In his first year in the B Class, Forkner has won just about everything there's been to win. In March, he rode to the 250 B Class championship at Ricky Carmichael's Daytona Amateur Supercross. He won two more titles at Mammoth Motocross in June before capping his Loretta Lynn amateur career with two more titles (six in total) and the AMA Motocross Amateur Rider Award, which recognizes the most outstanding non-A-class rider. Following Loretta's, Forkner announced that he and Monster Energy/Pro Circuit Kawasaki, the brand he's been with since 2010, had agreed to a four-year deal that would lead him into the professional ranks.
"The past two weeks I've been out in California testing with Mitch [Payton] and all of the pro team," he told Racer X at the time. "We've been working with suspension and motors and stuff like that. We all got along really well. I'll be staying on green bikes for a while now, so I'm pumped."
As the sun was going down Saturday night, and the lights that lined the track began to flicker, Forkner, who went 1-1 earlier in the day in the Open Amateur All-Star A/B Class, would head to the line for his first heat race. Forkner more than held his own against Tickle and Hayes, finishing a solid second to transfer to the main. His performance in the main, a fourth behind Tickle, Alessi, and Hayes, caught the eye of one veteran.
"He definitely has a bright future in front of him," Tickle told Jason Weigandt earlier this week. "You can tell he was raised by good people and has good people around him. He'll be one of the guys; he'll definitely be there. You know how it is when you get some of those kids in there at a race like that; they can be cocky and expecting to win. He looked like he was there just wanting to learn."
The just-turned 17-year-old (his birthday was Wednesday) will now turn his focus to what remains in his amateur career. The plan, for now, is to race the Monster Energy Cup, the Mini Os, the Ricky Carmichael Daytona Amateur SX, the James Stewart Spring Classic at Freestone, the California Classic at Glen Helen and of course the required three rounds of Amsoil Arenacross. Then he'll make his official pro debut next summer for a team that won just once in 2015 (Joey Savatgy's win at Unadilla). As we've seen with the rise of Yamalube/Star Racing Yamaha, it takes just one dynamic star to change the fortunes of a team. While it's too early to tell how Forkner's career will play out, he certainly passed his first test Saturday night.