Yamaha Factory Racing Yamalube's Romain Febvre made sure the writing etched on the wall of MXGP was made with a permanent marker at the Grand Prix of the Netherlands in Assen. By finishing second overall, Febvre extended his lead in the standings to 102 points over HRC Honda's Gautier Paulin and therefore clinched the championship—the first for France in MXGP (and the four-stroke era), the first in the premier class since Mickael Pichon in 2002, the first for Yamaha since 2009, and the first by a rookie in the division since Tony Cairoli the same year. Here is what he had to say.
On the weekend…
I didn't start to think too much. I was feeling great. As Shaun [Simpson, overall winner] said, the track felt a bit different to a normal sand track. I started slowly on Saturday and showed good speed in qualifying already. I knew with some good starts I could be on the podium again, and that was the goal. I knew also if I finished in front of Paulin, then the championship would be done. In the first moto, I wasn't happy because I got out of the gate okay, but everybody closed up to me a little too much and I had to shut the gas. I had to come back from far and here it was really difficult. I was only fifth, but it was a pretty good race. My start was a lot better in the second moto and I could pass everybody to win…and the 2015 world championship! I cannot thank everybody enough. The team did such a good job and gave me a chance last winter…. I'm so happy.
On knowing he'd won the championship…
I wasn't sure and my mechanic did not tell me on the pit board. Until the last two laps, I was not looking back, and then it was difficult to stay focused. I saw [Glenn] Coldenhoff and Simpson behind so I was counting the points a little bit, but it was difficult to be sure because I didn't see anything on the pit board. Then I crossed the finish line and everybody was happy.
On someone saying before the season that he'd be world champion with two races to go…
Ah, I wouldn't have believed it. I had only three years in MX2, so I had less experience than everybody, and last season I finished third overall, which was pretty good, and I was sure with one more year I could have been world champion. I was a bit, let's say, disappointed [to move from MX2], but it was the rules so I had to move on. I was really happy that Yamaha gave me the chance because they were the only factory team prepared to do so. I think they are happy now.
On wondering whether he'd win before the second moto after losing to Paulin in Lommel and in the first moto…
Every race is really different. Today there were six or seven riders who could have made the podium. If you don't make a mistake then anything is possible. Gautier had a good first moto, and in the second I told myself, "Just ride like you know and we'll see at the end." I knew if it was not this weekend, then it would be next weekend. I didn't put too much pressure on myself. I'm not sure what else to say, but I know I am really happy it is done with two races to go.
On team owner Michele Rinaldi claiming it could be the start of a new era…
This year I gained a lot of experience with the bike and the setup, and with my condition also. I learn more all the time and make a step every year with the speed; I hope this is not finished! When you do something like this, then your confidence is at the top. I will come next year stronger, for sure. When you have the speed to win, then you have to go for it, but some weekends you are not 100 percent and you have to take it easy. This is the most difficult part—to accept some bad results sometimes.
On the Motocross of Nations…
It is my first time and we have a good group. With Gautier, we are 1-2 in the championship, and [Marvin] Musquin—he had bad luck last weekend, but he is the strongest man in the 250s. I'm looking forward to it.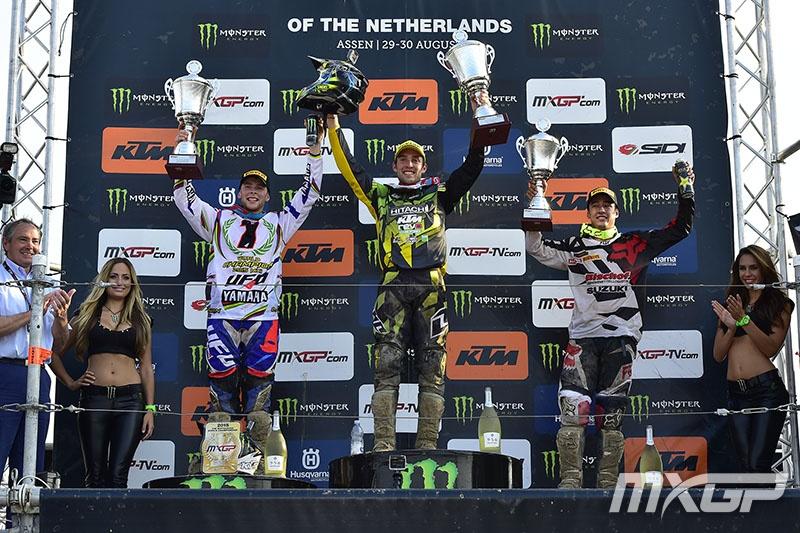 On keeping cool…
I think I always calm…just this year with some confidence. I don't know why. I didn't make anything special this winter. I took some good results right at the beginning of the season after not riding that much [due to injury], so I knew with some more preparation to set up the bike right it would go even better. Until now I didn't feel any pressure; it is strange perhaps, but I hope it will continue like this.
On comments that he only led and won MXGP because of the absence of others…
The championship is like this, and it is not the first year there have been many injuries. The sport is like this. In 2013, I was second in the championship [MX2] and I got injured. We need to accept this side of it.
On his number…
I will stay with #461—I don't like the #1!