The recent graduate class out of Loretta Lynn's isn't as hyped up this season as in years past, but there are still some rookies out there trying to prove their worth in the Lucas Oil Pro Motocross Championship. One of those rookies is Marshal Weltin.
Weltin came on strong toward the end of his amateur career. He moved to Club MX almost three years ago and has become one of the premier talents in the A classes the past couple of seasons. Weltin has battled—and beaten on occasion—this year's rookie talent that includes RJ Hampshire, Chris Alldredge, Aaron Plessinger, Daniel Baker, and Luke Renzland with far less support. This past weekend at the Utah National, Weltin finished thirteenth in the first 250 moto. He was also running inside the top ten in the second moto before the restart; he would end up with a DNF after a scary get-off.
Weltin is getting help from his good buddy Justin Barcia in his debut rides, receiving financial support to get to the races and advice when he needs it. How did a rider from a small town in Michigan end up racing with help from one of the world's fastest racers? We caught up with Marshal to get his story.
Racer X: We caught you at the practice track. Where are you doing motos today?
Marshal Weltin: I'm out here at the JGR test track doing some motos with Phil [Nicoletti] and Justin [Barcia]. They were testing some suspension, and while they were doing that, I was trying to work on some stuff of my own. It's literally in the middle of nowhere in North Carolina.
You've just recently moved to the big leagues at Unadilla. Let's backtrack a bit and talk about Loretta Lynn's. You had two pretty good years in the A classes there. This year you won a moto in the Pro Sport Class. How did the week go from your perspective?
Yeah, Loretta's actually went really well for me this year. I had four podiums in six motos. I only had two bad motos that threw off my overall in the 250 A class, but I still felt that I raced really well. I feel that I showed my speed. I wish that I could redo that one moto where I crashed, but other than that I was happy with the week.
Even last year you were up in the mix with all of the rookies who are performing well this season. You contended with Alldredge, Plessinger, Baker, Hampshire, and Renzland. Did knowing that you have battled those guys in the past give you more confidence heading into your debut at Unadilla?
My goal was to get into the top fifteen. I ended up farther back than that. I finished twenty-fourth due to a crash in the first moto. In the second moto, I was running around eighteenth and I ended up crashing pretty hard. It could have been worse. I could have ended up at the hospital afterward, and the bike could have been a wreck. I was happy to rebound in Utah, and I ended up thirteenth in the first moto. In the second moto, I was doing pretty well, but there were a lot of sketchy sections on the track. I hit one of them wrong and it bit me.
Yeah, you ended up having some excellent TV coverage because of that.
That's what I heard! I actually don't have TV, so I didn't get to watch the race, but my mom told me that over a text message.
You are lucky to walk away from that one because it was very scary.
Yeah, nothing is actually hurt except for a black eye and my nose is bruised. Other than that, I'm completely fine.
You said you wanted to be in the top fifteen, and you accomplished that in the first moto at Utah. How did it feel to accomplish one of your goals in only your second race?
It felt really good to meet my goal. I still feel like I still had more to offer in the second moto. Before the red flag, I was running in the top ten for the laps that we ran. It was cool to see that pace and know the intensity that they run. Now I can sort of gauge myself.
Not only were you inside the top ten, but also you were running in fourth for a bit.
It was cool. I actually passed Zach Osborne, and I thought that I would never even be able to do that. He did end up getting me back, but I surprised myself. Afterward, he came up to me and he was like, "Marshal, what was that?" It was cool, honestly.
You know him pretty well from training down at Club MX, I'm sure.
Yeah, he lived at Club MX for quite a while. That was around the time that I moved there. Now he stays in Colorado, but we became pretty good buddies. We would golf together and go cycling as well. I'm still at the facility, and I live in a cabin on the property. Everyone just helps me out so much there.
Speaking of help, it's not hard to notice that your title sponsor is in fact Justin Barcia. Give us some insight on how you met Justin and how he ended up sponsoring you.
I met Justin when I went to his track to test my race bike out earlier this year. He moved to Charlotte because of his ride with JGR. Charlotte is only an hour away from Club MX, so he came to ride there a few times. We would cycle together and we did some mountain bike racing. We just got to know each other through that. From there he offered me a couple of practice bikes. He's just been helping me with a lot of stuff as far as preparing and making decisions at the track. It's cool to have him as a mentor/sponsor.
What kind of advice is Justin giving you?
It's hard to follow in Justin's footsteps obviously. I asked him at Unadilla how his first pro race went. He told me that he grabbed the holeshot and led for twenty minutes in each moto. That's a bit hard to fulfill. He just told me to go out and sprint the first five laps and push for the entire moto. That's what I did, but sadly the results didn't show it in the first one. It turned out a lot better in Utah.
I noticed a gap in your Loretta's history where you didn't race at the Ranch from 2008-2011. Did you plan on not going there, or did other things come up?
I just raced locally on the weekends. In Michigan, you can't ride in the winter, so from March through October we just did some local stuff. We went about twice a month and spent a weekend with the family at the track. In 2007, when I made it to Loretta's it was my last year on an 85cc bike. We were just absolutely pumped on that. As you can see in the results, I was nowhere near fast enough to compete with anybody, but it was a cool experience to make it to that point. I tried to make it again a couple of years after that, and I didn't make it in. I tried to make it on a 125cc. I moved up to the big bike early. I just wasn't fast enough. In 2012, I made it in 250 B. At that point, I didn't even think about making a career out of the sport. My goal at the time was to just get my professional license to say that I could race a pro event. It all kind of changed after I did a week camp at Club MX. I started to progress very fast. It's crazy to think that over the weekend that I finished thirteenth in a moto looking back to 2007 on my 85cc. It's pretty awesome.
Do you think being under the radar is helping you in your current situation?
Yeah, I certainly wish that I were on the other end of the spectrum. I wish I had deals lined up, and I wish I had a for sure future, but it gives me more inspiration to go and get it on my own. I'm hungry for it. In 2007, I had no idea who any of these guys were when I raced with them. I raced against Cooper Webb and Adam Cianciarulo, and at the time I had no idea who they even were. Now both of them have won races, and I had no clue with what I was dealing with.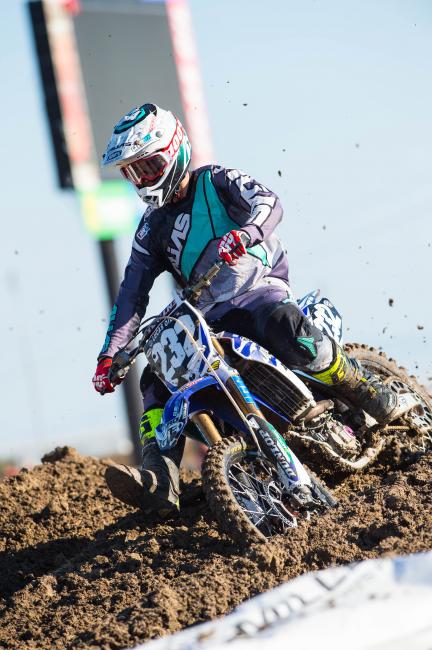 What does the future hold for you? Are you in talks with any teams for next year?
No, Justin said that he would be willing to help me out like he is now, or maybe even a little more. Other than that, no, I haven't been approached by anybody. I introduced myself to a couple of team managers. As of right now I don't have anything in the works.
Who is Marshal Weltin away from the bike? What do you want the people to know about you?
I went to high school and regular school for eleven and a half years. I finished up my final little bit online because I was at Club MX. I played basketball for eleven years, and I love doing that. I like to snowboard, golf, and all types of things like that. I'm not very good at any of it, but I'm average. I like motocross so much because that is where I can shine the most. I'm from a small-town farming community in Michigan. My dad is self-employed. I try to help him whenever I come home. I try to be a dedicated, hardworking, young man, I guess [laughs].
What do you expect to see out of yourself at the final round? What does team manager Barcia expect?
I'd like a top-fifteen and a top-ten. I want to be inside the top twenty in qualifying this week. It would be nice to have a little bit better gate pick. I want to start up front and not fade toward the end of the moto. Justin doesn't give me any expectations. He wants to see me up front. He told me to just go ride and do the best that I can.